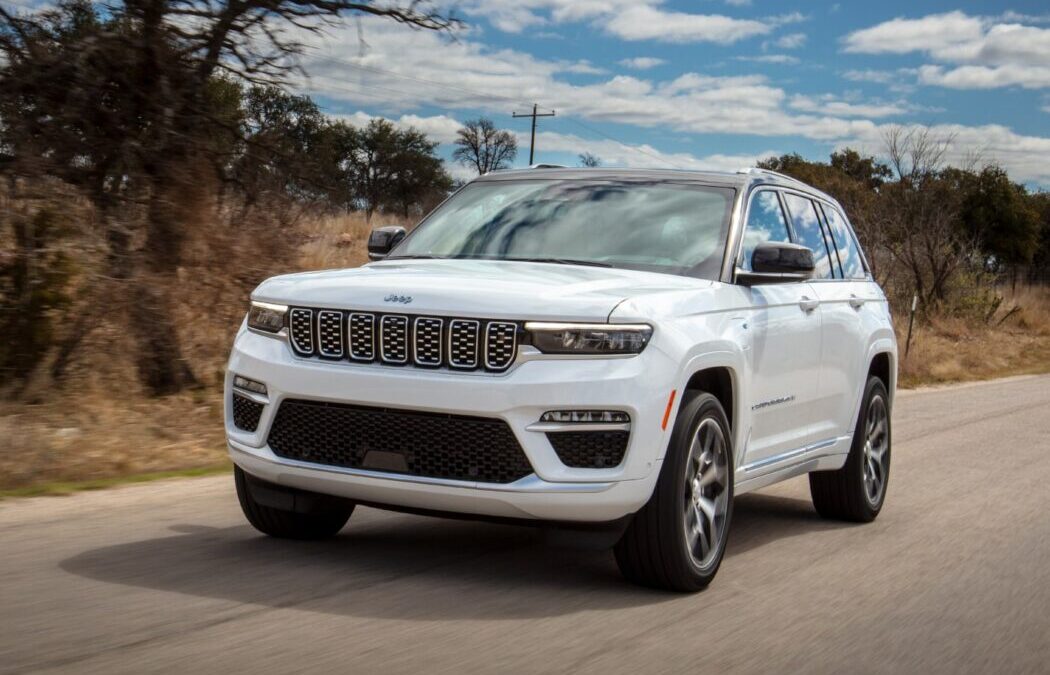 My first foray into an electrified Jeep was about a year ago driving around in a Jeep Wrangler Unlimited Rubicon 4xe for a week and it was all around a very pleasant experience. This powertrain has now been carried over to the 2022 Jeep Grand Cherokee and it's a big step in Jeep's electrification future.
As in the Jeep Wrangler, it uses a small four-cylinder instead of the larger V6 and V8 but it beats the V6 from zero to 60 mph by a full second. The Summit Reserve trim is as sumptuous as you would need, the Grand Wagoneer comes to mind as a comparison, supremely comfortable and practical and best of all it is highly capable off-road.
Since this car came with massive 21-inch wheels and street tires I was a little reticent about tackling anything other than a mild trail but I remembered this is a Jeep with an excellent 4 -wheel drive system, hill descent control, and 4 -low and that's exactly what Jeep wants its buyers to do.
It looks like a Jeep
The 2022 Grand Cherokee 4xe is exclusively a two-row and it's very well proportioned at a little over 16 feet long and is a great good-looking design from all angles. It's approximately 11.4 inches shorter than the three-row model 3.7 inches longer, a little bit wider and has a lower roofline than the outgoing model. 
I like the wheel arch design and the tapered rear hatch making it less boxy than its three-row sibling.    From the front, you'll notice the hood is a bit longer, and the nose and seven-slot grille are canted slightly forward making it look more purposeful and aggressive.   
Under the hood 
It has the same 270-hp turbocharged 2.0-liter inline-four engine with 295 pound-feet of torque as the Wrangler and is complimented by a belt-driven 44-hp motor and another 134-hp electric motor that replaces the eight-speed automatic transmission's torque converter.   The combined output is 375 horsepower with 470 lb-ft of torque.  
In Electric only mode, it will get you 25 miles before you'll need to charge it or continue in Hybrid mode. EPA numbers are 56 mpge and for the week I averaged 21.3 mpg overall thanks to both off-roading it and some senseless grin-inducing acceleration.
Off-road skills
There's an optional Quadra-Lift air suspension available, standard on Summit trims which gives you a total of 10.9 inches of ground clearance and up to 24 inches of water fording capability. Underneath the Grand Cherokee 4xe is a 3.5-millimeter skid plate that protects the battery pack.
The air suspension has several levels which not only assist when off-road but also lower the car during highway driving to improve fuel economy, lowering it for easy entry and exit and to aid ride quality and handling.
The 4xe comes standard with five terrain modes (auto, sport, rock, snow, and mud/sand) and they are easily selected via a toggle switch in the center console next to the gear shifter. To access 4Low you need to select neutral and then push the 4Low button.
Driving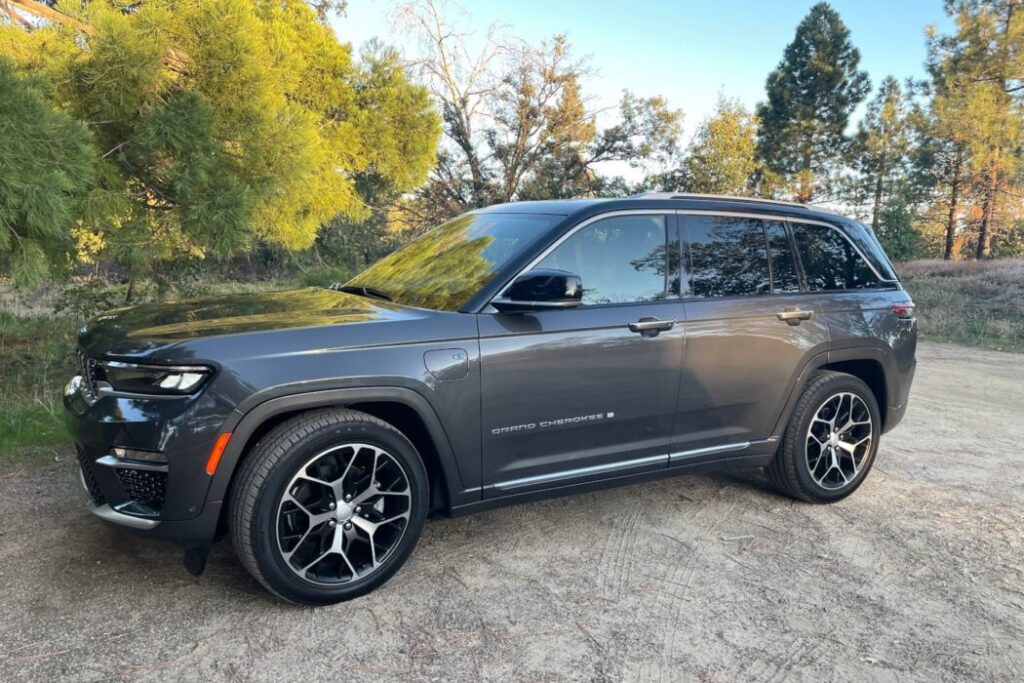 First impressions are that this powertrain is extremely torquey, with instant acceleration and for the most part smooth power delivery. There is some jerkiness in the transition from the electric to the gas mode which I did notice in the Wrangler but since that's part of its nature I ignored it. In the more luxurious Grand Cherokee, however, it seems more noticeable and the turbo 4 is a tad buzzy at higher revs for my taste.
The 4xe features regen braking which helps to put power back into the battery and I found that it works best in Sports mode for some reason or you can simply use E-Save. In Sport mode, the 4xe is quite lively, faster than you would think with responsive handling and tight cornering. The steering is confident and the car is very stable around curves without any noticeable body roll.
The brakes can be a tad sensitive and grabby, but it doesn't take long to get used to them and they are certainly no worse than other hybrid brakes I have encountered. On the plus side the 2022 Jeep Grand Cherokee 4xe is comfortable and has a very smooth ride, the suspension dampening out all but the worst washboard surfaces,
Drive Modes
There are 3 buttons to the left of the steering column allowing the driver to select 3 different drive modes. The first one is Hybrid where the computer figures out how to blend power sources for maximum efficiency. You will hear it as the drivetrain switches from Electric to gas. Unfortunately, it's not the smoothest transition often accompanied by some lag and some shunt.
Next is Electric where only the primary electric motor moves the 4xe, and the engine stays off unless the driver presses the accelerator to the floor. Forward motion is pretty brisk but tails off as your speed increases.
Finally, E-Save allows you to drive the 4xe as a hybrid while maintaining the battery's charge. You can also charge the battery in E-Save using the gas engine, which is great for the trip to a trailhead where you can return to Hybrid mode for max torque.
Regardless of the mode you're in the battery never goes totally flat, the computers retain a reserve even after the electric-only driving range is depleted. Adding some help to the state of the battery charge is the Max Regen feature, which you can easily enable via a button on the dashboard. This is about as close as you will get to a one-pedal driving experience.
Interior
The new generation Jeep takes the cabin a big step forward, in Summit trim it's very reminiscent of the Grand Wagoneer, with swathes of wood and lots of leather. Its slim vents are cleaner and the overall look exudes quality and luxury so much so I couldn't find any hard plastics anywhere.
The 19-speaker McIntosh premium audio system offers, a subwoofer, and a 950-watt amplifier, so if audi quality is your thing then don't get the base system.  The Grand Cherokee 4xe Summit Reserve 4xe comes with plush ventilated and heated quilted leather seats in the front and back, massaging front seats, wood trim, and simulated suede inside almost everywhere.
The Uconnect 5 infotainment system is standard across the board and has a 10.1-inch touchscreen and volume and tuning controls behind the heated steering wheel with soft-touch toggle switches.
It's spacious too with 37.7 cubic feet with all seats up and 70.8 cubic feet with the 2nd-row seats folded. Added to that it will tow up to 6,000 lbs which is way ahead of all the other plug-in hybrids.
Pricing
The base price on my Baltic Gray tester was $69,820 but adding several options brought that close to $80,000. They included Night vision, a head-up display, Palermo leather seats, active noise control, a wireless charger, manual rear window shades, and an auto-dimming rear-view mirror.
Verdict
The Grand Cherokee 4Xe is a tricky one to choose, the hybrid system is clunky at times something Toyota has mastered. The EV-only range is limited but there's no doubt it's quicker than the gas-only V6 and it has more torque than the V8.  
There are plenty of options to choose from I'm just not sure the 4Xe is for me but there's no doubt the Grand Cherokee is still a classic whichever trim you choose.  
VIDEO REVIEW
2022 Jeep Grand Cherokee Summit Reserve 4xe numbers
BASE PRICE: $69,820
PRICE AS TESTED: $79,000
VEHICLE LAYOUT: Front-engine, rear/4-wheel-drive, 4-passenger, 4 -door SUV
ENGINE: 2.0-liter turbocharged  inline-4 + 2 AC motors
COMBINED POWER: 375 hp (270 hp + 44hp +134 hp)
TORQUE: 470 lb-ft
BATTERY PACK: 14 kWh
CHARGING TIME: 2 to 3 hours with a level 2 charger
TRANSMISSION: 8-speed automatic
CURB WEIGHT: 5,500 lb (est)
0-60 MPH: 5.5 sec
CARGO SPACE: 37.7 cubic feet, 70.8 with seats folded
EPA Electric + Gas: 56 mpge
OUR OBSERVED: 21.3 mpg
PROS: Excellent 2.0 Turbo motor + electric provides quick acceleration, spectacularly capable off-road, refined on-road manners
CONS: Hybrid powertrain is somewhat clunky