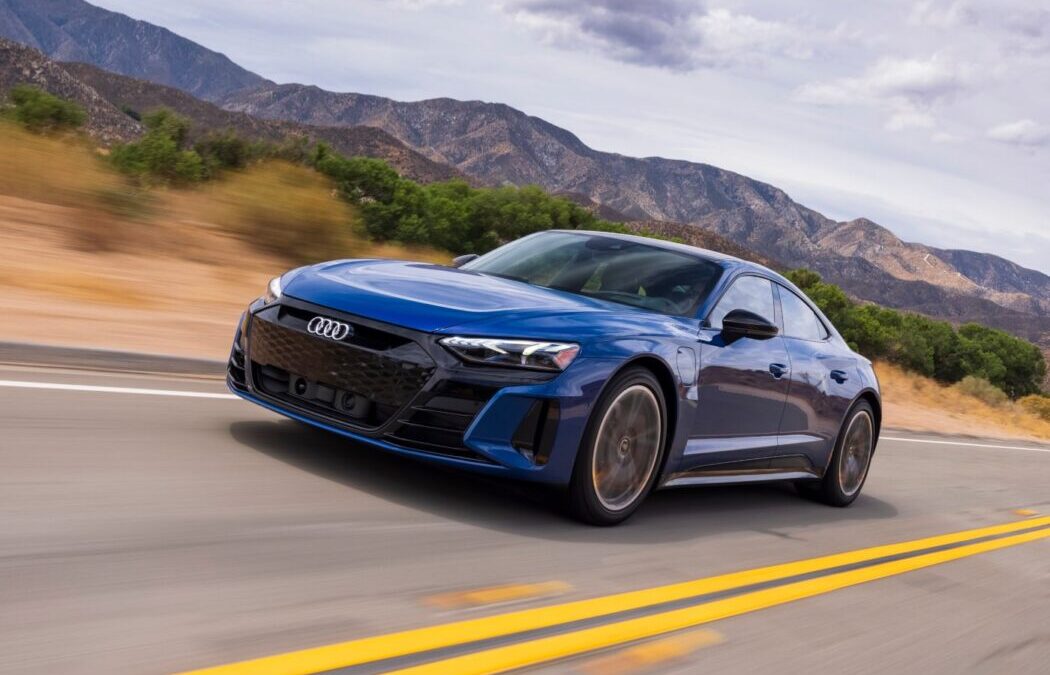 The Audi e-tron that I was supposed to get this week was sadly canceled again, since Audio needed it, which quite rightly they can do as I am merely an impoverished journalist. This was bad news indeed until they said they would be sending me the 2022 Audi e-tron GT instead, whoop whoop. 
The 2022 Audi e-tron GT sedan is one of the prettiest and best-styled EVs out there, in fact, it's better looking than almost any other car. Audi made sure that it would have a look and feel just like the Audi sports sedans that we are used to and I think to that end they have succeeded.
The e-tron GT is technically the base model but that description does it no justice at all since it's basically a Porsche Taycan's 4S sharing its platform, two-speed gearbox, and battery pack, although the Audi has a much more traditional interior.
It's not a particularly big car, and it sits quite low, giving it a very low center of gravity which is of course key for a performance car. It's 16.3 inches long, 6.5 feet wide, and only 4 ½ feet tall.  
Pricing
The e-tron GT starts at $99,900, however, my tester was equipped with the $6,000 performance package, which adds rear-wheel steering, torque vectoring, matrix LED headlights, and lots of gloss black exterior trim. It has 20-inch 5 double-spoke wheels and Pirelli Cinturato all-season tires, which I found odd in a car with the Performace package, Summer tires should be standard. It also has the $2,250 driver assistance package, which includes adaptive cruise and active lane assist taking the total price to a shade under $110K. 
What makes it go?
It's got two motors, one on each axle, both of the permanent-magnet synchronous type driven through a 2-speed transmission. Combined power is 522 hp and 472 lb-ft.  and 0-60 takes 3.9 seconds. The E-Tron GT has a 93.4-kilowatt-hour battery pack with an available 83.7 kWh and is rated at 238 miles of range.

The 2-speed transmission is used for efficiency and in normal or comfort mode the car starts off in 2nd gear and only drops to 1st if you mash the go pedal. In Dynamic/Individual mode the car starts off in 1st and changes up at 50mph.
If the GT doesn't seem to be fast enough then you can spend an extra $40,000 for the even more powerful RS version of the e-tron GT, which has 637 horsepower and some chassis tweaks. I'm not sure you really need this car to be any faster but some folks just want bragging rights.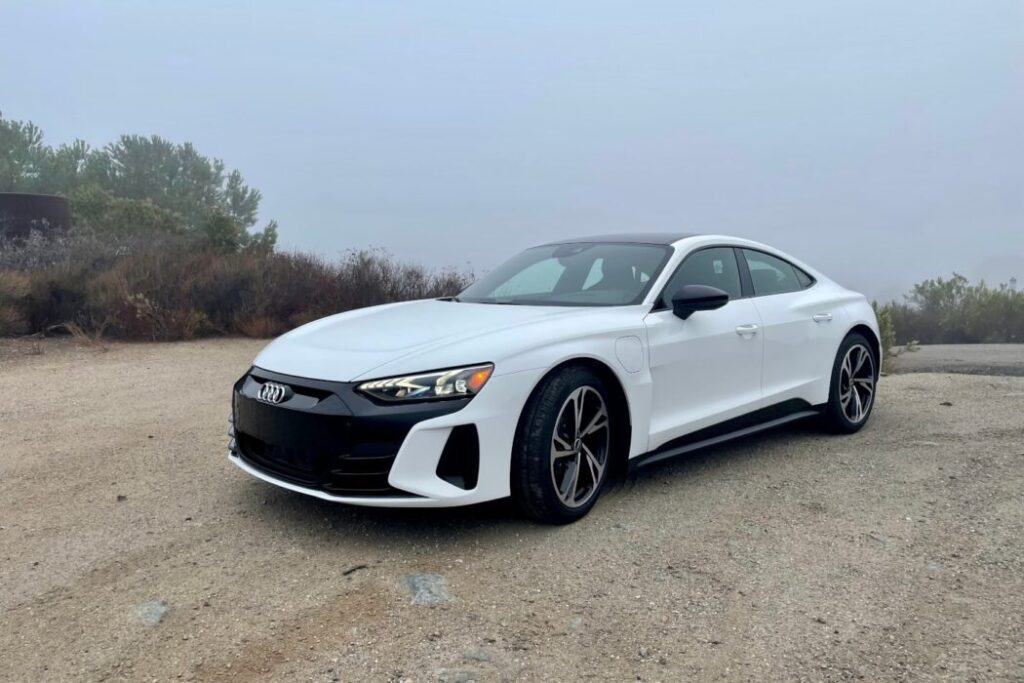 Once you get behind the wheel it's pretty clear that this car was made to reward the driver in every possible way. The steering is light, very accurate, and progressive, and the damping is well-tuned. It just feels so normal just like a gas-powered car would and this is precisely what Audi intended. They aren't trying to reinvent the car just the way it is powered.
Even wearing the Pirelli Cinturato all-season tires the E-Tron GT is a hoot to drive especially on a twisty back road, so much so had I not kept a watchful eye o the range indicator I would have run out of electron, it's the kind of car I don't want to stop driving.
Around town, for the most part, you are the king of the stop lights, the car leaps off the line with urgency, but it's not quite as ferocious as a Tesla but it's quick enough to be faster than 99% of others. It's also supremely quiet inside and only the artificial hum is present when you accelerate.  Air suspension is standard and provides a nice, supple ride with minimal body roll, helping to iron out most road irregularities.
There isn't a one-pedal drive mode in the e-tron, another of Audis' ways to normalize the EV experience, the brakes do regen when you let off the right pedal but it won't come to a stop like a Telsa and I'm ok with that.
EPA rates the car at 238 miles and if this seems low don't worry I charged on a level 2 charged aat my house and regularly had 250 miles available in the morning. Even with my week of hard driving, the battery seemed to regen better in Dynamic mode especially when driven hard, it's the best of both worlds.
Interior
Inside the e-tron GT loses the dual-screen infotainment setup found in the E-Tron SUV in favor of a single 10.1-inch screen and adds physical climate controls on the dashboard below. It's a slick system, fast and easy to use with nice haptic feedback and crisp graphics. Audi's 12.3-inch Virtual Cockpit ahead of the driver is still light years ahead of the competition and is the best on the market. 
Although the interior is beautifully made, with super supportive front seats, there are a couple of misses, for example, no wireless charger and a lack of storage space, especially for your phone. The small area to the left of the shifter is too small for most phones and the center console bin is tiny.
I do like the glass roof, I usually eschew sunroofs of any kind but this one is very cool and the glass didn't seem to let in too much heat even on sunny Southern California days.
Cargo Space
The trunk offers up to 9.2 cubic feet of space and the rear seats do fold flat if you need more room and as an added bonus you can poke through longer items by folding the rear armrest. Up front, there's a frunk with 1.8 cubic feet of space.  
Verdict
There's no denying that e-tron GT is a somewhat costly proposition but it's now one of my favorite EVs to drive and rapidly becoming one of my favorite sports sedans, period. Audi has retained that conventional gas-powered car feel, it's not weirdly futuristic and I think the E-tron GT is the most compelling product Audi makes.  I'll also add, if it's good enough for Tony Stark it's good enough for me.
VIDEO REVIEW
2022 Audi e-tron GT quattro numbers
BASE PRICE: $99,900
AS TESTED PRICE: $109,195
VEHICLE LAYOUT: Dual motor, all-wheel-drive, 5-passenger, 4-door sedan
ENGINE: 2.0 liter turbocharged and inter-cooled DOHC 16-valve inline-4
BATTERY:  Lithium-ion, 83.7 kWh
COMBINED POWER: 522 hp
TORQUE: 472 lb-ft
TRANSMISSION: direct-drive, 2-speed automatic
0-60 MPH: 3.6 sec
CURB WEIGHT: 5,100 lb
CARGO VOLUME: 9.2 cubic feet
EPA COMB/CITY/HWY: 82/81/83 MPGe
RANGE: 328 Miles
PROS: Beautifully made, Audi's most compelling car, fast
CONS: Could use more range