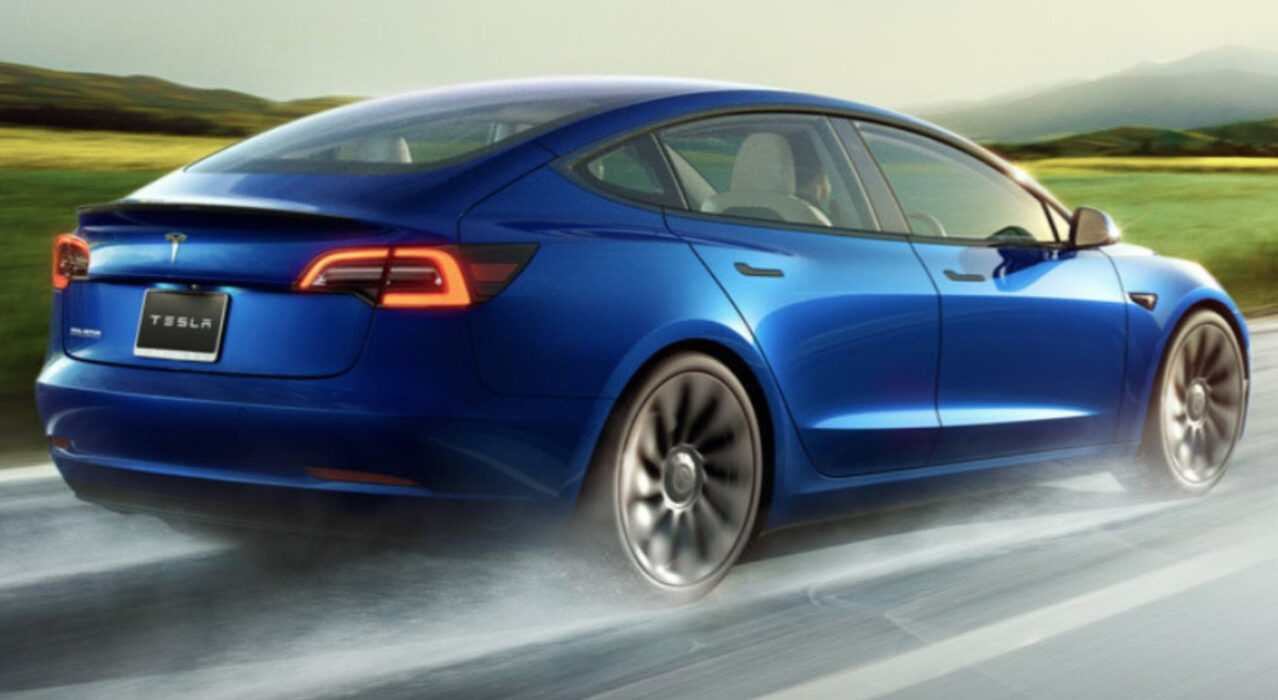 The big difference between the cars I get to test drive and this 2021 Tesla Model 3 Dual Motor Long Range is I actually own this one, yes, I pulled the trigger and bought a Tesla. For those of you that may have been living under a rock since 2017, the Model 3 is a four-door sedan with two or four-wheel drive, seating for five people, a large center touchscreen, and a couple of stalks.  It is, of course, all-electric, has a very usable range, and is very quick, whichever model you choose. It's a really big deal.
The Model 3 sits below the Model S in the range, and in Standard Range Plus specification, is priced from $30,190. The mid-level Dual Motor starts at $39,190 and if it's sheer acceleration you want then the Performance model starts at $47,190.
The highest-performing Model 3, the Performance has around 450 horsepower and 471 lb-ft and gets to 60 mph in 3.1 seconds. The Dual-Motor has an estimated 363 hp and 394 lb-ft and scoots to sixty from a standstill in 4.2 seconds. Bringing up the rear, the base model completes the run in 5.3 seconds, which is still faster than most cars.
What's new for 2021?
There are several exterior styling elements which include swapping out the bright chrome for a satin black trim including the door handles. Three new wheel designs are available and Aero Enhancing Wheel covers improve range although we took our off since the wheels underneath look much better. The only other exterior change is that the trunk lid is now power-operated.
The Model 3's center console has been redesigned to accommodate two wireless smartphone charging pads which are covered in a soft feel Alcantara fabric and the piano black has been replaced by a matte gray finish less likely to show marks and scratches. One cool feature is the sun visors now use a magnet to hold them in place. The seat-adjustment controls and the steering-wheel-mounted infotainment scroll wheels have new finishes and feel more upscale.
Best of all the Model 3's driving range has been improved. The base Standard Range Plus model now claims a driving range of 263 miles per charge, up from 250, while the Long-Range model boasts a 353-mile range, 31 miles more than the 2020 model.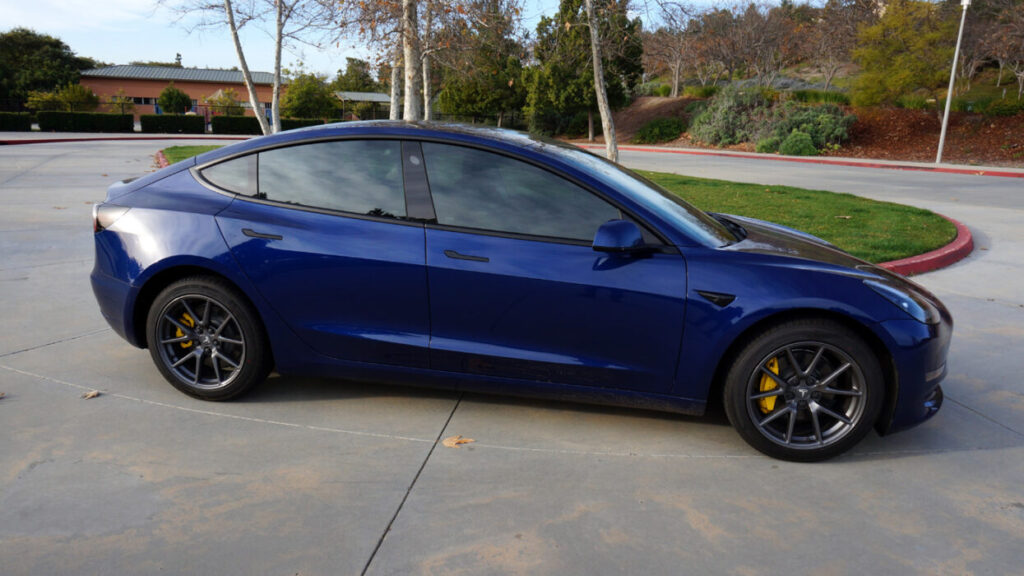 Performance
Any time you have all-wheel drive and a shedload of torque from 0 rpm you are going to have a quick car and the Model 3 Dual Motor is no exception. If you don't want to go fast you can turn down the acceleration mode from 'Sport' to 'Chill', but that really seems to defeat the purpose. Left in Sport mode the Dual Motor is savagely quick whether it's from a standstill or when you need to blast past someone at 50mph since it takes less than 2 seconds to be doing 70 mph. Insane, everything about the car is effortless and driving becomes instantly less stressful, knowing you can pass anyone or squirt into any gap in traffic.
Direction changes are razor-sharp thanks to the very good steering, it's not Alfa Romeo good but it's better than most and the wheel feels really good in your hands. My car has 18-inch wheels and the Michelin All-Season tire combo, which are good but the next set I get will be Pilot 4S and I may spend the $2k for the performance upgrade, which will decrease the 0-60 time to just 3.7 seconds. Brakes are good and if you use full regen, you'll find you won't use them much at all, which is another of the many cost savings with Tesla (or any EV) ownership.
The lithium-ion battery pack sits low down so the Model 3 handles very well, it turns in in a very precise manner and only really gets a little untidy on the limit, nothing that a set of summer tires won't fix. That said you only really need to drive at seven-tenths because the perception of speed is enhanced by the Model 3's ultra-minimalist dashboard, everything is low and out of sight, making the windshield much larger than on other cars.
Charging
Since we picked up the car in Q4 of 2020, Tesla gave us 12 months of free supercharging which comes in really handy for long road trips. We do have solar so once that perk is over, we shouldn't see much additional cost on our electric bill. The Supercharger network is growing, and it only takes 15 minutes to add 150 miles of range, enough time to grab a coffee or simply stay in your car and watch Netflix or a YouTube video.
Inside
The Model 3 is quite stark inside and it takes a bit of getting used to. Climb in and the first thing you see is that the dash is nothing but a slab of wood with a full-width air vent and dominated by a 15.4-inch touchscreen, set in landscape mode. It's quite imposing.
The front seats are vegan friendly and supremely comfortable with full power-adjustability from a normal control found on the left of the driver's seat. The rest of the controls are all operated from the touch screen except for the two unmarked scroll wheels on the steering wheel, standard controls for the electric windows, a button for the hazard lights above your head, a button on the grab handle to open each door and 2 stalks, one is to make it go and the other indicators.
Space in the back seats is good providing you are not over six-feet tall, and the armrest has cupholders in it so resting your arm on it is somewhat uncomfortable. Luckily, I won't be spending much time in the back. The panoramic glass roof is impressive, and all passengers can gaze at the stars if they wish. I would have preferred it to be a normal roof and then they could have made the Model 3 a hatchback instead of having a standard trunk opening.
Issues
We did have a couple of issues, firstly when we picked up the car there were some paint chips in the bumper, which Tesla replaced, and secondly a lot of wind noise from the driver's side window due to them being frameless and not sealing correctly. This was also fixed promptly by Tesla.
Add Ons
We have spent some money on an upgraded frunk opener which can be operated by foot or phone or from inside the car. We also added tinted windows all around and yellow powder-coated brake calipers.
Verdict
So far after 1,580 miles, we've only had one problem when the car shut down completely and refused to start. A quick call to Tesla Service and they helped us reboot the car back to life, which makes sense since it really is a smartphone with wheels.
The rest of the experience has been great, and the Model 3 is an absolute joy to drive. If you go and test drive one, I guarantee you'll buy one.
Tesla Model 3 Long Range Dual Motor Numbers
PRICE AS TESTED: $52,300
VEHICLE LAYOUT: 5-passenger, 4-door sedan
MOTOR: 2 Permanent-magnet synchronous AC electric motors
POWER: 363 hp
TORQUE: 394 lb-ft @ 0 rpm
TRANSMISSION: 1-speed direct drive
0-60 MPH: 4.2 Seconds
CURB WEIGHT: 4,035 lbs
CARGO SPACE: 15 ft³
RANGE: 353 Miles
PROS: Seriously quick, smooth ride, nice cabin improvements
CONS: Some build quality issues