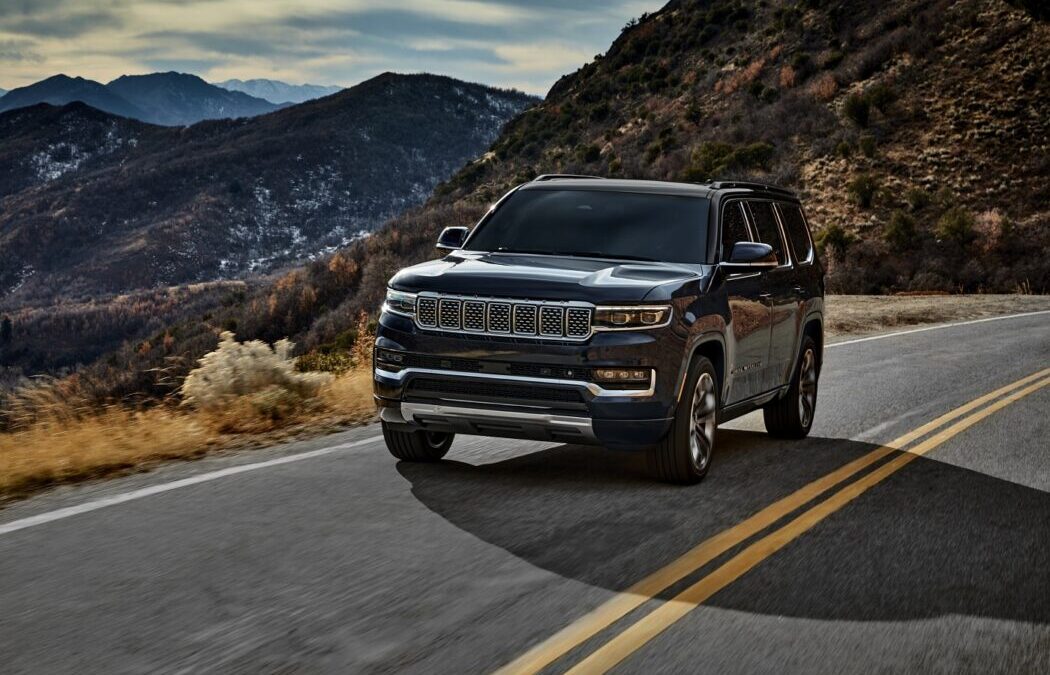 A True Flagship
The arrival of the 2022 Jeep Wagoneer and Grand Wagoneer has been highly anticipated since the last 3-row that Jeep had was the Commander which wasn't well received and mostly unloved.  Now, however, Jeep has rectified that with the 2022 Grand Wagoneer Series III I have to review.
Aside from the curious styling: from the front, it looks great, from the back it seems like a designer with a hangover may have penciled it. It's not that it's bad but the addition of the chrome trim on the rear window together with the darker color of the tester makes it look like I'm on my way to a funeral.
Honestly, though that's the only real thing I could complain about since everything else is wonderfully luxurious, beautifully made, and full of surprises.
One thing to note is the Grand Wagoneer doesn't have any Jeep badges, since it's clear Stellantis wants to separate "Wagoneer" from the Jeep name completely to establish it as a luxury arm.
Is it better than a Rolls Royce Cullinan?
First of all the very British and bespoke Cullinan is some $348,500 to start, a heady $231,780 more than the Grand Wagoneer Series III, secondly the Rolls has 3 USBs the GW has a total of 22. Last but not least the Grand Wagoneer has a McIntosh sound system with 23 speakers, the Rolls only has 16. Of course. we don't expect Rolls Royce buyers to cross-shop a Grand Wagoneer but it does put things into perspective.
Under the hood
The Grand Wagoneer is powered by a 471-hp 6.4-liter V-8­ with 455 lb-ft of torque, an engine you're probably quite familiar with since it is used in the Scat Pack versions of the Charger and Challenger as well as the Jeep Grand Cherokee SRT. It's paired with an eight-speed automatic transmission and standard all-wheel drive. It comes with low range, hill descent control, and Auto, Sport, Rock, Snow, and Sand/Mud.
Some models will be available soon with a 510-hp twin-turbo 3.0-liter inline-six that also has an eight-speed automatic and all-wheel drive. Expect it to be quicker and more fuel-efficient than the V8.
Of course, the downside to the V8 is fuel economy, although I doubt any buyer of 6,300 lbs, $116, 720 vehicles would worry about fuel economy. My average for the week was 10.9 mpg which isn't good, especially in a world of $6.50 per gallon premium gas.
Off-Road ability
The Grand Wagoneer uses a body-on-frame chassis from the Ram 1500 pickup truck so it features an independent rear suspension giving it the same ultra-smooth ride as the Ram. In the case of my tester, it had an excellent adaptive air suspension system that can raise ride height up to 3.6 inches or lower it by half an inch. That gives it 10 inches of ground clearance, up to two feet of water-fording capability, and a max tow rating of nearly 10,000 pounds.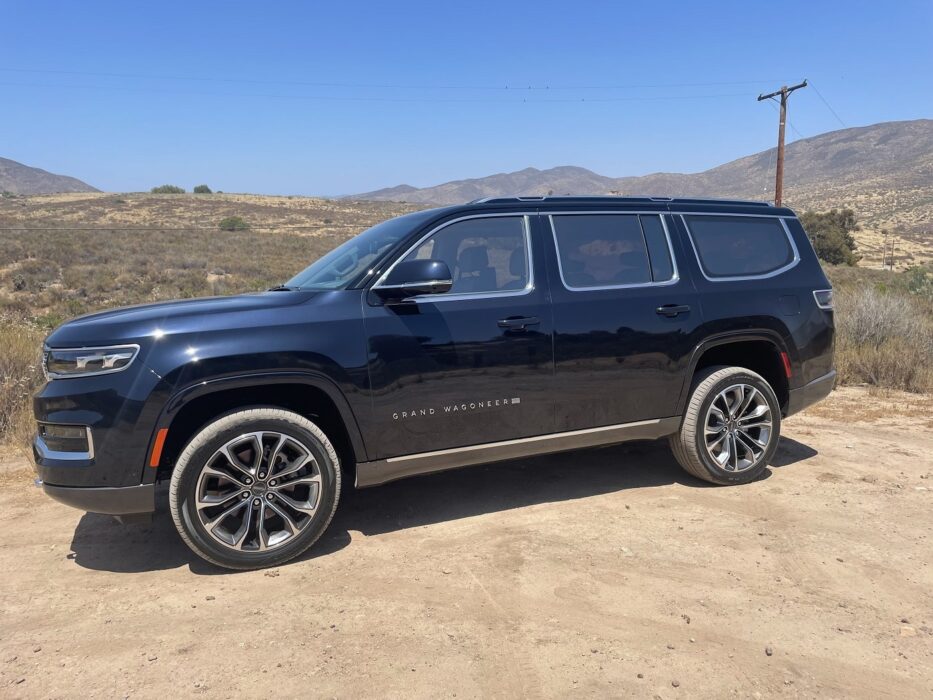 Driving the beast
Getting behind the wheel gives you a commanding view of the road ahead, and a comfortable one at that thanks to the excellent front seats. First impressions are it has a very relaxed and refined ride on the highway, and it feels as big as it looks.
On rougher pavement, it can get a bit jiggly but the suspension soaks most of it up with ease. Press on in the turns and body roll is evident but it is all well controlled and understeer is mostly absent unless you enter too fast causing the traction control systems to kick in.
The brakes are reassuring but a firm push is required to bring the Grand Wagoneer down from higher speeds and the steering is a tad light and lacks feel but that's the story these days with electronic systems.
Not sporty but surprisingly quick
Getting this kind of mass moving requires a lot of power and fuel, and in this case, it makes it surprisingly quick, the big beast powers to sixty in a scant 5.4 seconds and it keeps pulling hard to well past "go directly to jail speeds".
Of course, this kind of behavior is unlikely to be repeated by most buyers of this Grand Wagoneer, but it's nice to know it has ample reserves of power for the odd traffic light drag race with a surprised GTI owner.
Incredible interior
The interior is where they have made this car stand out, it's spectacular in its design elements with a flying buttress piece of aluminum across the dash at center level with the words Grand Wagoneer embossed on the passenger side. It certainly makes a big statement.
The front seats have 24-way power including massage functionality for both driver and passenger but the most incredible thing though is the amount of real estate taken up by the multitude of infotainment screens.
Ahead of the driver is the digital gauge cluster, there are two screens in the center console the main one has a 12.0-inch center touchscreen that sits above a 10.3-inch touchscreen with controls for the HVAC system, and massage functions. Ahead of the passenger is another screen (not visible to the driver's eyes thanks to a special screen coating), which they can use to display music and push content to the rear 10.1-inch touchscreens that each captain's chair passenger has.
Those second-row passengers also get are also treated to another 10.3-inch touchscreen between the captain's chairs, so they can adjust the temperature. Third-row passengers get surprisingly comfortable seats with decent headroom and powered recline functionality. They also get USB-c and USB power, cupholders, and a glass moonroof (which doesn't open) to view the stars.
Where's the WIFI charger?
I did have an issue finding the WIFI charger and at one point I thought they had forgotten to add one but after some poking around there's a button in the center console that raises the bottom infotainment screen and reveals more plug-in power and the WIFI charger. It's a super cool functionality.
Huge cargo space
If you need to carry a lot of people or adults then the Grand Wagoneer has plenty of interior Cargo space available, especially if all seats are flat. Dropping the third row gives you 116.7 cubic feet, if you have the second-row bench, with captains' chairs this is reduced to a still massive 94 cubic feet which bests its domestic competition. Drop the second row and you get 71 cubic feet, drop the third row and you get a still-impressive 27 cubic feet.
Verdict
There's some stiff competition here from Lincoln and Cadillac, neither of which, in my opinion, has a better interior than the Jeep, better exterior maybe, but if you're driving you don't notice that. Jeep has done a great job with this car and they finally have a flagship model we can all be proud of.
VIDEO REVIEW
2022 Grand Wagoneer Series III 4X4 Review
BASE PRICE: $107,995
AS TESTED PRICE: $116,7201
ENGINE: Pushrod 16-valve V-8, iron block, and aluminum heads, fuel injection
DISPLACEMENT: 6.4 liter
POWER: 485 hp @ 6000 rpm
TORQUE: 475 lb-ft @ 4200 rpm
TRANSMISSION: 8-speed automatic
CURB WEIGHT: 6,300 lb
CARGO SPACE: 3rd row up 27 cu-ft, 2nd row up 71 cu-ft and all seats flat 117 cu-ft (with bench)
ZERO TO 60 MPH: 5.4 sec
FUEL ECONOMY: Combined 15/City 13/ Highway 18
OUR OBSERVED: 10.9 mpg
PROS: Beautiful interior,  Surprisingly quick,
CONS: Very thirsty, odd rear styling