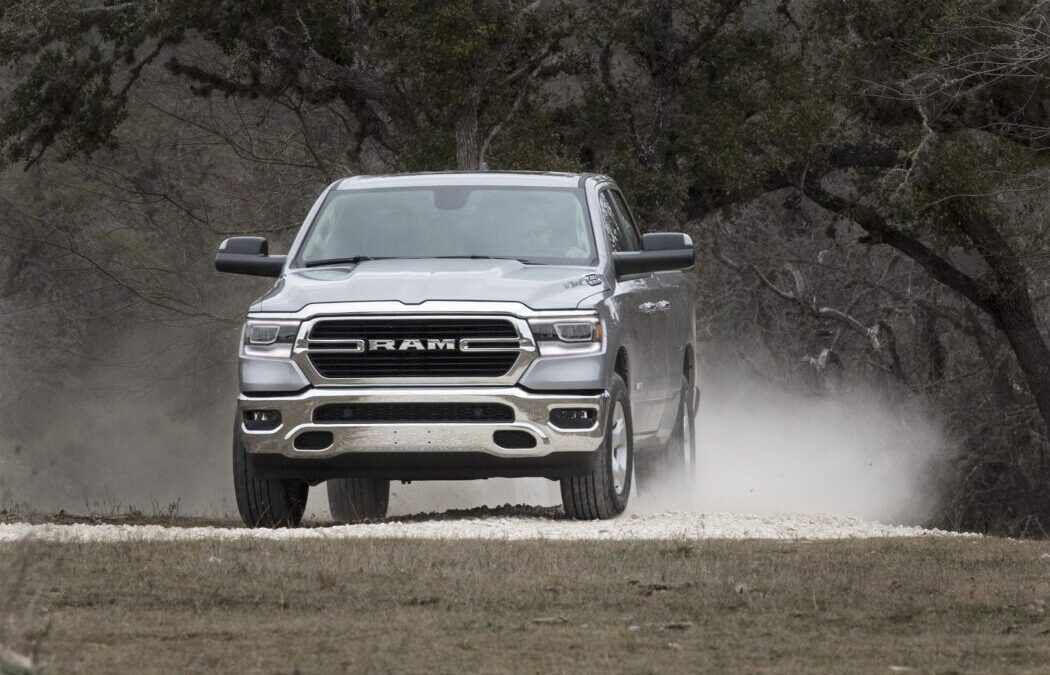 It's not hard to see why the Ram 1500 is consistently being honored as the best full-size pickup on the market today. In fact, it's surprising that it isn't the bestseller but as we know people tend to love certain brands and we can't fault them for that.
One version of the Ram that I hadn't had a chance to drive yet is the HEMI V8 mated to the eTorque or mild hybrid system that is an option on the 8 versions of the Ram that you can build online. My tester was a 2022 Ram 1500 ETorque Big Horn Crew Cab 4X4, which is a lot to say and has a base price of $44,900.
The Big Horn sits in the third from the bottom spot with the excellent TRX sitting above all of them. The good news (or bad) is that the options list is enormous and in my tester's case had nearly $20K added to the base price taking it to $63,760 including destination.
A long options list
So what exactly was included? For starters, It had the Back Country Package (2,695) which meant some off-road fun was a guarantee. That includes a Raised ride height, Off-Road pages, Locking rear axle, Four skid plates to protect the underbody, Hill descent control, Two-tone paint, and 18-inch black-painted aluminum wheels with all-terrain tires.
Next up was the Big Horn Level 2 Package ($2,500)  which includes, Power lumbar driver's seat, 4G LTE Wi-Fi hotspot, 8-way power driver's seat, Power-adjustable pedals, Remote Start, Apple CarPlay, Android Auto, Heated front seats, heated steering wheel, and dual-zone climate control.
It also had the 4-corner Air Suspension $1,805, Trailer tow package $995, Premium LIghting $995, Rear under-seat cargo compartment $125, Uconnect with 12-inch display $2,095 and a 33-gallon fuel tank for  $445.
Forward collision warning with automatic emergency braking is but you have to select the Level 1 Safety Group which includes Pedestrian emergency braking, Advanced brake assist, Full-speed forward collision warning, and lane-keep assist which can be easily turned off via a large button at the top of the infotainment screen.
Under The Hood
The 5.7-liter HEMI provides 395 hp and 410 ft-lbs through an excellent 8-speed transmission. The eTorque system ($2,295) adds 16 hp and 130 lb-ft of torque, which really helps with fuel economy but only if you have a light right foot. Expect 22 mpg highway or better, although for the week I only averaged 14.6 mpg however that did include all testing and an off-road section.
In the sprint to sixty the RAM is pretty quick taking only 6.1 seconds to hit the mark despite it not really being meant for this type of driving. The additional torque doesn't make it any quicker than the standard V8 HEMI.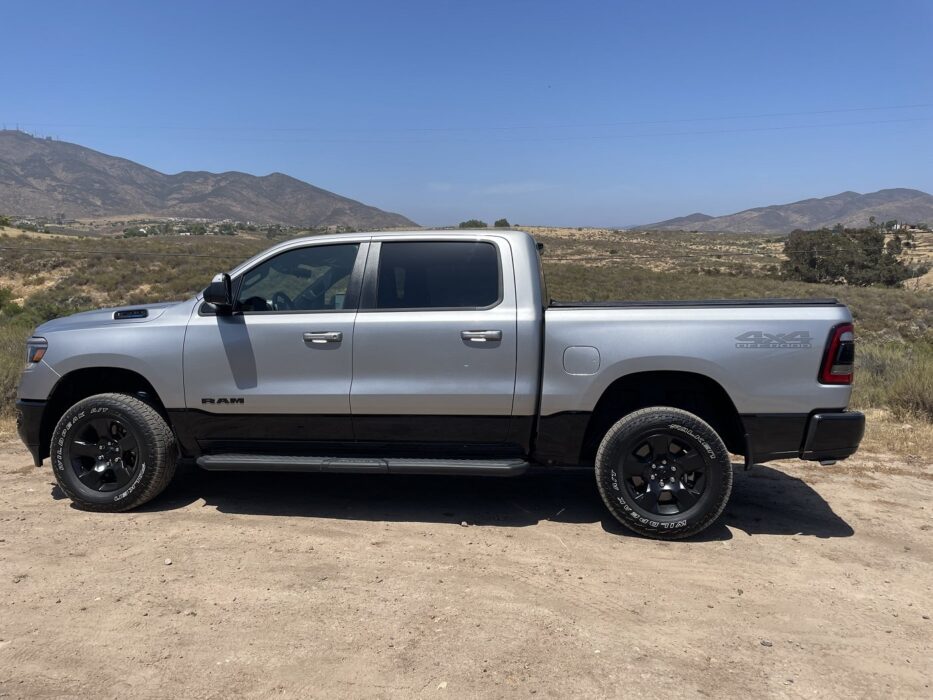 On-road
The first impression is one of seamless smoothness thanks to the 4-corner air suspension system which provides an utterly pillowy ride, better than any I have ever experienced, Rolls Royce would be jealous. It's also pretty nifty for towing and off-road shenanigans.
The Active Level Four Corner Air Suspension has five heights, allowing you to set it depending on your comfort or performance needs.
Normal Ride Height: 8.7 inches of clearance. This is the regular height position and is measured from the base of the door sill.
Aero Mode: Lowers the truck by half an inch to 8.2 inches. This position is activated when you reach a certain speed and helps to improve fuel efficiency.
Off-Road 1: Lifts the truck by 1 inch to 9.7 inches
Off-Road 2: Lifts the truck by 2 inches to a max of 10.7 inches
Entry/Exit Mode: Lowers the truck by 2 inches for easy entry/exit for passengers.
Handling and Ride
The Ram has plenty of go, there's plenty of torque provided by the V8, in fact, left in 2-wheel drive it will roast the rear tires if that's your thing. The 8-speed is mated well here but it can be caught out at lower speeds when you have to wait a second for a downshift.
Press on and the body composure is superb, the air suspension allows the truck to float over bumps and it mitigates any harshness or jiggle. In the turns it stays fairly flat and aside from ultimately understeering is the most carlike of the trucks in all types of driving.
The steering is SUV-like providing fairly low effort and it's easy to place the big truck into a turn especially given the lofty seating position. The brakes provide good stopping power at all times with minimal squat in harder stops. We didn't tow anything so we don't know what they are like with a payload behind.
Off-road
My tester had all the off-road equipment you would expect, including 4WD high, 4WD Low, 2WD, and 4WD Auto, where the system decides what you need based on traction and road conditions.  It also has Hill Descent Control, so we didn't hesitate to head in search of some off-road fun.
Thankfully four skid plates help protect you from rocks and other hard obstacles you may encounter, including front suspension, fuel tank, transfer case, and steering. Our first test was a moderate incline over some large rocks, so putting the air suspension into the highest setting meant this was a no-brainer.
On steeper slopes, we tested 4 LO and the axle lock and got to the top with no problem. On the way down we tested hill descent control and it performed as expected and controlled the descent perfectly over the steep rutted terrain.
As expected the RAM didn't put a foot wrong and while it's no jeep can certainly tackle some fairly tricky terrain.
Inside
This is my favorite part of the Ram, the luxury is apparent, it's all done to a pretty high standard and you almost would think you're in a luxury car. The front seats are very comfortable and the base seating is a mixture of vegan leather and cloth and it looks and feels so good I wouldn't choose the optional deluxe cloth.
The 12-inch portrait-oriented screen is very impressive and can display multiple pages onscreen simultaneously and offers quick shortcuts between menus.  You can even drag and drop stuff onto the dock at the bottom of the screen, so you can get one-touch access to various options.
There's a ton of storage space in the center console and a sliding pair of cupholders with USB ports and three-pin power outlets at hand. One miss is I couldn't find the wireless charger which is odd since you get both Apple CarPlay and Android Auto available wirelessly.
Pull up the split rear bench and there is a huge amount of space including a substantial cubby on both sides and storage space under the seat with a divider to stop things rolling around. It has all been very well thought out.
Verdict
I have a soft spot for RAM trucks, they are just so comfortable and this one is no exception, plus with all the options (and they do get pricey) it was very good both on and off-road. The eTorque doesn't really save you much fuel so I would option the EcoDiesel to make it outstanding.
VIDEO REVIEW
2022 Ram 1500 Big Horn Crew Cab 4X4 Numbers
BASE PRICE: $44,900
PRICE AS TESTED: $63,760
VEHICLE LAYOUT: Front-engine, 4WD, 5-passenger, 4-door truck
ENGINE: 5.7L OHV 16-valve V-8
ELECTRIC: eTorque electric motor (16 hp and 130 ft lbs)
POWER: 395 hp
TORQUE: 410 lb-ft
TRANSMISSION: 8-speed automatic with manual shifting mode
0-60 MPH: 6.2 sec
CURB WEIGHT: 6,100 lbs
MAX TOWING CAPACITY: 12,750 lbs
EPA CITY/HWY/COMB FUEL ECON: 18/22/19 mpg
OUR OBSERVED: 14.6 mpg
PROS: Fantastic ride quality, best in class interior, great on and off-road n every way
CONS: Can get pricey with options