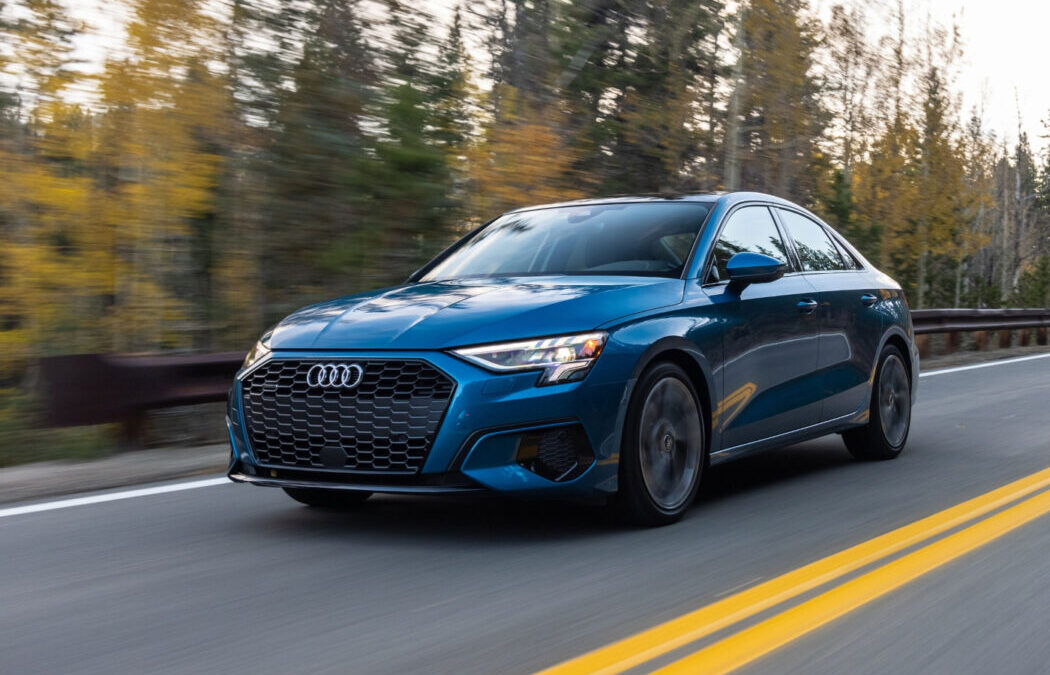 King Canute clearly demonstrated the fruitlessness of trying to stop the incoming tide but there is a belief that we can still change buyers' minds to shift back to sedans from crossovers. The good news is Audi is still trying this hence the refreshed 2022 Audi A3, which retains its pretty shape, and looks more elegant and stylish.
Being lower to the ground has numerous advantages, particularly if you're a driver like me who likes to press on and enjoy the drive. Sedans have a lower center of gravity, are usually lighter, have better performance, and are more economical.
What's new
The 2022 Audi A3 is a bit larger than its predecessor, 1.5 inches longer, 0.8 inches wider, and 0.5 inches taller than before.  At the front, you get revised headlights and the taillights carry over the design language from other Audis like the Q3. The front grille is a little larger, and the front bumper had been redesigned but not enough to still have fake air vents.
Stiff competition
So, what exactly is this car up against well for starters the excellent BMW 230i X drive and the Mercedes A220 4 Matic, both of those offer all-wheel drive, my tester is a Premium Plus Quattro model, although you can get FWD in the A3 as well. Here's a side-by-side comparison.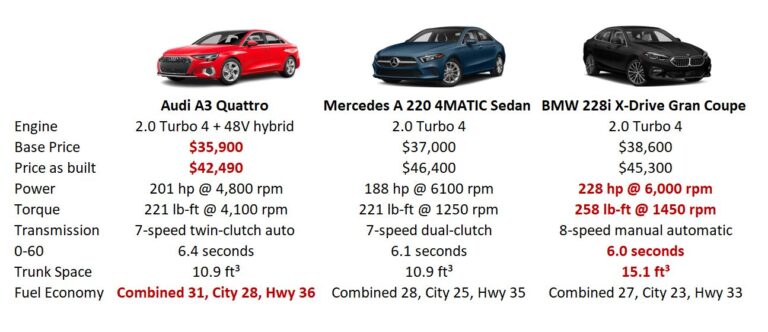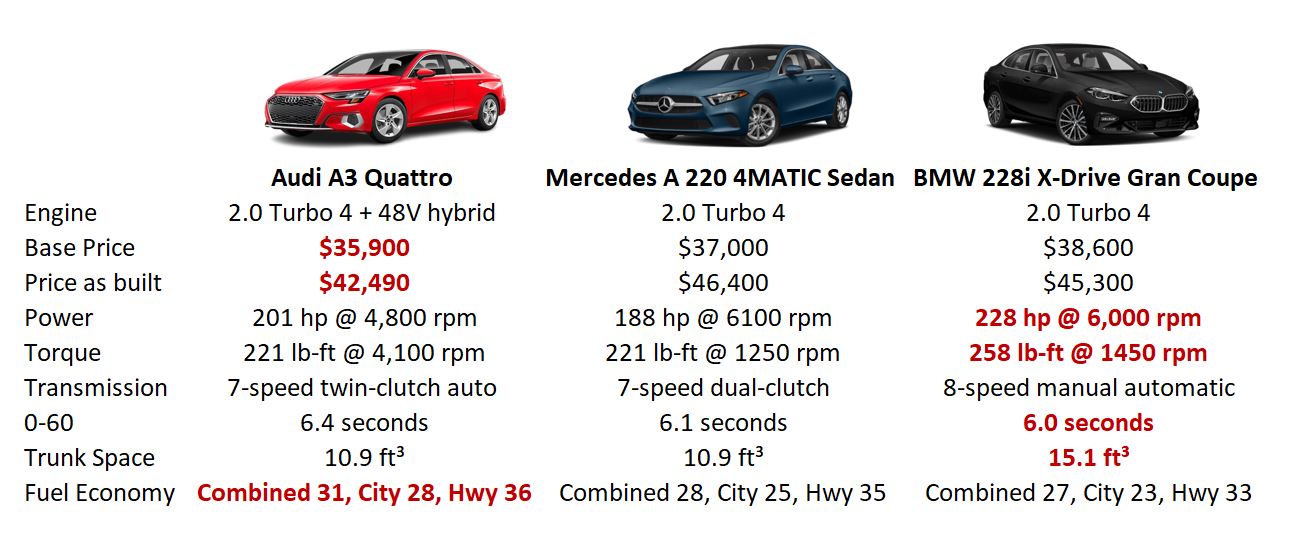 Electrification under the hood
Most notably the 2022 Audi A3 has more changes under the hood and the news isn't all good since the new A3 is down on power compared to last year's AWD A3 which had 228 hp and 258 lb-ft. Now regardless of driven wheels this engine has 201 hp and 221 lb-ft of torque but is augmented by a 48-volt mild-hybrid system that not only offers a notable improvement in fuel economy but also benefits the car's overall driving experience as we will find out later.
That hybrid system adds a small output boost of 12 horsepower and 37 pound-feet of torque, available from a standstill. The engine is driven through an excellent 7-speed dual-clutch automatic that provides smooth and snappy changes and rarely gets caught out.
Fuel Economy
It's a bit of an understatement to say that the A3 is a fuel miser, especially since it is quite good fun to drive, 2 things that don't normally go together. The EPA rates the A3 at COMB/CITY/HWY:  31/28/36 mpg which is easily attainable. My hard driving for the week netted 22.1 mpg but on some longer runs, cruising at high speeds saw 29+ mpg so a less heavy right foot and you'll be making scarce trips to the gas station. It's proof you don't;' have to sacrifice the fun factor to get good fuel economy.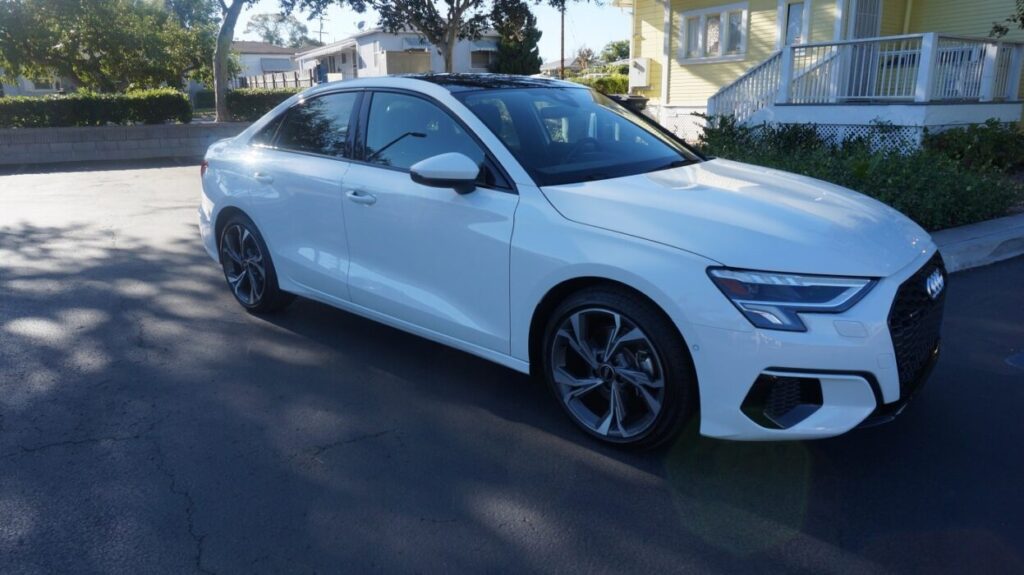 Driving
The A3 is pleasantly zippy and once on the move, you don't feel the loss of 27 hp and 37 lb-feet of torque although from a stop it is a tad slower, getting to sixty in 6.4 seconds. Of its two German competitors only the BMW, which has more power, is quicker.
There are a couple of drive modes where you can choose sportier settings, but I'll be honest they don't make a whole lot of difference, since the suspension is very compliant with whichever mode you choose. Of course, in normal mode, the stop-start system is automatically active but there is a button to turn it off, however, there's no need, it's one of the smoothest I have tried.
On regular drives either around town or on the highway, the Audi is super smooth and very pleasant to drive, the suspension soaks up all but the worst road irregularities and it's very quiet with little wind noise unless you reach much higher speeds.
In a past test of an A3, we found that during acceleration testing we were a little hampered by a slight sluggishness off the line, despite using Sport mode. With the new light hybrid system, turbo lag is a thing of the past, and for that, we are very thankful. The 2022 Audi A3 zips off the line and rattles off gear changes with a precision I can't fault.
The electric power steering is also very good unlike the Audi systems of the past which tended to feel wooden and uncommunicative. The steering is light but does gain weight when switching g to Dynamic mode. The Goldilocks choice is to use Individual mode to keep the steering heavy while leaving letting everything else in the standard Comfort mode.
Using this set up the little A3 is sharp and precise and enables you to hit the apex perfectly and get the power down without a hint of understeer. There is some body roll, but it's well contained and there wasn't a hint of complaint from the standard all-season Pirelli tires. I really do wish Audi and VW would steer clear of Bridgestone which they tend to use on some models.
I have to say this is where Audi easily beats its German rivals, they have always been good at interiors and this one is no exception, it's simply far more stylish than you'd find on the Mercedes-Benz A-Class or BMW 2 Series Gran Coupe.
At first glance, the cabin seems sparse since the shifter is now a small switch/toggle, but this has freed up room for the cupholders to be set further back instead of tucked under the dashboard, where taller containers covered the HVAC controls. Now you get a wireless charger up front, and some usable storage space in the armrest, which tilts using a ratchet-type system.
Not so good is the fact that all Audi's have sunroofs, which is ok, but they like to use a very thin "hair net like" cover which here in Southern California lets in an awful lot of the sun heat, especially at midday. I've said it before it really needs something thicker or give buyers an option to delete the sunroof roof option at least.
The Audi A3 is loaded with tech and it works very well. All A3s get a standard 10.1-inch touchscreen on the dashboard running the latest MIB 3 infotainment software, which is responsive, with an easy-to-read and logical menu structure.  Wireless Apple CarPlay and Android Auto are standard, and the cabin offers four USB-C ports.
My tester had the 10.3-inch digital cluster which is standard, but there is an optional 12.3-inch Virtual Cockpit; both are well laid out and have all the important information that the driver would need. Also available as an option is a head-up display.
Verdict
For a first-time luxury car buyer, the 2022 Audi A3 does the job and it does it well, true it's not as quick as last year's model but the mild hybrid system makes for a seamless and enjoyable driving experience while saving gas. If you need more power, I suggest you get the excellent S3 either way you can't go wrong.
VIDEO REVIEW
2022 Audi A3 quattro Numbers
BASE PRICE: $35,900
AS TESTED PRICE: $42,490 (Premium Plus Trim)
VEHICLE LAYOUT: Front-engine, all-wheel-drive, 5-passenger, 4-door sedan
ENGINE: 2.0 liter turbocharged and inter-cooled DOHC 16-valve inline-4
POWER: 201 hp @ 4,800 rpm
TORQUE: 221 lb-ft @ 4,100 rpm
TRANSMISSION: 7-speed dual-clutch automatic
0-60 MPH: 6.4 sec
CURB WEIGHT: 3,494 lb
CARGO VOLUME: 10.9 cubic feet
EPA COMB/CITY/HWY:  31/28/36 mpg
OUR OBSERVED FUEL ECONOMY:  22.1 mpg
PROS: Very economical, smooth riding, great handling
CONS: Less zippy than before, limited trunk space, some hard plastics inside