The 2021 Chevrolet Silverado 1500 is a good truck; however, it has to compete with the extremely capable and well-put-together Ram 1500 and the very good Ford F-150. True it's very capable but has often been let down by a cheap-feeling interior, something that really should be easy to fix.
What's more important in a truck is what lies under the hood and I was never a fan of the 5.3-liter V8 used across various models, it simply doesn't have the torque and it feels underpowered, especially in a Suburban.
The 2021 Chevrolet Silverado 1500 Z71 tester I received has what I would consider to be the only option you should ever choose, the excellent 3.0-liter Duramax turbodiesel inline-six with 4WD. This engine is available across several Chevy and GMC vehicles and has 277 horsepower and 460 pound-feet of torque, mated to a smooth-shifting 10-speed transmission.
Don't think of it as an old-school London taxi engine either, this one is a high-tech engine, with an aluminum block and cylinder head, twin overhead camshafts, and four valves per cylinder. It uses a variable-geometry turbo which can adjust the boost pressure based on load, as well as an electronically controlled variable-flow intake manifold. These all help to maximize and maintain peak torque much lower in the rev range.
This engine matches the torque numbers for the 6.2-liter V8 but provides it at much lower RPMs meaning you save big time on fuel costs. EPA numbers are 22/26/24 mpg for City/Hwy/Combined and during the week I had it I averaged 21.9 mpg versus 13.2 mpg in a Trail Boss with the 6.2-liter V8. It also has a greener footprint pumping out way less CO2.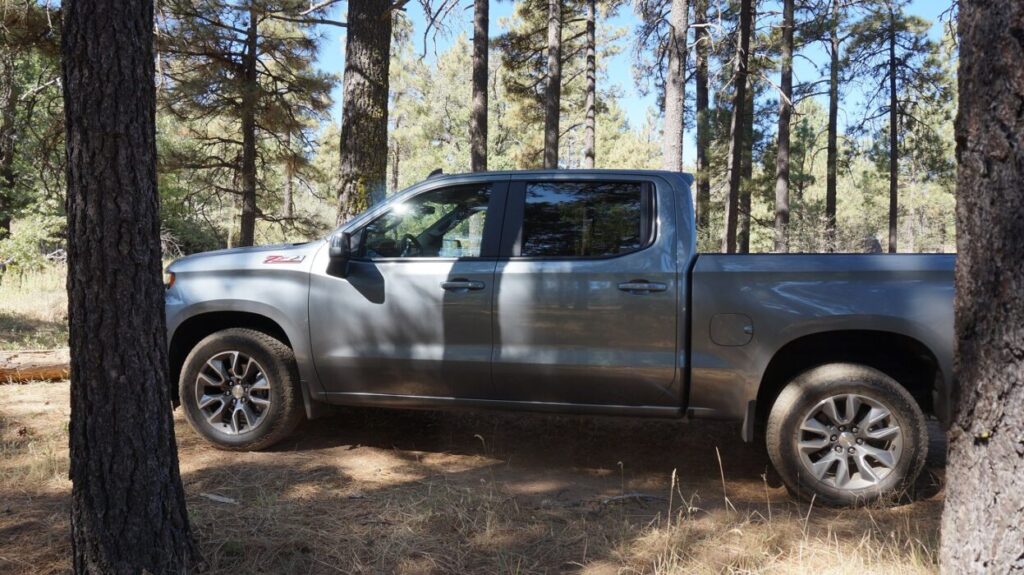 For bragging rights you'll want to know that the 3.0L Duramax has the same torque output (460 lb-ft) as the 6.2-liter V8
On Pavement
The Silverado handles as well as most other trucks, it feels like a truck, and thanks to its Diesel engine it sounds like one too. Chevy has used some noise-canceling to make it sound less rattly than diesel engines of old which never bothered me, but it makes sense if you are considering this engine in a brand-new Yukon Denali.
The brakes feel solid and the steering offers a decent amount of weight and feedback, it's only let down is its ride quality when driven over sharp undulations in the pavement. It can also get somewhat fidgety when things smooth out and some float kicks in when pressed on anything but a flat surface. A Ram-type air suspension would be a big help here.
In normal driving everyday driving though the Silverado is well well-mannered and easy to maneuver and can move at a quick pace if needed. It's not super quick from a standstill but the 0-60 time of 7.1 seconds is quick enough for most and it feels quicker driving it than the numbers suggest. The transmission contributes to much of this it's perfectly mated to the engine and provides buttery smooth shifts.
Off-Road
With the Z71 package which includes Skid Plates, Twin Tube Shocks, Hill Descent Control, A 2 Speed Transfer Case, Heavy Duty Air Filter, and All Terrain Tires the Silverado is very competent off-road. Its 10.9 in ground clearance and 4 High and 4 Low ratios allow it to tackle most obstacles you throw at it.
We headed out to the Laguna Mountains to a truck trail named Thing Valley Road, which winds its way south to a locked gate put in by the Border Patrol to prevent migrants circumventing the checkpoints. It's narrow and has some big ruts, some humps that test the ground clearance, and a lot of dirt.
For the second test, we headed to more difficult terrain on Sheep Mountain Road where things get twistier and steeper. The suspension provided great body control over big dips and ruts, and not once did we ground or bottom out the suspension. Traction was never going to be a problem and we powered up very easily in 4-wheel high.
On the descent, we used four-wheel-drive low since we wanted to test the Hill Descent Control, and it works great controlling the vehicle's speed and forward motion while the driver can concentrate on seeing the terrain in front.
Inside
There wasn't much of a luxury feel inside my LT tester, it's functional but not particularly special, the quality of the plastics is inferior to the Ram, which I hate to keep saying. Some areas are good but then some hard-scratchy plastic appears on the door trim and it really shouldn't. If you have to use hard plastic keep them below knee level.
Ok so rant over the rest of the interior is good, the infotainment system was the 8-inch version that comes with the All-Star Edition Plus package (see details below) and is fast and easy to use. The seats are very comfortable, and my tester had the leather seat option for $985 and on the LT model, the drivers are powered. The rear seat space is limo-like and the rear split bench pulls up and reveals plenty of storage space underneath.
Storage space overall is generous with a compartment above the glovebox, center console storage (my tester had the middle seat option) big door pockets with cup holders, and additional storage.
All-Star Edition Plus
My tester had the optional All-Star Edition Plus package ($1,900) which has a Rear Sliding Power Window, Cargo Bed Power Outlets, Wireless Apple Carplay, and Android Auto, HD Rear Vision Camera, Voice Recognition, Universal Home Remote, 2 USB Ports, 1 SD Card Reader, HD Radio and 20-inch Painted Alloy Wheels.
Final Thoughts
Without the option of the turbo-diesel, I probably wouldn't consider a Silverado but now my mind has been changed, this motor is absolutely brilliant.  Chevy has nailed the engine and transmission part now they just need to address the ride quality and the interior. Bear in mind that opting for the turbo-diesel does cost an additional $2,390 but it is money well spent.
VIDEO REVIEW
2021 Chevrolet Silverado Z71 Duramax Numbers
BASE PRICE: $45,700
PRICE AS TESTED: $55,565
VEHICLE LAYOUT: Front-engine, 2/4 wheel-drive, 5-passenger, 4-door pickup
ENGINE: 3.0L DOHC I-6 Turbo-Diesel
POWER: 277 hp @ 3,750 rpm
TORQUE: 460 lb-ft @ 1,500 rpm
TRANSMISSION: 10-speed automatic
CURB WEIGHT: 5,150 lb
0-60 MPH: 7.1 sec
TOWING RATING: 9,300 lbs
EPA CITY/HWY/COMB FUEL ECON: 22/26/24 mpg
OUR OBSERVED: 21.9 mpg
PROS: Excellent on and off-road manners, good looking, great engine
CONS: Somewhat plain interior