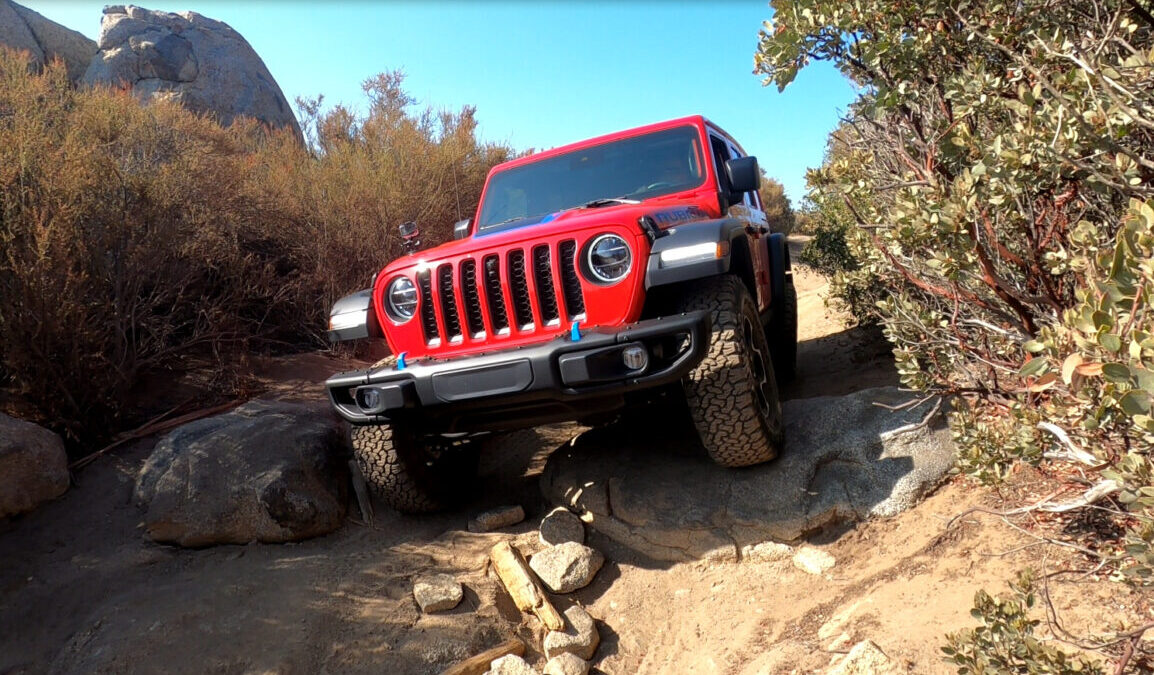 The 2021 Wrangler 4xe (it's pronounced "four-by-E") is Jeep's first plug-in hybrid and it rather complicates your choices but does so in virtual silence as it wades through the toughest terrain.
Typically, Jeeps have been anachronistic, with retro looks that date back to the 1940s with an interior to match and a positively go-anywhere attitude loved by many for years. Now they've rather complicated the issue by offering a distinctly 21st-century powertrain, a hybrid system.
Electrons and gas
Let me say that this is the first hybrid vehicle I have driven that uses a turbocharged motor and doesn't have a horrible continually variable transmission, instead it uses Jeep's very good 8-speed auto. You see you don't have to use a CVT with a hybrid.
The Jeep Wrangler 4xe provides an estimated 21 miles of electric-only range from a 14-kilowatt-hour lithium-ion battery mounted under the backseat. With a level 2 charger, it takes 2 hours to charge from a depleted battery.
Under the hood is a 2.0-liter turbocharged four-cylinder with 270 hp driven through that excellent 8-speed auto. Electric power/assist is provided by a single motor with 44 hp attached to the drive belt and a second one where the torque converter would be with 134 hp, taking the combined power to a very healthy net 375 hp. 
The real number is the amount of torque it has, something you need a lot of for scrambling over difficult terrain and the 4xe has plenty, 470 ft-lbs. to be precise which is exactly the same as the Wrangler 392 has.
You have to engage 4wd Auto for the best acceleration because if you don't torque is electronically limited and it's slower. From a stop, the 4xe surges forward at an alarming rate with sixty coming up in 5.5 seconds, which is completely bonkers!
EPA numbers are 49 MPGe but there is a caveat, once the battery runs out of juice you are essentially lugging around an additional 800 lbs. with the gas engine. This probably explains my average for the week of 18.4 mpg, you really need to have a home charger for this car or at least until Jeep can put chargers at trailheads.
Drive Modes
There are 3 buttons to the left of the steering column allowing the driver to select 3 different drive modes. The first one is Hybrid where the computer figures out how to blend power sources for maximum efficiency. You will hear it as the drivetrain switches from Electric to gas. Unfortunately, it's not the smoothest transition often accompanied by some lag and some shunt.
Next is Electric where only the primary electric motor moves the 4xe, and the engine stays off unless the driver presses the accelerator to the floor. Forward motion is pretty brisk but tails off as your speed increases.
Finally, E-Save allows you to drive the 4xe as a hybrid while maintaining the battery's charge. You can also charge the battery in E-Save using the gas engine, which is great for the trip to a trailhead where you can return to Hybrid mode for max torque.
Regardless of the mode you're in the battery never goes totally flat, the computers retain a reserve even after the electric-only driving range is depleted. Adding some help to the state of the battery charge is the Max Regen feature, which you can easily enable via a button on the dashboard. This is about as close as you will get to a one-pedal driving experience.
Driving
Once you are behind the wheel the drivetrain is the only unusual thing about the 4xe, on electric power, it's weirdly quiet, not something you would normally associate with a Jeep. All that torque is very helpful when passing slower traffic and you can have some fun at traffic lights where other drivers see the Jeep dart off the line faster than it should.
On paved roads, the steering is light and even with the knobby all terrains it rides quite well and the additional weight actually makes it feel more stable. The brakes provide good stopping even with the regen they produce pedal feel is very good.
The ride can get jiggly over rougher pavement and you have to pay attention and give it plenty of steering input to keep in your lane.
It's still a Jeep
All the additional torque is even more helpful while off-roading, which is why we headed for Corral Canyon OHV about an hour east of San Diego. Here the trails range from easy to extreme and have cool names like Gunslinger, Sidewinder, and Bronco peak. We avoided difficult and extreme because no likes to get stuck and we didn't have a backup vehicle.
Despite its fancy high-tech powertrain, the 4xe is still a Jeep at heart and it wants to clamber over rocks, plow through ruts, and generally have a jolly good time. There's no shortage of grip from the BF Goodrich All-Terrain T/A tires on 7-inch wheels and if the going does get steep and you lose grip as we did on a couple of occasions, simply lock the diffs and continue on.
There's no mud here in Southern California in the Summer, in fact, not much all year round but if you do find yourself in wetter parts the Jeep Wrangler 4xe can drive through up to 30 inches of water. The hybrid system's wiring is specially sealed to prevent any electrical shorts.
The off-road pages are a cool feature especially pitch and roll although it doesn't really tell you what the limit is you just have to use common sense. On some of the steeper sections we saw 46% pitch and 16% roll, it was enough for us to prove the Jeep's worth.
The 4xe Rubicon's approach angle is 43.8 degrees its departure angle is 35.6 and its breakover angle is 22.5 degrees. Ground clearance is a very impressive 10.8 inches and we only had a mild scrape over a particularly large rock but since it is kitted out with skid plates, and rock rails we weren't too concerned.
Interior
The 4xe's interior is very familiar it has the excellent and easy-to-use Uconnect infotainment system, the Rubicon has an 8.4-inch screen. It offers support for Apple CarPlay and Android Auto. Quality is good throughout with plenty of soft plastics, and the leather seats in the Rubicon are a luxury you may not need but the seats themselves are very comfortable.
Storage space is decent with door nets and center console storage with USB power and at the rear, you get 27.7 cubic feet of space with the seats in place and if you fold them flat it provides 67.4 cubic feet of space. The batteries do rob the cabin of some space but not enough to really make a difference.
My loaded 2021 Jeep Wrangler Unlimited Rubicon 4xe had a base price of $53,505 but with options, this rose to $66,690. Those options include but are not exclusive to its Firecracker Red paint ($425). Leather-Trimmed Bucket Seats ($1,695), Heated Front Seats, and Remote Start ($995), Trailer Package with Heavy-Duty Electric Package ($795), Body Color 3-Piece Hard Top ($2,495), Steel Bumpers ($1,745), and the excellent Integrated Off-Road Camera ($595).
Is it a game-changer?
The 2021 Jeep Wrangler Rubicon 4xe is very good as all Wranglers are, but I'm not convinced it's ready for this complicated hybrid powertrain just yet. It needs more range and batteries need to get smaller for it to be a viable alternative.
If you are going to spend the extra money, I would probably opt for the turbo diesel, you'll probably get better mileage overall and with 442 lb.-ft of twist, it's only slightly down on the 4xe. Whichever one you choose though it's guaranteed to put a smile on your face.
VIDEO REVIEW
2021 Jeep Wrangler Unlimited Rubicon 4xe Numbers
BASE PRICE: $53,5052
PRICE AS TESTED: $66,690
VEHICLE LAYOUT: Front-engine, rear/4-wheel-drive, 4-passenger, 4 -door SUV
ENGINE: 2.0-liter turbocharged  inline-4 + 2 AC motors
COMBINED POWER: 375 hp (270 hp + 44hp +134 hp)
TORQUE: 470 lb-ft
BATTERY PACK: 14 kWh
CHARGING TIME: 2 hours with level 2 charger
TRANSMISSION: 8-speed automatic
CURB WEIGHT: 5,100 lb
0-60 MPH: 5.5 sec
CARGO SPACE: 12.9 cubic feet, 46.9 with seats folded down, 61 with seats removed
EPA Electric + Gas: 49 mpge
EPA Gas only: 20 mpg
OUR OBSERVED: 18.4 mpg
PROS: Excellent 2.0 Turbo motor + electric provides startling acceleration, spectacularly capable off-road, refined on-road manners,
CONS: Hybrid powertrain is somewhat clunky