3 Row SUVs are becoming more commonplace these days as manufacturers try to spice up their offerings, especially in the case of the Subaru Ascent which was launched in late 2018 as a 2019 model. For 2022 Subaru has introduced a new trim, the Onyx which sits right in the middle of the Ascent's five-trim lineup.
What is the Onyx trim?
The 2022 Subaru Ascent Onyx model comes with some visual enhancements which include a blacked-out grille, black window trim, black badges, and black mirror caps. In addition, it rolls on some quite tasty 20-inch wheels which also have a black finish. Topping things off are carpeted floor mats with logos and a scattering of black interior accents.
It also comes standard with LED headlights, keyless entry, an auto-dimming rearview mirror, a power liftgate, and for those cold winter nights, a heated steering wheel. The Ascent is also a world record holder in having 19 cup holders (I counted them to make sure) the most of any production vehicle.
Styling
The ascent's styling is fairly inoffensive there's nothing to love or hate about it and it follows Subaru's tradition of quirkiness and practicality. Think taller and slightly stretched Outback or large Forester and you'll get the idea. 
This boxy shape means more room for passengers and of course, cargo space, offering 17.6 cubic feet behind the third row, 46 cubic feet with the second row folded, and a gargantuan 86 ft³ with all seats down. All rows get USB power and of course, more cupholder than anyone would need.
Under the hood
Just one drivetrain is offered in the Ascent a 2.4-liter turbocharged boxer-four which puts out a decent  260 horsepower and 277 pound-feet of torque and is driven through Continuously Variable Transmission (CVT) that pretends to be a conventional 8-speed auto. Sometimes it works and sometimes it doesn't but it's the best one I've come across so far.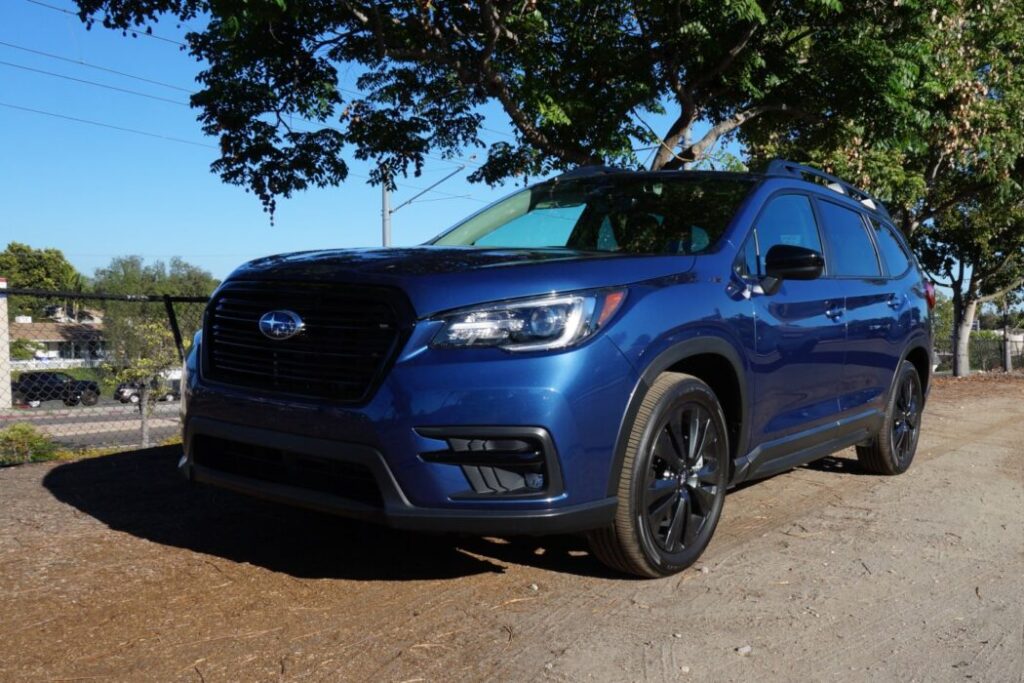 Driving
Having driven the Subaru Outback with this engine-transmission combo I was expecting good things from the Ascent, despite it weighing in at around $4,500 lbs. The Ascent has some pep in its step and launches off the line with vigor, with sixty coming up in 6.9 seconds. Yes, it's not as quick as the Outback but it feels quick enough.
The suspension soaks up any road imperfections and it handles well in the turns with not too much body roll and is surprisingly agile. It has plenty of power to pass slower vehicles on 2 lane back roads and doesn't feel heavy at all like the recent Atlas we tested.
At the helm, the steering is light but reasonably precise and the brakes provide reassuring stopping and a precise feel.
The turbo four has much better fuel economy than the old boxer six, with a combined 22 mpg and highway 26 mpg. For the week I averaged a pretty good 22.1 mpg and only had to fill up on one occasion
Off-Road
Subaru doesn't use the same all-wheel-drive system for every transmission type. The Forester, Crosstrek, Outback, and Ascent, when equipped with the continuously variable transmission use Active Torque Split. Manual versions and the WRX and STI use different systems.
The Active Torque Split system has a 60/40 torque split and uses. a clutch pack that is designed for some slip, but if traction is lost on a certain axle, the system locks the clutch pack, applies more pressure, and sends more torque to the wheels that need it.
Since my tester was wearing street tires on 20-inch rims I didn't tackle anything too tricky but I gave it some steepish ascents with large rocks and also tested its 8.7-inch ground clearance. Needless to say, it passed with flying colors, although there was some tire slip-on occasion it never felt as if it wouldn't make it.
With off-road capable tires, I feel the Ascent should be able to tackle some pretty technical terrain without getting into difficulty. Bear in mind though in stock trim it's no replacement for a Jeep.
X-Mode
A button on the center console engages X-Mode which provides Hill Descent Control (at speeds under 12 mph), it also keeps the transmission in a lower gear so that engine power is more controlled. AWD control is improved by raising the front/rear coupling force when X-Mode is ON, which helps the driver keep power more evenly between the four wheels. This maximizes the traction of the tires, especially helpful if you have street tires.
With X-Mode on you get enhanced LSD control, so if the left and right wheels are behaving differently, the system applies brakes only to wheels that are slipping. Compared to ordinary operation, the brakes are applied a lot earlier when X-Mode is ON, resulting in LSD control activating much faster.
Finally, the throttle is remapped so the power and torque are not applied too abruptly, especially useful when going over rocky surfaces where careful throttle applications are needed.
Interior
The Subaru Ascent's interior is a practical and no-frills,  with a dash rugged design, pleasingly soft texture plastics and some contrasting stitching to pep it up a bit.  My tester had the larger 8inch touchscreen and physical HVAC controls, which in my opinion is much better than the 11.6–inch touchscreen you get in other Subaru models. Sadly the 2023 Ascent will have this as standard across the range.
The system is decently quick and it's fairly easy to navigate the various menus although controls although some are buried deep in the menus. This Ascent comes standard with StarTex synthetic upholstery, which is water-repellent and dirt-resistant and very easy to wipe clean, and is a boon if you have young kids and/or dogs.
The front seats are very comfortable, the driver's seat is powered, and has seat height adjustment, but the passenger seat does not.  For the most part, the controls are easy to access and the annoying Lane Departure Warning on-off button is by the moonroof controls. Always look up.
The Onyx Edition has a seven-passenger configuration, so captain's chairs for the second row, are great for easier access to the third row but not so much for dogs who tend to wander through the gap in the seats.  The third row is also surprisingly comfortable not as spacious as some rivals (The Atlas) but there's enough room for small adults and children
Safe and secure
Subaru EyeSight is standard and is one of the best if not the best available anywhere.  My tester had a couple of options including STARLINK with Navigation, a Panoramic Moonroof, and Cargo Cover taking the price to $41,320 including destination.
Verdict
Subaru has made a great 3-row in a very competitive segment, it's not the most spacious or the quickest or has the best fuel economy but it's competitively priced and does very well off-road.  More Subaru owners take their cars off-road than any other make and folks that are considering a bit of adventure for their extended family can do no wrong by getting one of these. Of course, it goes without saying it will probably last a lifetime.
VIDEO REVIEW
Subaru Ascent Onyx Edition Numbers
BASE PRICE: $37,995
PRICE AS TESTED: $41,320 
VEHICLE LAYOUT: Front-engine, AWD, 5-passenger, 4-door Wagon
ENGINE: 2.4-liter turbocharged and inter-cooled DOHC 16-valve flat-4
POWER: 260 hp @ 5,600 rpm
TORQUE: 277 lb-ft @ 2,000 rpm
TRANSMISSION: Continuously variable automatic
CURB WEIGHT: 4,542 lb
0-60 MPH: 6.9 seconds
FUEL TANK CAPACITY: 19.3
FUEL ECONOMY: 20 city/26 highway/22combined
OUR OBSERVED: 19.8 mpg
CARGO SPACE: 17.6 ft³, 86 ft³ with all seats down 
PROS: Turbo 4 has good power, CVT is one of the best, solid and predictable 
CONS: Infotainment is slow at times, slightly buzzy at certain speeds