The Subaru Outback continues to sell well despite the current pandemic, and it has an extremely loyal following, especially in the US market. For this reason, Subaru is very careful not to make drastic changes, especially to the exterior, and this is a good thing, particularly for resale value.
So, despite wagons being out of favor in the US, most preferring a crossover-type vehicle, Subaru has a hard time building enough Outbacks to satisfy demand. It offers the consumer a predictable, safe and comfortable family hauler now with smarter technology and some design updates.
Turbo 4 has good power, CVT is one of the best, solid and predictable

I do like the quirkiness of the Outback, it's not exciting to look at but it is interesting, and the light styling overhaul doesn't make it stick out amongst older Outbacks, especially my very worn, but still going strong 2011 Outback.
The 2020 Subaru Outback XT Onyx edition that I drove looked the part with blacked-out badges, some attractive black rims, and a black vegan interior. My tester had a couple of options including a STARLINK Multimedia 11.6-inch infotainment display, inc Navigation, Reverse Automatic Braking, and a powered Moonroof for $1,845 on top of a base price of $34,895.
There are two engine options both having the same displacement of 2.4 liters, the base engine has 182 hp @ 5800 rpm and 176 lb-ft @ 4400 rpm and can only be described as adequate. 0-60 takes around 8.6 seconds so if you want to move along at a quicker pace get the 2.4 turbo engine which has 260 hp and 270 ft-lbs. @ 2,000 rpm. This engine is also used in the larger and heavier Ascent so when mated to the lighter Outback it's able to sprint to sixty in 6.1 seconds according to our timing equipment.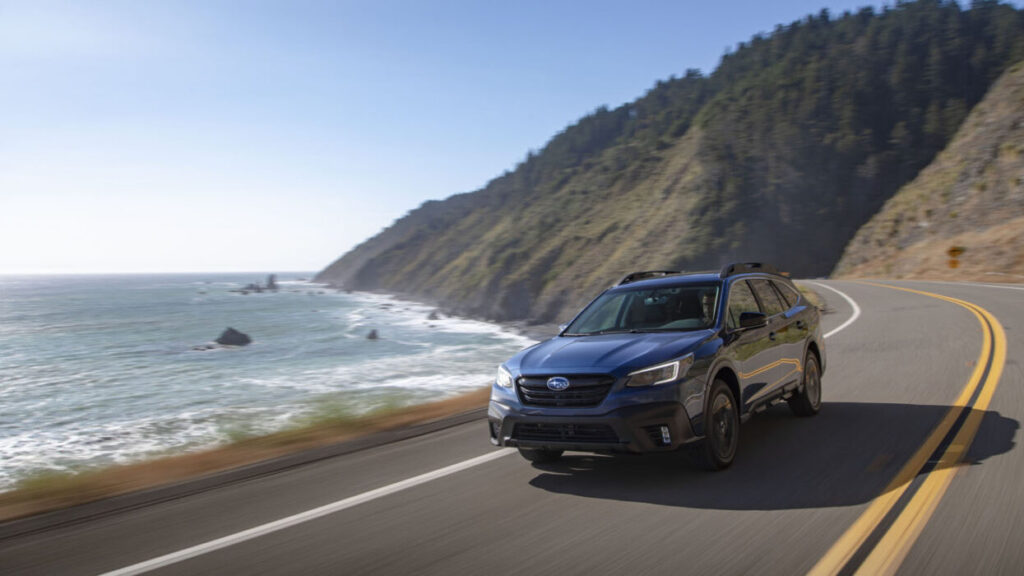 Driving
I can't really complain about the XTs performance, yes there's a hint of turbo lag before it scoots off into the wilderness and it's pretty adept at corning as well. The extra torque pays dividends for passing slower drivers and except for a couple of gaps in the torque curve, forward progress is swift.
Every Outback comes standard with a continuously variable transmission which I'll be honest I have never liked, however, this one is one of the best I have used. Subaru has managed to solve that annoying high revving rubber band feel that plagues most CVTs and has programmed this one to act like an 8-speed regular transmission. It works!
Handling is competent and composed and even if you plow into a corner too fast it offers predictable understeer.  They've sorted the suspension too, it's super compliant and provides excellent body control on and off-road. The steering is light and easy to manage, and the brakes provide good stopping power through a linear feeling pedal.
Off-road the Subaru is very capable and unless you are looking to do some serious rock crawling it will suit most of your off-road needs. We took it on a fairly rough and rutted road where we did find some large pools of water to drive through and the Outback never skipped a beat.
My tester came with Subaru's X-Mode which offers 3 modes, Deep Snow/Mud, Normal, and Snow/Dirt Mode which is programmed to get you out of or through rough and tricky terrain. X–Mode uses lower gear ratios to generate extra power at the wheels that have grip. X–Mode deactivates the transmission's lock-up clutch to better direct power to slipping wheels.
Inside
Most of the changes are on the inside and on the Onyx edition you get two-tone water-repellent seats as well as numerous black trim pieces dotted around the cabin. The front seats are very comfortable with electric power adjustment, the only gripe is they do get hot in warmer weather and there is no cooled seat option so it may make sense to opt for the leather seats on the Touring edition if you want to stay cool.
Dominating the dash is the 11.6-inch portrait-style touchscreen infotainment system which looks great and has crisp graphics. The layout works and the Home screen has large easy to read tiles but the HVACV controls could use a little help, for example, to activate the heated seats having to touch more than one button is one step more than is needed. Response time was good apart from on a couple of occasions when it was a bit laggy and the layout does take a while to get used to. One suggestion would be to use physical buttons for HVAC and the rest on screen.
Infotainment slow at times, fussy HVAC controls

Spacious Inside
The new Outback is 1.4 inches longer and 0.6 inches wider than the previous model and it's the back-seat passengers that reap the benefit, they get all those extra inches. Technically cargo space is a hair smaller than before but not so you would notice, the Outback offers 32.5 ft³ with the rear seats in place and 75.7 ft³ with them folded.
Safety and Security
The Onyx Edition XT's safety systems are impressive and include fixed LED headlights with automatic high beams, lane-keep assist, forward collision warning with automatic emergency braking, blind-spot monitoring, rear cross-traffic alert, and adaptive cruise control all come standard. I found the lane-keep assist was irritating so ended up turning it off, too many flashing warnings even when I hadn't crossed the lines.
 Verdict
The Outback is Subaru's best-selling model, and for very good reason it's a very good car and this new one is better than the old one. The turbo 4 is the one I would choose, I would sacrifice a few options for the more powerful engine but each their own, whatever you decide this is a solid car.
Subaru Outback XT Onyx Edition Numbers
BASE PRICE: $34,895
PRICE AS TESTED: $37,750 
VEHICLE LAYOUT: Front-engine, AWD, 5-passenger, 4-door Wagon
ENGINE: 2.4-liter turbocharged and inter-cooled DOHC 16-valve flat-4
POWER: 260 hp @ 5,600 rpm
TORQUE: 277 lb-ft @ 2,000 rpm
TRANSMISSION: Continuously variable automatic
CURB WEIGHT: 3,920 lb
0-60 MPH: 6.1 seconds
EPA CITY/HWY/COMB FUEL ECON: 23/30/26 mpg
OUR OBSERVED FUEL ECONOMY 19.8 mpg
CARGO SPACE: 32.5 ft³, 75.7 ft³ with seat area
PROS: Turbo 4 has good power, CVT is one of the best, solid and predictable 
CONS: Infotainment slow at times, fussy HVAC controls
2022 CT5 V BLACKWING – TESTED
2022 Lexus NX 450h+ – First Drive
2022 Audi A4 45 TFSI Review