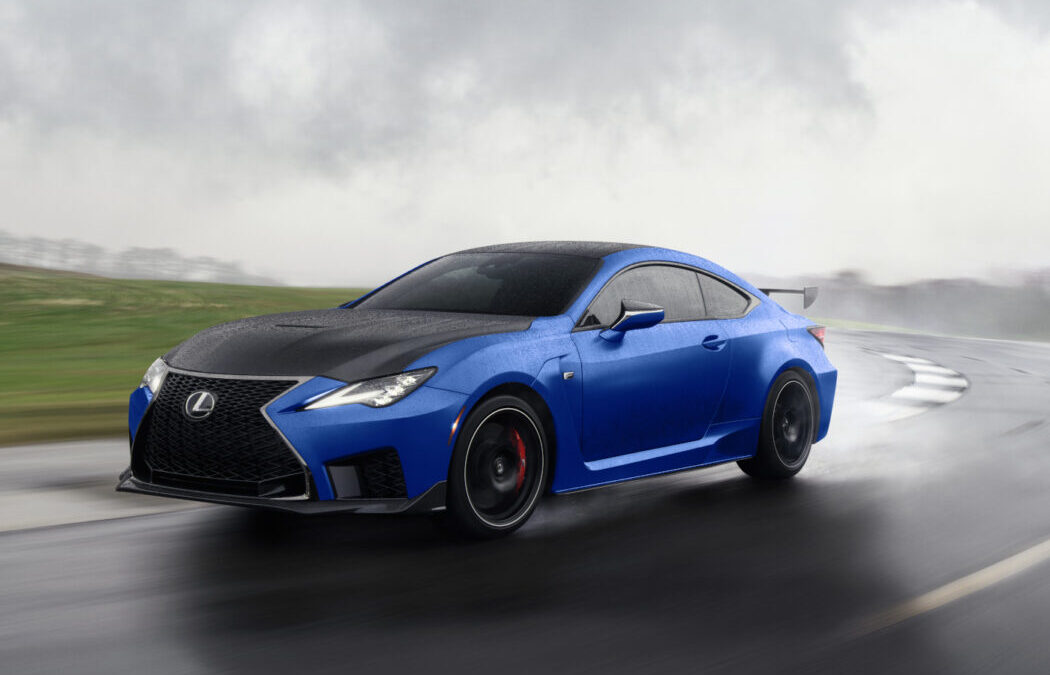 The 2022 Lexus RC F Fuji Speedway Edition is certainly a very exclusive car since Lexus is only building 50 of them for the 2022 model year, so you won't see too many of them around, and if you do, know that the owner paid a $35,000 premium over the base RC F. The 2022 Lexus RC F Fuji Speedway Edition is named after the Fuji Speedway motorsport race track standing in the shadows of Mount Fuji, in Oyama, Japan.
Race car for the road
Porsche has been offering a "race car for the road" trim for some time its 911 GT3 and Cayman GT4 cars and BMW has its GTS trim. Lexus however is never in a hurry and didn't debut anything until 2019 with the launch of the RC F Track Edition. The name was changed in 2021 to the RC F Fuji Speedway Edition, a hunkered down even more track-focused weapon.
What makes it a Fuji Speedway Edition?
Lots of weight reduction, in fact, 177 lbs. worth by adding Brembo Carbon Ceramic brakes, a titanium exhaust, and extensive use of carbon fiber aerodynamics including the hood, roof, rear wing, front splitter, and rear seatback.  Lexus claims it will go from 0-60 in an estimated 3.96 seconds, which we couldn't replicate but we had a lot of fun trying.
You'll also lose the memory seat options as well as seat heating and cooling but all that isn't missed once you start driving it. This time around the Fuji will only be available in Electric Surge semi-matte blue instead of the Arctic Blast Satin or Cloudburst Gray previously. Lexus says you can put it through a car wash but I probably wouldn't.
Included with the purchase of every RC F Fuji Speedway Edition (only 60 units) will be a limited production MSTR automatic movement watch which had obviously been removed from my tester.
Under the hood
The naturally aspirated 5.0-liter V8 makes the Fuji the most powerful coupe in the Lexus lineup, with 472 horsepower and 395 lb-ft of torque. For reference, that horsepower figure adds one over the LC 500. Use it wisely. Both cars send power to the rear wheels only through conventional torque-converter automatics, although the RC F gets an 8-speed versus the LC 500's 10-speed. 
Menacing Looks
The Fuji means business, so it needed to look even more aggressive, that rear wing is positively menacing in the rearview mirror and the four tailpipes (all real) add to that. At the front, the huge black grille is framed by a carbon-fiber splitter and two aggressive air intakes at each side to cool the brakes. It looks fantastic!
Wheels and Tires
The RC F has a set of redesigned 19-inch wheels wrapped in Michelin Pilot Sport 4 S tires (sized 255/35ZR19 front, 275/35ZR19 rear). Front brakes are six-piston Brembos and at the rear, you get 4-piston units.  
Hunkered down on the road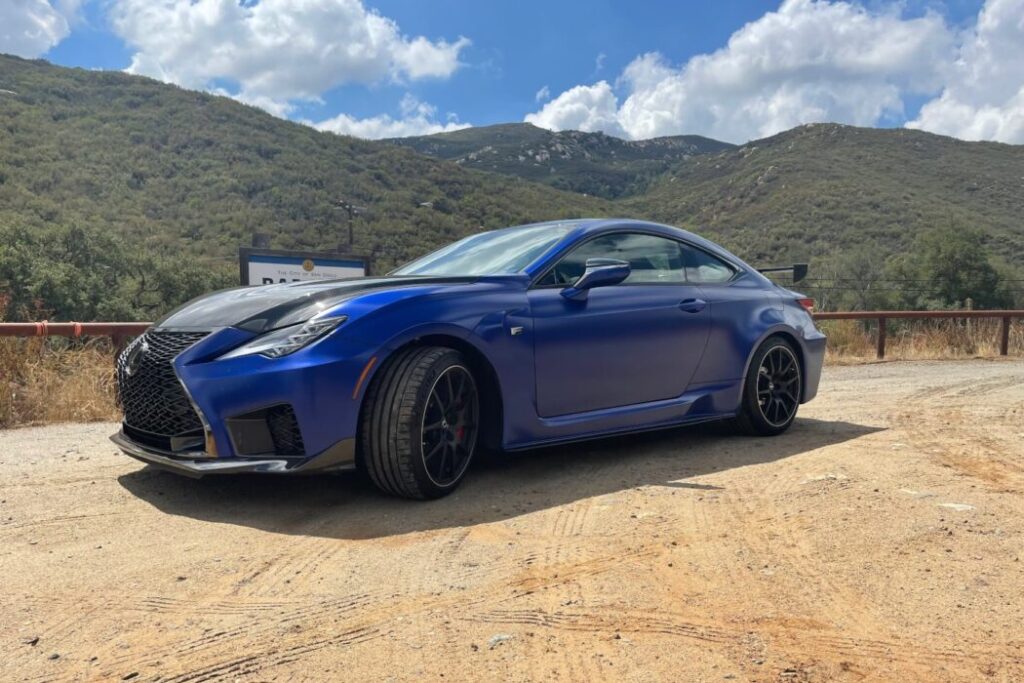 The transmission shifts pretty smoothly in Normal or Eco mode and you have to give a firm press on the gas to have it drop down a gear or two. Switch to Sport S or Sport S+ mode and the car comes alive, albeit with a tad of hesitation if you are not above 4,000 rpm which is where this car loves to be. Once it realizes you are up for some fun the transmission holds the revs high enough for that V8 to start screaming, in a good way, of course. Despite the weight, the car corners well, and only at high speeds do the usually silent Pilot 4s tires start complaining. Despite the weight loss, it's still a heavy car.
The steering, meanwhile, is highly impressive, razer sharp with very good turn-in and unusually these days has decent feel.  In Sport S the suspension is quite firm and on anything other than super smooth pavement, can cause the rear end to start hopping  followed by lots of head bobbing,
Despite this, it is an absolute joy to drive, mash the go pedal, and the 8-speed rattles off ratios like an Uzi, and the corners arrive fast meaning a dab on the brakes and back on the gas, while the four titanium barrels at the rear blast out a wonderful hard-edged sound. The V8's wail in the upper reaches of the rev range is intoxicating and the engine is always wanting to give more without a complaint. It's by far one of the best naturally aspirated V8s I have driven.
You can attack more in this car, it wants to go fast, and there's a sensation of less weight and way more control. Approach a corner fast and the nose turns in and the back pushes you out, with occasional help from the traction control system if you overdo it. Brakes are phenomenal, with zero fade, and of course, being carbon ceramic they don't heat up at all.
The 8-speed transmission works seamlessly with the V8, holding gears perfectly in the engine's sweet spot. Lexus has reprogrammed it for the Fuji and it never skipped a beat, always finding the perfect ratio to storm out of the turns and onto the next straight. Mash the throttle from a standstill and you are rewarded with a surge of pure acceleration accompanied by a high-pitched rumbling from the stacked exhaust pipes, which is all real, no fake noise here.
Inside
For both driver and passenger, the Fuji feels very comfortable, the seats are specific to the Fuji, leather with Alcantara inserts, they provide excellent lumbar support, and beefy bolsters. The backseat though is an afterthought, good for either small children or circus performers.
Lexus's premium infotainment system has a 12.3-inch screen, Sat Nav, and a multimedia interface that looks super cool, but is clunky to use with its not-so-friendly touchpad.
The dash is an interesting mixture of analog and digital gauges that seem odd at first but work well. The large digital tachometer changes when you switch drive modes going from cool blue in Eco mode to angry red in Sport + mode, which makes perfect sense. The RC F Fuji comes standard with adaptive cruise control, lane departure warning, and automatic high beams.
The base price is a heady $102,245 and my tester had some options including LED headlamps ($1,160), Navigation Package with Mark Levinson Audio (2,725), and Intuitive Park Assist ($500) taking the price to $107,225.
Verdict
At a significant premium over the base RC F due to its limited edition status, the Fuji is a lot more expensive than the lighter and faster BMW M3 and Audi RS5 and this is a difficult one to get your head around. Listen to your heart though and it all makes sense as you blast through the canyons listening to that amazing naturally aspirated V8. It oozes soul and it's definitely one of my favorites. When the EV tide rolls in this one will be sorely missed.
VIDEO REVIEW
2022 Lexus RC-F Fuji Speedway Edition Numbers
BASE PRICE: – $102,245
PRICE AS TESTED: – $107,225
VEHICLE LAYOUT: – Front-engine, rear-wheel-drive, 4-passenger, 2-door coupe
ENGINE: – 5.0 liter, DOHC 32-valve Atkinson-capable V-8
POWER: – 472 hp @ 7,100 rpm
TORQUE:- 395 lb-ft @ 4,800 rpm
TRANSMISSION:- 8-speed automatic with manual shifting mode
CURB WEIGHT: – 3,720 lb (est)
0-60 MPH: – 3.9 seconds
TOP SPEED: – 168 mph
EPA CITY/HWY/COMBINED: – 16/24/19 mpg
OUR OBSERVED: – 12.5 mpg
CARGO SPACE: – 10.4 ft³
PROS: – Glorious V8 wail, super quick transmission, lighter and faster, superb handling
CONS: – Only 50 available, thirsty