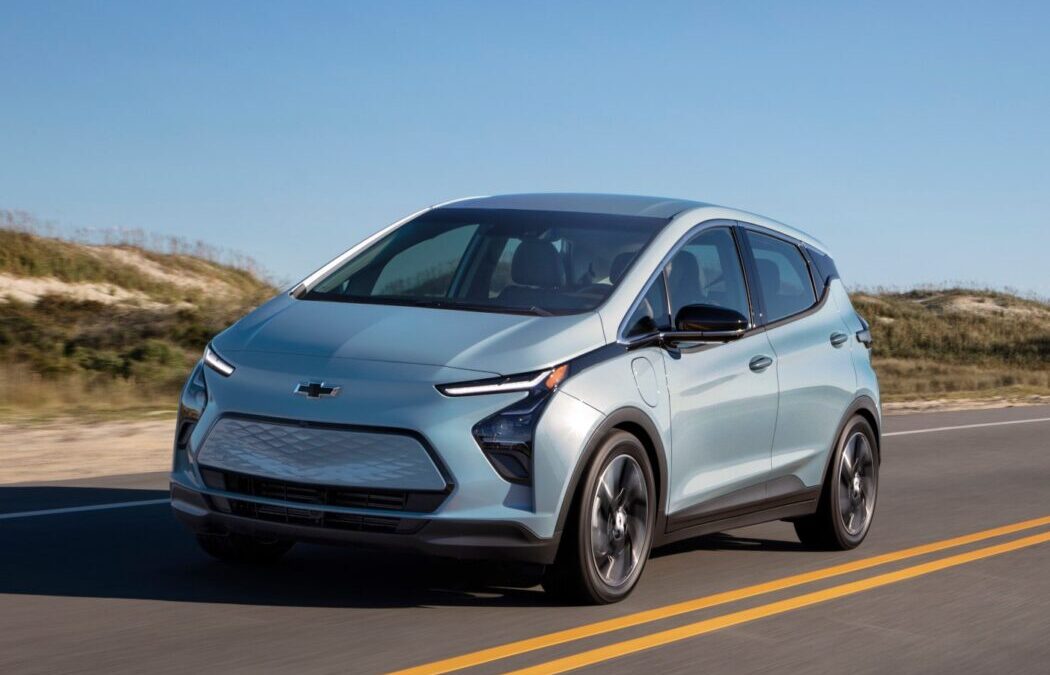 The updated 2022 Chevrolet Bolt EV has a premium and more grown-up look, more tech, and a price that makes it the most affordable EV on sale today. It's been a while coming since GM halted production for battery issues but we are glad to report that these have now been addressed.
All torque all the time is always a good thing and that's what you get with the 2022 Chevrolet Bolt EV, GM's very good, compact, non-fuel guzzling hatchback.
Spiffy new look
The refreshed interior and exterior are more evolution than revolution but it works especially at the front where it trades out the toy-like appearance of its predecessor for an altogether more cohesive look. The new and narrower signature LED lights are more futuristic and the main LED headlights have been relocated to the space where the foglights used to be.
At the back, the narrow design theme continues with a thinner reflector bar and thinner taillights the only downside being too much piano black trim on the rear hatch.
Range and charging
For most folks range is the biggest single hurdle to pulling the trigger on an all-electric vehicle, especially if you don't have access to your own charger because you live in an apartment complex. The 2022 Bolt EV has a range of 259 miles on a full charge and the competition in the shape of Hyundai's Kona EV and Kia's Niro EV offer 258 miles and 239 miles of range respectively, while the 2022 Nissan leaf lags with 226.
The downside is charging speed, when hooked to a 350-kW DC fast-charger, the Bolt's charging rate won't go much past  53 kW which means going from 10 to 90 percent takes almost 90 minutes. A Kia Niro will charge at a max rate of 85 kW so it's something to consider for long trips. 
My tester
I had a 2LT trim model for the week which was exactly the same color as the Bolt EUV I had the week before, which makes me think that GM only has one can of paint for press cars. The base price on a 2LT is $34,200, adding the Infotainment Package ($595) gives you a 7-speaker Bose audio system and  Wireless device charging. Add Adaptive Cruise Control ($375) and the out-the-door price including destination is $36,165. For '23 models GMM is cutting prices of bother models by approximately $6,000 making them extremely affordable.
Safety and Security
The Bolt EV comes standard with forward collision alert, automatic emergency braking, automatic high-beam headlights, and active lane control. The 2LT trim gets rear parking sensors, blind-spot, HD surround cameras, rear cross traffic alert, and front pedestrian braking.
Under the hood
Under the hood lies a permanent-magnet electric motor that receives its power from a 65-kilowatt lithium-ion battery, which sits below the floor. The motor delivers 200 horsepower and 266 pound-feet of torque making this car an absolute hoot to drive. Hooked up to our VBox the Bolt bolted from 0-60 in 6.4 seconds, despite some squealing from the not too grippy 17-inch Michelin Eco tires.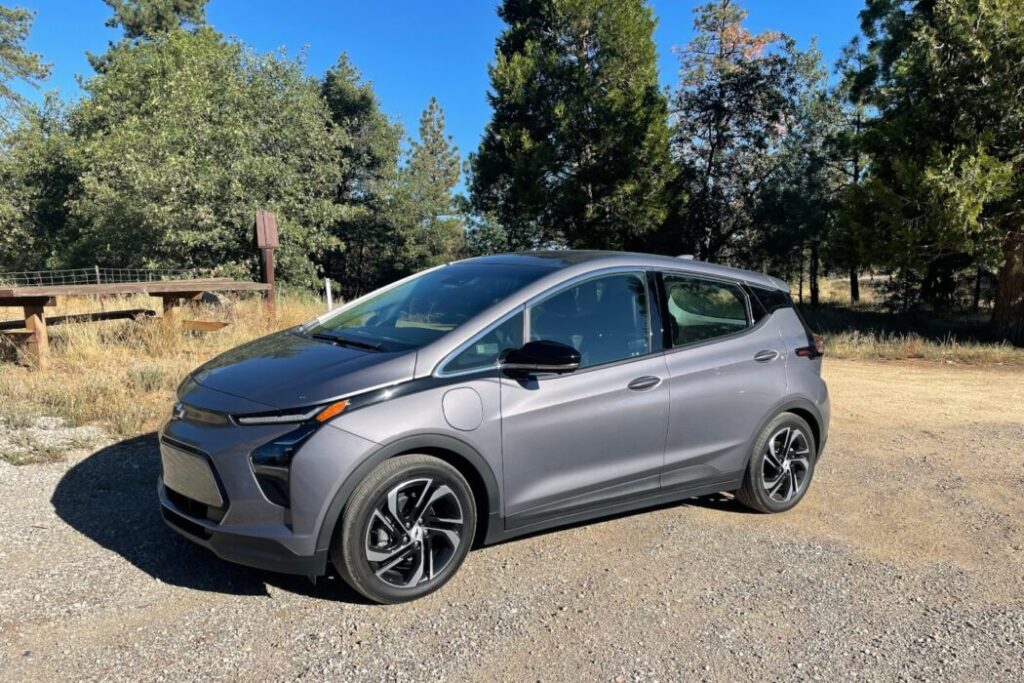 Driving Impressions
The Michelin Eco tires make for lots of wheel spin starts but once they grip it's quick and agile. I would definitely sacrifice a few miles of range and get some grippier rubber. It's also ridiculously easy to drive, the steering is light, albeit with little feedback, and the suspension is well dampened.
Choose Sport mode, which sharpens the steering and accelerator and it does a decent impression of a hot hatch. 30-50 mph in 2.5 seconds and 50–70 mph in 3.7 seconds is impressive indeed and will cause GTI owners some concern. Once you hit some twisty roads the Bolt loses some appeal, the tires squeal and there is some body roll, and although it's all well controlled it's no canyon carver.
Around town things improve, the Bolt EV's acceleration is so much fun, and although not super quick like a Model 3 it's on a par with the Kia Niro in its performance.
At freeway speeds, you still have plenty of acceleration, but it loses steam past 80 and won't do more than 91 mph due to the limiter, although downhill I did see 93 mph for a fleeting moment.  Darting through rush hour traffic is its skill and there aren't too many gas-powered cars that can keep up. It's small and nimble enough to squirt through gaps without thinking twice and there's always enough for a highway passing maneuver.
GM's regen braking is one of the best and there is a button for one-pedal driving as well as a paddle on the side of the steering wheel to add more regen and come to a full stop. I did find that the car creeps forward if you are on a hill and sometimes even when using the steering wheel paddle it failed to come to a full stop.
Inside
Cabin space is pretty generous and features an all-new floating center console providing storage space underneath and looks wise it connects more naturally to the dashboard.  It has a Honda-style bank of buttons for gear selection which creates more room for the two cup holders and buttons for one-pedal driving, traction control on/off, etc.
There is plenty of room for both front and rear seat occupants, although the driver's seat is a little firm in my opinion, and could use more cushioning. Seats are leather in the 2LT model but they only have a heated option not cooled like the Bolt EUV, which in Southern California is something of a necessity.
Facing the driver is a new 8.0-inch fully digital gauge cluster where you can view range, tire pressures, speed, and various other driver information.  All Bolt EVs have a 10.2-inch touchscreen infotainment system with wireless Apple CarPlay and Android Auto. The system is one of my favorites, quick and easy to use, and is backed up by physical buttons for volume and tuning.
Cargo Space
Cargo space is good, with 16.6 cubic feet here and 57 cubic feet with the seats down. I'm not keen on the false floor, it rocks if you put weight on one end and it managed to freak out my dogs on one occasion. The Bot EUV's floor is hinged and works much better.  
The trunk has a parcel shelf that's less of a shelf and more of a shower curtain, but these are small issues and we understand that GM needed to keep the weight down due to the large and heavy battery pack.
Verdict
So the question is, is the Bolt EV a hot hatch? Well, the honest answer is not really, it's more of a warm hatch but it's a whole lot of fun to drive, especially around town, it's got great tech, plenty of space, and is overall decently comfortable.
It does need a fast onboard charger though which would help with longer trips and that ever-present range anxiety that people are most concerned about. If you have a Level 2 charger at home this car is a no-brainer.
VIDEO REVIEW
 2022 Chevrolet Bolt EV Numbers
BASE PRICE: $34,200
AS TESTED PRICE: $36,165
VEHICLE LAYOUT: Front Motor, FWD, 4-passenger, 5-door crossover
ENGINE: Permanent magnet electric motor
BATTERY: 65.0 kWh lithium-ion
POWER: 200 hp @5,500 rpm
TORQUE: 266 lb.ft @ 0 rpm
TRANSMISSION: Direct-drive
CURB WEIGHT: 3,800 lb
0-60 MPH: 6.4 seconds
EPA CITY/HWY: 125/104 MPGe
DRIVING RANGE: 259 miles
CARGO SPACE: 16.3 and 56.9 cubic feet with rear seats folded
PROS: Quick, Impressive regenerative braking, good range 
CONS: No Super Cruise, Some cheaper plastics inside, needs faster charging