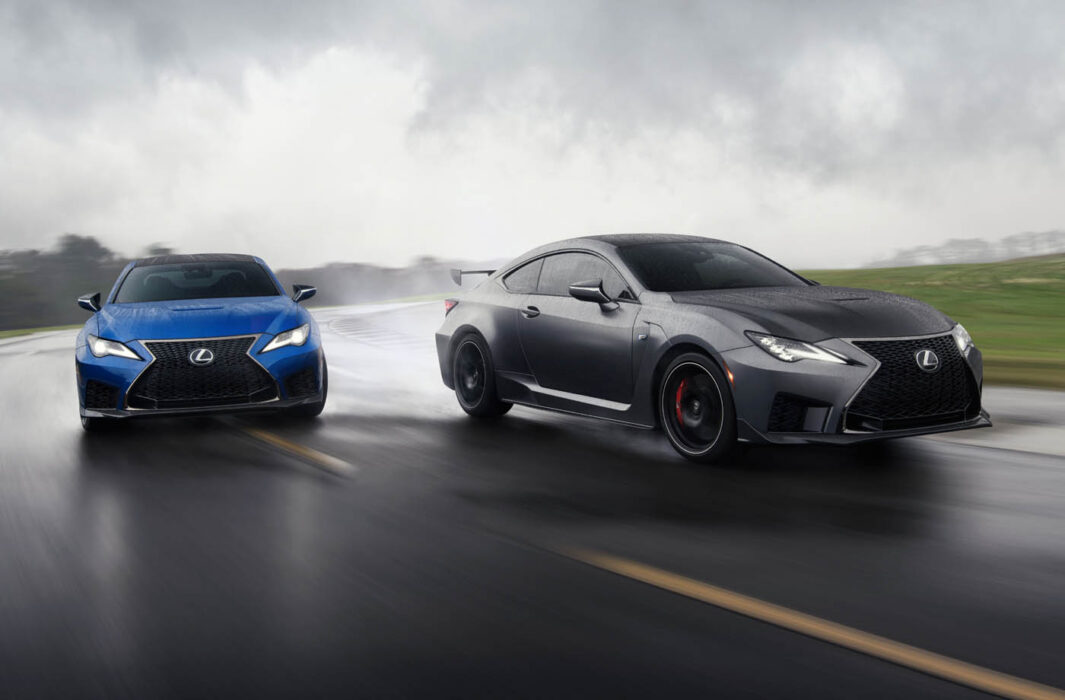 The 2020 Lexus RC F Coupe is a direct competitor to the BMW M4 and the Mercedes-AMG C 63 AMG, it just happens to do things in a different way. Both the Germans have more torque thanks to turbocharging and let's face it the Lexus needs to go on a diet, it is rather heavy. The current generation Lexus RC F Coupe is an extremely good car since it has what its rivals don't have, a wonderfully sonorous and growling 5.0-liter naturally aspirated V8 and extraordinary build quality.
The weight issue stems from when it was originally perceived, instead of building a new platform, the company fused the best bits from three existing models: the GS sedan at the front, the IS convertible for the mid section and the IS sedan at the rear.
The good news is that the 2020 model year RC F is lighter by 55 lbs and has a little more power, the warbling 5.0-liter V8. That V8 pushes out 472 hp @ 7,100 rpm and 395 lb-ft @ 4,800 rpm mated to a quick shifting 8 speed auto that is an absolute gem. There is also a special Track Edition version of the RC F for this year, unfortunately we haven't been to get our hands on one yet, although it's still a possibility.
With 55 lbs less weight to carry around, re-tuned suspension and revised intake routing giving that additional five-horsepower increase and a torque boost of six lb-ft, the RC F is now good for a 0-60 mph dash in 4.2 seconds. Yes it's slower than its German rivals but that's not where this car shines.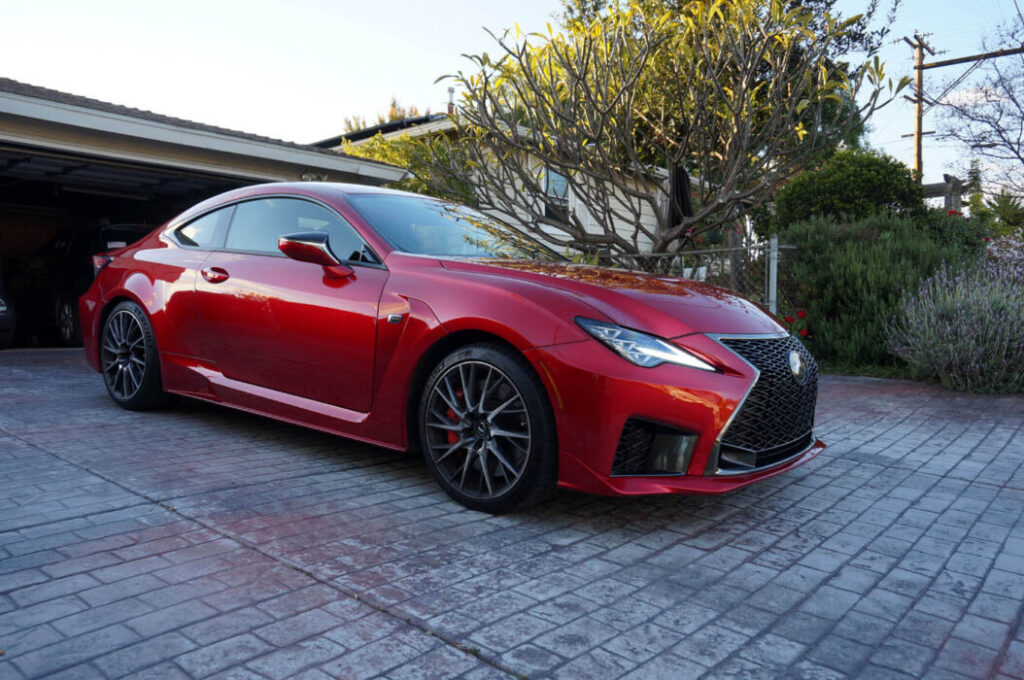 Driving Impressions
Our red 2020 RC F, which Lexus calls Infrared, came with the Torque Vectoring Differential option ($1,250) which essentially transfers the engine torque between the vehicle's rear wheels, the benefit being greater traction and vehicle control, it also helps maintain the correct vehicle position in situations where a driver may otherwise lose control, for example counter-steering during a drift. The RC F has 3 settings, Standard for everyday driving conditions, Slalom which maximizes steering response and is best suited to tight hairpin bends and twisting back roads and finally Track which is best suited for circuit driving, placing an emphasis on high-speed stability.
Whatever it does the RC F is an absolute hoot to drive, especially in Sport + mode, which is why we only averaged 13.7 mpg for the 10 days we had it. It looks the part too, with that menacing grille and 4-barrel exhausts at the rear. As I said earlier it is a tad heavy but the enjoyment is when it's on the move, the transmission up shifting and downshifting in milliseconds and making the lack of torque no longer a problem. That V8 wail in the upper reaches of the rev range is intoxicating and the engine is always wanting to give more without a complaint. It's by far one of the best naturally aspirated V8's I have driven.
Attack a corner and you feel the electronic systems keeping it all under control with no drama but it doesn't overdo it giving the driver the sense that they are always in control. The steering is about as good as it gets, confidence-inspiring and has plenty of feedback, while the brakes with 6 piston calipers at the front and 4 pistons at the rear provide excellent fade free stops time after time. Grip is phenomenal thanks to the Michelin Pilot 4s tires all round on the very pretty 19 inch BBS wheels ($1,500).
The 8-speed transmission works seamlessly with the V8, rattling off super-fast shifts and holding gears perfectly in the engine's sweet spot. It can get caught out occasionally if you squeeze half throttle and then want more immediately, you'll get a slight pause until the torque kicks in. Mash the throttle from a standstill though and you are rewarded with a surge of pure acceleration accompanied by a high-pitched rumbling from its stacked exhaust pipes. This wonderful noise is pumped into the cabin via the audio speakers via an Active Sound Control (ASC) system, which you can turn off.
Switch to Normal mode, which we did quite infrequently and the car is more than happy to handle the morning commute, soaking up potholes and producing a comfortable, quiet and compliant ride. Stab the throttle though and brisk pace is resumed.
Interior
Inside
Everything about the Lexus RC F inside oozes luxury and it smells good too, s the 10 way power seats are extremely comfortable and not just the new car smell because it hardly had any miles on it, but the rich earthy smell of tanned hides. The drivers chair has 10-way power and has plenty of bolstering for those high-speed cornering maneuvers. The front seats get blue leather with white accents along with a blue accented shift knob, steering wheel and instrument panel hood.
Lexus's premium infotainment system with a 12.3 in screen, Sat Nav, and a multimedia interface looks super cool, and unlike the weird mouse of the GS F, the RC F has a much more user-friendly touch pad, which makes a pleasant bloop bloop sound when moving between menus. Pairing an iPhone is easy and after that I set the satellite radio to channel 33 for afternoon music and to FM for NPR in the morning. The rest of the time I didn't mess with it and spent most of my time muted while listening to the glorious V8.
The dash is an interesting mixture of analog and digital gauges that seem odd at first but work well. The large digital tachometer changes when you switch drive modes going from cool blue in Eco mode to red in Sport + mode, which makes perfect sense. The RC F comes standard with adaptive cruise control, lane departure warnings, and automatic high beams. My test car came with the optional blind spot warnings and rear cross-traffic alerts included in the $5,350 Premium Package. It also came with orange painted calipers for $300, which in my opinion clashed with the superb red paint.
Verdict
If I were Lexus I'd delete the rear seats and create some additional cargo space, since you need to be quite small or work for Cirque du Soleil to fit back there. Other than that there's not much to fault, Lexus has done an impressive job with this car. They've dialed in some real soul letting you be somewhat of a hooligan while still maintaining a sense of  propriety. The RC f is a truly satisfying car no matter how you drive it.
2020 Lexus RC-F Coupe Numbers
BASE PRICE: – $64,900
PRICE AS TESTED: – $79,305
VEHICLE LAYOUT: – Front-engine, rear-wheel-drive, 4-passenger, 2-door coupe
ENGINE: – 5.0 liter, DOHC 32-valve Atkinson-capable V-8
POWER: – 472 hp @ 7,100 rpm
TORQUE:- 395 lb-ft @ 4,800 rpm
TRANSMISSION:- 8-speed automatic with manual shifting mode
CURB WEIGHT: – 3,902 lb
0-60 MPH: – 4.2 seconds
TOP SPEED: – 168 mph
EPA CITY/HWY/COMBINED: – 16/24/19 mpg
OUR OBSERVED: – 13.7 mpg
CARGO SPACE: – 10.4 ft³
PROS: – Glorious V8 wail, super quick transmission, full of character, superb handling
CONS: – Could shed a few more pounds, thirsty