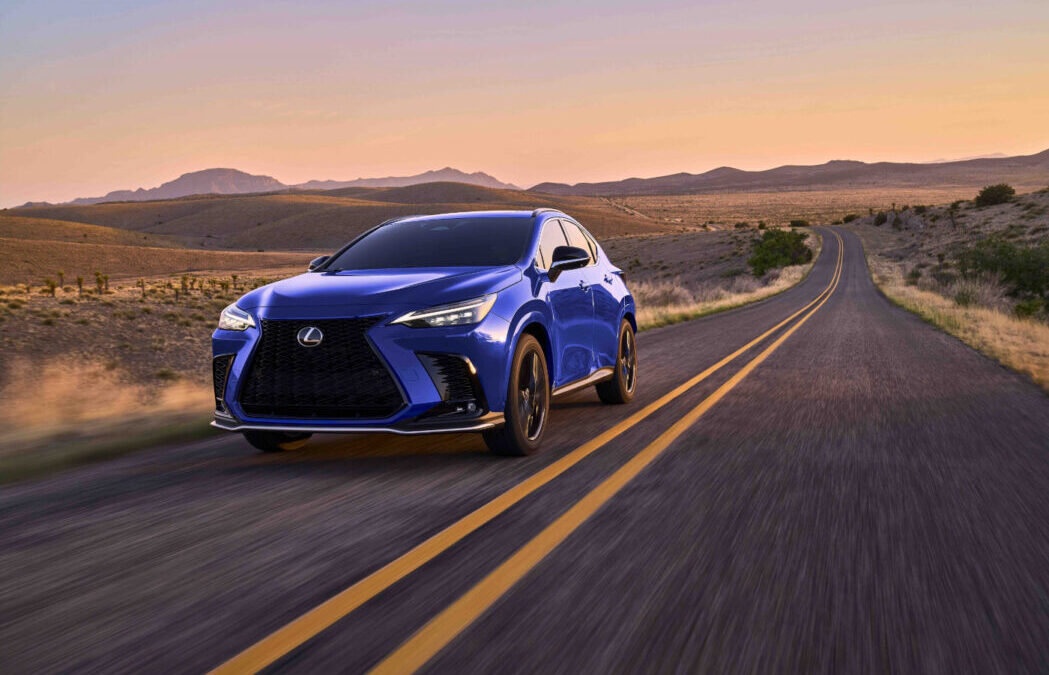 I've never been a big hybrid vehicle fan simply because performance has always been lacking, however, this was addressed when I drove the excellent and surprisingly quick Toyota RAV4 Prime and I really wanted Lexus to install the same powertrain into a Lexus model. My wish came true in the shape of the 2022 Lexus NX 450h+, the top of the range in the NX lineup.
Sitting below the 450H+ are the all-new 2022 Lexus NX250 and NX350 models which so far I haven't driven but the 450h+ would be a tough one to beat since it is the most technologically advanced, the most efficient, and the quickest NX model on the market. Of course, it's also the most expensive with a base price of $56,725.
My tester had a couple of options which included the cool looking Cadmium Orange Paint ( $595), Panoramic View Monitor, Lane Change Assist, Front Cross-traffic Alert and Steering-wheel Touch Sensor ($1,070), and Premium Triple-beam Led Headlamps, Headlamp Washers And Cornering Lamps ($850) for a total price of $60,370
Less angular looks
My least favorite part of the Lexus NX 450h+ is the way it looks, gone are the sharp creases of the old model and in are more rounded lines and curves making it stand out less from the compact crossover crowd. It looks shorter even though it's marginally longer and higher than the outgoing model.
Plug n Go
Under the hood is a 2.5 liter 4 cylinder naturally aspirated engine with 181 hp, a rear electric motor good for 53 hp, and a front electric motor with 179 hp. Using hybrid fuzzy math that adds up to a stout 302 hp combined (Toyota doesn't publish torque numbers) and it drives all four wheels through a continuously variable transmission.
The all-electric range is not quite as good as its Toyota RAV4 Prime (42 miles) sibling but it beats out the competition from Audi and Volvo who can only manage 23 and 18 EV miles respectively.
When the 450h+ is out of electrons there's no need to worry you won't have to drive around with only 181 hp, instead, the battery will have retained power for hybrid mode thereby preserving your 302 hp of fun.
Drive Modes
The 2022 Lexus NX 450h+ allows the driver to choose from four drive modes: EV mode, AUTO EV/HEV mode, HEV mode, and Self-charge mode.
The vehicle runs on the electricity from the battery in the EV mode, and you can go up to 37 miles in this manner. In the AUTO EV/HV mode, the vehicle automatically selects the drive mode, either pure electric or hybrid, depending on the amount of charge remaining in the battery.
In the HV mode, the powertrain uses both gasoline and electricity to allow maximum performance. In the Self-charge mode, the battery charges itself up using the power of the engine.
Fuel Efficiency and Charging
The 450h+ is very fuel-efficient and even with my heavy right foot, I managed 36.1 mpg over the week I had the car. If your commute is 37 miles or less and you occasionally take longer trips 45 mpg is certainly a possibility.
Charging at home with a 240-volt charger can be completed in four and a half hours at 240V using the standard 3.3-kW onboard charger, or just two and a half hours with the available 6.6-kW quicker charger for an additional $800. I wouldn't bother since you would be charging at night so it will always be fully charged by the morning.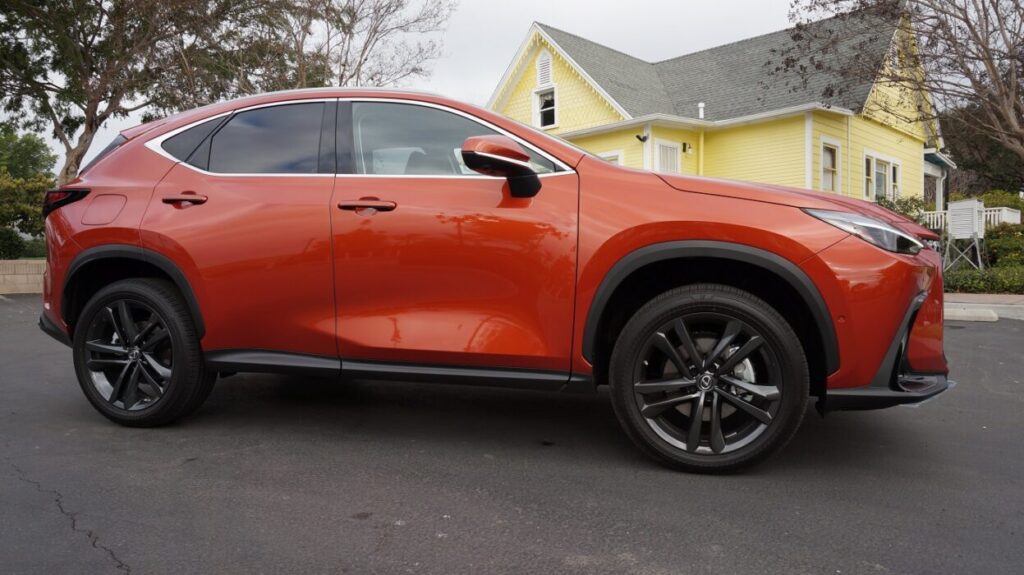 Comically Quick
Just like the RAV4 Prime the 450h+ is comically quick and will surprise most other drivers at a stoplight. Lexus claims a 0-60 time of 6 seconds but many independent testers have launched in 5.5 seconds meaning its a hair off the RAV4 Prime.
Despite weighing in at 4,444 lbs, the car is very composed, balanced, and surprisingly quick in the turns, thanks to some very good suspension tuning. That and the giggle-inducing acceleration makes it one of the most entertaining compact luxury crossovers you can buy.
I spent most of my time in Eco mode since Sport just makes the engine kick in and it's a tad buzzy at higher revs, best to keep in Eco and use the wave of torque provided by the electric motors.
Steering is fairly direct and even when you push hard into a turn the car sticks and doesn't try to understeer, you get the feeling it's a competent and compliant chassis. Brakes are also good, hybrids typically have a dodgy pedal feel but these ones were near perfect.
Fresh new interior
A collective sigh of relief can be had now the infernal Lexus touchpad has gone to be replaced by Toyota's new and very good infotainment system. The NX's standard touchscreen is 9.8 inches but my tester had the 14.0-inch touchscreen as standard and it's angled perfectly towards the driver.
I've used it before in the new Tundra and is mostly very good, it reacts quickly to inputs and is easy to use. The steering wheel-mounted buttons, however, are not so user-friendly when using the head-up display to make changes.
Materials are soft to the touch, it exudes a feeling of luxury and is well put together, it's a Lexus so that's no surprise. The front seats have multi-way power, memory settings and are very comfortable and supportive, they would be perfect for long trips.
In the center console, you have controls for the drive modes, HVAC is all operated via physical buttons and it's laid out in a logical manner. The Prius-inspired gear selector takes a little time to get used to (especially if you haven't driven a Prius) but the learning curve is short. I don't mind the electronic door handles but they look as if you should pull them and then you find out that's how you get out in an emergency. Simply grip the handle push with your thumb while pushing the door open. It is a bit fiddly and over complicated.
The interior is a vast improvement over that found in the previous NX and I especially like the small storage compartment under the wireless charger which you don't normally get. A simple push and your phone disappears into the dash while still charging and you can access the compartment. Brilliant.
There's also wireless Apple CarPlay and Android Auto, integrated music streaming services like Apple Music, a digital phone key, user profiles for car settings, a digital rearview mirror, plus an AI assistant that responds to natural speech commands. "Hey Lexus where's the nearest Starbucks?"
Cargo Space
The 450h+ offers a powered tailgate to reveal 22.7 cubic feet of space and 46.9 cubic feet if you fold down the seats and some limited storage under the floor where you'll find the 110-volt charger. Some of the space that you get in the NX250 and NX350 has been lost to some of the electric components needing a home there.
Verdict
This is a great car, it's probably quicker than most drivers will ever need it to be, offers a very usable EV-only range, and is stupidly economical even when you have to use the gas engine. This is the car I would choose despite the competition from Volvo and Audi. It's so good.
VIDEO REVIEW
2022 Lexus NX 450h+ Numbers
BASE PRICE: $60,370
PRICE AS TESTED: $56,725
VEHICLE LAYOUT: Front-engine, AWD, 5-passenger, 4-door hatchback
ENGINE: DOHC 16-valve Atkinson-cycle 2.5-liter inline-4
ELECTRIC MOTOR: 2 Permanent-magnet electric 
COMBINED POWER: 302 hp
TRANSMISSION: Electronically Controlled Continuously Variable
0-60 MPH: 5.5 sec
CURB WEIGHT: 4,444 lb
CARGO CAPACITY: 22.7 ft³, 46.9 ft³ with seat area
FUEL ECONOMY: 36 mpg combined/city/highway and 84 mpge combined/city/highway
OUR OBSERVED: 36.1 mpg
PROS: Stupidly quick, beautiful interior, very economical
CONS: Not much