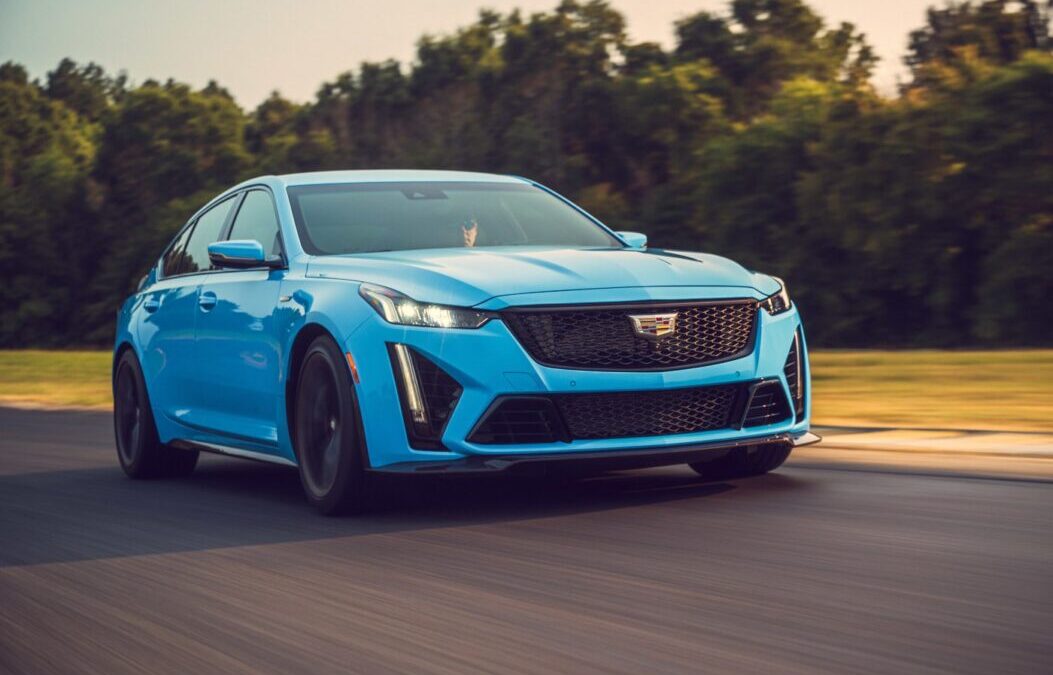 Take a good long look at the 2022 Cadillac CT5 V Blackwing because it's probably one the last of the ICE four 4 door sports sedans the world will see as we move towards an all-electric future. It's also the fastest, most powerful production car Cadillac has ever built, and to be honest, is scary fast, but I love it including its thirst for premium gas.
Sadly Cadillac is only making 500 of these so you'll be hard-pressed to see one on the road even more so because there are no Blackwing badges just some aero carbon fiber bits and massive tires do differentiate it from its lesser-powered sibling the CT5 V.
EVs can be super quick but the difference here is this car simply oozes soul whereas your neighbor's Tesla is something of an appliance, plug it in and go in the house for a sandwich. With the Blackwing you make any excuse to go out and run errands, often forgetting stuff on purpose, so you have to go out again, rapidly becoming your local gas station owners' best friend.
The positive stuff continues in that Cadillac didn't use all-wheel drive just to compete with the competition, most of which comes from Germany, no they went BIG, rear-wheel drive, a manual gearbox, and sports-car dynamics.
Under the hood
We had expected this car to get the 4.2-liter twin-turbo V8 Blackwing engine but apparently, that didn't happen and I'm glad because what we got is actually way better. Cadillac shoehorns their 6.2-liter V8 small block together with a 1.7-liter Eaton supercharger bolted to the top, which provides enough grunt to move the earth off its axis. The engine pushes out 668 horsepower and 659 pound-feet of torque. It gets to 60 mph in a scant 3.6 seconds and will top out at over 200 mph. This Caddy means business.
Keeping it under control
Rear-wheel drive and 668 hp can be a recipe for disaster so Cadillac fits the Blackwing with 19-inch wheels shod with Michelin Pilot Sport 4S tires with a little Cup 2 sprinkled into the mix. The wheels are staggered with 275/35ZR-19 on the front and 305275/35ZR-19
Add a host of traction control options including Wet, Dry, and Sport, as well as two Race modes and you can configure the car to handle pretty much how you want. Also offered are Snow/Ice, Tour, Sport, and Track, as well as a configurable V Mode and My Mode, where you can adjust the programming for the steering, suspension, and traction control.
The Blackwing is fitted with the latest magnetic dampers that can read and react to inputs 1000 times a second and will automatically change the ride based on your settings and road conditions.
Bring on the noise
The old CTS V was a quick car and had the same engine only with slightly less power. Its main failing was the noise it made was reminiscent of a Dyson vacuum cleaner, all go and no show. This has been rectified in the Blackwing and your neighbors will probably hate you if you drive away in Race mode. It has a four-step variable exhaust system that takes the V-8 from noisy to outright obnoxious in a big way. This is an exhaust that was designed to frighten small children.
Braking
You need some pretty good stoppers when you have 668 hp in a 4,000 lb.+ car so Cadillac offers standard steel brakes with 15.7-inch rotors and 6 piston calipers at the front and 14.6-inch rotors and 4 piston calipers at the rear.  As an option, you can get the carbon-ceramic brakes, but they cost $9,000.
My Tester
The base price for a 6 speed is $83,995 which is a bargain! This one has the Semi Aniline jet-black quilted leather seat package for $6,090, the Carbon Fiber One package for $4,100 which includes a front splitter, front-wheel well deflectors and the rear aero spoiler. Add to that the Performance Data Recorder for $1,600, Parking Package for $710, and Bronze Brake calipers for $595 taking the total price to $98,710.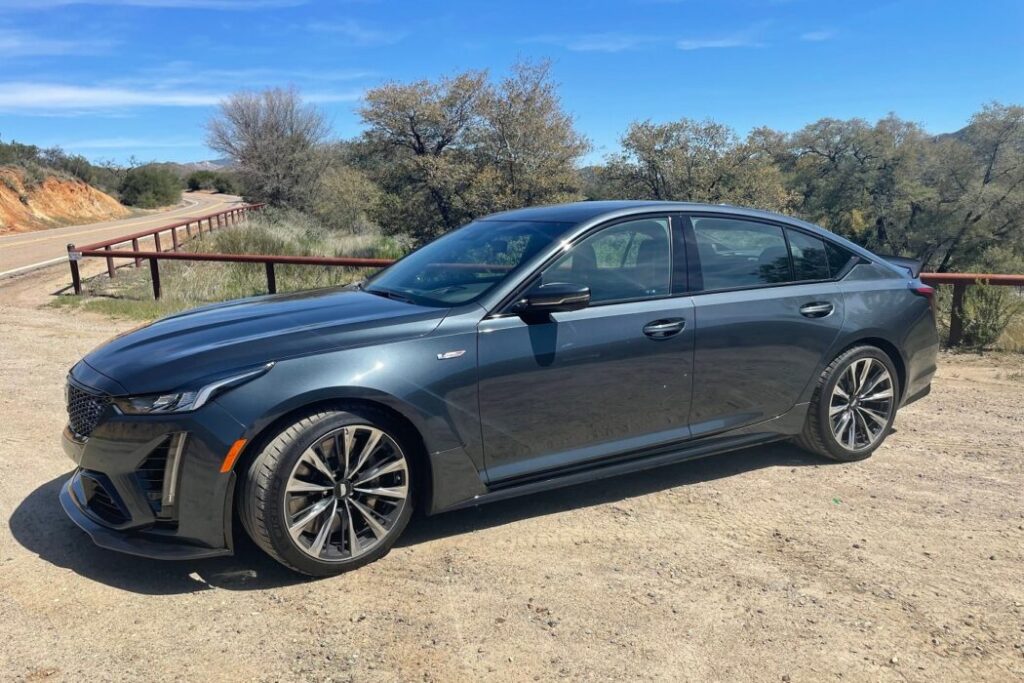 Driving
From a stop, you hit 53 mph in first gear and if you have the guts then 150 mph will arrive in 17.9 seconds, performance is nothing short of bonkers, the manual shifter is a joy to use, it's not the very best but its shifts are precise and perfectly weighted.  No lift shifting allows you to keep your foot planted but after many years of driving manuals, I found it somewhat counter-intuitive. I do like the Rev Match feature operated from a button in the center console, it removes the need for heeling and toeing so you have more time to enjoy the exhaust bellowing in your ears.
In Sport/Race mode, the throttle inputs get sharper and the suspension is definitely firmer but never jarring. The tail can wag if you apply too much throttle while cornering but the traction control keeps everything playful rather than deadly. I would suggest only switching to the most relaxed PTM mode on a track.
The steering is about as good as it gets, it's direct and has some real feel, so you can tell what the front wheels are doing. Even on tight twisty roads, the Blackwing can be hustled along at very high speeds and even though it feels big it is so fast you barely notice.
The Blackwing's sheer straight-line speed is gobsmackingly impressive, it really doesn't matter which gear you are in, this engine is a torque monster. On 2 lane roads flicking between third and fourth gear makes for very rapid progress and even though the engine will rev to 6,500 there's really no need to change down.
Select Tour mode and the Blackwing quietens down and the suspension softens, but progress is still very quick if you choose to exercise your right foot. You will pay the price at the pump, especially here in California where gas is over $6 per gallon. For the week I averaged 13.9 mpg, but I had a lot of fun!
Interior
The front seats are super supportive with full power adjustment and a massage feature, which I didn't use since I was too busy driving. The 12-inch digital gauge cluster which changes depending on which drive mode you are in is cool as is the functional 10-inch color touchscreen that runs Cadillac's infotainment system. Wireless Apple CarPlay and Android Auto are included.
The multimedia screen is simple and straightforward to use and is backed up by physical buttons which include the HVAC controls below.
True it's not up to what its rivals Audi, BMW, and Mercedes-Benz offer but I really don't care because none of them offer a manual.
Verdict
It's a beast of a car, you reach speeds with such ferocity you have to plan way ahead. Of its competitors from Audi, Mercedes, and BMW it's the lightest, the most powerful, the loudest at wide-open throttle and it will pull 1.01 g's on the skidpan. It's the only car to offer a manual transmission and is the least expensive. Now you could get an M5 Competition but that will cost you $120,000, $18,000 more which is a lot of gas.
This is a car that was clearly developed by people who have a passion for cars, dynamically, it's near perfection. The ride control is amazing and the steering superb, it's one of the best sports sedans not only in recent memory but ever made. Buy one while you still can!
VIDEO REVIEW
2022 Cadillac CT5-V -Series Blackwing
BASE PRICE: $83,995
AS TESTED PRICE: $98,710
VEHICLE TYPE: Front-engine, rear-wheel-drive, 5-passenger, 4-door sedan
ENGINE: 6.2 liter supercharged and inter-cooled V-8
POWER: 668 hp @ 6,500 rpm
TORQUE: 659 lb-ft @ 3,600 rpm
TRANSMISSION: 6-speed manual (Optional 10-speed automatic)
CURB WEIGHT: 4,092 lbs
ZERO TO 60 mph: 3.6 sec
TIRES FRONT: Michelin Pilot Sport 4S – 275/35ZR-19
TIRES REAR: Michelin Pilot Sport 4S – 305/30ZR-19
BRAKES FRONT: 15.7-inch vented, cross-drilled with 6 piston calipers
BRAKES REAR: 14.6-inch vented, cross-drilled with 4 piston calipers
TOP SPEED: 200+ mph
EPA Combined/city/highway: 15/13/21 mpg
OUR OBSERVED FUEL ECONOMY:  13.9 mpg
PROS: Massive power, incredible chassis, a future classic
CONS: Thirsty