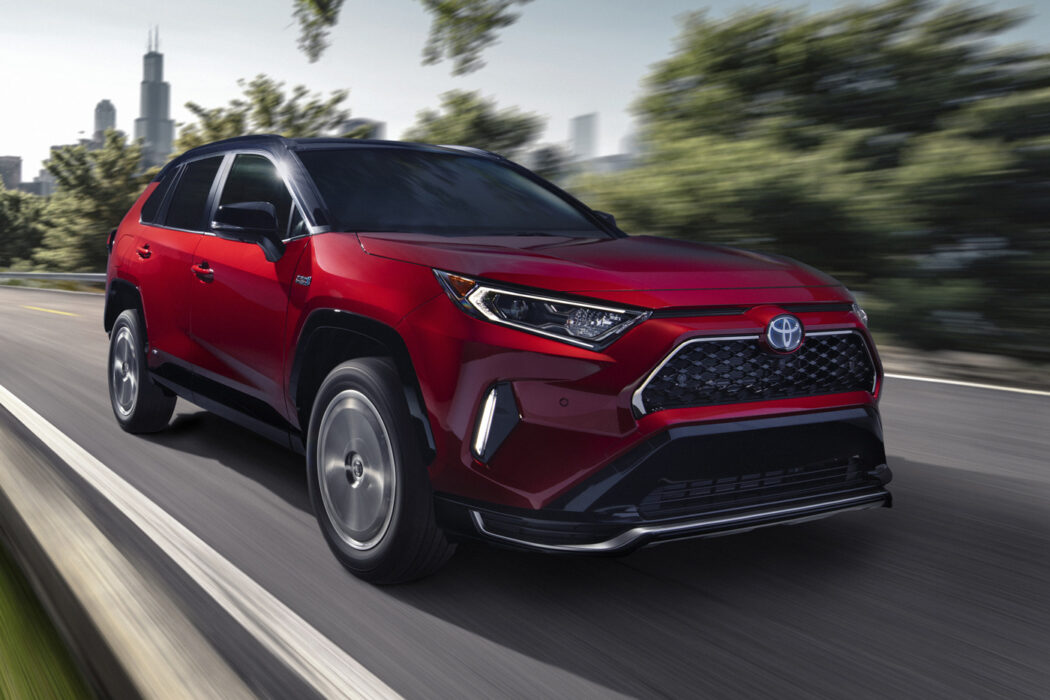 We drive the new RAV4 Prime plug-in hybrid, it's shockingly quick
Nobody expects a RAV4 to be quick, at least not this quick, and nobody expects it to be quick and deliver 46.1 mpg either. That just happened and it was quite shocking since we know that the majority of hybrids trade speed and soul for efficiency and reliability especially in the case of Toyota, the world leader in hybrid technology. By launching the 2021 Toyota RAV4 Prime, Toyota has proven that performance and efficiency aren't mutually exclusive and have injected an enormous amount of fun into their best-selling car.
What's under the hood?
Toyota uses it's tried and trusted 2.5-liter four-cylinder Atkinson-cycle borrowed from the RAV4 Hybrid but tweaked for Prime use. This motor is assisted by 3 electric motors, two in the front transaxle assembly, and a third at the rear. The rear one provides on-demand all-wheel drive. Total combined horsepower is 302 and torque is 355 lb-ft. Have we got your attention?
Power to the electric motors is supplied by an 18.1-kilowatt-hour lithium-ion battery pack, mounted under the main-cabin floor and it's cooled using air-conditioning refrigerant and is backed by a 10-year/150,000-mile warranty. All other hybrid components are covered by a separate 8-year/100,000-mile warranty.
Unexpectedly quick acceleration, miserly fuel economy, impressive interior, smooth and silky ride quality
RAV be nimble, RAV be quick
There's nothing but good news here, the Prime will go up to 43 miles in EV mode (up to 84mph), which covers most commutes and a quick trip to the store. Hit the selector button in the center console to turn on Auto EV/HV mode and the RAV4 Prime scoots from 0-60 in 5.7 seconds (regardless of charge state) making it Toyota's second fastest car. It feels even faster than this thanks to the instant torque provided by the electric motors, allowing you to dart in and out of traffic like no other RAV4.
I will admit the first time I stomped on the go pedal from a traffic light I giggled, I mean you expect this in a Tesla, but a RAV4, not so much. Other drivers appear somewhat confused with the Prime's pace as well, it's just so unexpected. On a couple of occasions, I surprised a couple of hot hatch drivers who thought they would easily be able to beat a RAV4 off the line, but they were sadly disappointed.
It's quick at freeway speeds too, cruising at 70 mph, push down, and the Prime surges ahead with ease, with only the muted sound of the gas engine assisting. License losing speeds are easy to reach, so watch out.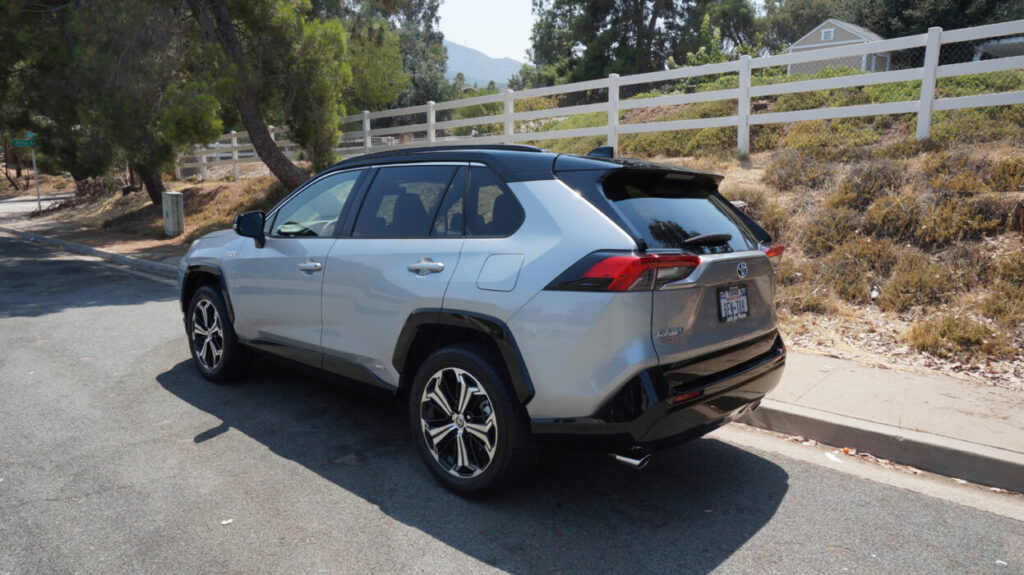 Driving Impressions
The RAV4 Prime has put on some weight, about 400 more to be precise, taking the curb weight to 4,300 lbs., not an insignificant amount, let's face it batteries do tend to be heavy. The good news is this does not blunt performance in any way.
During my test week, I ran the car in EV mode and achieved 43 miles with the battery pack depleted. Using EV/HV mode I averaged 46.1 miles per gallon, which is astonishing given the performance offered, and I had my foot in it most of the time. Since I have a 240-volt charger at home I was able to replenish the electrons easily and at no cost, since I have solar panels. My tester had a 3.3-kilowatt-hour onboard charger, so it took 4.5 hours to full charge from empty. If you option, the Premium package (a $3,765 upcharge) you get a 6.6 KW charger and you can replenish it in 2.5 hours.
Toyota has tweaked the RAV4 Prime's suspension for a smoother ride and to cope with the increased weight, but I didn't notice a significant difference from the RAV4 Hybrid. Most bumps are ironed out, but harsher pavement causes it to get jiggly and you see the traction control light flashing. Once out on the open road, the RAV4 Prime can be hustled along but you must be aware of your speed into a turn, this is not a Supra after all. The old adage slow in and fast out applies and it handles decently well for an SUV, with some body roll but it's mostly well controlled.
Toyota has also recalibrated the steering and it feels pretty much the same which means it does a good job of what it's asked. Brakes are very good for a hybrid, good pedal feel and, of course, they have built-in regen for the battery. Driven with a heavy right foot the Prime will shame most hot hatches in most conditions save for tight twisty mountain roads, but then most owners won't go there, instead, you'll always be the first to soccer practice.
The RAV4 Hybrid offers a distinctive cabin together with some quirky design details and a good mix of materials that are for the most part of high quality and provide a soft touch. The only let down are the hard and cheap feeling indicator and wiper stalks which feel like they came off a 1970 Pinto. For all the details and care that Toyota has put into this interior, this is a miss, but I would imagine most won't notice it.
It's a shame the passenger seat doesn't have height adjustment
Onto the very good, the seats, the fronts are very comfortable and are covered in faux leather, or SofTex, as Toyota calls it. I have to say its hands down the best faux leather I've seen so far. What makes these so good is Toyota has used fabric for the backrests, which in hotter climates like here in San Diego, avoids that sweaty back issue, especially if cooled seats aren't an option. The only complaint is the passenger seat doesn't offer any height adjustment.
It's roomy in the back with room to move in every direction, and the trunk offers a decent amount of space for this mid-size crossover segment. There are five USB ports around the cabin, and a big inductive charge pad, unfortunately, I still have an iPhone 6S so I can't use it….well it still works great, don't judge me.
Technology
My tester in XSE trim starts at $41,425 and has 19-inch black-painted wheels (a first for a RAV4), two-tone exterior paint, an 8-inch touch screen, dual-zone climate control, heated front seats, a power liftgate, and the SofTex imitation leather, vegan approved. The Toyota Safety Sense 2.0 suite of driver aids is standard on all RAV4 Hybrids and includes forward-collision warning with automatic emergency braking, pedestrian detection, lane-departure alert with lane-keeping assist, auto high beams, road sign detection, adaptive cruise control, and hill-start assist.
My tester had a couple of options checked, some I would choose and others I would not. These included the Premium Audio option with an 11-speaker JBL system with a subwoofer, Dynamic Navigation with three years of free map updates, Dynamic POI Search, and Dynamic Voice Recognition. It also had the $640 Technology package that adds front and rear parking sensors, automatic rear cross-traffic braking, and wireless smartphone charging. Individual options include Wheel locks, Door Sill Protectors, and Blackout Emblem lays, which look cool.
Conclusion
Without a doubt, this is the RAV4 to get. It's $45,035 price tag is very affordable, and you won't find anything else much quicker for the money. It looks like a RAV4, it's as efficient as a RAV4, it's as roomy as a RAV4 and it goes like a cheetah on amphetamines.
2021 Toyota RAV4 Prime Numbers
BASE PRICE:  $41,425
PRICE AS TESTED:  $45,035
VEHICLE LAYOUT: Front-engine, all-wheel-drive, 5 passenger, 4-door SUV
ENGINE: DOHC 16-valve Atkinson-cycle 2.5-liter inline-4, 3 permanent-magnet synchronous motors hp; 18.1-kWh lithium-ion battery pack
GAS ENGINE POWER AND TORQUE: 177 hp, 165 lb-ft
ELECTRIC MOTOR POWER AND TORQUE: Front: 179 hp, 199 lb-ft; rear: 53 hp, 89 lb-ft
COMBINED POWER: 302 hp
COMBINED TORQUE: 355 lb-ft
TRANSMISSION: Continuously variable automatic
0-60 MPH:  5.7 seconds
CURB WEIGHT:  4,300 lbs
CARGO VOLUME: 37.6 ft³, 69.8 ft³ with seat area
FUEL ECONOMY Combined/city/highway: 38/36/40 mpg, Combined gasoline+electricity: 94 MPGe, EV range: 42 miles
OUR OBSERVED: 46.1 mpg
PROS: Unexpectedly quick acceleration, miserly fuel economy, impressive interior, smooth and silky ride quality
CONS: No passenger seat height adjustment 
2021 RAV4 Prime Review
2022 VW Tiguan SEL Review
2022 Lexus IS 500 Performance