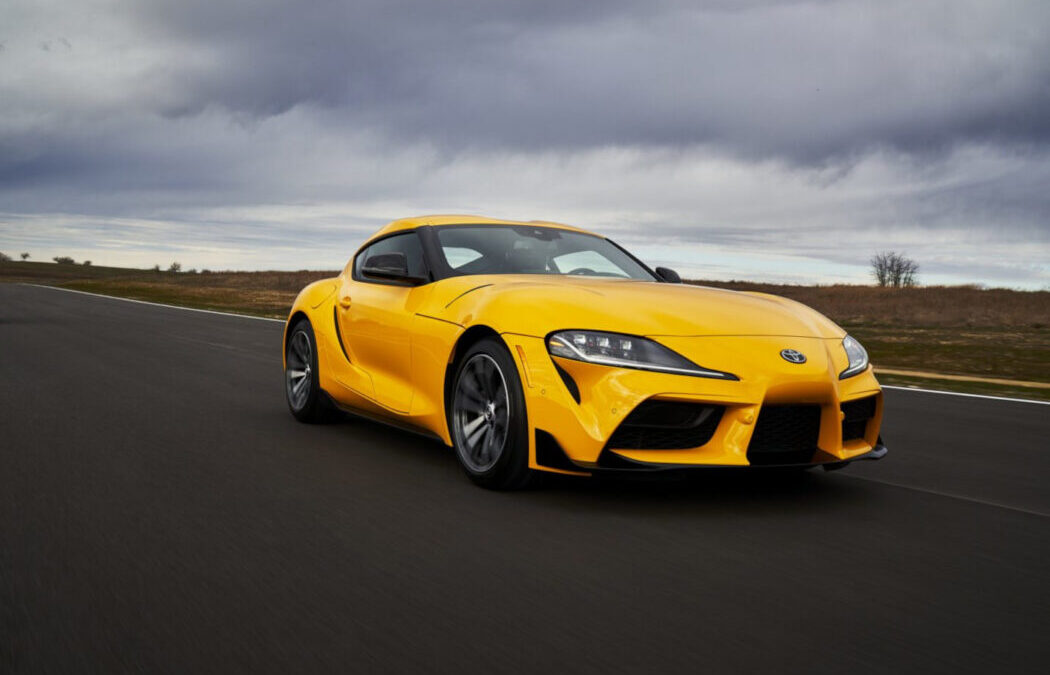 There will always be some controversy when two manufacturers pair up to create a car that used to have the DNA of only one. For the new Supra which was launched in 2020 Toyota says BMW was an ideal partner because a straight-six engine was an absolute must, but Toyota didn't have one available, so the 3.0 BMW engine was used.
True most of the Supra's platform, transmission, wheelbase, and much of the electronics are also shared with BMW but this has a lot to do with economies and little to do with how good the final car is because it's simply brilliant, in fact, I can't get enough of the Supra, so I asked for another drive to cement my adoration of this car.
What's New for 2022?
Standard heated seats for the 3.0 models, full-screen Apple CarPlay functionality for cars with premium audio, and a new red interior option for 3.0 Premium cars. There's also a Supra A91-CF Edition limited to North America and 600 units which offers:
Bold, functional carbon fiber body kit and duckbill rear spoiler compliment Supra's curves
Special edition forged 19" matte-black wheels and red calipers with Toyota Supra logo
Distinctive red and black Alcantara/leather interior with unique stitching details
Complimentary one-year membership to the National Auto Sport Association, featuring a High-Performance Driving Event with expert instruction
Engine and Transmission
The engine in the 2022 Toyota Supra 3.0 produces 382 horsepower and 365 lb-ft of torque mated to ZF's eight-speed automatic, the only available transmission. Toyota made numerous changes last year to get to these numbers, including a new cylinder head with a fully separate exhaust manifold, revised pistons to reduce the compression ratio from 11.0:1 to 10.2:1. They have also increased the boost by using a larger turbocharger.
Toyota didn't stop there though, they did some chassis and damper tuning, tweaked the electric power steering, the adaptive variable suspension, electronic stability control, and active differential programming. New front and rear bump stops and aluminum braces were added to increase lateral rigidity and achieve the goal of increasing roll resistance and improving cornering stability.
How Quick is it?
Acceleration is no quicker than the outgoing model, in the all-important 0-60 dash it still takes 3.8 seconds, which is quick for a rear-wheel-drive car. Don't despair though the extra power reveals itself in the upper reaches and is positively delightful.
Looks stunning
There is no doubt though that the Supra is way better looking than the Z4, it just looks so very Japanese, the curves and creases the perfect proportions, and that inwardly curving double-bubble roof are utterly beautiful. It's a real head turner and I can't count the number of passers-by that stopped and stared. It will probably remind you of the stunning Toyota 2000 GT which in soft-top form was in the Bond movie You Only Live Twice.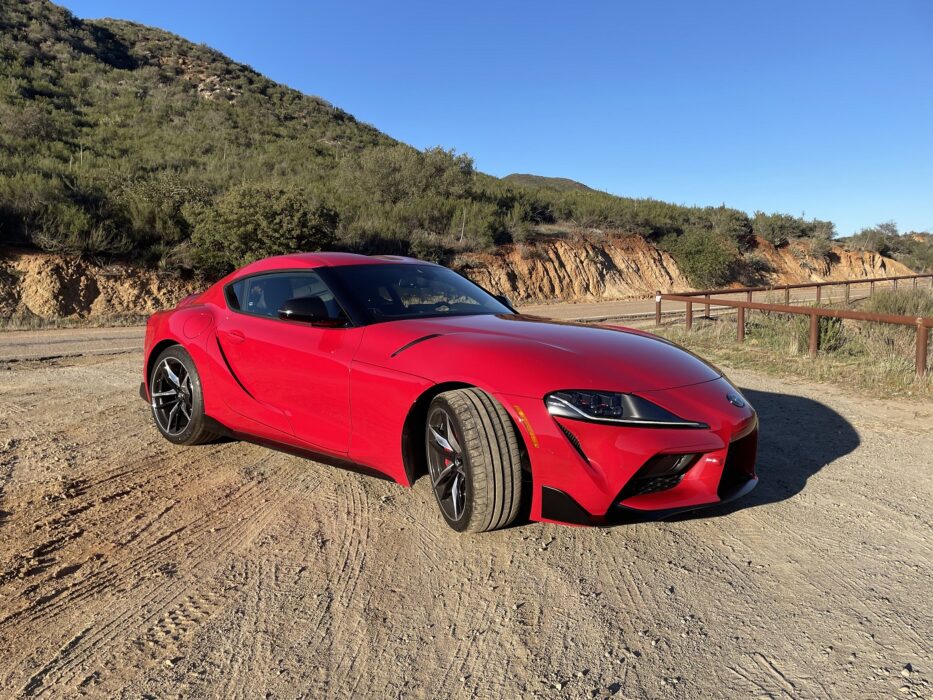 Driving Impressions
It's really very good to drive even the second time around. It's crisp, responsive, well connected, confidence-inspiring, and quick. Now you may be considering a Porsche 718 Cayman, and if you are please drive a Toyota Supra 3.0 first.
The first thing you notice is the refreshed 3.0-liter pulls really hard all the way to its 7000-rpm redline at the same time making glorious noises out the back. As you set off there's a hair of initial turbo lag followed by a steady surge of power and the thrust continues at much higher speeds than before. The steering is very accurate, well-weighted, and feels crisper than before, it's massively fun to flick through tight turns.
This car loves the turns but on bumpier and rougher pavement the rear end can be somewhat hoppity over mid-turn bumps and it really wants sideways if you turn off the traction control. That said it does feel well-composed and perfectly balanced and the Michelin Pilot Super Sport summer tires provide acres of grip.
Toyota has kept it simple with its drive mode options, there are just two, Normal and Sport. Normal provides fairly serene forward motion and the engine note is fairly subdued, Sport provides the fun, the throttle, transmission, steering, exhaust, dampers, and limited-slip differential all become more aggressive.
The first thing you notice in Sport mode is the snarl from the exhaust on the overrun, it's positively addictive and I spent a lot of time letting off the gas just to hear it. It does sound more subdued than before, there's less teenage angst, the Supra has grown up.
Given the speed that the car can reach it has a decent set of stoppers, the front rotors are 13.7 inches in diameter and the rears are 13 inches and fade-free during our aggressive driving stints.
Inside
Let's get past the obvious here, the Supra is a BMW inside which is no bad thing, the material quality is great, and everything is well placed and easy to find. The only downside is space, the sills are very wide and those of a larger build will find it a squeeze.
That said the seats are superb with multiway power including the side bolsters, to hold you in nice and snug, and the driving position is great. It is a bit difficult to see out, especially over the shoulder, so it's best to rely on the side view mirrors and blind-spot monitoring, which comes with the Driver Assist Package ($1,195).
With no rear seats, there's limited space for stuff, however, the rear trunk lid is a hatch and offers 10 cubic feet of space, and if you remove the rear parcel shelf your dog could enjoy the ride too.
The infotainment is intuitive and equipment levels are good, my 3.0 Premium trim tester included heated leather seats, a head-up display, an 8.8-inch infotainment touch screen, a 12-speaker audio system, and slightly larger rear rotors than the base car.
Verdict
With more power and the modifications that Toyota made last year, this car is simply sensational and an absolute joy to drive, in fact, I made every excuse to drive it, including forgetting certain items on shopping trips on purpose.
Even though the Supra is not a purebred Toyota, it's still a thoroughly capable all-around coupe.
VIDEO REVIEW
2022 Toyota Supra Premium Numbers
BASE PRICE: $54,690
PRICE AS TESTED: $56,910
VEHICLE TYPE: Front-engine, rear-wheel-drive, 2-passenger, 2-door hatchback
ENGINE TYPE: Turbocharged and inter-cooled DOHC inline-6
POWER: 382 hp @ 6500 rpm
TORQUE: 365 lb-ft @ 1600 rpm
TRANSMISSION: 8-speed automatic with manual shifting mode
CURB WEIGHT: 3,397 lb
ZERO to 60 mph: 3.8 sec
TOP SPEED: 155 mph
TIRES: Michelin Pilot Super Sport, Front: 255/35 ZR-19, Rear: 275/35 ZR-19 
EPA FUEL ECONOMY: Combined/city/highway 25/22/30
OUR OBSERVED: 17.1 mpg 
PROS:  Scintillating handling, fantastic crackling exhaust, superbly quick
 CONS: Very snug inside, not much storage