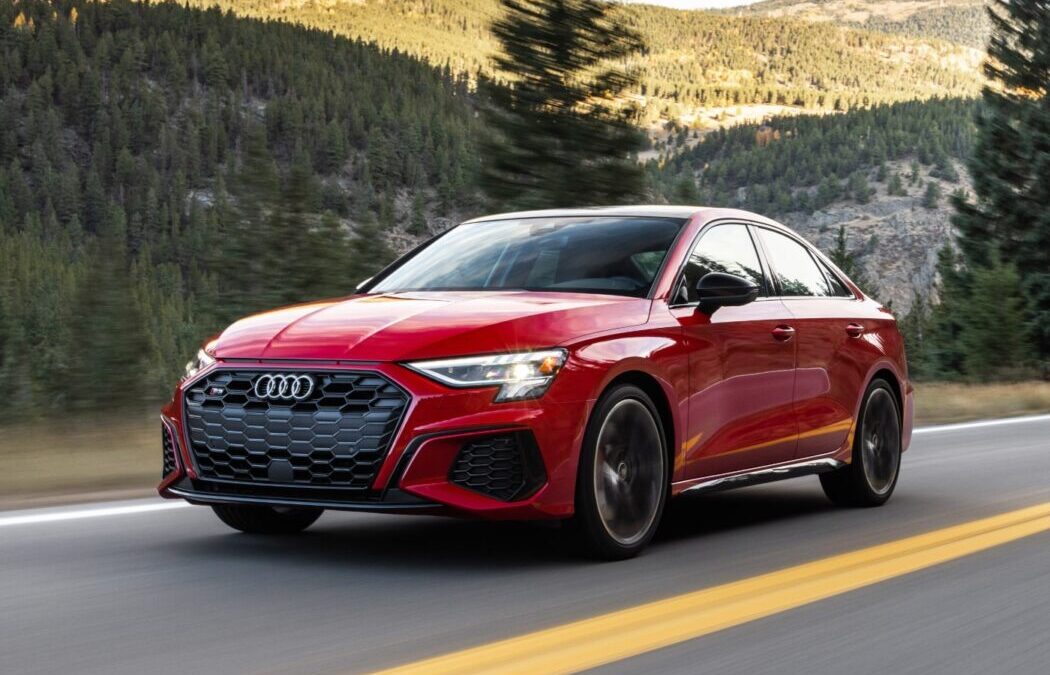 I keep banging on about drivers who insist that a high driving position gives them added safety but this simply isn't true. Most good drivers look 12-15 seconds ahead of them or the equivalent of two city blocks and sadly most drivers don't fall into this category even when driving a tall SUV-like vehicle. They also lose the driving fun since an SUV is heavier and has a higher center of gravity so cannot possibly be as engaging and fun as a sedan, save perhaps for the exceptional Alfa Romeo Stelvio Q.
So it's with great joy that I got my hands on a 2022 Audi S3, their smallest and least expensive S model, Sadly we've had to wait a while since Audi skipped the 2021 model year but thankfully it has returned for 2022 with more power, sharper looks, and a refreshed cabin.
The S3 is undoubtedly a pretty car, with perfect proportions, especially in contrast to the M235i and the Mercedes-AMG CLA35, which aren't. It has grown a bit, it's just over an inch longer and less than an inch taller and wider than before.
The S3 comes standard with a sports suspension and has a 0.6-inch-lower ride height than the A3, but it doesn't have the trick clutch packs on each axle that the Golf R has, which is only available on the RS3.  
New Look
There was nothing wrong with the way the outgoing S3 looked but Audi doesn't sit on its laurels so this 2022 version is more angular with larger fender blisters, a widened front grille, and the option of 18- or 19-inch wheels. The front side air intakes are real but the ones at the rear are fake, a common issue these days, tut tut.
Pricing
My tester was a Prestige model so the price including destination was $57,440, however, base models start at a very reasonable $44,900, just don't go nuts with the options. 
This particular tester has the Black Optic package for $1,950 and includes, very nice 19-inch wheels wearing Bridgestone summer tires and Red Brake Calipers for $1,100 which is included in the S Sport package. The front discs are 14.1-inches and cross-drilled, and the rears are vented.    
At the rear, you get black exhaust tips, black exterior mirror housings, and some high gloss black exterior bits on the lower portions of the bodywork.  
Under the hood
For 2022 the Audi S3 is powered by a 2.0-liter turbo-four that delivers 306 hp and 295 lb-ft of torque, an increase of 18 hp and 15 lb.-ft of torque compared to the outgoing model.  It is down slightly when compared to the Golf R which has 315 hp despite sharing the same platform and engine.
Expect it to reach sixty from a standstill in 4.5 seconds which is a couple of tenths quicker than the 2020 model. All-wheel drive is standard here, and the engine is mated to a seven-speed dual-clutch automatic.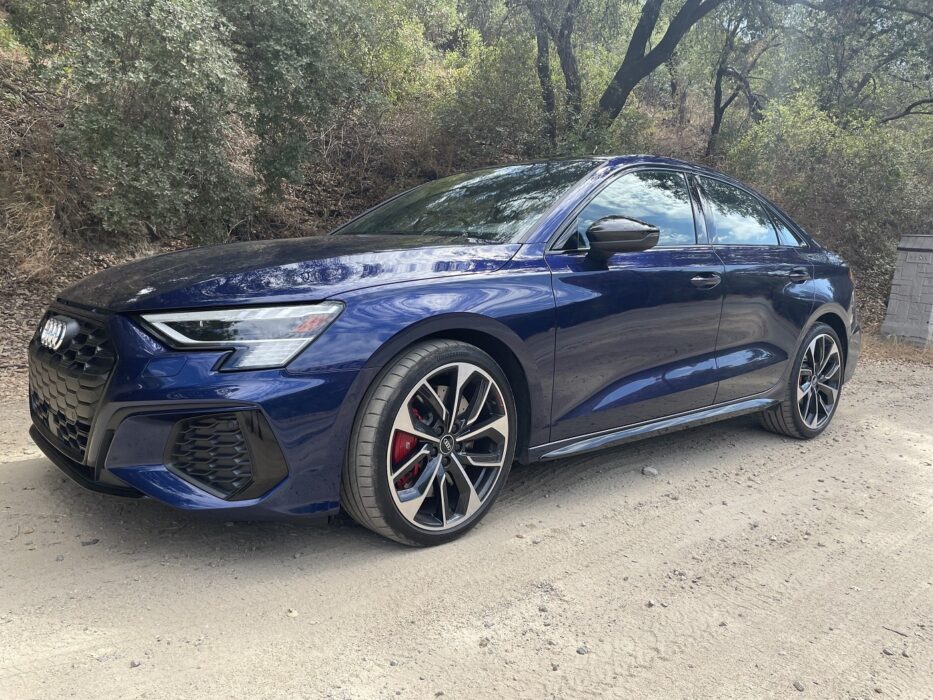 Driving
The S3 is properly quick and can be hustled along backroads at high speeds. The chassis is very composed with little body roll and the all-wheel drive system keeps everything in check including torque steer. As ever the 7-speed dual clutch does a great job of mastering super-fast shifts and good lurch-free engagement at lower speeds.
From a standstill, there is some lag but once the engine picks up thrust is seamless and the turbo four just keeps pulling, snapping off redline shifts with finesse. If you are in Dynamic mode, the engine has a much better exhaust note than before and this is produced through what Audi calls a "soundaktor," which is a firewall-mounted speaker that amplifies the engine's sound. True it doesn't offer the snarling fury of the RS3 but it is very pleasing to the ears and the engine sounds like it has more cylinders than it really has.
More good news, with more power, comes better EPA numbers, 23/32 mpg city/highway up from 22/29 mpg. I would expect it to hit its high mark on a long freeway drive but we didn't have time to test that.
The adaptive dampers, which are part of the $1100 S Sport package make a big difference and you get a number of different modes including Comfort, Dynamic and Individual. The S3 doesn't have Nürburgring Mode like the Golf R but you can set it up in the same way by electing Individual and setting the DCC to Comfort and the rest to Sport. This proved to be the best way to enjoy the S3 on twisty backroads since given the quality of pavement here in Southern California using the dampers in Sport mode caused the car to jiggle around too much.
Point to point this car is almost as fast as the Golf R, its ride is a tad more composed and it's plenty quick and guaranteed to keep a grin on your face. The larger front discs provide excellent stopping power and we never had any concerns nor did they heat up too much in hard driving. The pedal provides a good feel and linear progression when applying the brakes. the steering does get slightly heavier in Dynamic mode, but I preferred this to it being too light when set to Comfort.
The only downside is the standard Bridgestone Potenza summer tires, they are good but can't compete with a set of Michelin Pilot Sport 4S tires.
Interior
The inside has seen a pretty thorough makeover which starts with the S3's high-back bucket seats, they are comfortable and supportive the headrests are not adjustable which can be annoying. The rest is solid Audi quality and a beautiful design. Gone is the stick-on-tablet-like infotainment screen now it's integrated into the dash. They've had to relocate the air vents to sie aside the driver's digital dash higher up than before so now they provide air to your face rather than your hands.
Yes, there are some shiny hard plastics on the door panels, center console by your knee, and by the cup holders but this is offset by plenty of soft feeling materials.
The S3 is loaded with tech, in standard trims, you get a 10.3-inch digital gauge display, my tester featured the available 12.3-inch panel. That upgrade is part of the Prestige Package ($6,600) that you an excellent  Bang & Olufsen sound system, LED Matrix Headlights, Lane Assist, Active Cruise Assist, and lots more.
The 10.1-inch central touchscreen is larger than the old car's and is super easy to use, has intuitive menus, and has wireless support for Android Auto and Apple CarPlay. The only thing that is lacking is a volume control knob instead you get a center console-mounted, iPod-style inset wheel which serves double duty to select and skip tracks. Luckily there's a steering wheel-mounted volume scroll wheel to fall back on.
Safety
The S3 comes with some standard safety equipment the rest are bundled with packages that cost more. As standard, you get Pre Sense with frontal collision warning which if it thinks you might crash raises the windows and tightens the seatbelts before impact. My Prestige tester had blind-spot monitoring, front and rear parking sensors, rear cross-traffic alert, and adaptive cruise control.
Verdict
If you're looking for speed and finesse in a good-looking package that's also surprisingly affordable, you really can't do better than the S3. It's definitely an improvement over the old model and it's guaranteed to put a smile on your face.  There is some competition from the BMW M235i and the AMG CLA35 but the S3 has virtually identical performance and doesn't ride like the suspension is made of rocks. 
VIDEO REVIEW
2022 Audi S3 Numbers
BASE PRICE: $44,900
AS TESTED PRICE: $55,615 (Prestige Trim)
VEHICLE LAYOUT: Front-engine, all-wheel-drive, 5-passenger, 4-door sedan
ENGINE: 2.0 liter turbocharged and inter-cooled DOHC 16-valve inline-4
POWER: 306 hp @ 5,450 rpm
TORQUE: 295 lb-ft @ 3,000 rpm
TRANSMISSION: 7-speed dual-clutch automatic
0-60 MPH: 4.5 sec
CURB WEIGHT: 3,575 lb
CARGO VOLUME: 11 cubic feet
TIRES: Bridgestone Potenza S005 235/35R-19
EPA COMB/CITY/HWY:  27/23/32 mpg
OUR OBSERVED FUEL ECONOMY:  22.1 mpg
PROS: Faster, more poised, superb handling
CONS: Limited trunk space, some hard plastics inside