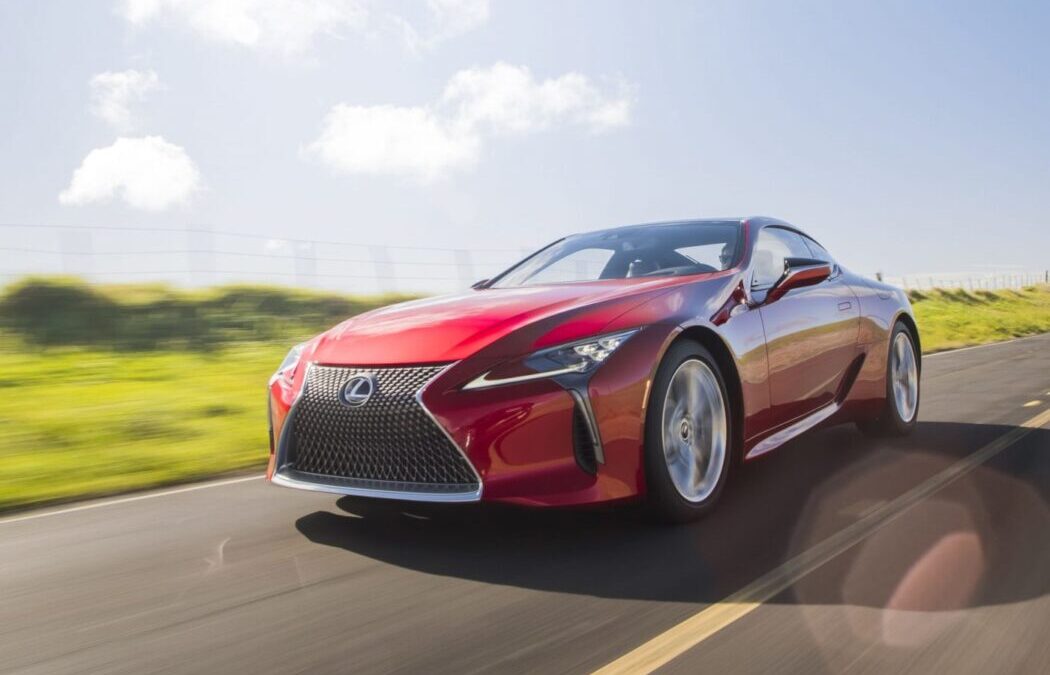 This is the 2022 Lexus LC 500 and in my opinion, is one of the best-looking cars on the road today. It's also one of my all-time favorite cars due to what's under the hood, more on that later since I'm going to review this car today and we'll discover what's new for 2022 that makes this car the ultimate Grand Tourer of all time.   
The Lexus LC500 is a rolling piece of art, I mean look at it, nobody else in this price bracket makes a car that looks this good for twice the price. The LC debuted in 2016 and it shares a platform with the LS sedan but it's far better looking and has been wowing us ever since. Some of the design elements are simply breathtaking, this car is strikingly beautiful. 
Bespoke Build
For 2022 Lexus has introduced the first-ever LC 500 Bespoke Build ($4,150) which allows buyers to customize their unique vehicle. The LC Bespoke Build is based on the Sport Package, which includes a Torsen limited-slip rear differential with Yamaha rear performance damper, high mu performance brake pads, and Intuitive Parking Assist. The all-weather package includes a heated steering wheel is also standard.
My tester came with Manhattanhenge Alcantara ($3,600), named after when the setting sun perfectly aligns with the west-facing streets of New York City's Manhattan borough. I think it goes perfectly with the Nori Green Pearl exterior. My tester also had a carbon fiber roof for an additional ($2,400) which does help to keep the weight down since this LC weighs in at $4,500 lbs.  
Additional options that were selected included a Carbon Air Wing Spoiler ($2,750), Head-Up Display ($900), Mark Levinson 13-Speaker surround sound system ($1,220), and Carbon Fiber Scuff Plates ($600). Including the destination charge of ($1,075), the total price is $109,745.
Driving Dynamics
Lexus has made enhancements to the vehicle's dynamic handling characteristics. Front and rear suspension settings have been optimized to enhance ground contact feel, a more linear steering response, and steering effectiveness in high-speed cornering.
There is an available LC 500 sport package without resorting to Bespoke Build that includes numerous performance upgrades, including the aforementioned Torsen limited-slip rear differential with Yamaha performance damper, performance brake pads, and Alcantara-trimmed seats.
Under the hood
The beating heart of this car is Lexus's high-performance naturally aspirated 5.0-liter V-8, which puts out 471 horsepower and 398 pound-feet of torque and is paired only with a quick-shifting- 10-speed automatic transmission.  
From a standstill, it takes 4.4 seconds to reach sixty, which is not as fast as its competition (Porsche 911  BMW 8 series) but its exhaust is ferocious and it revs to 7,100 rpm.
Natural aspiration especially for V8 engines is rapidly dying out and only a selection of cars are for sale in 2022.  These include the Chevrolet Corvette, Ford Mustang GT, Genesis G90, Dodge Challenger/Charger, Lexus RC F, Chevrolet Camaro, Lexus IS 500, and Chrysler 300.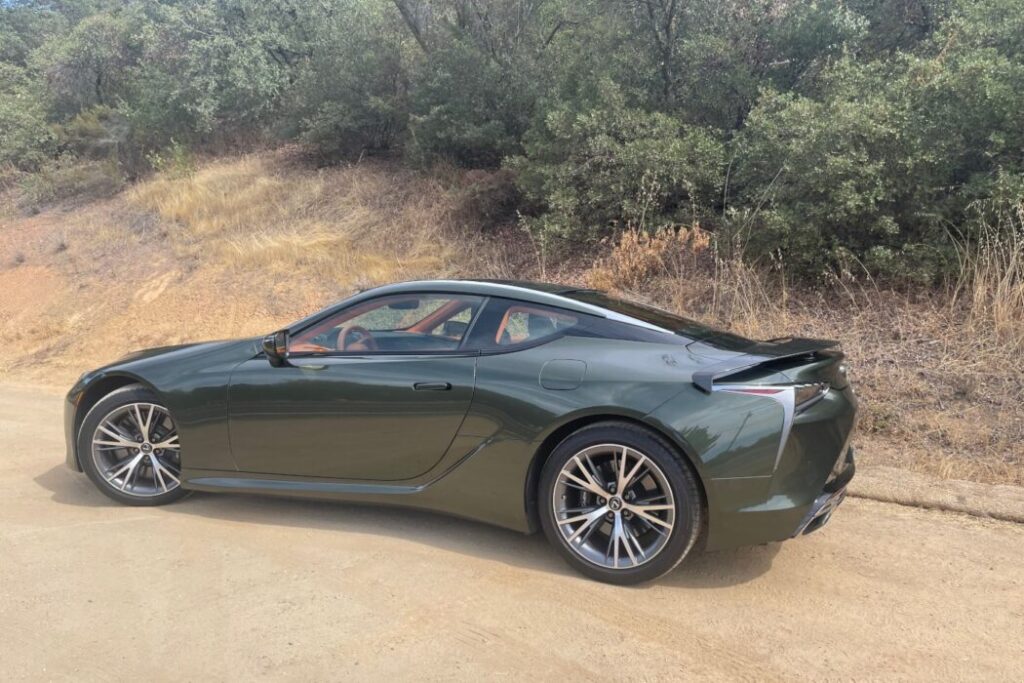 Driving
I start off in Comfort mode and I am soon wafting along in comfortably and almost silently, the V8 just warbling and making its presence heard. It's as if I'm driving across town to meet a friend for croquet, golf, or to watch an artist paint a portrait, I'm in no rush. I'm supremely comfortable and the sounds coming out of the Mark Levinson 13 speaker system are pleasing to my ears, the Brooklyn Tabernacle Choir for instance.
But this is two cars in one and what if I want to listen to Metallica or AC/DC, well I simply turn the dial on the right-hand side of the driver's binnacle to Sport S+, mash my foot into the carpet and all hell breaks loose.  
The LC 500 drops several of its 10 cogs, surges forward, and the exhaust snarls in the most amazing and aggressive manner as you are propelled toward the horizon. To achieve the most ferocious sounds the transmission holds the gears until over 7,000 rpm and the exhaust snarls and crackles in the most authentic way you've ever heard. No piped-in faked sounds here.
It sort of reminds me of the LFA, one of the most amazing cars and engines ever built but on a mini scale. Lexus will be building a new LFA but by the sounds of it will be an EV so the chances of hearing a wailing V10 are slim.
In Sport S+ mode the faster you go the more the transmission livens up and begs you to play and of course, drive faster, hit the excellent brakes and you are rewarded with ferocious down changes to keep this naturally aspirated wonder on the boil. This car simply oozes soul
The steering is pretty good too, slightly heavy but perfectly weighted and you feel the front end in the turns where despite its curb weight the LC 500 can shrink itself and be quite athletic. You have the adaptive dampers to thank for this, Lexus engineers have done a hell of a good job in keeping this car so composed but at the same time haven't forgotten about driver comfort.
There's not too much change between Normal, Sport, and Sport +, body roll is kept in check and even when the going gets tight and twisty it makes itself feel 600 lbs lighter. My only gripe is I wish my tester had Michelin Pilot Sports 4s tires, the Bridgestones fitted are all seasons and despite the tremendous suspension engineering simply can't provide enough grip or sidewall support for this type of car.
Ultra Luxury Interior
Once inside the LC 500 cabin it's hard to find anything wrong with the materials and finish, it's virtually faultless, and the front seats are first-rate, with both heating, cooling, and excellent support. Leather and Alcantara cover almost every surface, the door panels, and the headliner included.
The thick steering wheel feels good in your hands, nearly every surface is well-padded, and the real metal paddle shifters are a breath of fresh air considering most manufacturers use plastic. The instruments ahead of the driver can be slid aside at the touch of a button on the wheel to reveal information like oil temp and fuel economy. Push it again and it seamlessly returns to its central position and if you select Sport S+ the dials change to a fiery red telling you it means business.  
There are some misses most of which I can ignore but they are worth mentioning; the gear selector, for example, is from a Prius, only leather covered, and is needlessly complicated. The infamous touchpad is impossible to use while driving but it does have Apple Carplay and Android Auto so you shouldn't really need it since the HVAC system has physical buttons.
Home Depot runs might be tricky since cargo space is a small 5.4 cubic feet, best to just look for an empty backroad and have some fun.
It does have a back seat but I wouldn't recommend using them for humans, I did and the front seat came back automatically and attempted to chop off my legs. Quick thinking allowed me to jump up on the seat and avoid a hospital visit.
Fuel Economy
Not that any buyer of this car would worry about this but set your expectations because it's a thirsty beast. According to the EPA, it will do 19 mpg, drive it like you stole it, much like I did and you'll manage less than 15 mpg on a tank.
Verdict
Just like Rhinos and Mountain gorillas, the LC 500 is an endangered species and that's a shame. This is one very fun car in Sport + mode, its exhaust is one of the best, and has perhaps the greatest naturally-aspirated V8 of all time. Yes, it's a bit heavy and can't compete with its direct competition but I don't care it's one of my very favorite cars and I'll be sad when it's gone.   
VIDEO REVIEW
 2022 Lexus LC 500 Coupe Bespoke Build Numbers
BASE PRICE: $101,,000
AS TESTED PRICE: $111,920
VEHICLE LAYOUT: Front-engine, RWD, 4-passenger, 2-door convertible
ENGINE: DOHC 32-valve Atkinson-capable 5.0-liter V-8
POWER: 471 HP @ 7,100 rpm
TORQUE: 398 ft-lb @ 4,800 rpm
TRANSMISSION: 10-speed automatic with manual shifting mode 
0-60 MPH: 4.4 sec
TOP SPEED: 168 mph
CURB WEIGHT: 4,500 lb
CARGO VOLUME: 5.4 cubic feet
WHEELS: 20-inch split 5-spoke forged alloy wheels
TIRES: Bridgestone Turanza: Front 245/45, Rear 275/40
EPA FUEL ECONOMY: CITY/HWY/COMB:  16/25/19 mpg 
OUR OBSERVED FUEL ECONOMY: 14.5 MPG
PROS: Stunning exterior, glorious engine note, sport mode is a hoot,  high revving V8 joy
CONS: Quite heavy