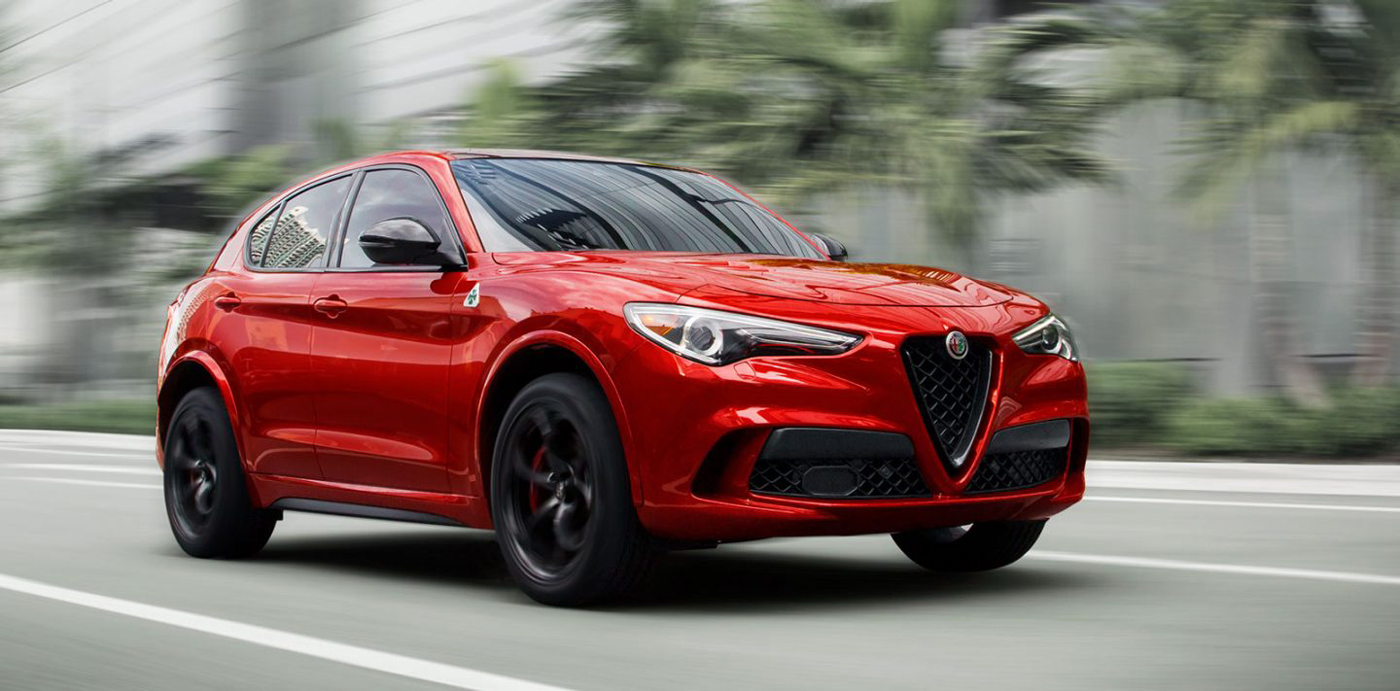 Let's face it the specifications of the 2020 Alfa Romeo Stelvio Quadrifoglio are pretty impressive, but even more impressive is it's an SUV that can get from 0-60 faster than you can say the title of this review. I drove a 2018 Stelvio Quadrifoglio a couple of years ago and was completely wowed except for its slightly dodgy interior, which didn't quite befit an $85K car.
Alpha listened and I can tell you that the interior is very much improved, it's not perfect but it's a much more luxurious place to spend time in.  What hasn't changed is the DNA that makes this car so much fun. At the front, the Ferrari sourced 2.9-liter twin-turbo V6 pumps out 505 hp @ 6,500 rpm and 443-lb-ft @ 2,500 rpm, mated to a very quick-shifting 8-speed transmission which helped it to lap the Nürburgring in a time of just 7 minutes and 32 seconds beating the Porsche Cayenne Turbo S by 8 seconds!
PROS: Drop-dead looks, grin-inducing acceleration, incredible handling, fantastic exhaust noise
The Stelvio has the same architecture as the Giulia Quadrifoglio sedan and therefore inherits its DNA Pro chassis-control system with 4 drive modes, Dynamic, Natural (or normal), and Advanced Efficiency (Economy Mode). Lurking at the top of the dial is Race mode, which means all stability and traction control is turned off and all hell breaks loose…….but in a good way.
Unlike the Giulia sedan, the Stelvio has Alfa's Q4 four-wheel-drive system, so as much as 50% of the engine's torque can be shuffled forwards when the car senses that the rear tires are beginning to exceed the limits of their grip. A pair of clutch packs housed within the rear differential allows for torque to be distributed actively and laterally across the rear axle.
The suspension is a double-wishbone set-up upfront, with a multi-link set-up at the rear. Adaptive dampers are standard and are controlled by the aforementioned rotary dial in the center console. This works together with Alfa's Chassis Domain Control system which can change and manage throttle response, shift severity, and calibration of the traction and stability software. Lightweight carbon-ceramic brakes $(8,000) were an option on my test vehicle and proved very capable of stopping this 4,360 lb SUV in a very short length.
It's stunning to look at and my 2020 Alfa Romeo Stelvio Quadrifoglio tester arrived with a Rosso exterior, what else, and a black interior. The front is dominated by the huge Alfa grille, there's no mistaking what's in your rearview mirror. A couple of hood vents add to the menacing look, it's absolutely stunning from every angle.
We attached our Racelogic equipment and selected RACE mode, of course, this turns off ESC and holds the car at around 2,500 rpm with a left foot firmly on the brake pedal. We did a couple of launches and got it to 60 mph in 3.5 seconds dead, impressive.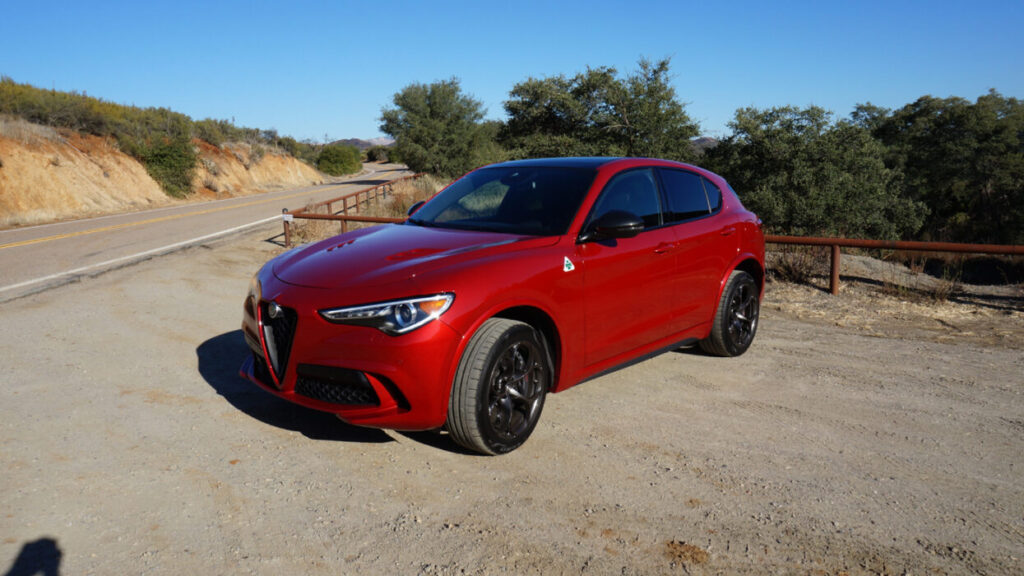 How does it go?
Settle into the excellent sports seats (with grippy Alcantara inserts) and the large aluminum column-mounted shift paddles dominate your view, and they are actually attached to the steering column and NOT the steering wheel, exactly where they should be. Turn the dial to Race, select Manual mode for the best experience (the car actually tells you that), and plant the throttle. At this point, the Stelvio QF doesn't realize it's an SUV and you as a driver will only realize because you are sitting up high.
Let's be honest it's a lifted Giulia QF and being taller makes for a sense that you are not going as fast as you really are, which caught me out on a couple of occasions. A dab on the terrific brakes was all that was needed to bring me back to legal speeds. The carbon ceramics do take a bit of getting used to at lower speeds, especially when cold, they are difficult to modulate and can be somewhat grabby. That's all forgotten about once you get up to speed.
CONS: I can't afford one
This is a fantastic engine, it sounds soulful while going along at mid revs and then completely savage when you stomp on the gas. There's plenty of mid-range torque too, so you find yourself going fast in almost any situation. The very best part is when you hit the last 2,000rpm of its range, from 5000rpm to 7000rpm, and it absolutely comes alive and feels so linear which most turbocharged engines usually don't.
Maximum driver satisfaction is definitely achieved in Race mode, the Stelvio QF is savage, the car simply doesn't want to drive slowly, it's constantly on edge. This means that when you bury your foot into the carpet it just goes berserk, tearing into corners carrying speed you just wouldn't expect. Turn-in is crisp and powering out is pure joy before you hit the excellent brakes for the next turn.
When you first start driving in RACE mode a quick turn of the wheel is all that's required to realize that you're sitting in something very very special. The steering communicates everything to the driver, is razor-sharp, and is unlike any other electrically assisted steering I have ever experienced. Why don't all cars have steering like this?
Thanks to the offset Pirelli P Zero PZ4s, cornering grip is phenomenal, and not a squeal was heard in the week I spent tackling tight and twisty mountain roads. They will let go though, so caution is needed in RACE mode, power out of a corner and the tail will slide but a quick flick of the wheel puts you back on course.
Dial back the selector and the rasping, farting, braap braap exhaust note is subdued somewhat (your neighbors will thank you), and the suspension softens, but you wouldn't describe it as such. It's still fast whichever of the modes you choose, but RACE is ridiculous especially when you use the excellent paddle shifters, which make the exhaust sound even better. There is a price to pay though, I averaged 13.9 mpg for the week and at times it went below 12 when driving at full chat, but it really is worth it.
Inside View
For 2020 Alfa has addressed most of the problems with the previous model and all of those are inside the cabin. A new 8.8-inch touchscreen is housed in the dashboard, running redesigned infotainment software with reconfigurable displays. It's quicker to respond to inputs, but it still lags behind many other systems I have used. It is easier to navigate, and the touchscreen does a pretty good job.
All Stelvio's have Apple CarPlay and Android Auto, as well as a WIFI hotspot, and a wireless phone charger is a $200 option. Fit and finish is generally good, and materials quality has been improved, gone are the cheap-feeling plastics, although I did hear some squeaks and rattles, I'll put that down to this tester having had a particularly hard life. The low rent gear selector is now leather-wrapped with red stitching and the superb steering wheel in my tester was the optional carbon fiber one for $400.
The rest of the interior is attractive, it's a pleasing design, fuss, and clutter-free. The dashboard design is also taken from the Giulia, only the steering angle is different due to the vehicle's higher stance. The interior is very minimalist in its design which I like, and although the infotainment screen is a tad on the small size most of the controls are at hand in the center console, the DNA mode selector, the infotainment volume, and the rotary menu controller.
My tester's base price was $80,445, a bit more than rivals like BMW X3 M Competition, Mercedes-AMG GLC63 but slightly below the Porsche Macan Turbo. Load up the options like Rosso Paint $2,200), Active Drive Assist Package ($2,000), Brembo Carbon Ceramic Brakes ($8,000), and Dual Pane Sunroof, and the price gets very close to $100K. My tester's fully loaded price including destination was $97,790. If it was me buying, I would drop the Driver Assistance Package and the Sunroof and save myself $3,350.
Unanimous decision
The Alfa Stelvio QF is a mind-boggling supercar SUV, it simply begs to be driven hard all the time, and has a spacious interior for people and cargo. If you haven't driven an Alfa you should get one, if you have driven an Alfa, you should get one, and if you can't afford one, sell one of your kidneys, it's that good!

BASE PRICE: – $80,445
PRICE AS TESTED: – $97,790
VEHICLE LAYOUT: – Front-engine, all-wheel-drive, 5-passenger, 4-door hatchback
ENGINE: – Twin-turbocharged DOHC 24-valve V-6
POWER: – 505 hp @ 6,500 rpm
TORQUE:- 443-lb-ft @ 2,500 rpm
TRANSMISSION:- 8-speed automatic with manual shifting mode
CURB WEIGHT: – 4,360 lb
0-60 MPH: – 3.5 seconds
TOP SPEED: 176 mph
EPA CITY/HWY/COMBINED: – 19/17/23 mpg
OUR OBSERVED: – 13.9 mpg
CARGO SPACE: – 18.5 ft³, 56.5 ft³ with seat area
PROS: – Drop dead looks, grin-inducing acceleration, incredible handling, fantastic exhaust noise, hugely improved interior
CONS: – I can't afford one

2020 Alfa Romeo Stelvio Quadrifoglio Review