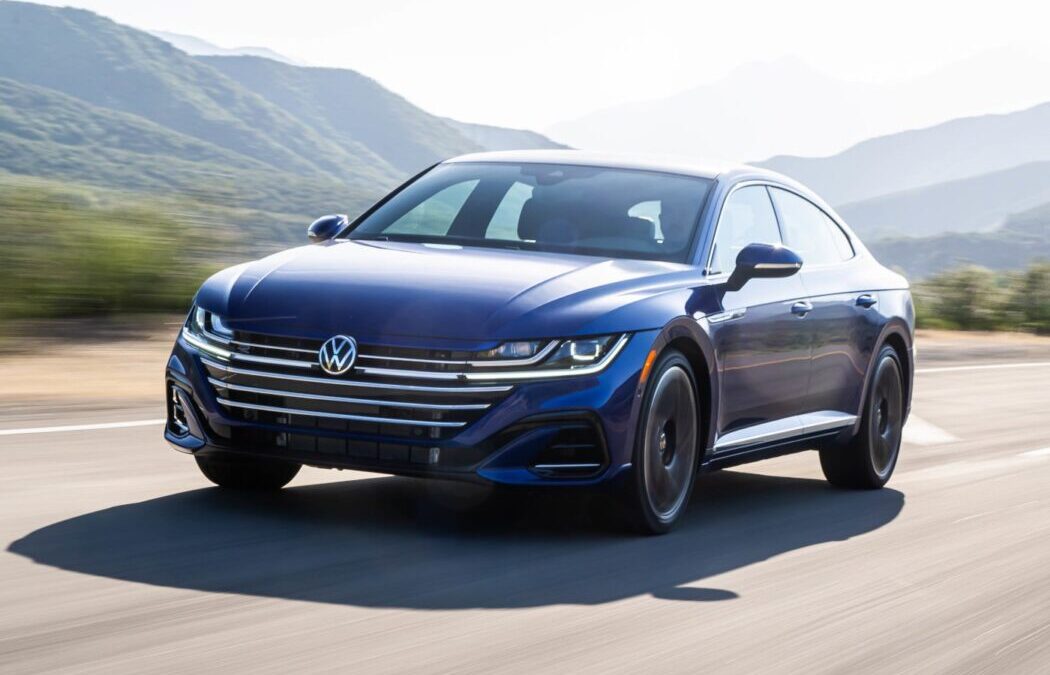 The 2022 Volkswagen Arteon 2.0T SEL Premium R-Line is a stylish coupe-like sedan that has been given more power, more torque, and a new transmission which has completely transformed this car. The last one I tested was a 2021 model which was somewhat underwhelming and certainly didn't exceed my expectations.  
Sedans and coupes are a dying breed and despite this being one of the best-looking cars you can buy, only 12,000 people have opted to buy one since it was launched in 2019 and that's a real shame.  To put that into perspective the VW Tiguan has sold almost 370K since 2019.  
It looks great from all angles, it's a seriously good-looking car, and the clamshell hood and the flared wheel arches are among the details that make the Arteon one of the best-looking vehicles on the road. From the side, VW's fastback-sedan is somewhat reminiscent of the Audi A7, while the sculpted headlight surrounds are a beautiful design.  
Pricing and trims
There are three 3 flavors to choose from, the SE R-Line, the SEL R-Line, and the SEL Premium R-Line, and as you've probably guessed the R-Line trim is now standard across the range. What's not standard is 4Motion AWD, the base model doesn't get it, instead, it's a front driver and that means constantly howling tires as they struggle for grip.
Prices start at $40,750, my 2022 Arteon SEL Premium was $47,340 incl. destination, and the top-spec SEL Premium R-Line is just short of $50K and gives you a powered liftgate, ventilated front seats, and a Harman Kardon sound system.
Dialing up the power
In this latest Arteon, VW uses the 4-cylinder turbo from the Golf R that puts out 300 hp and 295 lb-ft of torque, up from 268 hp and 258 lb-ft previously. It's a tad less than the Golf R has but it makes a lot of difference.   
With all-wheel drive and the help of launch control, which kicks in at around 4,000 rpm, 0-60 comes up in less than 5 seconds some 1.1 seconds quicker than the outgoing model. This is not only thanks to the extra power but the fact that the Arteon trades out the 8-speed auto for a 7-speed DSG. 
Just because it has a Golf R engine under the hood don't expect it to do what the R does on twisty roads. The Arteon's chassis has been primarily tuned for comfort, even when you have its adaptive dampers in their stiffest setting. The steering is also quite light, but thanks to the long wheelbase it's very composed and quiet.  
It's a perfect combination especially since it comes with standard DCC adaptive chassis control that allows the driver to configure the vehicle for normal, comfort, or sport driving. I'll be honest it's actually very comfortable in all the modes, even when you have it in Sport. There's an Individual mode so you can dial in the right level of steering, DCC, etc.
This SEL R-Line gets a set of very nice 20-inch rims ($595) with Continental procontact tx all-season tires which are pretty good but I wish they had fitted Summer tires instead.  
The 2022 Arteon gets slightly better fuel economy, with an EPA Combined/city/highway of 24/20/31 mpg. Despite a heavy right foot, I averaged 22 mpg for the week.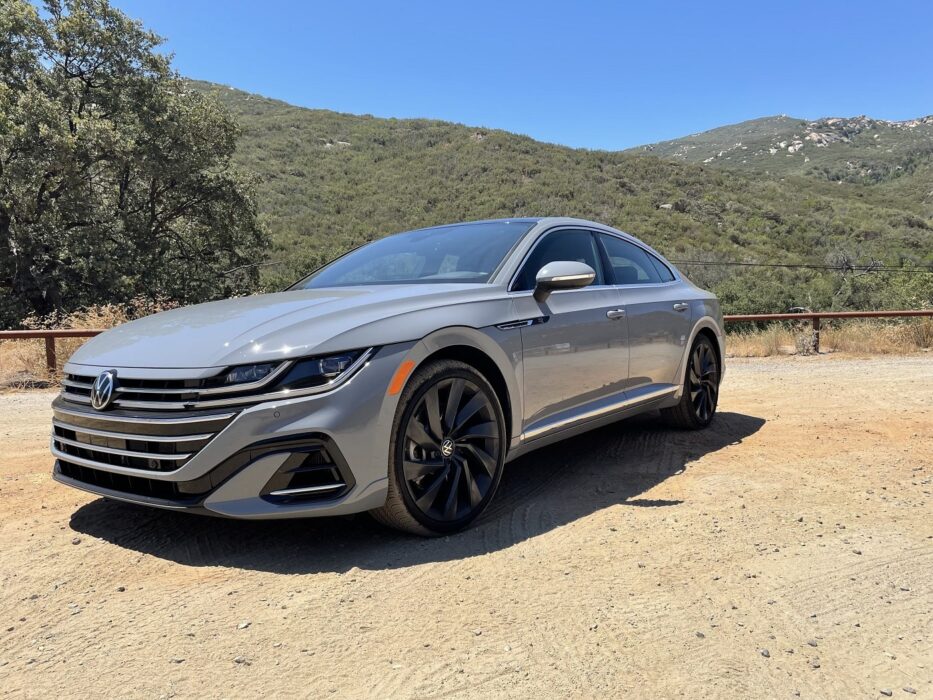 Gets down and boogies
The Arteon is now properly quick, the added power has transformed this car, and now has the performance it should have had when it was first launched. The Turbo 4 is so much punchier and apart from a little turbo lag from a standstill it pulls like a train and passes slower vehicles on 2-lane highways with ease.
Mid-range power is much improved and thanks to the quick shifting7-speed DSG it really doesn't matter which drive mode you are in, it just goes. It's not a GolR though since it doesn't have \that car's trick clutches on each axle instead it uses the same Haldex system as on the previous Mk 7 R.
It's so much more entertaining to drive, select Sport mode, and the Arteon will hustle through the bends as it moves down the road with satisfying poise and confidence. There's genuine sophistication in the way it drives.
Brake-based torque vectoring keeps the handling in check and body roll is well sorted in Sport mode, in the other modes the body leans a bit more, but the suspension is more forgiving. It may have the R's engine but I spent more time in Comfort mode with no decrease in driving pleasure during the week.
Brakes provide good stopping power although did get quite hot on a downhill run from up in the mountains back to San Diego. The steering feedback is almost nonexistent, but us is direct, there's no play in it and it turns crisply. This new engine is a perfect match for this car, it provides more than enough power for almost every driving situation, and the engine stop/start system is less intrusive than other systems I have used.
Inside
The biggest updates are found inside the Arteon, the 2021 model got a thorough luxury make-over. The dash design is much more upscale and there's a redesigned steering wheel with haptic touch controls, which are somewhat fiddly to use. In fact, holding the wheel at the correct quarter to three position you tend to push buttons you don't actually need.
There are new air vents that line the top of the dash, and 30 ambient lighting colors span the width of the cabin, which you can choose under Car Settings, I finally chose purple after much messing around. Climate controls are now touch-sensitive, and you swipe to alter cabin temperature and fan speeds, it takes a bit of getting used to over the previous controls.
Materials throughout are top-notch and my tester had the leather seat option with 12-way power, heated only, as well as a black headliner and aluminum sill plates.  The front seats are supportive and comfortable and provide good side bolstering when you're exercising your right foot and the rear seat occupants get more room than most of the competition and plenty of headroom, despite its svelte roofline.
In addition to the standard digital gauges, every Arteon comes with Volkswagen's MIB3 infotainment system, housed on an 8-inch touchscreen. MIB3 has embedded navigation, as well as wireless Apple CarPlay, Android Auto, and VW's App-Connect smartphone integration. The MIB3 system is relatively easy to use, with menu buttons that automatically present themselves when the system detects your grubby fingers approaching. The bad news is the small space in the center console which perfectly fits your phone, doesn't wirelessly charge it.
Standard driver aids on my SEL include autonomous emergency braking, forward collision warning, and rear cross-traffic alert. Adaptive cruise control is standard on the SEL and adds lane-keep assist and automatic high beams and of course the VW Digital Cockpit.
SUV rivaling cargo space
So why is this a good alternative to a crossover? Well for starters it has a rear hatch instead of a trunk lid. This reveals massive trunk space, 27 ft³ is available with the rear seats up here, and 55 ft³, if you fold the rear seats flat. A removable rear luggage cover comes in handy to avoid prying eyes when you're on a road trip, 
Verdict
The Arteon is a sedan with a hatch that has tons of room inside, it's also properly quick, has good fuel economy, and is well priced for this segment. It handles better than any top-heavy SUV/Crossover and is a seriously handsome car. The problem is VW has tried the large luxury sedan before when it came out with the Phaeton, and that sadly was not a sales success.  
With more power, it now stands a chance against rivals like the Genesis G80, although that one is not a hatchback. You could also look at VW's sister company Audi for an A5 which is a hatchback but one of those will definitely cost you more.  
So don't get a crossover, help us SAVE THE SEDANS because the 2022 Arteon is now a seriously good car.  
VIDEO REVIEW
2022 VW Arteon SEL R-Line Numbers
BASE PRICE: $45,550
AS TESTED PRICE: $47,340
VEHICLE LAYOUT: Front-engine, all-wheel-drive, 5-passenger, 4-door hatchback
ENGINE: 2.0 liter turbocharged and inter-cooled DOHC 16-valve inline-4
POWER: 300 hp @ 5,350 rpm
TORQUE: 295 lb-ft @ 2,000 rpm
TRANSMISSION: 7-speed dual-clutch automatic
0-60 MPH: 4.9 sec
TOP SPEED: 128 mph (Governed)
CURB WEIGHT: 3,935 lbs
CARGO VOLUME: 27.19 ft³, 54.98 ft³ with seat area
TIRES: Continental ProContact TX 245/35R-20
EPA COMB/ CITY/HWY:  25/22/30
OUR OBSERVED FUEL ECONOMY: 22.0 MPG
PROS: Much quicker than before, very spacious, hatchback versatility, fun to drive
CONS: Some turbo lag from a stop