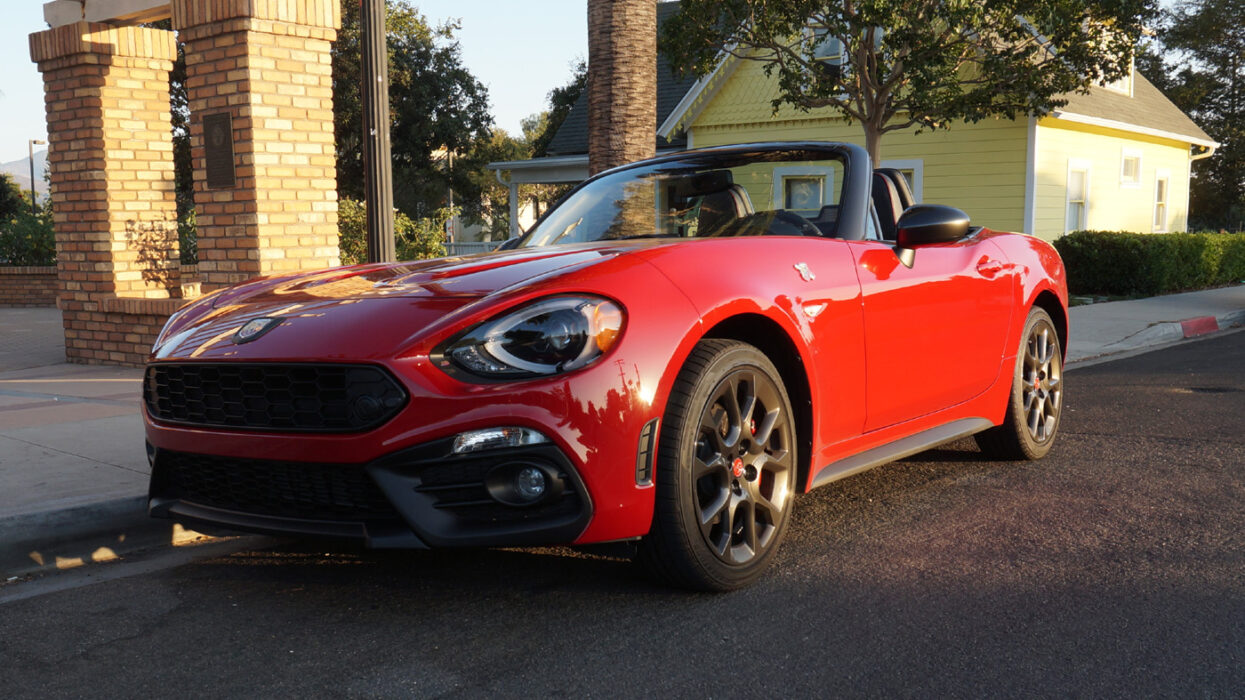 We heard a rumor that FCA would be axing the little Fiat 124 since they had only sold 4,000 of them, however, the latest news is that, in North America, the little roadster will be sticking around for now. We checked with carsalesbase.com and they have actually sold over 12,000 Fiat 124s.
I love the Fiat 124 Abarth, it's just so much fun but you have to do one thing before you set off for a drive and that's open the roof. You see with the roof up it's just another car with a droning motor, with it off, it's epic. Quick trips to the shops are an event and that exhaust farts and crackles as you go causing endless grinning.
The 124 Spider Abarth gets a small bump in power over the lesser models putting out 164 hp @ 5500 rpm and 184 lb-ft @ 2500 rpm. The Fiat 124 Spider gets pretty stiff suspension in Classico and Lusso flavors but the Abarth's tuning is the most aggressive among them. The Abarth adds Bilstein dampers, bigger 17-inch wheels with grippier tires, the aforementioned throatier exhaust system, Brembo brakes, and Recaro sport seats.
The Abarth also gets a limited-slip differential over the standard 124's which is a recipe for a tail-sliding grin fest. An LSD in a small, lightweight, rear-wheel-drive sports car is a recipe for huge fun. Finally, the Abarth has a Sport switch making the throttle feel more immediate, adds a tad more weight to the steering, and slackens off the ESP and traction control.
The exhaust isn't quite as obnoxious as it is in the Fiat 500, which scared a few pedestrians in the week we had it but it doesn't matter here, with the top down the aural sensations are a pure delight.
The car gets a fantastic 6-speed manual transmission (an auto is an option, but I would skip it) which snicks through its cogs and has a well-weighted clutch meaning shifts are smooth and precise. Even with a turbo engine and plenty of torque, cog swapping is a joy.
My 2020 Fiat 124 Spyder Abarth tester came with Hypnotique Red exterior paint, and Abarth fender badges, but not the matte black hood, but it still looked great and I prefer this more retro shape to its Miata sibling.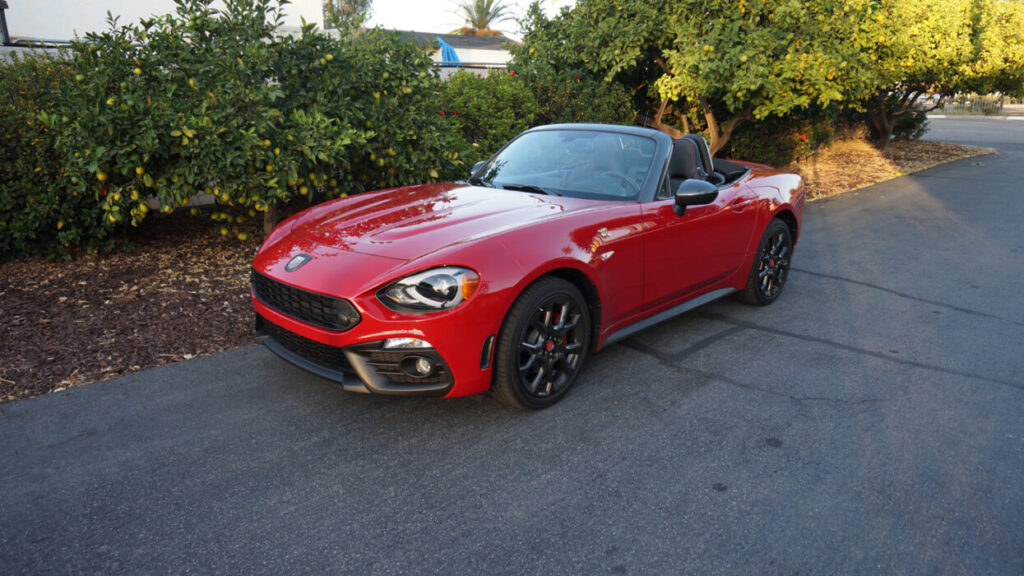 On The Road
You can easily drive an Abarth 124 Spider every day. Its compact size, snappy gearbox and quick steering make it easy to zip around town, and it's refined while doing it but when where you want to have fun, on a twisty back road it's nothing short of a grin fest.
I spent the entire week with the top down, even on slightly chillier, and the very good heated seats kept me nice and toasty.  The first thing you notice as you drive down the in the Abarth, is that the body structure feels taught and more rigid than the other Fiats, why? ….the Abarth gets a strut brace to strengthen the body and stop any resonance and twist.
The suspension allows for more body roll than expected but it is not an issue and push hard out of a low-speed corner and the back end will kick out in a beautifully controlled manner. Yes, there is some turbo lag, but it isn't nearly as big an issue as some have pointed out. As a daily driver, this is the most enjoyable car to drive without breaking the speed limit.
The 124 will accelerate from 0-60 in 6.5 secs, not super-fast, a Golf GTI will out-accelerate it, but this is not what the Fiat 124 Abarth is all about. Take it up to the mountains and seek out some twisty roads because this is where this car comes alive. You won't need the radio, besides you can hardly hear it at speed, instead simply drive with a purpose and you become totally engaged with this car.
It's a very precise, purposeful, driver's car and never feels upset by mid-corner bumps or changes in direction. The Brembo brakes are strong, and the steering has a perfect feel to it.
Inside
The Fiat and the Miata are fairly similar inside, space is at a premium for larger folks, and the cup holders are a bit wobbly and I hit my elbow on them a few times. It's easier to just remove them and enjoy your latte later.
With no rear-seat space and annoyingly no telescoping steering wheel, it took a few adjustments to get an ideal seat position, but once I did the sport seats are very comfortable and have grippy Alcantara inserts. The driver's view is good too, the rev counter is red, the band on the steering wheel is red, the stitching is also red. It has alloy pedals, the gas pedal is floor mounted as it should be, and the overall quality is good.
The roof mechanism is delightfully simple and easy to use and there is a decent amount of trunk space (4.94 ft³), enough for a grocery run and some small bags.
My tester did have a lot of options which did increase the price from $29,390 to $38,355 including destination. I would definitely get the Brembo Brakes (1,495), and the Record Monza Exhaust (995). I would skip the Convenience Group ($1,495) which includes safety systems like Blind Spot Detection and Park Assist, Navigation ($1,295) and I'd skip the Visibility Group ($995) as well, which includes the Adaptive Front Headlights.
This would drop the price to $34,570.
Verdict
I hope they keep shipping this car over to the US, I really like it, it's fun, practical, and economical, I averaged 23 mpg for the week but for those who can exercise restraint it'll get 36 mpg on the highway.  I definitely ran more errands in the week I had the Fiat than in any other car. Forgot something at the grocery store, "I'll go" and I did. Any excuse, it didn't matter I just wanted to be driving the Fiat.
I've driven some pretty good cars in my time, but I have to say this little Fiat 124 Abarth has been one of my favorites. I still can't wipe the grin off my face. Go get one……you won't regret it, well unless you have a dog.
2020 Fiat 124 Spider Abarth Numbers
Base Price: $29,390
As Tested Price: $38,355
Vehicle Type: Front-engine, rear-wheel-drive, 2-passenger, 2-door convertible
Engine: Turbocharged and intercooled SOHC 16-valve inline-4
Power: 164 hp @ 5,500 rpm
Torque: 184 lb-ft @ 2,500 rpm
Transmission: 6-speed manual
Curb weight: 2,436 lb
Zero to 60 mph: 6.5 sec
Top speed: 130 mph
Cargo Space: 4.94 ft³
EPA city/highway/combined: 26/29/36 mpg
Our Observed Fuel Economy: 23 mpg
Pros Superb fun at any speed, great engine, excellent handling
Cons Wobbly cup holders
2020 Fiat 124 Spyder Abarth Review