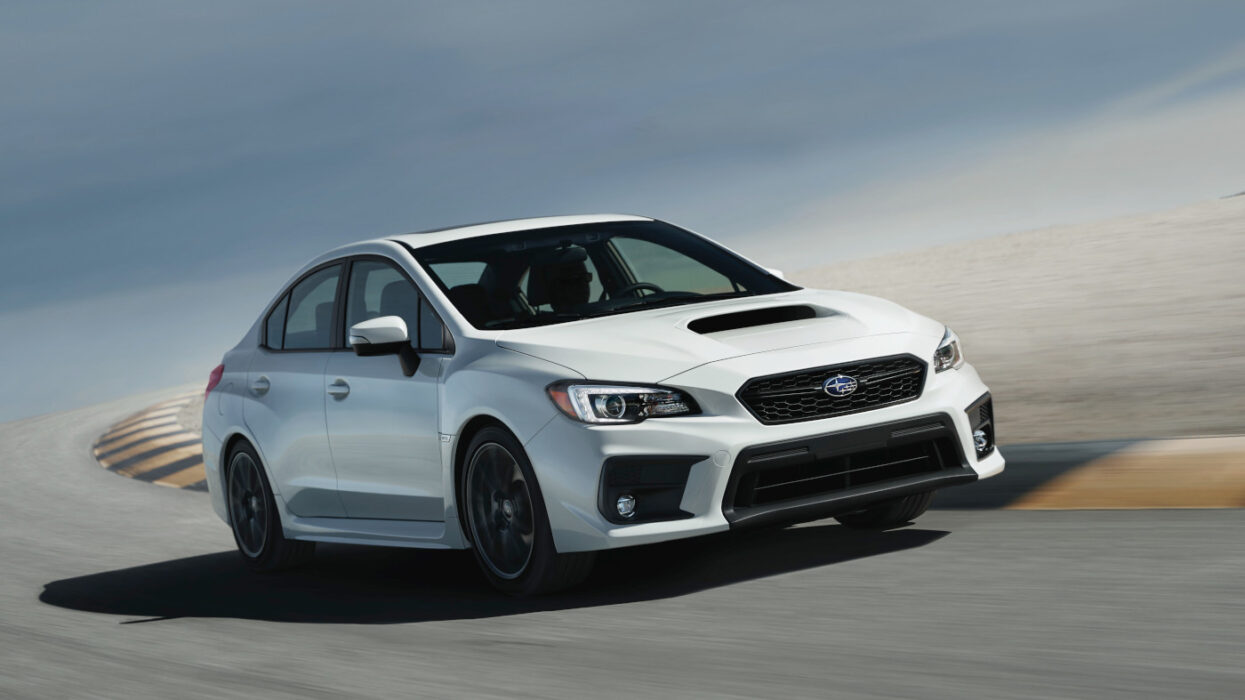 What is the Series White
The series white is one of only 500 available and because special editions are usually made available at the end of a model's lifecycle and since we know that an all-new 2022 version is on the horizon, I really wanted to find out if this one still has the chops to beat its more modern competition.
As far as competition goes the VW GTI comes to mind first and also the Civic SI but those two have front-wheel drive and the WRX has AWD, so advantage WRX. If you wanted AWD you'd have to step up to a Golf R and that's a lot more money since this one has a sticker price of just over $35K, which is something of a bargain.
There are a couple of Hyundai's but they are also front drivers, so suffice to say the WRX is somewhat of a standalone car since the Mitsubishi Evo went the way of the Dodo several years ago.
You pay an additional $4,200 over the base price of a WRX Premium ($29,795) for a Subaru WRX Series White and surprise you get Ceramic White paint, red Brembo brakes, Recaro front sport seats, sport suspension with Bilstein dampers, black exterior trim, bronze-finish 18-inch wheels, LED headlights, and fog lights, and eight-way power-adjustable front seats.
How does it look?
It's unmistakably a Subaru from the outside, with its rally car for the road looks, subtle rear spoiler, and flared fenders as well as the huge good air scoop to feed the intercooler. The white looks good too since it has all the black accents subtle enough to not get the attention of the five 0.
Under the hood
The turbocharged 2.0-liter boxer-four puts out 268 horsepower and 258 pound-feet of torque mated to a pretty good 6-speed manual (you can get a CVT but I wouldn't). The turbocharger delivers 15.9 psi of maximum boost, which seems to deliver power somewhat unevenly at times, usually between 4,000 and 5,000 rpm.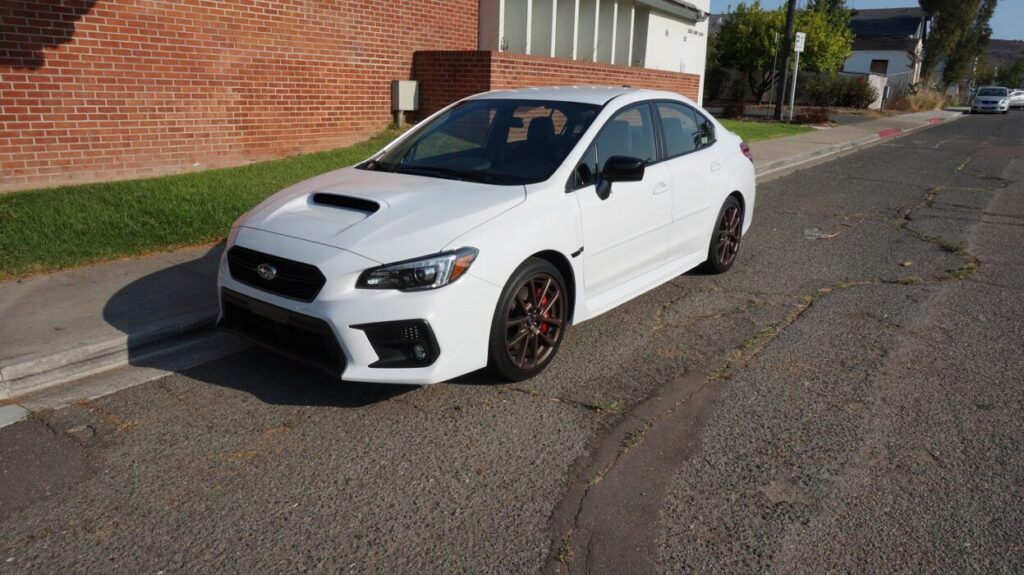 Driving
The WRX makes lots of noises, especially through the tires and it's not so aerodynamic shape but together with the engine, turbo, and exhaust noises, it makes the car fizz with soul. The steering is great,  it has a quick ratio and a decent amount of feedback despite wearing 245/40 Dunlop Maxx summer tires. If anything the chassis could cope with a lot more power thanks to the a sophisticated all-wheel-drive system, driving on twisty roads feels very predictable and the car is so sure-footed.
Stiff but well-controlled ride
The chassis is very poised despite the upgraded Bilstein suspension being quite stiff, you can throw it into a corner at speed and it won't spit you out in pieces, and grip in the dry is phenomenal, it's hard to unstick these Dunlops.  My tester had the only version of transmission that you should ever get in this car, the 6-speed manual. It's a little notchy but it's precise and I never missed a gear throughout my time with the car. You do have to work it to get the best out of it, grab it by the scruff and mash the throttle, change up at the redline, and it flies.
There is an occasional wait for the turbo to spool up and that weird flat spot I mentioned earlier, but if you are around town you can short shift at 3,200 rpm and the car's meaty torque curve will get you along quite nicely.
Stops as well as it goes
I was very impressed with the upgraded Brembo brakes, which are unique to this Series White trim level. Compared to the standard brakes, these have 0.4-inch larger rotors up front with four-piston calipers as opposed to two-piston units. At the rear, the Brembo rotors are almost a full inch larger in diameter, with twin-piston calipers replacing the standard single-piston ones. Braking feel is excellent and they have no fade whatsoever.
So so Interior
The interior hasn't aged very gracefully so if you are looking for a large screen and the latest and greatest tech you've come to the wrong place. That said the Recaros are excellent, comfortable, and most importantly very supportive with adequate leg and side bolsters. There's no slipping around when you're in max attack mode. They also have power adjustment which is great for a manual transmission, it means you can find the perfect position so much easier than manual seats.
There's a decent amount of room inside for both front seat and rear occupants, however,  although the pedal box won't suit anyone with size 14 feet since the pedals are quite close together, which is fine by me.
The WRX comes standard with a 6.5-inch touchscreen running Subaru's Starlink infotainment system, but my tester had the slightly larger 7-inch screen, let's be honest it's still small. Apple CarPlay and Android Auto are standard, and charging ports include a 12-volt outlet up front, another in the center console, and two USB-A outlets. Rear-seat passengers get neither HVAC vents nor power. You probably didn't want passengers anyway.
There are some driver aids available on some trims blind-spot monitoring and rear cross-traffic alert are optional on the WRX's top trims. The only other option my tester had was Body Side Molding for $268.
Verdict – It can still make you smile!
The 2020 Subaru WRX is a great car for people who just want a lot of performance for a good price without all the bells and whistles that most cars have these days. Its simplicity is its strength.  It put a big smile on my face for seven days and there are many cars that won't do that at all. The WRX is a very quick, confidence-inspiring car with plenty of power when the engine is kept on the boil, you just have to drive it like you stole it!
VIDEO REVIEW
Subaru WRX Series White Numbers
BASE PRICE: $29,795
PRICE AS TESTED: $35,259
VEHICLE LAYOUT: Front-engine, AWD, 5-passenger, 4-door sedan
ENGINE: 2.0-liter turbocharged and inter-cooled DOHC 16-valve flat-4
POWER: 268 hp @ 5,600 rpm
TORQUE: 258 lb-ft @ 2,000 rpm
TRANSMISSION: 6 -speed manual
CURB WEIGHT: 3,340 lb
0-60 MPH: 5.2 seconds
EPA CITY/HWY/COMB FUEL ECON: 21/27/23 mpg
OUR OBSERVED FUEL ECONOMY 19.8 mpg
CARGO SPACE: 12 ft³
PROS: Manual transmission, excellent fun,  AWD grip 
CONS: Uneven power delivery, showing its age