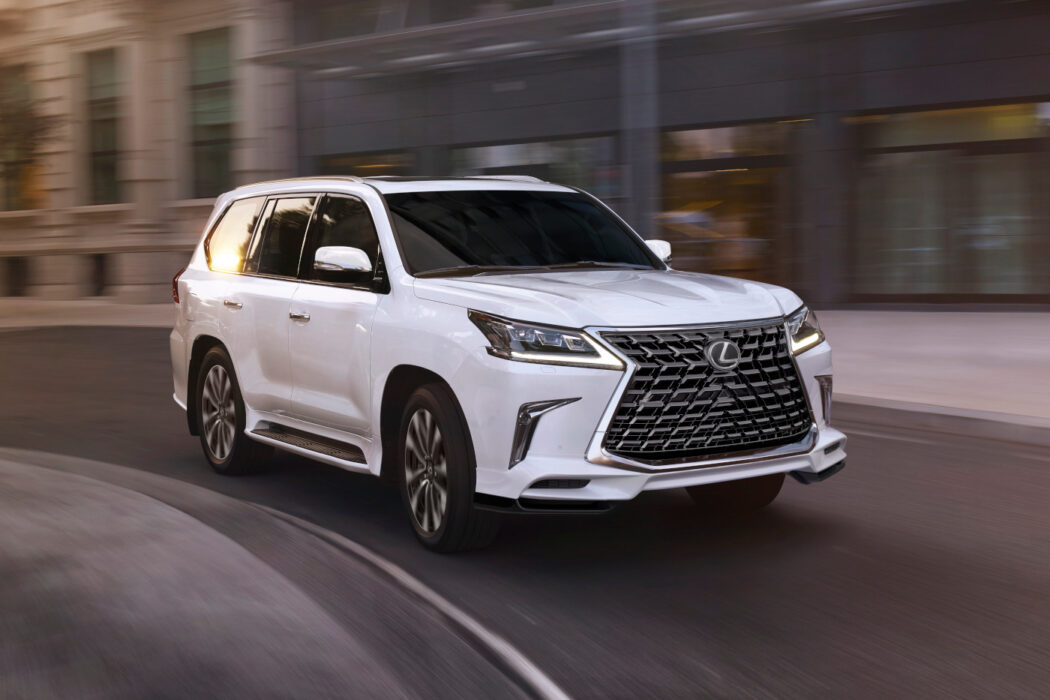 The 2021 Lexus LX 570 is what you might describe as a bit of an old-school charmer, and is really quite an oddity in the world of SUVs. Since it's a Toyota Land Cruiser at heart albeit with a nice suit and a lot of luxury, and it really is very good off-road, as we discover later.  Its competition easily outwits it on tech and on-road prowess, so if that's what you're looking for head over to BMW, Mercedes, or Audi and get a fast one of those but don't come crying back later when it dies after a few years and the Lexus LX570 goes on to live for 25+ years. It's the old Tortoise and the Hare story.
Adding to the dated feel is it uses a body-on-frame architecture with full-time all-wheel drive. Only one powertrain is available, consisting of a naturally aspirated, 5.7-liter V8 mated to an eight-speed automatic transmission. It makes 383 horsepower and 403 pound-feet of torque mated to a smooth eight-speed automatic, with steering-wheel-mounted paddle shifters, why, I have no idea. Wring it out and it will get from 0-60 in a little over 7 seconds, not particularly fast but that's not really what the big LX570 is about.
So exactly how big is it? Well, it's a shade under 16.5 feet long, over 6 feet tall in its normal ride height mode, and 6.4 feet wide. Add the huge spindle grille and the LX is ready to plow through traffic like a combine-harvester through a wheat field.
It's a thirsty beast too, after a week I was only able to manage 12.4 mpg which meant numerous fill-ups but was worth it for the fun I had off-road. As I said previously if you opt for a full-size Mercedes-Benz GLS as an alternative, it's not only faster (0-60 mph in 5.9 seconds) but will return better fuel economy while doing it. What the Mercedes can't do, however, is tackle Moab.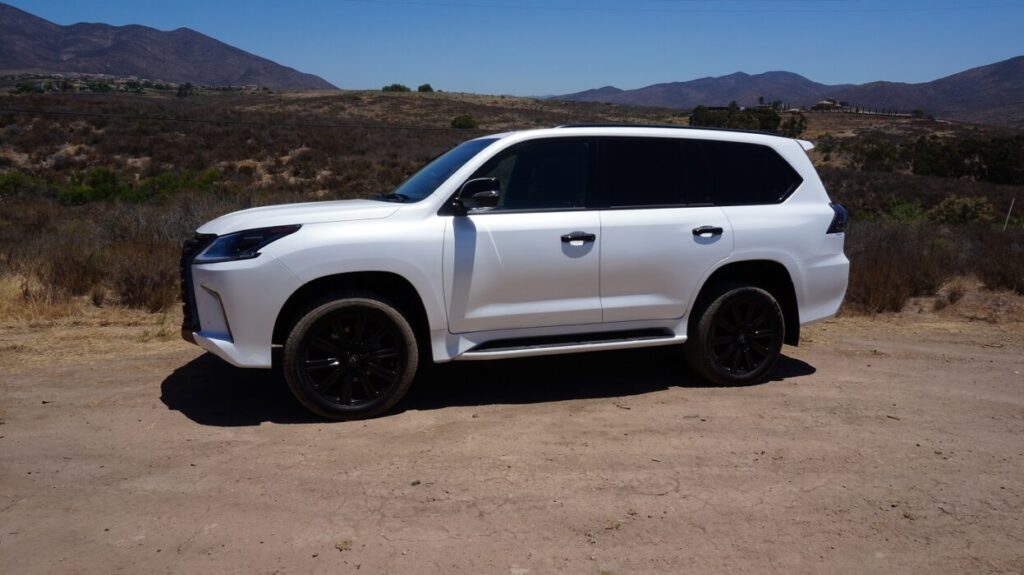 Driving
The LX 570 comes standard with a height-adjustable air suspension at all four corners, so it can squat down for easier ingress and egress, or rise up to tackle difficult terrain. All this and the sheer mass don't bode well for driving fast, so despite handling bumps with composure, it can feel lumbering and heavy. Add to that is its preference to dive under braking, vague steering a lot of body motion, and leaning in the bends and you soon learn to enjoy the Lexus at a slower pace.
This is precisely where the LX570 excels,  ride quality is excellent in all modes even in Sport+, which didn't do a lot for me, so I stayed in Comfort for most of the time. You can waft around listening to the excellent 19-speaker Mark Levinson Audio System ($2,350) with little to no road or wind noise snuggled into the very soft leather seats.
If you want to speed things up you can set it to Sport + (faster throttle and transmission parameters) and attempt to canyon carve but the steering is vague and the body does move around a lot. The transmission does a good job of keeping the engine in the right torque band and once on the move the LX570 can get up to decent speeds quite quickly.
Excelling off-road
Since the LX570 is based on the Toyota Land Cruiser we went in search of something that might challenge, it and we were not disappointed. With a locking center Torsen differential, Toyota's Crawl Control and multi-terrain selectable traction control, 4wd low ratio, and hill descent control, it is virtually unstoppable. I say virtually because my tester was running on street tires and 21-inch rims so had it been wet we may have managed to get it stuck.
We first attempted a large and very sandy (fine dirt) hill, quite steep with some deep ruts, not a problem with the air suspension set to high which gives you 11 ounces of clearance. The Lexus didn't even break a sweat I didn't even feel any loss of grip even on the steepest sections.
We turned around using the quite clever turn assist system that applies the brake to an inside wheel when the trail gets tight, it really works you can almost turn as tight as a London black cab.  Once facing back down the hill I came up I activated Crawl control you have to select 4 low first, then I picked Mud and Sand mode before heading down. The Toyota Crawl system makes quite a weird noise which is somewhat disconcerting at first but it's all part of normal operation.
Going back down was a walk in the park, it had no problems controlling the descent, leaving the driver the simple job of steering and watching out for any sharp rocks; since we were riding on street tires I didn't fancy changing a tire out in the middle of nowhere. This car is way more capable in the rough stuff than anyting from BMW,  Mercedes-Benz, or Audi and it'll give a Range Rover a run for its money especially from a reliability standpoint. This car is bulletproof.
Inside
I have to say the interior of the LX570 is a really nice place to spend time. I would probably live in it without a car if I didn't have a home. The materials are all of the finest quality with beautiful Semi-Aniline leather (Luxury Package $1,190) covering everything. Of course, the front seats are multi-way power-adjustable and both heated and cooled.
My tester had the power-folding third-row seat option but you can delete that and save a few thousand and it's worth it since the sideways folding seats rob you of cargo space. The third row is quite tight too, kids only, so if you don't need them I would uncheck that selection.  The second-row seats have power sliding functionality and have adjustable backrests. They're extremely comfortable, as well, though I didn't spend a lot of time in them.
Infotainment offerings are typical from Lexus, you get a 12.3-inch display for the Enform infotainment, but the screen isn't touch-responsive. Instead, you get to use Lexus' Remote Touch joystick on the shifter, which as I've said before is difficult to control and super tricky on the move.
My loaded tester had plenty of driver's aids, pre-collision warning, automatic emergency braking, adaptive cruise control, lane departure warning, and automatic high beams all come standard as part of Lexus' Safety System+ suite. Add the Inspiration Series ($2,695) which the black 21-inch wheels, black grille, black badges, black window accents, black door handles etc.  My tester also had the dual-screen rear DVD package ($2,005), taking the total price of my tester to $103,035.
Verdict
The big old Lexus LX570 is certainly enjoyable, very charming, incredible off-road, and can only get better when we get the all-new version with the twin-turbo 6 putting out more power and torque and with new tech inside. Sadly we have lost the Land Cruiser on this side of the pond but the pricing was almost the same, $100k give a take a few cents.
VIDEO REVIEW
2021 Lexus LX570 Numbers
BASE PRICE:  $91,580
PRICE AS TESTED:  $103,035
VEHICLE LAYOUT: Front-engine, all-wheel-drive, 8-passenger, 4-door SUV
ENGINE:  5.6 liter DOHC 32-valve V-8
POWER: 383 hp @ 5600 rpm
TORQUE: 403 lb-ft @ 3600 rpm
TRANSMISSION:  8-speed automatic with manual shifting mode
0-60 MPH:  7.2 seconds
CURB WEIGHT:  6,100 lb
GROUND CLEARANCE: 8.9 inches to 11 inches 
CARGO VOLUME: 9.1 to 32.1 ft³, 83.1 ft³ with seat area
FUEL ECONOMY Combined/city/highway: 14/12/16 mpg 
OUR OBSERVED: 12.4 mpg
PROS: Beautiful but aging interior, smooth and silky ride quality, excellent off-road
CONS: Huge fuel thirst, Feels and drives big