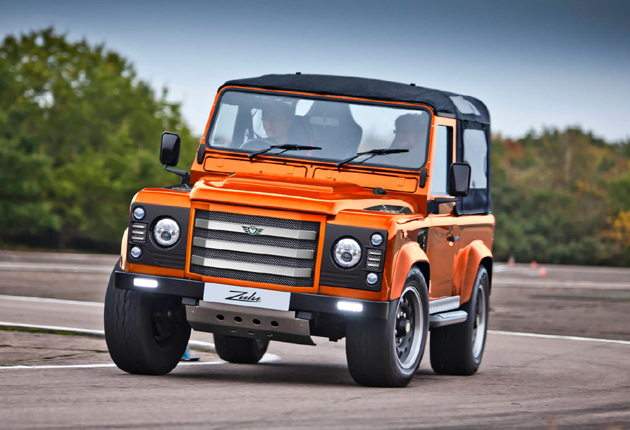 We love Land Rover Defenders here at Road Test Reviews and this Land Rover Defender Zulu 2 is simply sensational. We have reported before of some pretty quick Defenders, something they are not really meant to be. A couple of months ago we brought you the Ultimate RS Defender and now JE Engineering has another beast available, although sadly not here in the US, where US customs says NO. Several importers have tried to get around tis but most just end up being crushed.
Another tuner Bowler Motorsport make the Wildcat by stripping out the stock diesel engine and gearbox, and replacing it with a GM derived 6.2L gasV8 and 6 speed automatic gearbox providing 430 hp and more than 398 lb ft of Torque at 4,700 RPM.  Additional power upgrades are available providing over 550 hp and 472 lb ft. Bowler do, however, alter the suspension unlike JE.
The original 'Super Defender', the JE Land Rover Defender Zulu is the world's most powerful Defender conversion which still retains its original 4 Wheel Drive layout.
The original 'Super Defender' was created by JE Engineering in 2008 following a request from a client for a Defender V8 petrol with over 400 hp. This led to huge design, engineering and development project which resulted in a truly spectacular 450 hp Supercharged V8 Defender.
Through continuous development , JE Engineering have managed to liberate even more power from the Zulu engine with up to 500 hp possible, however they have settled on just a bit less. This 'barking mad' Zulu Two has approximately  480 hp, and 406 lb .ft @ 2500-4500 rpm, which should be enough to launch the car from 0-60 in less than 6 seconds. Remember it has the aerodynamics of a brick!
Transmission
Choice of ZF 6 Speed Manual or Reinforced ZF 4 Speed Auto driven through up-rated transfer box. Auto includes modified Cubby Box. Strengthened prop shafts are fitted.
Differential internals
Quaife Torsen LSD Rear & pin type Front (pegged)
Axles
Heavy duty half-shafts & universal joints fitted. Pegged (supported) Crown wheel System
Braking
JE developed Big brake kit with AP Racing 6 Piston Calipers and 350mm Grooved & Vented Discs fitted to front axle with performance pad material (Red or Black Calipers available)
Suspension
JE Sport Suspension Kit comprising JE spec Anti-Roll Bars front & rear, choice of Koni or Fox Racing dampers all round & JE 30mm lowered springs (Defender 90 only) Rear lowering springs only available for Defender 110
Wheels
18" JE designed 'D-Type' Alloy Wheels with mixed use road tires with increased speed rating. Available in Silver, White or Black/Diamond Cut rim.
JE Engineering has also developed an electronic handbrake conversion kit which operates the standard differential mounted handbrake but replaces the awkwardly places handbrake lever with a convenient dashboard switch.
Prices start at £149,500 (or £125,000 plus local taxes if you're overseas). Sorry USA, you still can's have one.
If you already have your very own Defender you can save a little cash. JE plans to build only 25 examples, which can be based on any Defender, in left- or right-hand drive. The orange machine pictured is a 90-wheelbase development car, but the first production Zulu² is a 110 Station Wagon. Partway through construction at the moment, it's due to be finished in September 2015.