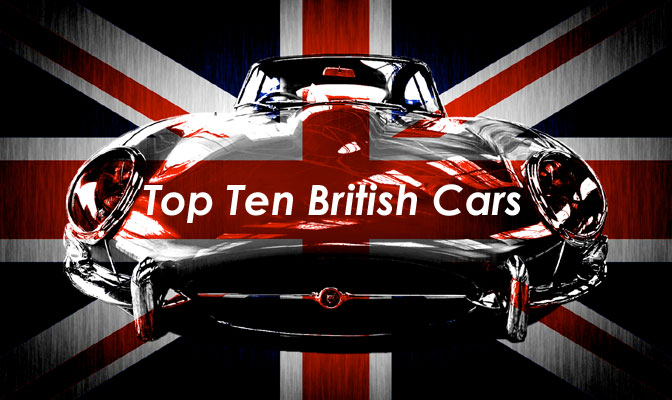 British cars can be pretty dodgy and have suffered from poor electrics and drive-train issues in the past. Some are superbly crafted however and so we put together a list of the Top Ten British Cars based on influence, character and popularity among enthusiasts and of course our humble opinion. Some are fast, some are downright slow, but to us, they are the best of the best.
Number 10. TVR Sagaris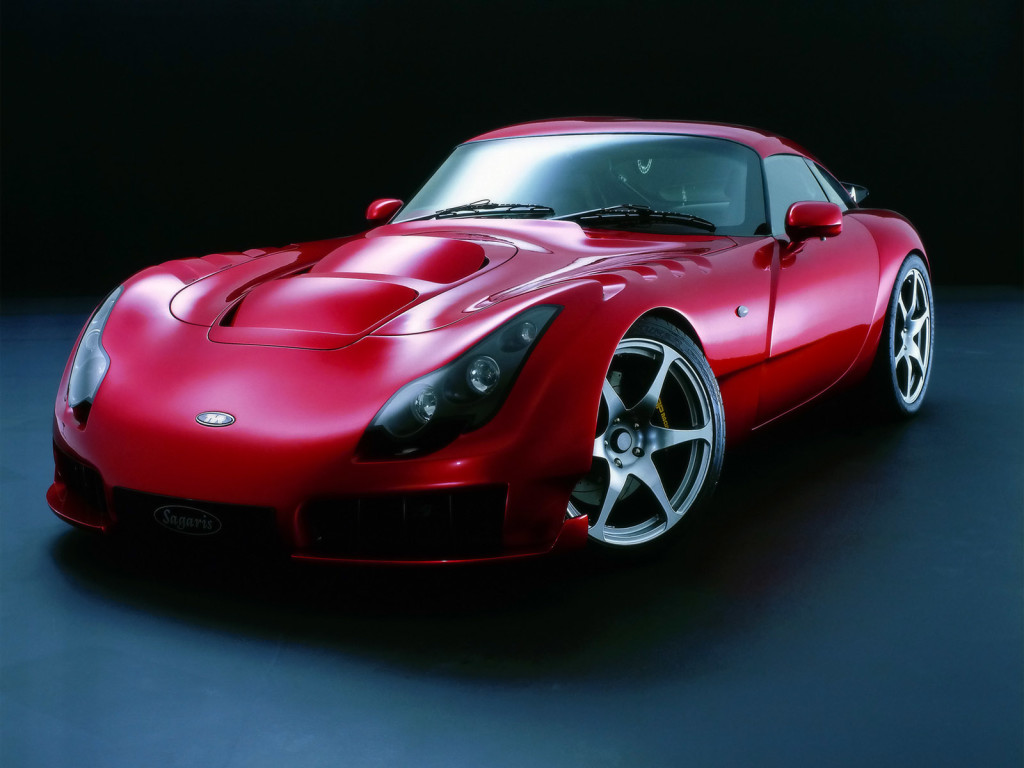 You could smell the resin from the fiberglass in these cars, such was the bad workmanship. Bits would fall off but that was soon forgotten once you got it started. It sported a straight 6 with 406 hp @ 7000-7500 rpm and 349 ft-lb @ 5000 rpm. Top speed was a claimed 185 mph ans 0-60 was dispatched in 3.9 seconds. It was Porsche Turbo fast for less than half the price.
Number 9. Jaguar XJ220
The Jaguar XJ220 is a two-seater supercar produced by British luxury car manufacturer Jaguar from 1992 until 1994, in collaboration with the specialist automotive and race engineering company Tom Walkinshaw Racing. The XJ220 can accelerate from 0–60 miles per hour in 3.6 seconds and reach a top speed of 213 miles per hour. It produced a maximum power of 540 hp at 7200 rpm and torque of 475 lb-ft  at 4500 rpm.
Number 8. Ariel Atom
The little Ariel Atom will eat supercars for breakfast, lunch and dinner. The V8 version is a limited production run and is full on bonkers.  The V8 is actually derived from two Suzuki Hayabusa engines, with  a 10,500RPM rev limit! All of this translates into 500HP and 284lbft at 7750RPM – incredible considering the size of the thing.  Ariel reckons this V8 atom will go from zero to 60mph in 2.3 seconds, making it the fastest accelerating production car on the planet.
Car With The Best Power To Weight
Number 7. Jensen Interceptor
The Jensen Interceptor was the size of a barn, but with it's 6286 cc V8 engine driving through a 3 speed auto it had plenty of power to move the mass. Peak power was 325 bhp @ 4600 rpm and 425 lb-ft @ 2800 rpm, so it was no slouch. So despite weighing in at 4034 lb it could go from 0-60 in 7.7 seconds and through the 1/4 mile in 14.05 secs @ 96.9 mph. It was pretty poorly built and took frequent trips to the mechanic but we think it has the best name ever for a car…….Interceptor.
Number 6. Land Rover Defender
The Land Rover Defender (initially called the Land Rover Ninety and Land Rover One Ten) is a British four-wheel-drive off-road utility vehicle developed from the original Land Rover Series launched in 1948. Used by farmers and enthusiasts for years, sadly in October 2013 Land Rover announced that production would end in December 2015, after a continuous run of 67 years.
Number 5. Mclaren P1
The strictly limited production run of 375 was sold within months of orders opening. The Mclaren P1 had one mission, it was created to be driven, to deliver extreme performance on road and on track, to be fast, safe and supremely rewarding. The numbers are astonishing:
0-62 in 2.8 seconds
0-124 mph in 6.8 secs
1/4 mile in 9.8 @ 152 mph
0-186 mph in 16.5 seconds
Number 4. Aston Martin DB5
Th Aston Martin DB5 is famous for being the most recognized cinematic James Bond car ever.  It has featured in more Bonds than any other car, Goldfinger, Thunderball, GoldenEye, a small appearance in Tomorrow Never Dies, Casino Royale and Skyfall). That said it wasn't particularly fast with a 4.0 Inline-6 producing 282 bhp at 5,500 rpm and 288 lb·ft @ 3,850 rpm. Top speed was 143 mph and 0–60 mph was achieved in 8.0 seconds.
Number 3. Mclaren F1
With a sticker price of $815,000 the Mclaren F1 caused a sensation when it was launched in 1994. At the time it set a record  of 240.1 mph. It's 6.1-liter V-12 pumps out 618 hp at 7400 rpm and delivers 479 pound-feet of torque between 4000 and 7000 rpm. The F1 scorched to 60 mph in 3.2 seconds, quicker than the then production-car record holder, the the Porsche 959, which needed 3.6 seconds. 100 mph appears in 6.3 seconds 150 mph in 12.8 sec­onds.  Zero to 200 mph takes 28.0 seconds.
Number 2. Mini Cooper S
1963 saw the launch of the hot Cooper S, an example of one of the first ever homologation specials. 2,500 road-going models were required to satisfy current racing regulations and allow BMC to unleash the Cooper S on its rivals.  With  70bhp and a 90mph top speed (near 100mph was achievable), was almost unheard of in a car so small and cheap. The Mini Cooper S went on to win Monte Carlo Rally victories in 1964, 1965 and 1967. The Cooper S also starred in the original Italian Job movie with Michael Caine.
Number 1. Jaguar E-Type
On its release Enzo Ferrari called the Jaguar E-Type, "The most beautiful car ever made" and we have to agree, it is a stunning piece of design.  In 1961 it had a straight 6, 3781 cc engine putting out 265 hp @ 5500 rpm and 260 lb-ft @ 4000 rpm, which made it one of the fastest cars on the road.  Zero to 60 mph was dispatched in 6.3 sec, zero to 100 mph in 18.2 sec and it topped out at 145 mph. For us this is our favorite British car.