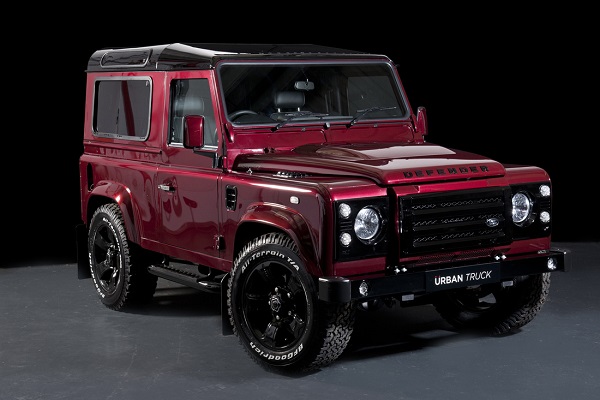 The Land Rover Defender (initially called the Land Rover Ninety and Land Rover One Ten) is a British four-wheel-drive off-road utility vehicle developed from the original Land Rover Series launched in 1948. Used by farmers and enthusiasts for years, sadly in October 2013 Land Rover announced that production would end in December 2015, after a continuous run of 67 years.
With the standard defender sporting a 120 hp turbo diesel,  Urban Truck, based in the UK, decided that it really wasn't enough and dropped  a GM-sourced 6.2 liter V8, with between 430 HP to 500 HP and 398 lb-ft of torque. The power goes to all four wheels through a six-speed automatic transmission with an electronic gear selector.
The interior comes bathed in fine nappa leather, including Recaro seats. Options include upgraded sound systems, navigation, park assist, rear camera, in fact pretty much anything you want.
Pricing for the Ultimate RS version is a cool $145K.
0- 60 – SUB 5 SECONDS
GM DERIVED 6.2 LS3 V8 SMALL BLOCK
POWER RANGE – 430 – 500 HP
TORQUE – 398 LB FT
6SP AUTOMATIC TRANSMISSION
ELECTRONIC GEAR SELECTION MODULE
QUAD CORE COOLING WITH INTEGRATED OIL COOLER
TWIN TAILPIPE STAINLESS STEEL BIG BORE EXHAUST
REWORKED SYMMETRICAL MUD FLAP KIT WITH EXHAUST INTEGRATION
BRAKES – TAROX 6 POT CALIPERS
Gallery
[Best_Wordpress_Gallery id="31″ gal_title="Urban Truck – Land Rover Defender"]
Images courtesy of Urban Truck