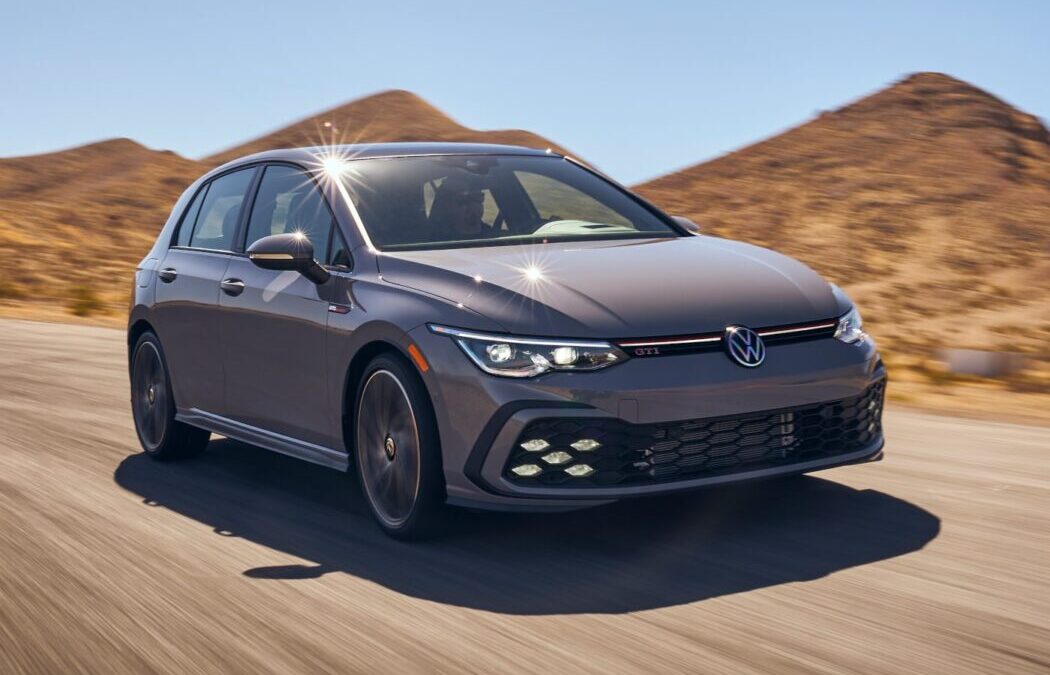 Contrary to popular belief the Golf GTI was not the first hot hatch, in fact, it was the 1973 Simca 1100TI which had a 1.3-liter engine, two Weber carburetors, and made 82 horsepower. Not a whole lot by modern standards, but when it landed in 1973 its sub-12-second 0-60mph time and 105mph top speed were considered fast.
It also wasn't the second hot hatch that honor went to the 1976 Renault 5 Gordini by a few months.
It had a 1.4-liter engine – mounted behind the front wheels for better balance, it made 92hp, and could hit 60mph in 9.7 seconds.  
Of course, nobody remembers these cars because the Golf GTI is considered the spiritual father of hot hatches and the cool thing about the GTI is it's a fast but very practical car that will do just about anything you need.  And now we have the 2022 VW Golf GTI mark 8 version in all its glory so let's see if it's the best one yet.
If you can remember the original Mark 1 it had a 1.6 liter 4 cylinder with 109 hp and 103 lb-feet and could go from 0-60 in 8.8 seconds. It also only weighed a shade over 1,800 lbs, this MK 8 version weighs 3,200 lbs. 
It's wearing similar clothes
From the outside it definitely looks like a GTI in fact from the rear, it looks more like a refreshed seventh-gen model. It still has twin exhausts, a slightly new rear hatch design, a new taillight design, and the GTI logo has been relocated to the center under the VW badge.  
At the front, however, it's a bit different. The hood slopes more and it has full-width running lights and quintuple-hexagon fog lights in the wrap-around honeycomb section below the bumper.
Under the skin
The Mk8 has the same chassis, now it's just a little stiffer. VW has reworked the suspension for better performance. A new Vehicle Dynamics Manager takes care of the electronic stability control, electronic differential locks, and adaptive dampers. 
The engine is a thoroughly reworked version of the 2.0 turbo four-cylinder which now makes 241 horsepower and a hefty 273 pound-feet of torque with a 6-speed manual transmission as standard. My tester was equipped with the optional 7-speed DSG which is $800 more. 
What's it all cost?
As before there are 3 trims to choose from, the base model the S which starts at just over $30 K, the SE which is $35k, and then my Autobahn tester which is a shade under $40k.
The goldilocks choice in my opinion would be the SE which includes a 480-watt Karman/Hardon audio system, a cool illuminated grille, enhanced infotainment features, and a sunroof. If you really wanted the leather seats you can option those as well.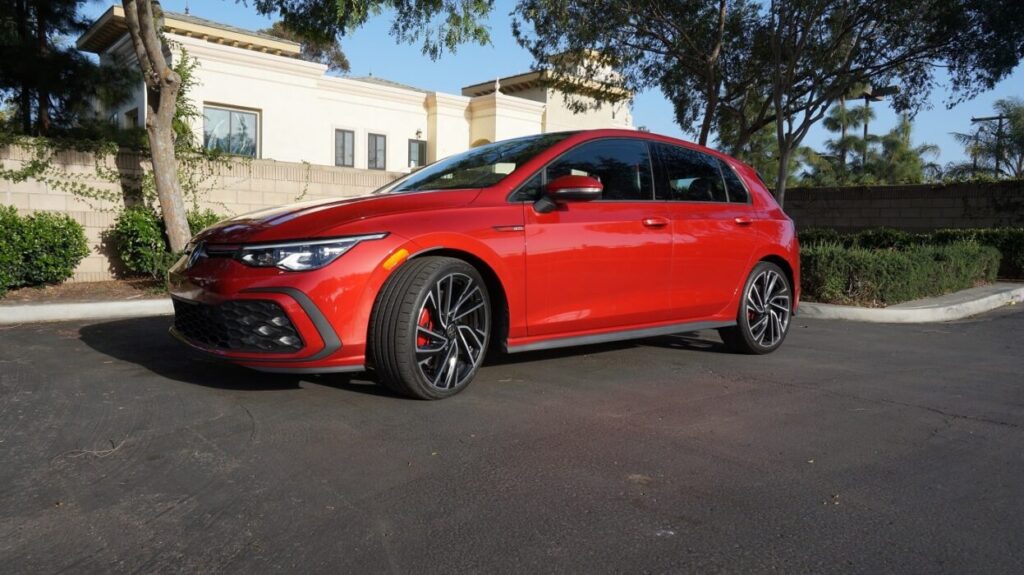 Driving
First impressions are this new GTI is quicker, even without mashing your foot into the carpet, there's so much torque to be had. Select drive modes, choose Sport and the dampers shift to a stiffer setting making the ride jiggly at times. The adaptive dampers have been reworked and they can now make adjustments up to 200 times per second in response to whatever the road may throw at them.
It actually proved better to leave the car in Comfort and select Sport on the shifter. The car was less inclined to be skittish and much less affected by mid-corner bumps.
The steering is very good and the variable rack quickens the farther you turn off-center and has an impressive 1.9 turns of the steering wheel to lock. It feels good in your hand too unless your right palm catches the capacitive button for the heated steering wheel then you have to fumble around to turn it off.
That magic diff
Understeer is usually the bane of front-wheel-drive cars but the GTI is in another league, it's virtually impossible to make the front wheels misbehave and its ability to put the power down is uncanny.
This is all thanks to the electronically controlled limited-slip differential which is standard on all trims. Stomp hard and turn the wheels from a stop and the diff and brake-based torque vectoring work seamlessly together, while the system warns the driver with occasional flashes of the warning light in the dash to let you know what's happening. It's an absolute hoot to drive! 
All this in one amazing package, this is by far the best driving GTI so far and it's a long way ahead of its rivals too in sheer capability, refinement and utility.
Slightly contentious interior
Let's start off with what's good, the new seats with integrated headrests are very comfortable and provide good side bolstering for hard turns. Immediately ahead of the driver is the new 10.3-inch screen running VWs virtual cockpit which displays virtual gauges, navigation, music, a trip computer, etc. The graphics are crisp and clean and it's easy to use using the steering wheel-mounted buttons.
The main infotainment screen is mounted in the center console and works really well since it's been taken from the ID.4 so I was already familiar with its operation. The menus are easy to follow but there are a lot of screens to go through to find exactly what you need. Case in point the HVAC controls for which there are no physical buttons and since you usually need to adjust them on the fly it becomes a chore.
I also prefer to have a volume knob, which the new GTI lacks. Adjusting the audio system's volume is done via capacitive buttons on the steering wheel or below the 10.0-inch center touchscreen. This makes them difficult to use while driving and certainly takes your focus away from the road.
Fit and finish
You get a sense of cost-cutting in the new GTI, there are more hard scratchy plastics than I would like especially on a car approaching $40K, in this Autobahn's case.  Typically VW has approached Audi levels of quality but I feel they may have slipped down a couple of rungs with this car.
Verdict
The 2022 Golf GTI is a phenomenal driver's car, the improvements are very good, like a fine wine the GTI just gets better. There are some misses inside that could be addressed in an 8.5 refresh and I hope that happens.
Don't let that stop you from driving and or buying one though this car is simply brilliant at everything it needs to do, whether that's picking up your granny's antique.s, hiking with the dogs, or canyon carving with a stupid grin on your face. It does it all.
VIDEO REVIEW
2022 Golf GTI Autobahn Numbers
BASE PRICE: $35,995
AS TESTED PRICE: $35,995
VEHICLE TYPE: Front-engine, FWD, 5 door hatchback
ENGINE: 2.0L Turbocharged I-4, DOHC, 4 valves
POWER: 241 @ 6,500 rpm
TORQUE: 258 lb-ft @ 1,600 rpm
TRANSMISSION: 7-speed DSG
0-60: 5.1 secs
CURB WEIGHT; 3,200 lbs
TIRES: Bridgestone Potenza S005, 235/35R-19 91Y
CARGO VOLUME 19.9 ft³, 53.7 ft³ with seat area 
EPA CITY/HWY/COMB ECON: 25/34/28 mpg
OUR OBSERVED FUEL ECONOMY: 24.2 mpg
PROS: Super fun to drive, great engine, superb handling, a true baby Golf R
CONS: Disappointing interior quality, the infotainment system isn't user-friendly