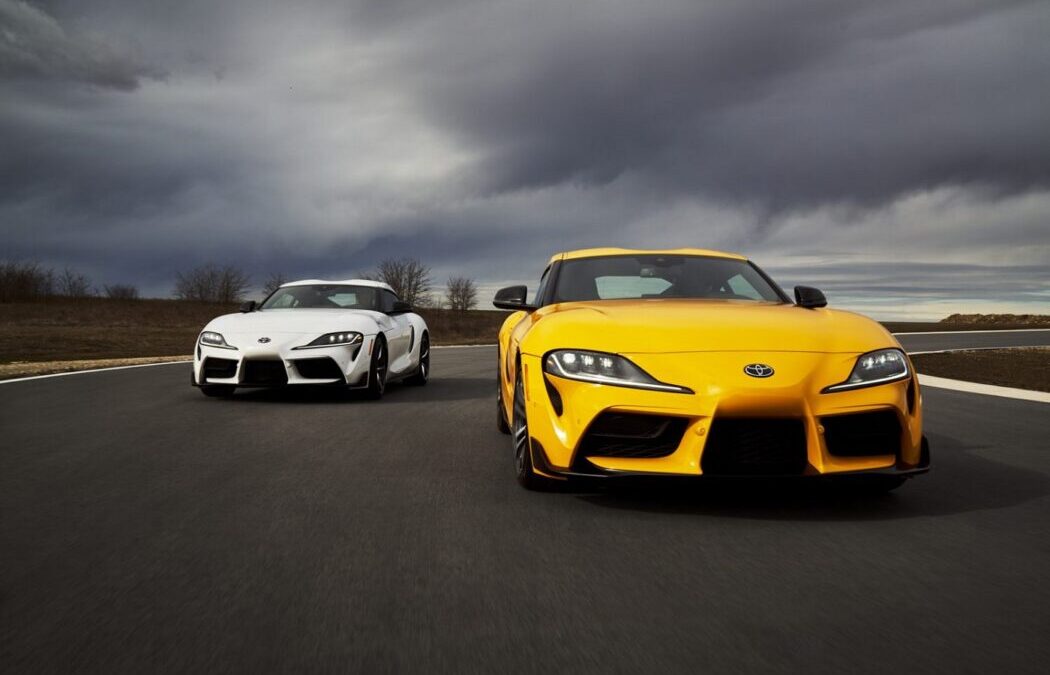 What's the difference?
The 2022 four-cylinder Supra gives up 127 horsepower to its six-cylinder sibling, but it's still an impressive sports car and costs considerably less, but which one would you choose? 
This Supra does lack some options that significantly differentiates it from the GR Supra 3.0, including adaptive sport suspension and an active rear sport differential. Instead, it makes do with a conventional setup. No real loss here except it does ride quite firmly and there's no comfort mode to escape to.
At the front four-piston front brakes and 19-inch wheels are replaced by these single-piston front brakes, 18-inch wheels instead of 19s, and it has to make do with a smaller exhaust setup.  Otherwise, the two are cosmetically identical, which is a huge advantage for folks who just want to buy a more affordable car that looks really cool. Same show less go.  
The 2.0 is clearly cheaper ($8,350) to be exact, lighter by 219 lbs., and slightly more economical but has 127 hp less and gets to sixty in just under a second slower. At higher speeds the 3.0s advantage is clear. 
The four-cylinder model has the same tire widths as the 3.0, with 255s at the front, and 275s at the back, and the excellent Michelin Pilot Super Sports.
The seats now adjust manually rather electrically, less chance of failure here and I've never had a problem with manual seats as long as they have good adjustment, which they do. Both the side bolsters and seat tilt do use electric motors, so finer adjustments are available there.
The standard sound system only has four speakers, but you can option the Safety and Technology Package and have 12 speakers (as with my tester). We wouldn't though, there's a lot of noise in the cabin and this is a car that begs to be driven. Save the money for gas.
The brakes are smaller than the 3.0's 4 piston calipers, instead, they have single-piston units, but they still provide excellent fade-free stopping power and are better than the stoppers on the recently tested GR 86.
Under the hood
The GR Supra 2.0 has 255 hp and 295 pound-feet of torque available at a very low 1,550 rpm driven through an 8-speed automatic transmission You really don't miss the power drop low down since the little Supra has dropped in weight by 219-pounds versus the 6, obviously by dropping 2 cylinders and chucking out all the other stuff.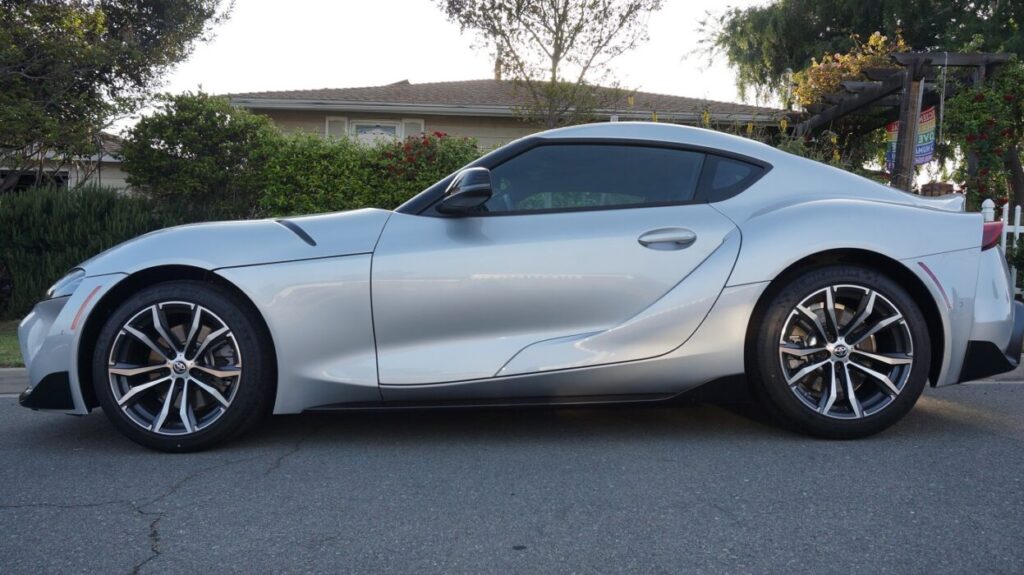 Driving Impressions
Once you've adjusted the manual seats and settled in the picture out front is the same, but fire up the engine, and the 2.0 is more subdued, less angry. Once moving though, in normal mode, the huge gobs of torque available at low revs make this car feel quick.
Press the Sport button and the car comes alive, holding gears longer and giving you some low pops and crackles but not enough. The steering is very accurate, well-weighted, has some feel to it, and is massively fun to flick through tight turns.
The hunt is immediately on for some tight twisty 2-lane highways and it doesn't take long to find one of my favorite technical stretches complete with blind dips and 15 mph turns. It's a challenging section of road for most cars which is why I reserve it for the baby Supra.
When the going gets twisty I didn't see the more powerful Supra being that much faster. It's only when a passing opportunity presents do you notice a slight lack of overall grunt, but for the most part, this car is super fun!
With the same amount of rubber gripping the road, the rear wheels grip tenaciously and the chassis control is exemplary. It's so easy to control on the throttle too and even too much power going into a bend is easy to correct, lift the foot, the car wiggles its rear, back on the gas coming out.
As with the 3.0 the 8-speed transmission shifts seamlessly and doesn't ever hesitate on downshifts, power is available whenever you need it. Despite riding somewhat firmly, it's not unduly harsh or compromised. The fixed suspension soaks up any dips and it's all supremely well-balanced, although some mid-corner bumps make the Supra 2.0 much like its bigger brother somewhat fidgety.
The steering is also very good, direct, with plenty of feel and you can dart through tight bends with finesse and power out and onto the next one. Turn the traction control off and there's' enough power to get the tail to wag, although caution is advised.
According to the EPA, the 2.0 Supra delivers 28 miles per gallon combined, with a city score of 25 mpg and a highway rating of 32 mpg. Drive it like you stole it and it's still a fuel miser, I averaged almost 25 mpg in the week I had it which is pretty good since I usually and up somewhere in the teens with most gas-powered loans.
Inside
Not to dwell here but the Supra is a BMW inside and that's a good thing, the material quality is great, and everything is well placed and easy to find. Space is, however, at a premium, and on a shopping trip, I lost a bag of coffee behind the seats. I'm not sure if there's a net option for the trunk but I would get one.
The Supra's cabin is a nice place to be, plastics are soft with a high-quality feel and an attractive design. As mentioned, all switchgear is borrowed and apart from the plastic feeling shifter, everything works very well.
The Supra 2.0 comes with automatic emergency braking, and this year every Supra gets an 8.8-inch touchscreen for infotainment. Wireless Apple CarPlay is an option as are blind-spot monitors and adaptive cruise control on all versions. Sadly, Android Auto isn't available.
My 2022 Toyota GR Supra tester had the optional Safety and Technology Package ($3,485) which includes Radar Cruise Control, Blind Spot Monitor, Rear Cross Traffic Alert, Emergency Braking Tech, 8.8-inch touchscreen, Navigation, and a 12 speaker JBL audio system. This takes the price to $300 dollars shy of $48K.
Verdict
It's hard not to fall for the Supra's looks, it's very pretty from every angle, with its perfect proportions, broad hips, and that oh-so-cool double-bubble roof, it really shouldn't matter what's under the hood.
But it kind of does…..
The 2.0 is a great drive and has enough performance for most people but it does lack power at higher speeds, a "stage one" engine-computer reflash would fix that and likely give you over 300 horsepower. It is somewhat pricey with my tester at $47K there are some more powerful competitors out there but none that look as good as the Supra. I would probably get the 3.0 just because, and if not save some money and get the super fun GR 86.
VIDEO REVIEW
2022 Toyota GR Supra Numbers
VEHICLE TYPE: Front-engine, rear-wheel-drive, 2-passenger, 2-door hatchback
BASE PRICE: Starts at $43,190
PRICE AS TESTRED: $47,700
ENGINE TYPE: Turbocharged DOHC 16-valve I-4
POWER: 255 horsepower @ 6,500 rpm
TORQUE: 295 lb-ft @ 1,550 rpm
TRANSMISSION: 8-speed automatic with manual shifting mode
ZERO to 60 mph: 4.7 secs
CURB WEIGHT: 3,181 lb 
TIRES: Michelin Pilot Super Sport, Front: 255/35 ZR-18, Rear: 275/35 ZR-18
FUEL ECONOMY: Combined 28/City 25/HIwghway 32
OUR FUEL ECONOMY: 24.7 mpg 
PROS:  Beautifully balanced, Scintillating handling, cheaper than the 6, sips fuel
CONS: Very snug inside, needs a better soundtrack