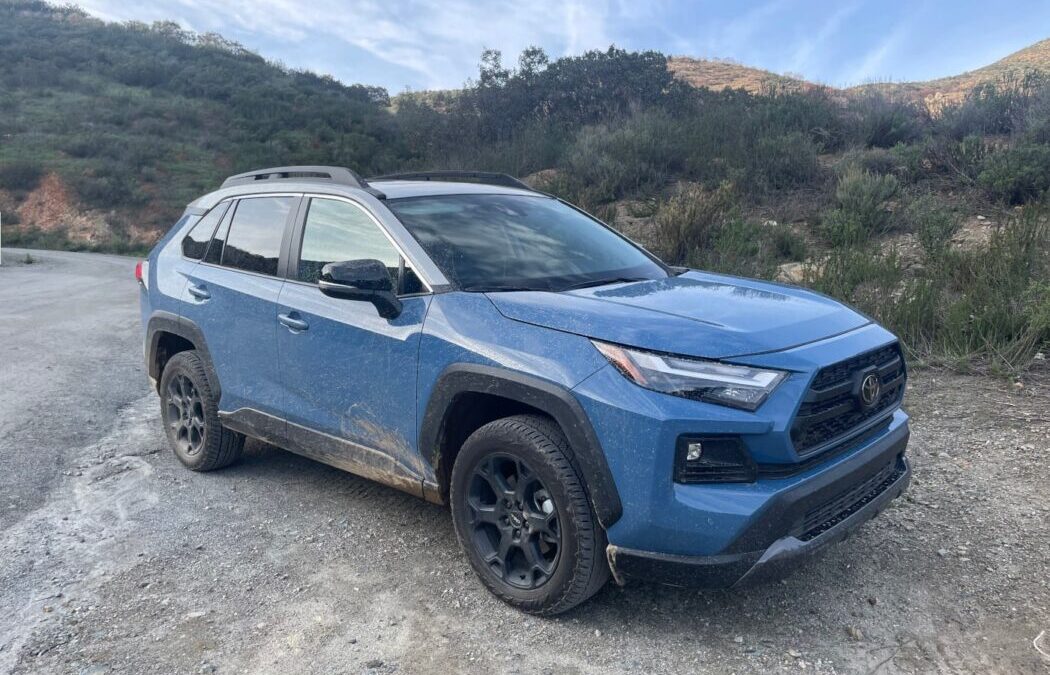 The TRD Off-Road trim adds some knobby tires, slightly more rugged looks, and a retuned suspension.
I must admit my expectations for the 2022 Toyota RAV 4 TRD were not very high since it was badged off-road and not a Pro which makes a big difference. TRD Pro means the TRD people really went to town on the vehicle. TRD Off-Road means someone threw some off-road parts at it and added it as a model one up from the Adventure trim.
TRD Off-Road v Adventure trim
Those with interest beyond the paved world may indeed be interested in this trim level since it differs from the Adventure model in a number of ways. The Ride height stays the same, at 8.6 inches, as in the Adventure as does the approach, break-over, and departure angles, so don't expect to suddenly be able to rock crawling in this. It does get knobbier tires, re-tuned shock absorbers, and some skid plates to protect the underbody, which worked when we ventured off-road.  
The all-wheel-drive system uses Toyota's Dynamic Torque-Vectoring, but you shouldn't confuse it with the system available on the likes of the 4Runner or Tacoma TRD PROS. You do have a couple of user-selectable settings for different conditions, and the vehicle can send up to 50% of the engine's torque to the rear axle if needed and shuffle torque from side to side when slip is detected.
The RAV4 TRD Off-Road has special 18-inch wheels with a matte-black finish wrapped in a set of  255/60R18 Falken Wildpeak all-terrain tires.
Under the hood
Sadly, there's only one engine choice with this trim, the familiar 2.5-liter four-cylinder, which is used in the Toyota Camry sedan. It has 203 horsepower and 184 pound-feet of torque. It's mated to a responsive eight-speed automatic transmission.
0-60 takes around 8.5 seconds. 
Combined, the RAV4 TRD Off-Road is rated at a not-too-bad 27 mpg Highway, but I really wish they offered the 302 hp prime hybrid combo in this trim or even the regular hybrid.>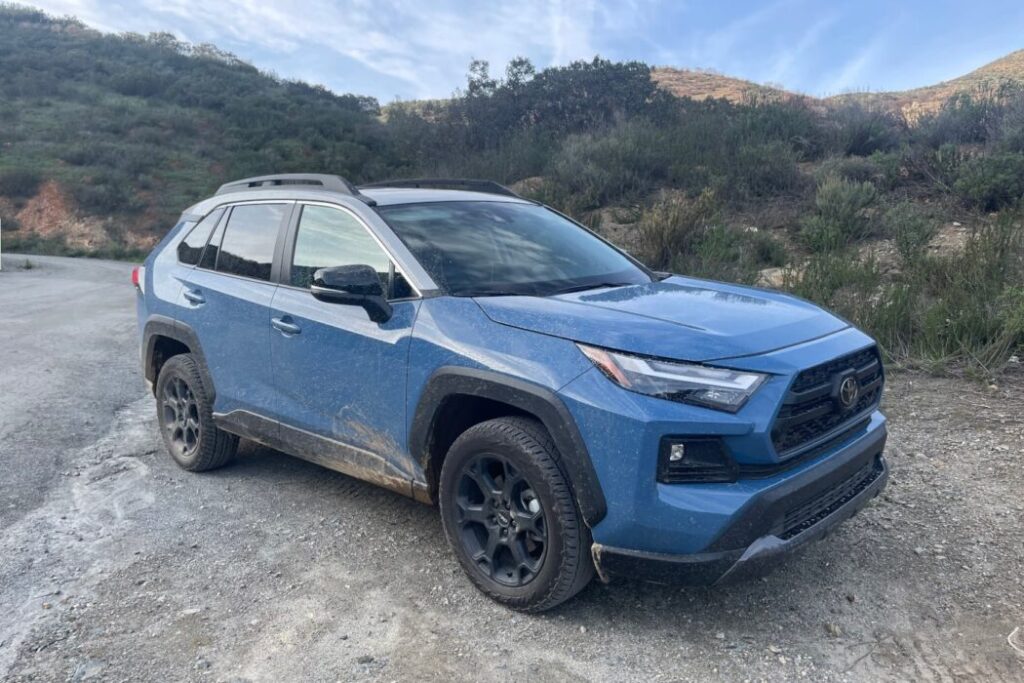 Driving
The RAV4 TRD uses off-road-tuned coil springs with revised dampers that make for a smoother ride both on and off-road, despite wearing more aggressive rubber. This does have a tendency to make it roll a little more but it handles remarkably well and you can carve it into turns at decent speeds before it complains and starts to understeer. The benefit of course is an improvement in ride quality.
Pressed hard the engine is fairly vocal but not in a good way, it buzzes and drones when extended to higher revs but the eight-speed transmission does a commendable job handling the shifts, and since the engine is naturally aspirated there's no lag.
Driving it during recent storms highlighted how easy it is to drive, without a lot of power and all-wheel drive the RAV 4 TRD was quicker than most others, especially the occasional Mustang driver who simply couldn't get any grip. The RAV 4 bolts off the line without a hint of slip and was absolutely fantastic in the slick conditions.
Off-Road (It's all in the tires)
I wasn't sure about its off-road chops so we started on a simple and not too-steep dirt slope which it coped with admirably so we went on to a steeper hill where we had previously been stuck in a Subaru Forester Wilderness. The RAV4 has a couple of settings, mud/dirt, and sand/dirt, and since it was dry selected the latter. Surprisingly the RAV4 went straight up and even when we stopped halfway up we were able to start again and make it to the top.
Tires played a huge part here since the Wilderness had Yokohama Geolanders on 17-inch rims whereas the RAV 4 had Falken Wildpeak A/T Trail tires on 18-inch rims.
Interior
The RAV4 Hybrid offers a distinctive cabin together with some quirky design details and a good mix of materials that are for the most part of high quality and provide a soft touch.  The front seats are very comfortable and are covered in faux leather, or SofTex, as Toyota calls it. I have to say it's hands down the best faux leather I've seen so far.  The only complaint is the passenger seat doesn't offer any height adjustment.
An 8-inch touchscreen is standard, it's easy to reach and see, however, the software seems somewhat outdated but it works well and is reasonably quick and easy to use. Apple CarPlay, Android Auto, and Amazon Alexa are all supported.
The design is functional and the rubbery temperature and audio-control knobs are great to use. My tester had the 11-speaker JBL sound system, embedded navigation, and a couple of option packages listed below.
There are five USB ports scattered around the cabin and a big inductive charge pad which worked through my case, always a plus.
Pricing and Options
My tester had a couple of options, the first is the TRD off-road weather package which includes a leather-trimmed steering wheel, heated and vented front seats, and a windshield de-icer for $1,015.
It also has the Off-Road tech package which includes Front and rear park assist with auto braking, Wireless device charging, and a digital rearview mirror for $1,265 taking the total price to $40,460.
Cargo Space
In the back with the back seats up you get 37.6 cubic feet of space. If you fold them flat, the cargo space expands to 69.6 cubic feet of space. The trunk floor gets a rubber weatherproof matt and the spare although not full-size is still larger than your typical donut.
Verdict
The RAV4  TRD works well and is better off-road than I expected, but I can't help thinking that $3,400 less I can get the Adventure trim which would probably do most of what this one did if I splashed out on a set of all-terrain tires.
It's a great car though and for anyone wanting something less hardcore than a Ford Bronco, Jeep or even a Toyota 4Runner, this might just be a great choice.
VIDEO REVIEW
2022 Toyota RAV4 Hybrid
BASE PRICE:  $36,465
PRICE AS TESTED:  $40,460
VEHICLE LAYOUT: Front engine, all-wheel-drive, 5-passenger, 4-door SUV
ENGINE: DOHC 16-valve Atkinson-cycle 2.5-liter inline-4
POWER: 203 hp
COMBINED TORQUE: 184 lb-ft
TRANSMISSION: 8-speed automatic
0-60 MPH:  8.5 seconds
CURB WEIGHT:  3,370 lb
CARGO VOLUME: 37.6 ft³, 69.8 ft³ with seat area
FUEL ECONOMY Combined/city/highway: 28/25/32 mpg 
OUR OBSERVED: 25.7 mpg
PROS: Good off-road, solid interior, smooth ride quality
CONS: Course-sounding gas engine, $3,400 more than the Adventure trim