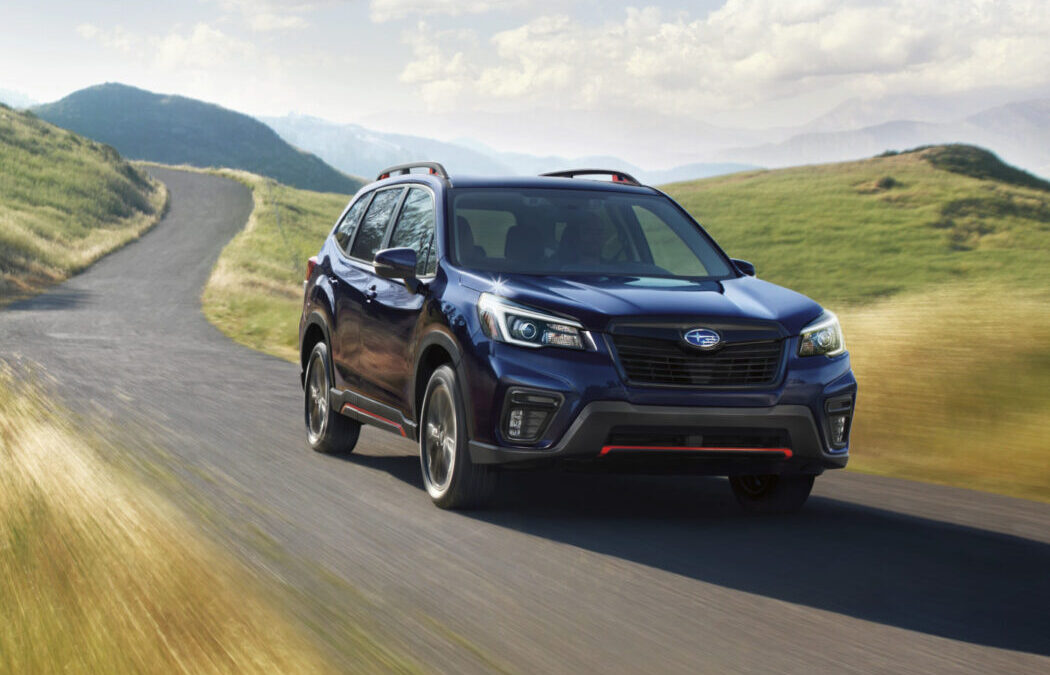 Subaru prides itself on functionality, substance, and that Swiss Army knife utility when it comes to building cars and they have an extremely loyal fan base who venture off road more than any other brand owners. It, therefore, makes perfect sense then that they should follow up the excellent Outback Wilderness with the 2022 Subaru Forester Wilderness.
New Face
All Foresters offer a slightly new look for 2022, and each trim level is distinctive from the other, the Wilderness has a more aggressive grille, a front skid plate, unique wheel arches, cool LED fog lights, and a matt anti-glare hood. As always the Forester is the boxy shape we have come to know with that added Subaru quirkiness to make it stand out.
Under the shell
When compared to the other trims the Wilderness sits half an inch higher thanks to longer dampers and taller springs, which gives it 9.2 inches of minimum ground clearance. Breakover angles are improved to 21 degrees and since the Forester is shorter it has stubbier front and rear overhangs to produce better e approach and departure angles of 23.5 and 25.4 degrees. This however didn't prevent us from getting stuck while traversing a large rut across the trail.
We escaped with no damage thanks to the copious amounts of black cladding which protects the most vulnerable body parts from rocks and scratches; wheel arches, bumpers, and a strip along each side. Spotting for the driver is much easier thanks to a front-view monitor with a 180-degree viewing angle, allowing large rocks and obstacles to be easily avoided.
Under the hood
Sadly the 2.0 turbo is no longer available in the Forester so the only engine available is the naturally aspirated 2.5-liter flat-four with 182 horsepower and 176 pound-feet of torque. Despite this, the car has plenty of get-up-and-go and this is aided by a pretty decent CVT transmission which simulates 8 speeds (Seven in all other Forester trims) and has an ultra-low first gear for crawling. With that limited power don't expect rapid performance, the Wilderness will get to 60 in around 8.1 seconds.  
It also has an exclusive Dual-mode X-Mode which detects conditions that call for hill-descent control and I must say it is one of the best I have used since it automatically adjusts depending on the steepness of the terrain. The hill-descent control features also allow you to accelerate or step on the brakes and automatically resume the original crawl speed. It's a slick system
X-mode also benefits from improved logic which now allows you to exceed its maximum operating speed of 25 mph. Now it goes into standby mode and will automatically reengage when the car slows to 22 mph.
Safety
The excellent EyeSight Driver Assist Technology is standard on all Foresters too, and on the Wilderness, you get a new Automatic Emergency Steering system. This new feature works in conjunction with the Pre-Collision Braking System to assist with steering control to help avoid a collision at speeds less than 50 mph. I do like Eyesight but on a couple of occasions when entering my garage at speed it thought I was going to crash and slammed on the brakes. I guess being cautious is better.
Driving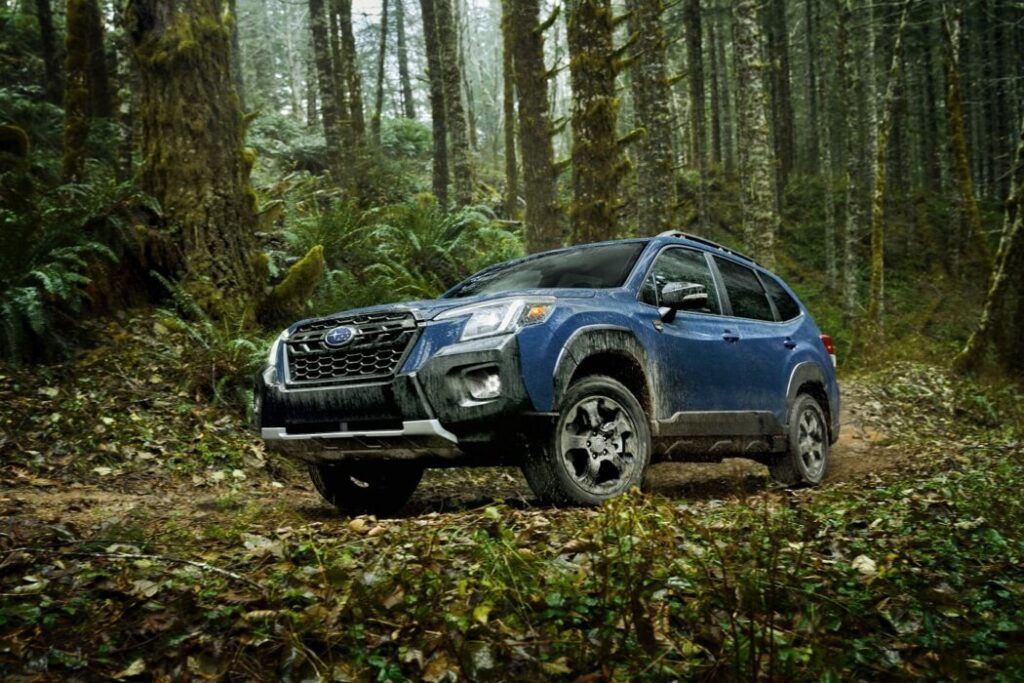 We didn't really drive much on paved roads but since we had to get to the off-road bit we had 15 mins to check it out. It's relatively zippy from a stop, the engine/CVT combo can sound buzzy at times but it cruises well on the freeway and has generally good road manners if you want to hustle it a bit. As a daily driver, it does everything well.
We headed out to the Otay Mesa border area, a huge swathe of mountainous BLM land with plenty of trails to choose from. The Subaru's Wilderness-specific shock and springs really did soak up the washboard and rocky surfaces when we added some speed on the less technical bits. Of course, we were acutely aware that it was a borrowed car so we were careful at all times.
The extra traction comes from a set of Yokohama Geolandar A/T tires, which apart from being a little small, ( the rims are 17-inch but we could have used a taller profile) provide good grip on most surfaces. with outline white-letter sidewalls adding spice to an otherwise black background of alloy wheels and cladding. There's even a matching, full-use spare with its own TPMS sensor in the underfloor well.
Eventually, we arrived at a particularly tricky section thought about it for a second, and then decided we should have a go. A large rut across the trail at an angle was the issue and traversing it would test the approach angle. I wasn't worried about ground clearance so we slowly made our way forward until the front bumper hit the dirt with a small thunk. We were stuck or at least prevented from going forward. We backed up and put rocks under the wheels but that failed, so we turned around.
The rest of the trails proved pretty straightforward for the Wilderness, we tets Hill Descent Control, and only once did we have to go around simply because the section was too steep and we couldn't get enough grip. Let's not forget this is s daily driver with great on-road manners so you can't expect it to perform like a Bronco or a Wrangler.
Interior
From behind the wheel, this Forester is pretty nice, the design is tastefully done with a bit of rough and tumble mixed in with a little luxury. There are plenty of upscale materials and the Subaru's StarTex water-repellent upholstery is super soft and easy to wipe clean. Subaru doesn't want you to forget you bought a Wilderness either by providing multiple badges and stamped headrests, I lost count after six.
I like the eight-inch- touchscreen more than the bigger version in the Outback Wilderness since it has physical HVAC controls and I think it integrates better into the dash.  The front seats are very comfortable and the driver gets power including height and lumbar support, the passenger annoyingly gets manual adjustment and no seat height. There's a second digital screen above the infotainment screen which provides vehicle information at a glance. This is the way to do it, there's no need to toggle through menus and be distracted.
Cargo Space
Rear seat passenger space is quite accommodating and the seats are very comfortable, with adjustable backrests, and power. Open up the powered tailgate and you get 28.9 cubic feet and 74.2 cubic feet with seat area, which is almost as much as you get in the Outback. The seats fold completely flat the backs are wipe-clean plastic, perfect for your four-legged friends. There's also a luggage cover, a fitted rubber floor cover, and a full-size spare.
Options
Base prices start at $32,820 and my tester had Option Package 22 ($1,850) includes a power tailgate with memory, a 9-speaker Harmon/Kardon audio system, and the STARLINK Multimedia Navigation System. This brought the price including destination to $35,795 which is quite the bargain.
Verdict
On-road the Forester does a great job, it's a solidly competent all-rounder, it's not quick but cruises well at speed has the latest tech, and will, of course, be very reliable. 
Off-road it's a hoot, the extra ground clearance and cladding make for a whole lot of fun, now if only they would option the turbo engine off-roader.
VIDEO REVIEW
2022 Subaru Forester Wilderness Numbers
BASE PRICE: $32,820
PRICE AS TESTED: $35,795
VEHICLE LAYOUT: Front-engine, all-wheel-drive, 5-passenger, 4-door wagon
ENGINE: 2.5-liter DOHC 16-valve flat-4
POWER: 182 hp @ 5,800 rpm
TORQUE: 176 lb-ft @ 4,400 rpm
TRANSMISSION: Continuously variable automatic
CURB WEIGHT: 3,298 lb
0-60 MPH: 8.1 seconds
EPA CITY/HWY/COMB FUEL ECON: 25/28/26 mpg
OUR OBSERVED FUEL ECONOMY 22.6 mpg
CARGO SPACE: 28.9 cubic feet and 74.2 cubic feet  with seat area
PROS: 2.5-liter engine makes for zippy progress, tidy handling, and excellent on and off-road
CONS: CVT makes the engine sound buzzy