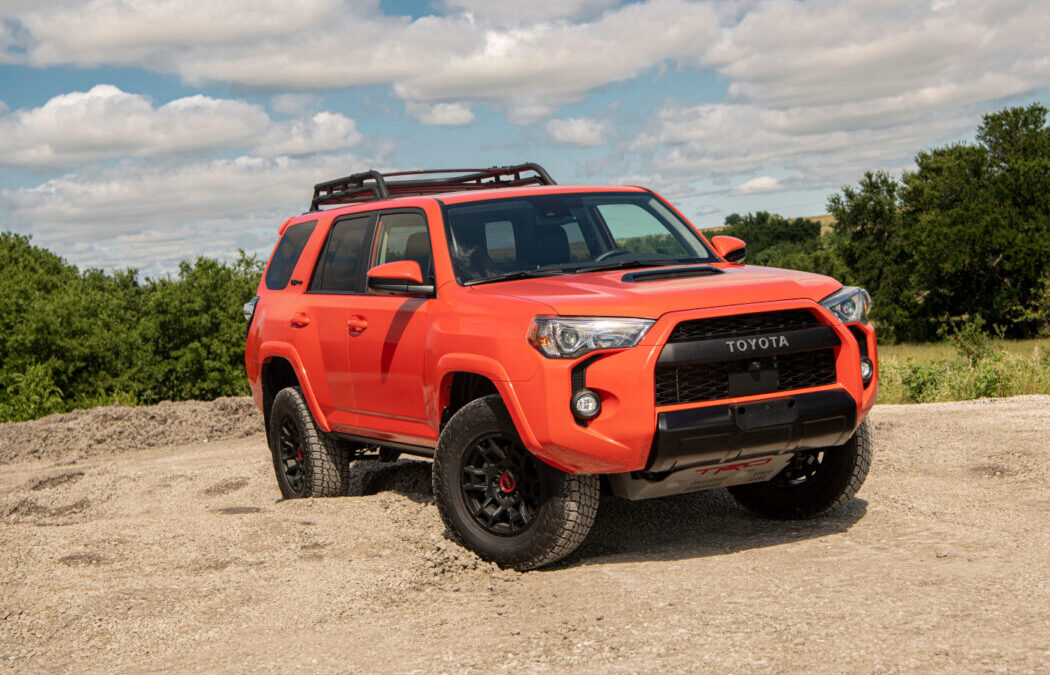 The 2023 Toyota 4runner TRD PRO is almost as old as my grandmother but it's still a huge seller for Toyota, in fact, they moved 140,000 4Runners in 2021 despite the tail end of a pandemic. The current version has been going strong since 2009 with only minor changes and its 4.0-liter V-6 engine has been around since the early 2000s. body so it really only has a couple of competitors these days, The Ford Bronco and the Jeep Wrangler. 
The Toyota 4runner TRD PRO oozes character and has a host of additional items to give it a rugged outdoorsy look.  For starters, there's a solid steel front skid plate with TRD emblazed across it, a set of black 17-inch wheels wearing Nitto Terra Grappler All-Terrain tires, a chunky roof rack, and a different more aggressive front grille.
The front suspension has been upgraded and the TRD PRO has Fox shocks front and rear and an upgraded exhaust which is somewhat annoying and boomy at highway speeds. 
Under the Hood
The only engine available in the 4Runner is a 4.0-liter V-6 with 270 horsepower and 278 pound-feet of torque that is perfectly adequate for on-road driving and very capable if you ask it to crawl up to the top of a rocky hill or navigate a muddy path. The only downside is it's mated to an antiquated 5-speed transmission which is its biggest letdown for on-road driving.  
0-60 takes around 7.7 seconds and don't expect very good fuel economy with an EPA combined of only 17 mpg.  I achieved 15.7 mpg for the week and that included both on and off-road driving. The good news is it has a 23-gallon fuel tank so based on our numbers you should be able to get 360+ miles from one tank.
MTS V ATRAC
A-TRAC works essentially as a faux differential locker. As a wheel starts spinning freely because it has come off the ground or is in loose dirt, torque wants to take the path of least resistance and will shift power to the free-spinning wheel, thus robbing the opposite wheel of torque and traction. A-TRAC uses the braking system to apply the brakes on the free-spinning wheel or wheels. This forces the power and torque to the opposing wheel which has contact with the ground to give it traction and get you out of a sticky situation. 
MTS uses the computer braking system to optimize traction, MTS primarily uses throttle control to do this but it will also engage A-TRAC if needed. Also, in some off-road situations, wheel slipping can be helpful and MTS allows limited slipping depending on the terrain selected.  
ATRAC can only be engaged in 4LO but MTS can be engaged in 4HI when in mud and sand but 4LO for the rest of the settings. Confused? So was I.
Driving
The Toyota 4Runner TRD PRO has a host of off-road tools at your disposal including a Rear Locking Diff, 4 high and 4 low, and Crawl Control so we ventured off-road in search of a challenge. First, though we spent some time on paved roads to see how it goes, and let's face it nobody buys a 4Runner TRD Pro for its stellar on-road performance.
On-pavement ride quality is stiff but the superb squishy seats mitigate most of that, however, it does bounce around over every little bump at highway speeds. There's lots of body roll, brake dive and squat under power, and plenty of play in the steering rack but it's very smooth and with almost zero wind noise the cabin is remarkably quiet.
Acceleration is brisk but not stellar and the transmission hunts for ratios it simply doesn't have, some of them are as wide as the Grand Canyon.
Venturing off-road we attempted to use all available tools but the car was simply too good no matter how steep the hills we drove up and down. We even tried in some deep water pols but the TRD PRO simply plowed right through.
We also tested the Crawl Control system which allows the driver to set a crawl speed from 1 to 5 mph when navigating steep terrain. The system once set automatically adjusts the throttle and brakes and allows the driver to concentrate on steering inputs and avoiding obstacles. From inside the car, it makes an unnerving clanking noise which I heard is normal, but I must say I was somewhat alarmed when I first heard it.
Noting fazed the 4Runnner thanks to a 33-degree approach angle, a 0.3-inch thick aluminum skid plate, a departure angle of 26 degrees, and 9.6 inches of ground clearance. We did use ATRAC and MTS and we did lock the rear diff but honestly, it could have done it all in 4H such is the capability.
My tester had zero options and the base price is $53,270, and if you include destination comes out to $55,030. 
Interior
Despite the interior dating back to the olden days, everything is in the right place and fully functional. There's plenty of cubby space, in the doors, center console, and a sizable glove box. All seats have durable faux leather making them easy to wipe down and they are supportive and comfortable all around. It just feels right in here.
Introduced in 2020 the TRD PRO gets a new display, instrument panel, push-button start, and a decent multimedia system with an 8.0-inch touchscreen compatible with Apple CarPlay, Android Auto, and Amazon Alexa. The rearview camera and the front and side cameras are functional but lack resolution, there's a graininess that makes seeing obstacles somewhat tricky at times.
Rear seat space is generous and the seats fold flat to create a total of 89.7 ft³ of cargo space and in my tester, an optional cargo loader on rails can support up to 440 lbs.
Verdict
It definitely feels old on road, and its 5-speed transmission is something of a ball and chain but people are still willing to open their wallets and buy this car. Off-road the TRD PRO makes up for this, it's a ton of fun and will go almost anywhere.  
A redesigned 4Runner is likely to arrive within the next few years to right some of these wrongs, but in the meantime, the same old 4Runner just keeps on going and I personally love it. 
VIDEO REVIEW
 2023 Toyota 4Runner TRD PRO numbers
BASE PRICE:  $53,270
PRICE AS TESTED:  $55,030
VEHICLE LAYOUT: Front-engine, RWD/4-wheel-drive, 5-passenger, 4-door SUV
ENGINE: 4.0 liter DOHC 24-valve V-6
POWER: 270 hp @ 5,600 rpm
TORQUE: 278 ft-lb @ 4,400 rpm
TRANSMISSION: 5-speed automatic with manual shifting mode
0-60 MPH:  7.8 seconds
CURB WEIGHT:  4,789 lbs
CARGO VOLUME: 47.2 ft³, 89.7 ft³ with seat area
WHEELS: 17-inch Alloy
TIRES: Nitto™ Terra Grappler
FUEL ECONOMY Combined/city/highway: 17/19/38 mpg 
OUR OBSERVED: 15.7 mpg
PROS: Terrific off-road, decent ride quality on road, ready to go on safari looks
CONS: Dated interior, not very fuel efficient, transmission could use more gears