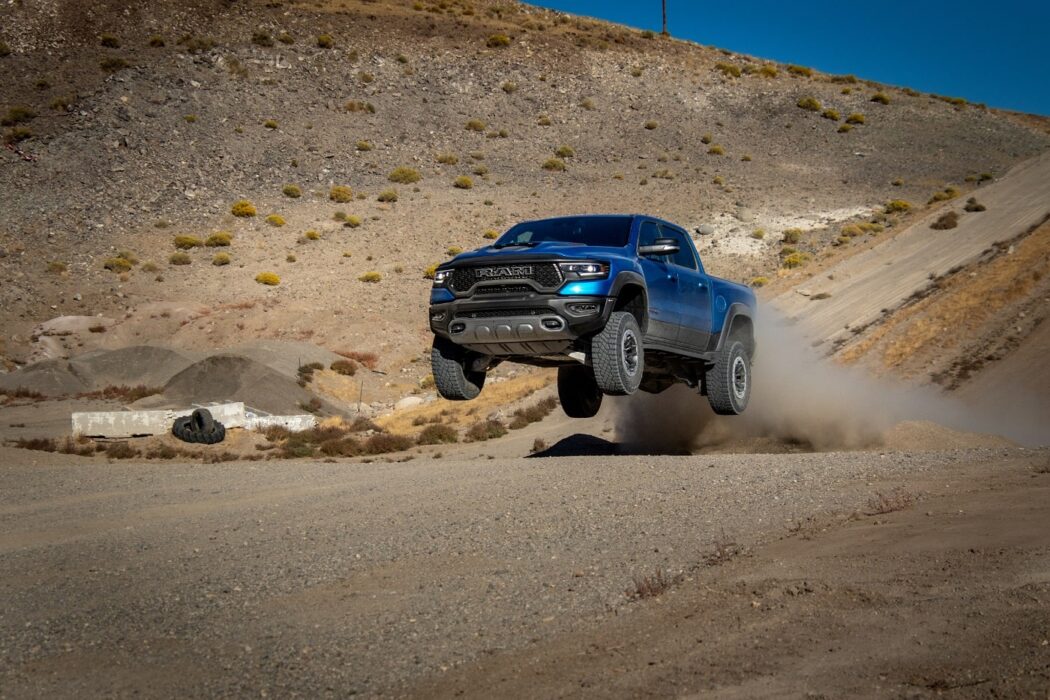 Lurking in the bowels of Stellantis (formerly FCA Group) is a team with both a sense of humor and evil who had a simple goal back in 2015 which was "Hellcat Everything!" and they pretty much have, except for the Chrysler Pacifica minivan, but I wouldn't put it past them, Pacifica Hellcat Hybrid anyone? The latest model on the list to receive the treatment is the RAM 1500, and it seems they have gone after Ford's Raptor in a very big way.
It's a great time to be alive!
30 years from now the likes of vehicles like the RAM TRX will be no longer around at least with a Hellcat under the hood, more than likely replaced by electric motors, but we can't really get in the way of change so soak it up now because it's a great time to be alive.
What exactly is the RAM TRX?
Take a RAM 1500 and widen the axles by 5.4 inches and add some very nice 18-inch wheels with a set of Goodyear Wrangler Territory AT 325/65R-18's. Then beef up the frame which is now 74% different from the cooking model, add a new Bilstein suspension system and Bob's yer Uncle. The only thing to do now is to start it up, grit your teeth, and hang on!
Hellcat magic under the hood
It's been modified to make it much more capable off road in dusty and damp conditions and at extreme angles. In the TRX the 6.2-liter supercharged V-8 makes 702 hp @ 6,100 rpm and 650 lb-ft of torque, and it breathes through a new and aggressive-looking hood scoop and a grille. At the rear, it has new exhaust manifolds and huge 5.0-inch exhaust tips through which it makes one hell of a noise. The big V8 is mated to a new high-torque-capacity eight-speed automatic and full-time four-wheel-drive system, so no 2-wheel burnouts for you!
Is it fast?
It's bonkers fast for a vehicle that tips the scales at 6,400 lbs and has a ground clearance of 11.8 inches, 0-60 mph takes less than 4 seconds and it will surge past the quarter-mile in less than 13 seconds, that's ridiculous. You do pay a penalty at the pump, its EPA Highway numbers are 14 mpg, however, I only managed a best of 8.7 mpg for the week I had it.
The styling for me, especially from the side is the only real letdown, I think they could have made it look more aggressive to match the insane speeds and acceleration. Make it look like a true Baja truck.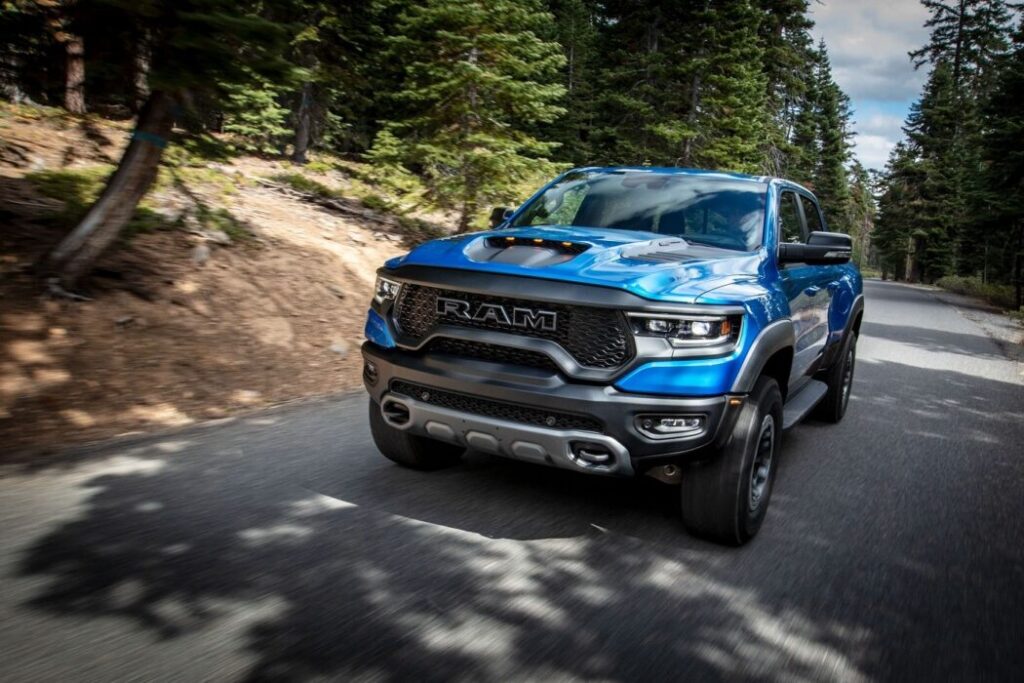 Off-road
The TRX is no one-trick pony, all those modifications make it very good on pavement and even better off-road no matter the condition, dirt, sand, rocks, in fact, whatever you throw at it. There are several drive modes to choose from, in its standard Auto setting, the truck is very well balanced, and selecting Sport adds some stiffness and a more energetic throttle response. Modes for snow, towing, rocks, mud, sand, and Baja-style blasting are all standard too.
The way it irons out washboard surfaced off-road truck trails is astounding, the level of smoothness is otherworldly and in anything else on this type of surface at speed, you would lose all your teeth.
We drove out to the East of San Diego to test its prowess off-road, selecting Baja Mode for a steep hill with quite deep, soft sand and engaged 4-wheel low. The TRX laughed at the slope as it did coming back down and even without hill descent (that was provided by my right foot) it was a walk in the park. The most fun can be had on these DG/dirt roads by seeing how much dust you can create behind you by stomping on the gas and accelerating as fast as regular cars on pavement.
On-road
Driving around town, the TRX feels does feel massive, those extra inches in width make it a handful especially if you need to parallel park the beast. Visibility though is good due to the commanding height and the standout feature is how comfortable the ride is, no matter which of the drive modes you have selected. Potholes be damned in this, it just glides right over them like they don't even exist.
Once you get onto the highway you can unleash the Hemi's horsepower comes into play and the handling is exceptional considering it has huge knobby tires. Yes, it does roll and when you mash the throttle at any speed the front rises to the music of the supercharger, then dives when you hit the brakes, which are good, but I could use a little more stopping power.
At every red light, I just couldn't prevent help from stomping on the gas pedal and launching into oblivion leaving other drivers looking dumbfounded in my wake. It's just not expected in a truck.
Familiar inside
RAM has always been the most luxurious of the big three and in its latest version that shines through in the attention to detail and quality of the materials. All seats are heated, cooled, and draped in leather since my tester had the optional $7,920 equipment package that includes premium wrapped everything, accent lighting, 8-way power driver's seat, and 4-way power passenger see and a host of other goodies.
The rear seats offer limo-like leg room and you can push up the seatbacks to carry some fairly large items. Under-seat cubbies are available on both sides and more space under the split. There's a huge cubby in the center armrest and plenty of room and cupholders in the door pockets. There's a 12-volt outlet next to the storage space atop the dashboard ten USB ports in total (five USB-A, five USB-C), in addition to a wireless device charger just under the infotainment screen.
The touchscreen in my TRX tester was the 12-inch portrait infotainment display running Uconnect, the best system on the market today in my opinion, which has Android Auto, Apple CarPlay, and Performance Pages, which allow altering settings for different parts of the vehicle, in addition to monitoring things like wheel articulation and steering angle.
Onscreen controls are backed up by physical controls for HVAC so you can be less distracted on the move over rough terrain. Ahead of the driver is a large gauge cluster displaying drive modes (with cool graphics), tire pressures, transmission temperatures, fuel economy, and a host of additional information.
My tester's base price was $69,995 and had numerous other options including the excellent Harmon Kardon premium audio (1,195), Rock Rails by Mopar ($995), and 18-inch Beadlock Capable Aluminum Wheels.
Verdict
The world doesn't really need a 702 hp pickup but I'm really glad it exists, and I got the chance to marvel at its capabilities for a week. Clearly, it defies common sense but I'm not listening, what RAM has done here is astoundingly good, it's not for everyone but if you get a chance you should drive one because it's a masterful accomplishment.
VIDEO REVIEW
2021 RAM 1500 TRX Numbers
BASE PRICE: $69,995
PRICE AS TESTED: $87,870
VEHICLE LAYOUT: Front-engine, 4WD, 5-passenger, 4-door truck
ENGINE: 6.2 liter supercharged and inter-cooled pushrod 16-valve V-8
POWER: 702 hp @ 6,100 rpm
TORQUE: 650 lb-ft @ 4,800 rpm
TRANSMISSION: 8-speed automatic
0-60 MPH: 3.9 sec
0-100 MPH: 9.9 sec
CURB WEIGHT: 6,400 lb
MAX TOWING CAPACITY: 8,100 lb
GROUND CLEARANCE: 11.8 inches
TIRES: Goodyear Wrangler Territory AT, 325/65R-18
EPA CITY/HWY/COMB FUEL ECON: 10/14/12 mpg
OUR OBSERVED: 8.6 mpg
PROS: Bonkers V8 thrust,  Impressive on-road handling, superb off-road
CONS: Massive thirst for fuel, feels huge