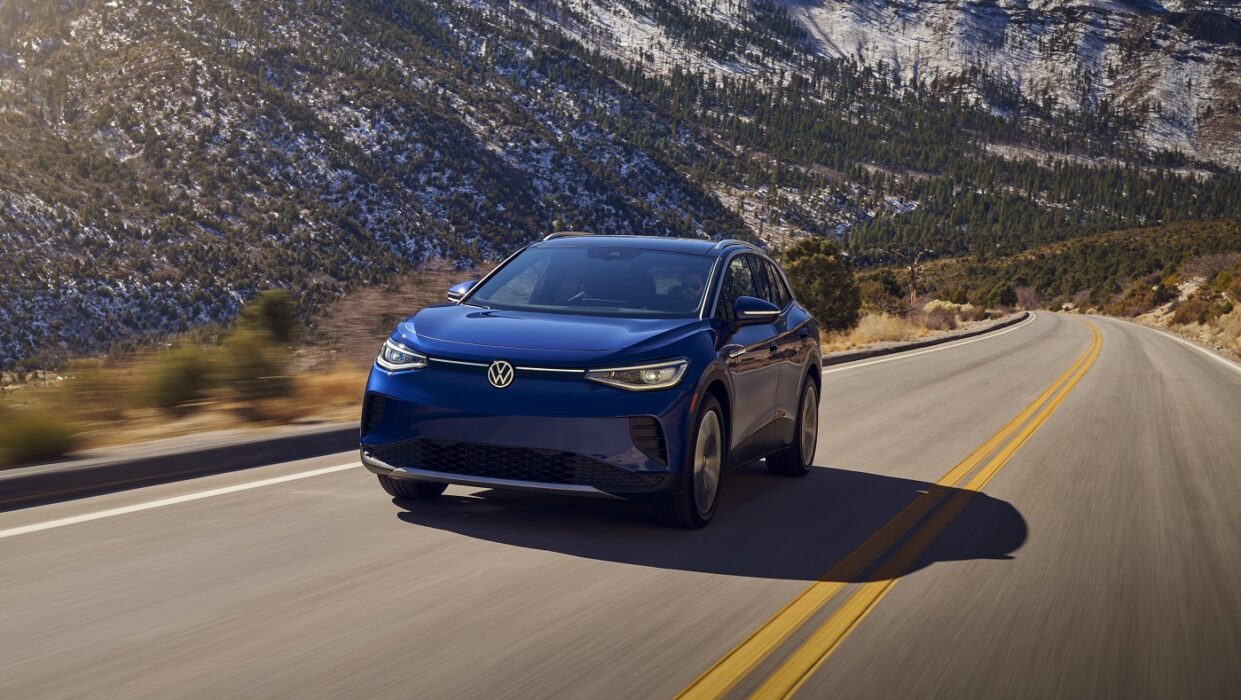 What is it?
Tesla has sparked a revolution and seriously put the wind up all other car manufacturers and that's a good thing if it produces cars like the new from the ground up 2021 VW ID.4. It's definitely an exciting time to be reviewing cars as we slowly make the transition away from ICE-powered transportation and into the future of seamless electric motoring.
The ID4 is VWs second stab at a fully electric vehicle, the first, the ID.3, is not available in the US so no need to talk about that. Good EVs are finally here, and the ID 4 is impressive and has exceeded my expectations so far. Yes, there are a few minor quibbles but for the most part, it's all good.
Volkswagen also produced the very good but short-ranged, E-Golf back in 2012 and the new ID.4 is essentially that car's successor but now a crossover with a lot more room. It rides on the new MEB platform so was designed to be electric instead of a compromised converted ICE vehicle.
What makes it go?
Having a dedicated platform means Volkswagen is able to achieve 82 kilowatt-hours of battery life although oddly only 77 kWh of those are actually usable.  Potential owners need not worry since the battery is covered by an eight-year, 100,000-mile warranty.
In the 1st edition and the Pro S, which you can reserve via the website, one electric motor is available for powering the rear wheels through a 1-speed transmission and has 201 hp with 230 lb-ft, good enough to hustle to sixty in 7.6 seconds. That doesn't sound so quick but electric cars are much quicker in real-world driving due to the instantaneous torque, you're never waiting for power and in this respect, the ID.4 feels quite zippy.
Good news for folks that do want more power, an all-wheel-drive dual-motor version is coming in October with 295 hp and more than likely north of 300 lb-ft. One slight disappointment is there isn't a true one-pedal mode, you get a normal Drive mode and then a B mode which gives you some regen but not really enough to bring you to a halt.  I hope VW does a software update in the future to rectify this.
How far will it go?
The expected range is 250 miles on a single charge but I expect some light-footed folks may exceed that since the battery motor combo is definitely programmed for efficiency. Yes, Tesla has more range but those cars are much quicker and therefore use up the charge faster.
Driving
The ID has 4 driving modes, Eco, Comfort, Sport, and Custom where you can program ACC, steering, etc to your liking. After a short run in Eco, I switched to Sport and stayed there for the rest of the week. I found Eco a tad weird, you can sense the motor cutting power to save electrons and it didn't work for me since it was just fine in Sport mode.
You can tell the ID.4 has been aimed squarely at the non-EV buyer, it drives just like a normal car, it creeps forward like a conventional auto, although I wish it had a hold mode. This approach will probably work and VW should have considerable success with this car.
I had to test its limits, of course, stabbing the throttle from a stoplight and heading over to a two-lane highway to see how it handled in the turns and as it turned out, very well indeed. The battery under the car helps lower the center of gravity and the rear-wheel-drive lets the steering do its best work, it feels precise and true and the overall handling is pretty good. It turns in well and has a little body roll but not as much as I had expected, it's sharper than you think.
If you drive aggressively though you will end up charging it more than you may want to, it's much better and more relaxed to drive at a more modest pace because when pressed it's not really very quick especially at highway speeds. That said I bet it has sufficient power for 90% of the potential buyers and if it doesn't you only have to wait till October.
Charging
Due to the Dieselgate scandal, VW had to establish and set up a network of chargers branded Electrify America and they have plenty of them in malls and near larger chain stores like Target and Walmart. The plus is they have 150 kW fast chargers that will give you 100 miles in 20 mins or so while you do your shopping and they are free for the first 3 years of ownership.
My first go at public charging was somewhat fraught as I hadn't downloaded the app and had to call the customer service to explain my situation, which was promptly resolved and electrons were soon flowing into the ID.4. I asked the rep why the chargers were so heavy versus the Tesla ones and he said the hoses are liquid-cooled so they will be able to push more kWs through in the future. Odd since Tesla has 250 kW chargers and they are much lighter.
Inside
I wouldn't ever spec a white interior, my OCD would kick in at the slightest hint of dirt but it does look very nice and rather concept car ish. Usually, I am not a fan of VW seats I find them supportive but too hard, not an issue though in the ID.4. The seats are both cushiony and supportive and have multi-way power adjustment, massage, and more functions, and are heated but not cooled.
Directly in front of the driver is the driver's gauge cluster which sits atop the nice feeling leather steering wheel, a nice touch because when you adjust the wheel the gauges move with it, and nothing is obscured. This does make the gauge cluster smaller than most but I think it works and there's no problem seeing the navigation prompts from Android Auto or Apple CarPlay.
It's fairly spacious in the back, the rear bench seats three, there's plenty of headroom and there are two USB ports available for device charging.  Cargo space is good too, with the rear seats in place you get 30.3 ft³, and with them folded a sizable 64.2 ft³ is available.
Infotainment
The infotainment experience in the ID 4 is clean and simple, and it sort of reminds me of an iOS device with its home button which you'll be using a lot to jump between menus. It's decently fast except when you first startup and then it can be a tad sluggish when using your fingers to swipe. Thankfully it only happened occasionally and this should be an easy software update in the future.
Many of the controls are of the capacitive touch variety and this is the way VW has been leaning towards with their latest cars. They seem to work well, a single swipe of your finger and the glass roof shade (missing in the Model Y)  open like you're peeling back a sardine can lid.
Oddly there are only two window switches, to activate the rear you touch a button marked Rear, and the same switches now open and close the rear window. Rear seat passengers still get physical switches of course.
Safety
VW offers a comprehensive active safety suite, including automatic emergency braking with pedestrian detection, blind-spot monitoring, rear traffic alert and even road sign detection in both the Ist Edition and the Pro S.
My 2021 VW ID.4 1st Edition tester (unfortunately sold out) was $43,995 with a $1,195 destination charge and you are not wanting for features, it includes the 12-inch navigation screen, very nice 20 ich rims, panoramic roof, and massaging power seats. I think this is a very aggressive price and you get a lot of car for your money.
Verdict?
Since the VW ID.4 compares directly with the Model Y in size it's fair to make the comparison. The VW is much slower (the upcoming AWD dual-motor version will fix that) but it's much cheaper, the Model Y starts at $52,190 including a $1,200 destination fee. Yes, you do get more range, but the ID's interior is head and shoulders above the Y.
The Volkswagen ID.4 is not just a good EV, it's a great car period. I was pleasantly surprised during my week with it, it could use more power but we know that is coming so I say get over to a dealer and see if you can take a test drive, you'll love it.
VIDEO REVIEW
2021 VW ID.4 1st Edition Numbers
BASE PRICE: $43,995
PRICE AS TESTED: $45,190
VEHICLE LAYOUT: Front-engine, all-wheel-drive, 5-passenger, 4-door wagon
POWERTRAIN: permanent-magnet synchronous AC
BATTERY: liquid-cooled lithium-ion, 77.0 kWh
POWER: 201 hp
TORQUE: 229 lb-ft
TRANSMISSION: 1-speed direct-drive
CURB WEIGHT: 4,700 lb
0-60 MPH: 7.6 seconds
EPA CITY/HWY/COMB FUEL ECON: 104/89/97 MPGe
CARGO SPACE: 30.3 ft³, 64.2 ft³ with seat area
PROS: Beautiful interior, quiet cabin, zippy handling
CONS: No hold mode, no one pedal mode