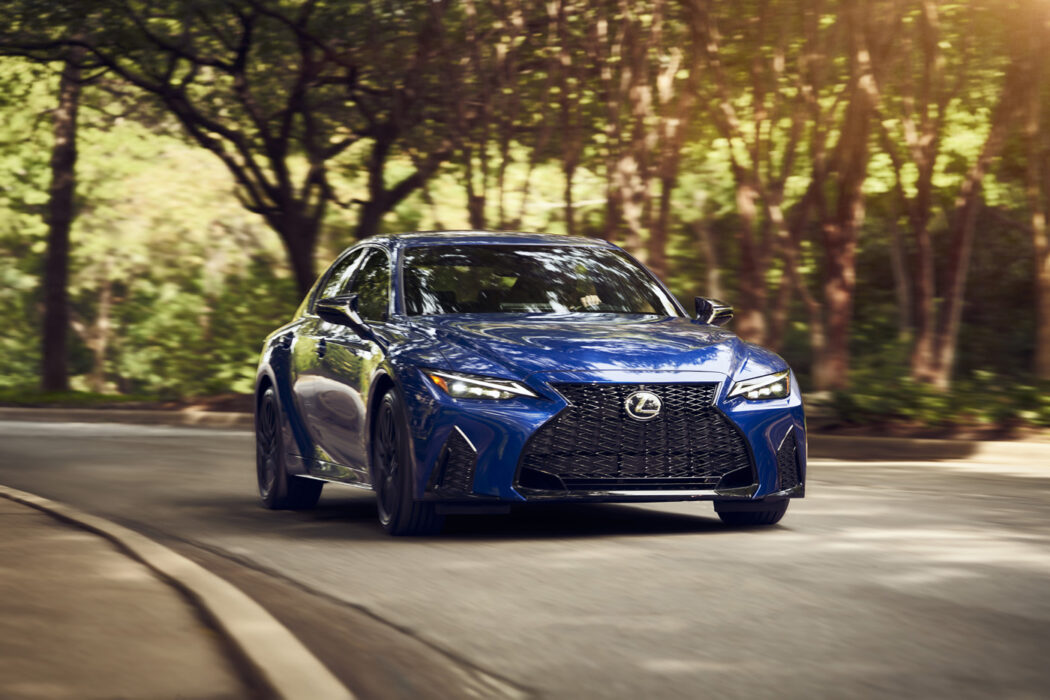 First impressions are what count and the 2021 Lexus IS 350 RWD F Sport looks amazing. The styling is much cleaner, and the proportions are better, it's a very pretty car indeed. The new styling includes a new front fascia, with slimmer triple-beam headlight fixtures with embedded LEDs, a larger grille, and thinner side vents. The question now is, is it a real sports sedan.
I have to point out the 2021 Lexus IS is technically a mid-cycle refresh, so it missed out on getting the upgrade to Toyota's New Global Architecture platform. That said Toyota is very serious about getting the IS more performance and since we now know the IS500 has been greenlighted with the fabulous V8 excitement is rising for an even hotter ISF variant. That should let Lexus catch up and possibly even overtake the competition.
Under the skin, things haven't changed as much, all IS 350 models are F Sports and carry the 3.5 liter naturally aspirated V6 with 311 hp and 280 lb-ft of torque and will have the option of RWD or AWD. RWD models get an eight-speed, AWD models get a six-speed transmission.
My 2021 Lexus IS 350 RWD F Sport exterior was a very nice Ultrasonic Blue Mica with a rather austere black interior with some black door trim decoration.
In F Sport trim you can option the Dynamic Handling Package which includes a Torsen Limited Slip Differential ($4,200) and adaptive variable suspension, which stiffens the car up in sportier modes. Additional options on my tester included a Power Moonroof ($1,100), Intuitive Park Assist ($2,750), Pedestrian Detection with Panoramic View Monitor ($1,400) Triple Beam LED Headlights ($1,250), and that very nice Paint ($595)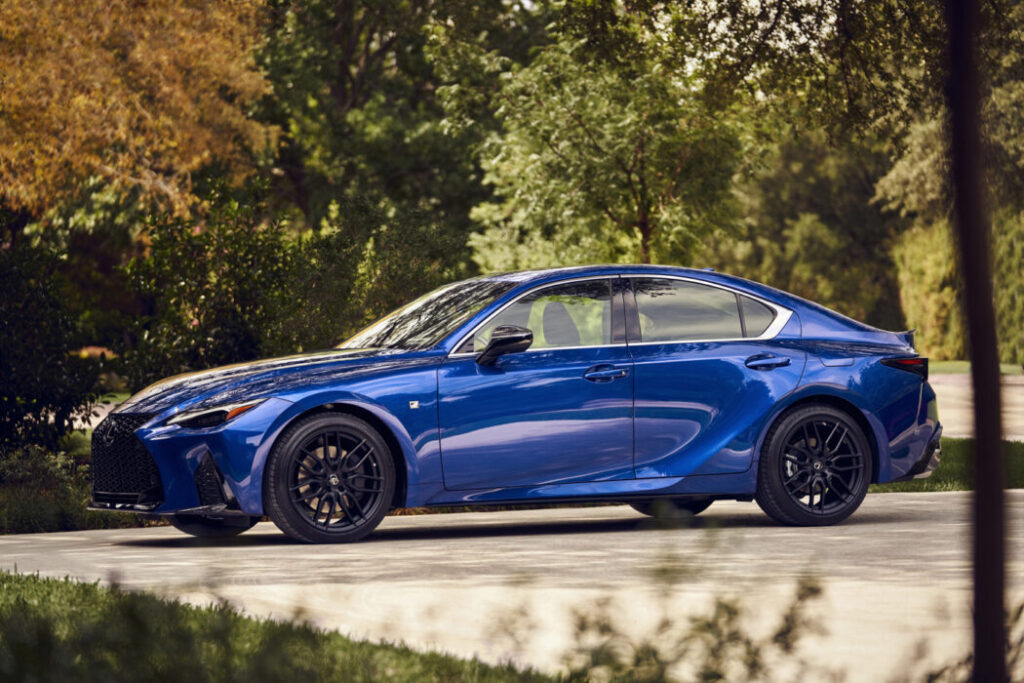 Is it a driver's car?
Let's get one thing out of the way first, the IS is not going to scare any of the competition in a drag race, 0-60 takes 5.6 seconds which isn't bad, however, compare it to a BMW 330i  or an Acura TLX, both of which produce their torque much lower in the rev range and the IS is going to struggle.
Keep the engine in its sweet spot and the IS 350 starts to feel much more fun, sure you have to work a bit harder but it's enjoyable work. It sounds good too even at higher revs, it redlines at 6,500 rpm and never feels strained at all. Once you hit the twisty bits the brakes, steering all work very well and the suspension keeps the power to the rear wheels with no complaints from the Bridgestones.
Switching between drive modes you notice some subtle changes, especially in Sport Plus where the ride and the steering instantly became noticeably firmer, although there is some float over larger bumps. It's all very well controlled though, attack a corner and the weight transfers to the outside, then the car says OK time for a bit of fun the car and hunkers down clings on with no drama. The adaptive variable suspension is a clever piece of chassis engineering.
If it were my choice, I wouldn't option AWD for any of the IS models, simply because I live in Southern California where it's almost always dry. While power going to all four wheels adds more grip, it also adds more weight, but I can appreciate those who live in more wintery climates would appreciate AWD.
The other reason is the six-speed automatic is the one you have to have with AWD, and it doesn't pair well with this engine, occasionally fumbling the ratios, especially when you need it to drop down a couple of cogs. The 8-speed transmission on my RWD tester is far superior.
Take things at a slower pace and the Lexus IS is a competent cruiser and is remarkably comfortable, the suspension irons out all but the worst pavements and it should provide for a very comfortable road trip. Inside the cabin, the IS is extremely quiet, the sound deadening has been well thought out and is very good even at higher speeds.
Inside
The main upgrade inside is an 8-inch touch screen that's nearly 5.5 inches closer to the driver than the outgoing model's and a 10.3-inch touch screen that is available as an upgrade, which I had on my tester. Also, it's great to hear that the IS is finally available with Apple CarPlay and Android Auto integration suites.
Most of the rest of the interior is much the same except the aforementioned infotainment screen sits on top of the dash rather than embedded in. The screen graphics are very clear, and the menus are intuitive, however, the irritating touchpad controller carries over, but the good news is you can ignore it now.
The quality of the materials are top-notch and the controls are angled around the driver, which complements the excellent front seats covered in Nuluxe which is the closest thing to leather that isn't leather that I have seen. On the F Sport, you get upgraded sports seats, but I can't find an issue with the ones on my tester save for a lack of lumbar support control, which they didn't need but is nice to have.
There's limited legroom in the back as well as a lack of headroom especially taller folks and there are no cup holders and no power, which seems to be a miss. Cargo space is decent with 10.8 cubic feet available with a fairly low loading height.
Safety
Standard Safety and Security is very generous and includes the Standard Lexus Safety System+ 2.5, Pre-Collision System with Pedestrian Detection, Frontal Collision Warning (FCW), Automatic Emergency Braking, Pedestrian Detection, and Bicyclist Detection, Emergency Steering Assist, Lane Departure Alert with Steering Assist, Lane Tracing Assist, All-Speed Dynamic Radar Cruiser Control, Road Sign Assist, Intelligent High Beam, Location-specific Tire Pressure Monitor System, and Blind Spot Monitor with Rear Cross-Traffic Alert.
Conclusion
My tester carried a price tag of $55,220 including destination and there are a lot of other options out there for that price, however, this F Sport is a pretty entertaining car, it's fun to drive fast, has decent performance, and comes with that Lexus build quality you can't get anywhere else.  It looks stunning from every angle and has the capability to be a much faster car, which is why I am eagerly awaiting the IS 500.
2021 Lexus IS 300 AWD Numbers
BASE PRICE: $41,000
PRICE AS TESTED: $47,975
VEHICLE LAYOUT: Front-engine, AWD,  5 passenger, 4-door sedan
ENGINE: 3.5 DOHC 24 valve V6
POWER: 260 hp @ 6,600 rpm
TORQUE: 236 lb.-ft. @ 2,000-4,800 rpm
TRANSMISSION: 6-speed automatic
0-60 MPH: 5.6 seconds
CURB WEIGHT: 3,847 lbs
CARGO CAPACITY: 10.8 ft³ 
FUEL TANK CAPACITY: 17.6 gallons
FUEL ECONOMY: 20 mpg city/28 mpg hwy/23 mpg combined.
OUR OBSERVED: 16.9
PROS: Eye-catching looks, solid build quality, much-improved handling
CONS: Still could use more power, aging, and fiddly infotainment system

2022 CT5 V BLACKWING – TESTED
2022 Lexus NX 450h+ – First Drive
2022 Audi A4 45 TFSI Review