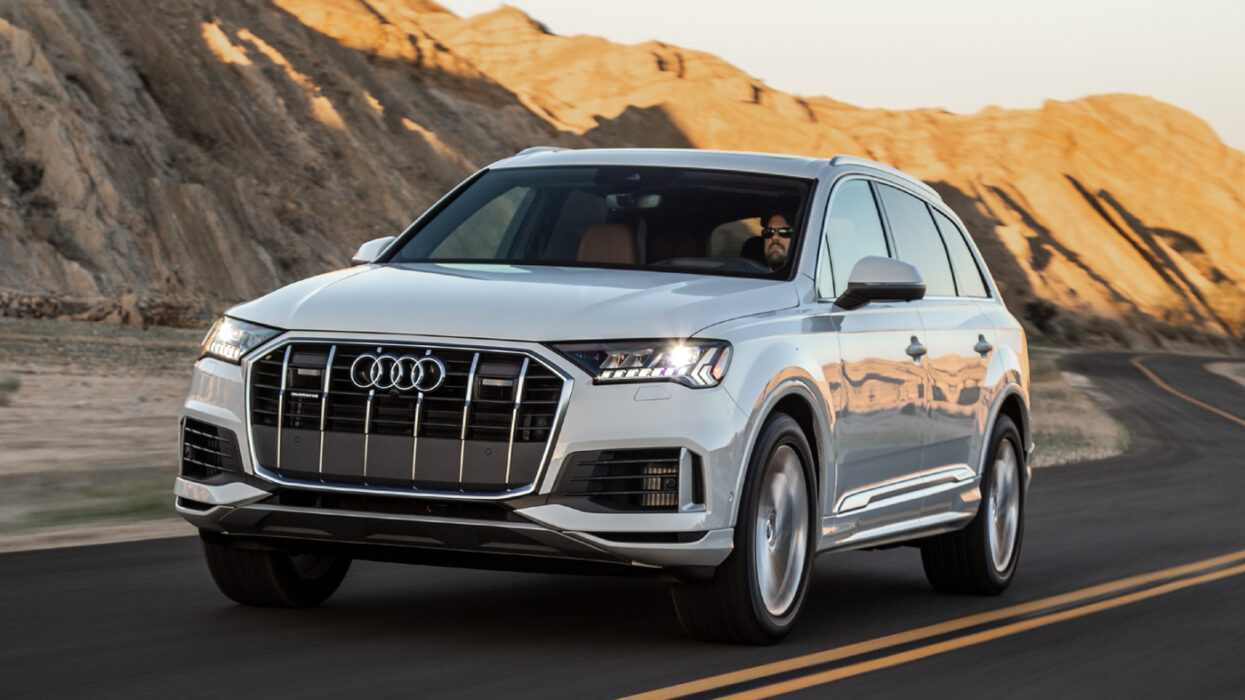 What's new?
Though not all new for 2020 — this second-generation Q7 was released in 2017 — the seven-passenger SUV benefits from significant revisions not least a new engine, some fresh technology updates inside, and a mild exterior refresh that make this a stylish and refined three-row.
The biggest change is under the hood behind that large Audi grille, which has been updated for a more distinctive look. The supercharged V6 of old has been ditched for a 3.0-liter turbocharged engine which has 335 hp @ 6,400 rpm (2 hp more) and 369 lb-ft @ 1,370 rpm (an increase of 44 lb-ft ). An entry-level 2.0-liter turbo I4 is still the standard engine with 252 horsepower and 273 pound-feet of torque.
The Audi Q7 uses an eight-speed automatic transmission that's about as smooth and intuitive as you can get. It's very rarely flummoxed and serves up instant up and downshifts when you need them, so you are never waiting for acceleration. It's extremely responsive and I just wish more manufacturers could program them as well as Audi has here.
PROS: Hushed interior, Super smooth ride, Fun to drive
Exterior Tweaks
At the front the revised grille gets two all-new LED headlights, new daytime running lights, and Audi has redesigned the air intakes as well as adding a more aggressive front spoiler. At the rear similar changes have been implemented with new taillights and a piece of chrome trim that runs across the width of the tailgate. Audi also switched up the wheel design and offers two sizes 19 and 20 inches to add to the overall enhanced look. I think it works, it's a good-looking car.
My Tester's Spec
Audi sent me a Prestige model for the week which adds an immediate $10,400 to the base price of $60,800 as well as various other options which took the out-the-door price to $74,290. Those additional options included the Glacier White exterior ($595), Cold Weather Package ($750) which includes a heated steering wheel, Heated Rear Seats, and All-Weather Floor Mats. The standard kit in the Prestige model is impressive as well it ought to be for the price, and it includes 20-inch five-spoke turbine wheels, a 3D premium sound system, head-up display, LED headlights and acoustic side glass to help it stay whisper-quiet inside.
My tester also came with Audi's adaptive air suspension which is an electronically controlled air suspension system at all four wheels with a continuously adaptive damping system. It provided a super smooth ride without sacrificing handling and can adjust the ride height and suspension settings milliseconds, depending on the driving situation.
Driving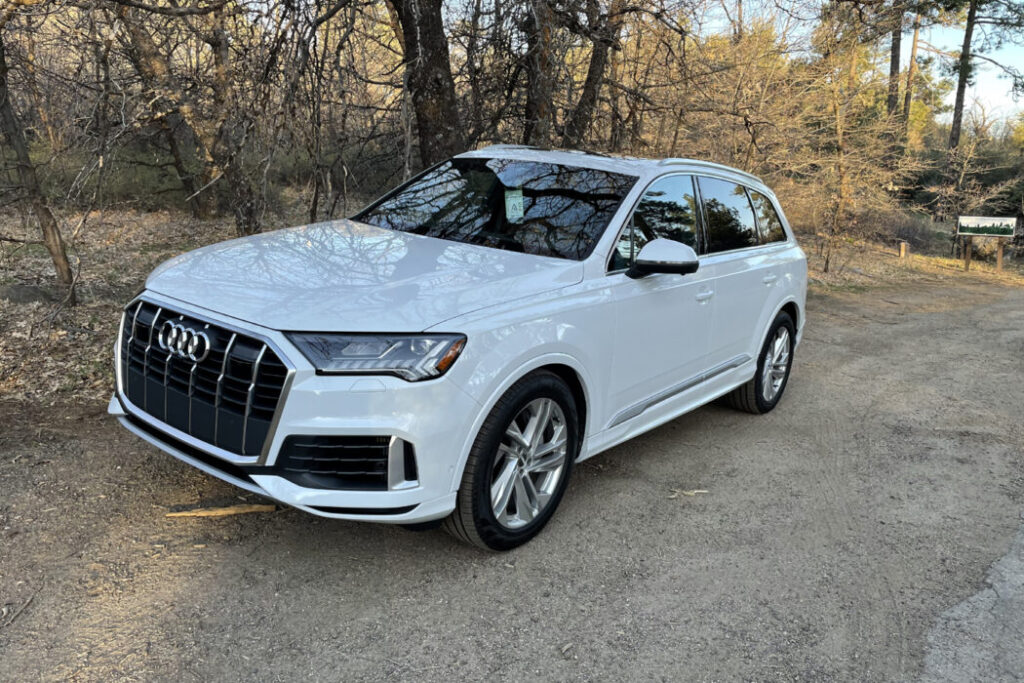 As expected, the 2020 Audi Q7 55 TFSI is a very nice place to spend time in whether you're commuting or on a road trip, it's agile going around corners and composed on the highway. Driving at full chat it's all very competent with excellent body control and plenty of grip and if you should become somewhat over-eager it stays firm and it's only at the limit that understeer kicks in. It does feel like a sporty wagon instead of a seven-seat crossover. It corners pretty flat and the engine has plenty of power to push on to the next bend and beyond. Fast sweepers are favored instead of really tight turns as the Audi still weighs almost 5,000 lb. but give it a tricky bend and the Audi remains composed and still surefooted.
A small amount of lag rears its ugly head from a stop, mash the throttle from a standstill and there's a slight delay before you surge forward and it's best to give it half throttle and then push down once it gets going, which helps to reduce the lethargy.
As with many Audi's the Q7 comes equipped with Audi Drive Select controller giving you Auto, Comfort, Dynamic, Off-road, and Individual. It's not really an off-roader, but it'll manage moderate truck trails without a problem and there's a self-locking center diff if things get slippy.
The brakes provided confidence-inspiring stops time and time again although I found them a tad grabby and difficult to modulate at lower speeds. The steering is good but lacks any feedback and since I was using the Individual drive mode, I had everything in Sport except steering which was better in Auto.
CONS: Cramped 3rd row, Not much center console storage
With our Vbox set up it took a few different launches to get a solid 0-60 time. We tried traction control off and then on, and the best we could achieve was 5.7 seconds, 3 tenths faster than the supercharged version. Top speed is limited in the US to 130 mph based on tires.
The Audi Q7 is loaded with driver aides and for the most part, I turned them off. Lane-keeping assist pulls the car back into the lane if you forget to use the turn signals, but I find it a bit annoying unless I am using the cruise control.  The road sign recognition system is a great feature if you don't use it with cruise control. If you do the car applies the brakes once it detects a change in the posted speed limit, which is unnerving the first time. Finally, the traffic assist system will accelerate, brake, and turn with traffic at speeds of up to 37 mph, and it worked pretty well. Keep your hands on the wheel or it gets quite upset.
Beautiful Interior
Audi still makes some of the best interiors out there and this one certainly keeps that tradition alive. Apple CarPlay Android Auto and a wide variety of connected features like weather, traffic, and even local events. Audi's MMI infotainment system is very thorough, and while it's easy to get lost in the menus, navigation is painless thanks to a sensible dial and touch-pad combination. The HVAC controls screen is super cool looking and both screens use haptics which works great making a hushed clicking noise when you make a selection. This is tech done right.
Virtual Cockpit is simply stunning and mirrors the infotainment system on a configurable gauge cluster screen in front of the driver. It's super easy to use, thanks to straightforward steering wheel controls. My biggest gripe inside is one that isn't exclusive to the Q7 and it's the lack of space in the center armrest which is taking up by the wireless charger, 2 USBs, and an SD card reader.
Due to my mild OCD I could do with a little less piano black trim, which shows up the dust and fingerprints, instead, I would like to see more of the faux unpolished wood look that the Q7 has on the dash and door trim.
Glad to see Audi has added Apple CarPlay, making it much easier to enjoy music while you drive. I used the cable connection every time, but Bluetooth works as well. The interior makes it feel like you are piloting an aircraft, especially the Stark Trek ish gear selector. I didn't try the Navigation as we tend to prefer using a smartphone, but I am sure it works like the usual Audi systems.
A couple of possible annoyances, for people with bigger families, the rearmost seats are a bit of a squeeze and normal-sized adults would have great difficulty getting in and out. Fold them down though and you have a nice large cargo area suitable for a Great Dane or some luggage. We had difficulty getting 3 dogs in the SQ5 but this one is much larger.
Verdict
I think Audi Q7 finally offers a great alternative to its German competition and can finally start to lay claim to a bigger share of the highly profitable luxury 3-row market. If you need a 7 seat luxury crossover the Audi Q7 is a very good choice, it rides very smoothly, has ample power when needed, and although I did pay for having a heavy right foot at the pump averaging only 13.9 mpg (ouch) for the week, I had a lot of fun.
2020 Audi Q7 55 TFSI Numbers
BASE PRICE: $60,800
AS TESTED PRICE: $74,290 (Prestige Trim)
VEHICLE LAYOUT: Front-engine, AWD, 7-passenger, 4-door SUV
ENGINE: 3.0 liter turbocharged and intercooled DOHC 24-valve V-6
POWER: 335 hp @ 6,400 rpm
TORQUE: 369 lb-ft @ 1,370 rpm
TRANSMISSION: 8-speed automatic with manual shifting mode
0-60 MPH: 5.7 sec
CURB WEIGHT: 5,000 lb
CARGO VOLUME: 14.8 ft³, 71.6 ft³ with seat area
EPA COMB/ CITY/HWY:  18/17/21
OUR OBSERVED FUEL ECONOMY: 13.9 MPG
PROS: Hushed interior, Super smooth ride, Fun to drive
CONS: Cramped 3rd row, Not much center console storage

2022 CT5 V BLACKWING – TESTED
2022 Lexus NX 450h+ – First Drive
2022 Audi A4 45 TFSI Review