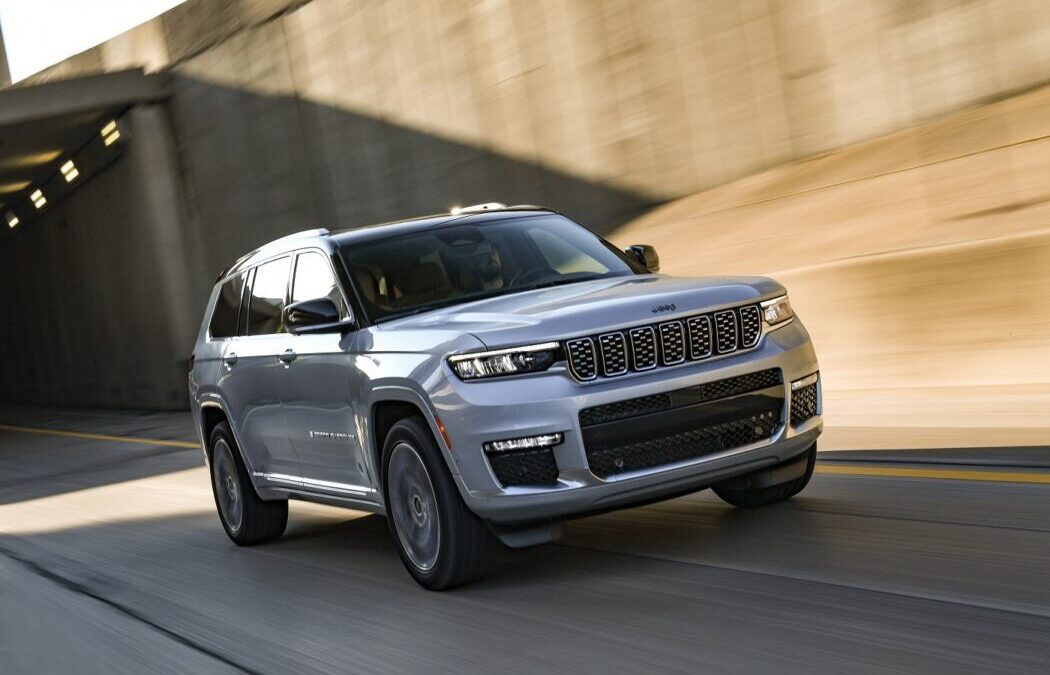 It's no surprise that the Jeep Grand Cherokee is one of the most popular SUVs available today, in fact, a quick drive to the shops, and you are pretty much guaranteed to see one in one form or another. Buyers seem to like the off-road cache together with the rugged looks and the appealing number of models.
The only thing missing really was the ability to carry more passengers, a 3-row option was long overdue, so Jeep has finally joined the party with the Jeep Grand Cherokee L. From a design perspective, it looks good, the face is instantly recognizable as a Jeep and they've given it a slightly sloping grille reminiscent of the old Wagoneer, which I like.
Adding a third-row bench allows the Grand Cherokee to seat up to seven people (six passengers if you opt for the 2nd-row captain's chairs). In order to provide this extra space Jeep's engineers had to stretch the wheelbase by 7 inches and increase the overall length by 15.1 inches. Viewed from the side it does make the roofline look quite long but it makes up for that by looking great from all other angles.
Jeep put the Grand Cherokee on a crash diet of 60% high-strength steel so this L tips the scales at a more reasonable 4,848 lb. curb weight. Adding to that they also made the hood and tailgate from aluminum.
The only real letdown is there are no new engines just yet, although an electrified version of the Grand Cherokee is under development. My 2021 2021 Jeep Grand Cherokee L Summit 4X4 was fitted with the base 3.6-liter Pentastar V6 which provides 293 horsepower and 260 pound-feet of torque. In this configuration, it can tow up to 6,000 lbs. The second option is the 5.7-liter Hemi V8 which offers more power but uses more gas. It has 360 hp and 390 pound-feet of torque and can tow up to 7,200 lbs.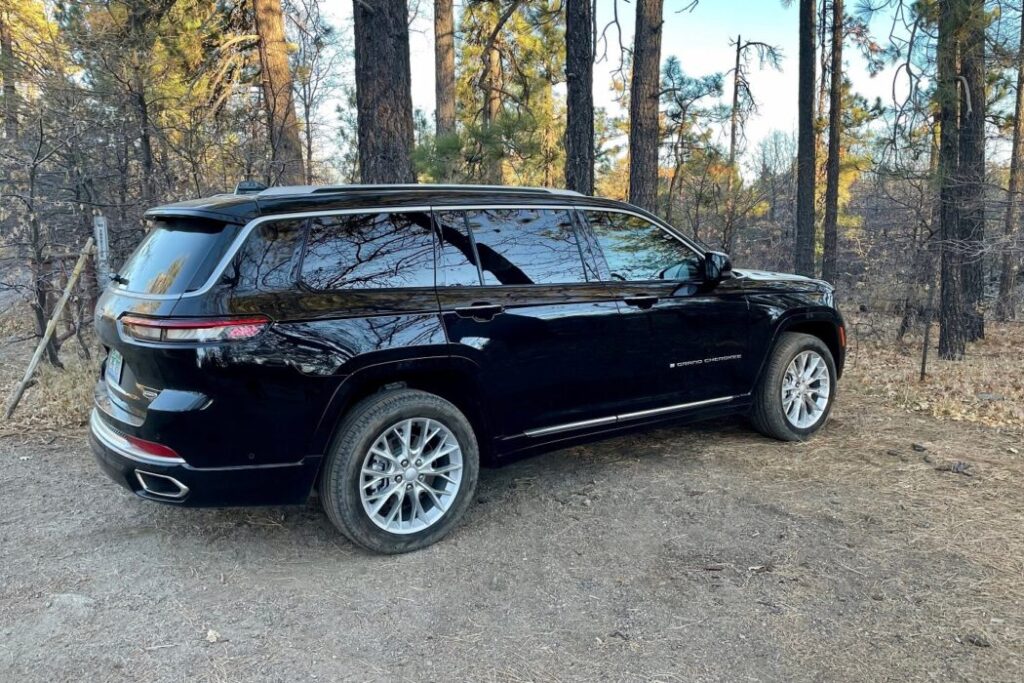 Improved on road
First impressions are this new chassis feels much tauter, more precise, has better body control, and has a much-improved ride, which may or may not have been attributed to the optional air springs on my tester.  For on-road driving, the two modes are Auto where the system decides for itself the best course of action, or Sport which remaps the transmission for more aggressive shifts, weights up the steering feel, and tightens the suspension.
Don't get confused this is no sports car even though it can be hustled along back roads at fairly high speeds. Eventually, the laws of physics will kick in and the sheer mass will understeer if you plow into a turn with too much vigor. The 8-speed transmission works great to match the V6's lack of torque keeping the revs in the sweet spot to blast out of corners.  The tuning on it is just about perfect.
Acceleration from a standstill is brisk and enough to get you where you need to be, I estimate a 0-60 in around 7.8 seconds or so, however, this is a vehicle to be driven at a more moderate pace especially if you don't want to make your passengers unwell.
EPA ratings are 18 mpg city and 25 mpg highway, I averaged 15.8 mpg for the week which included our off-road shenanigans. If you opt for the V8 expect more trips to the gas station since it is rated at 14 mpg city, 22 highway and 17 mpg combined.
Excels off-Road
For off-road fun, we ventured out to test the Jeep's abilities and not surprisingly came away impressed despite our tester having street tires. Standard on the Summit trim is Quadra-Drive II which is Jeeps' most advanced system. It includes a two-speed transfer case and an electronically locking rear differential. If slippage is detected, this system can automatically redistribute torque to the wheels with more traction.
On our off-road course which included some steep grades and rocky terrain the Grand Cherokee never put a foot wrong. When it detected wheel slip on the almost sandy surface it simply transferred power to the correct wheel. Since it has 10.9 inches of ground clearance, an approach angle of 30.1 degrees, a break-over angle of 22.6, and a departure angle of 23.6 degrees it never put a foot wrong. I must add we didn't get too technical since we didn't want to break anything.
Interior
The interior is by far the place where most of the upgrades have been made, it's a lovely place to spend time in. The Summit is very highly equipped, and my tester had the Nappa Leather sets option with full power and massage function, which was excellent. Front seats are super comfortable with plenty of lumbar, side, and leg support, I never experience any discomfort even on longer trips.
The rotary shifter is the only way to use the transmission, it's not my favorite as it's easy to shift to park instead of reverse but the beveled edge of the dial feels really good to the touch. It feels like a quality item that the rest of the cabin follows, including a faux-suede headliner, a sunroof, and the exceptional 19-speaker McIntosh audio system. In this higher-end Summit model, the Grand Cherokee is a luxury car.
In the middle of the console are two options of touchscreens an 8.4- or 10.1-inch touchscreen, both of which offer the Uconnect 5 infotainment system. Fast graphics, plenty of functionality, and loads of functionality, it's one of the few systems that work as it should and as a bonus has backup physical buttons for those with touchscreen challenges.
Space
Obviously, the interior is bigger now that they have added a third row, which does give adults room although only for short trips. Third-row passengers get USB and USB-C while second row (captain's chairs in my tester) get climate controls, heated seats, window shades, two cup holders, and a center cubby. Sitting in the 2nd row you feel like you are in the front.
All seats fold flat to provide 85 cubic feet of space with 17.2 cubic feet behind the third row and 46.9 ft³ with the third row folded. With its 23-gallon fuel tank, you can expect 500 + miles of range with a lightish right foot.
Safety Tech
Standard safety tech includes automatic emergency braking, rear cross-traffic alert, lane-keeping assist, blind-spot monitoring, and adaptive cruise control with stop-and-go capability. Active Driving Assist, which is an adaptive system cruise with lane centering, (Overland and Summit trims).
Verdict
Pick the higher trims and things can get pricey but an entry-level, rear-wheel-drive Grand Cherokee L starts at $38,690. My loaded Summit was just shy of $67,000 including $1,695 in delivery fees but the choices are almost endless, and you get one of the best three rows on sale today.
The Jeep was already a formidable vehicle, adding a third row and a brand-new design just makes it better. With new and more efficient engines coming, this Jeep should sell like hotcakes.
VIDEO REVIEW
2021 Jeep Grand Cherokee L Summit 4×4 Numbers
Base Price: $60,060
As Tested Price: $65,985
Engine: 3.6 liter V6, 24 valve VVT
Power: 295 hp @ 6,400 rpm
Torque: 260 lb-ft @ 4,800 rpm
Transmission: 8-speed automatic with manual shifting mode
Zero to 60 mph: 7.8 seconds (est)
Curb Weight 4,848 lbs
Cargo Capacity: 17.2 ft³ with all seats up,46.9 ft³ third row folded, 84.6 ft³ with all seats folded
EPA city/highway: 18/25 mpg
Our Observed Fuel Economy: 15.8 mpg
Pros: Serious off-road ability, ride quality, superb new interior
Cons: No new powertrains yet
2022 VW Tiguan SEL Review
2022 Lexus IS 500 Performance