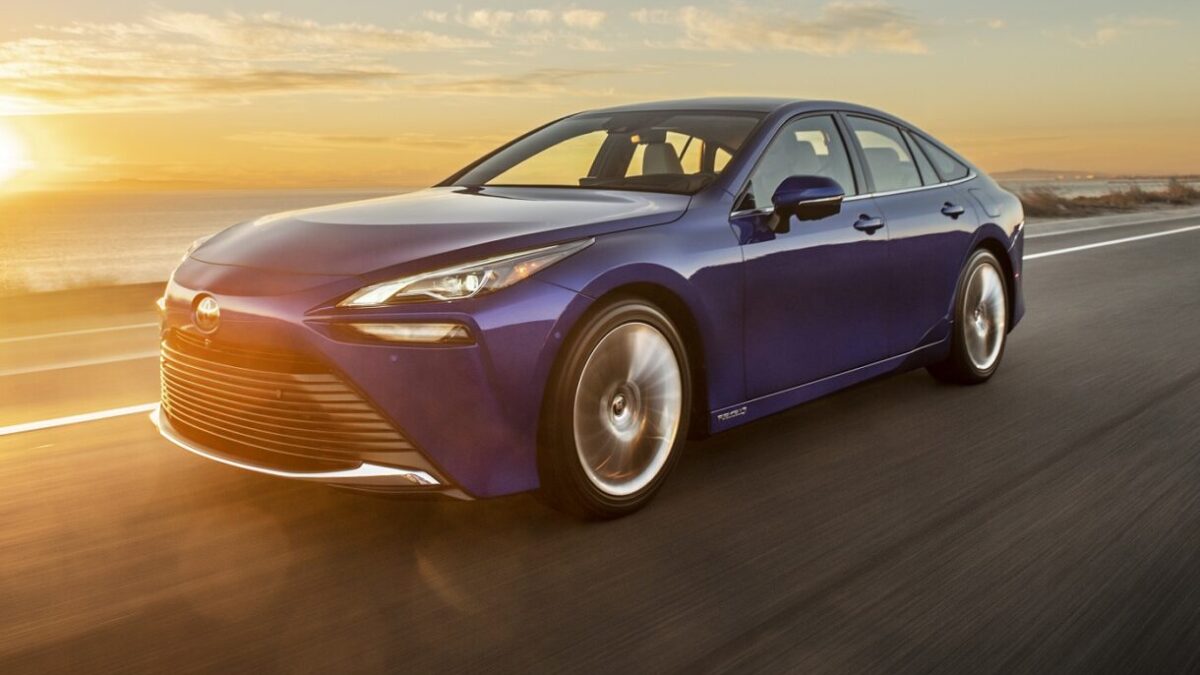 We drove the 2021 Toyota Mirai Limited for a week or at least until the hydrogen ran out since there's only one hydrogen fueling station in San Diego. For the three days we had fuel, it impressed us with its decent range (320-340 miles), smooth electric power delivery, and impressive build quality. It is, after all, based on the Lexus LS.
The cons of owning one are that firstly it is only available in California and secondly there is a very limited hydrogen-fueling infrastructure, especially in San Diego.
The technology doesn't come cheap but at least this is a car that looks very impressive from every angle, except maybe one and that's at the back where inexplicably Toyota has made fake exhaust outlets in the rear bumper. Why? The only thing that is emitted from a hydrogen fuel cell vehicle is water and there is an outlet under the car to do just that. If for any reason it isn't emptying itself then you should consider checking its prostate.
How Much?
My 2021 Toyota Mirai Limited tester had a base price of $66,000 and with options ($425 premium paint) and destination came out to $67,420 which is a lot, but the good news is Toyota gives owners $15,000 of hydrogen fuel as a bonus.
What is it?
Under the hood of this new four-door sedan is a smaller and more efficient fuel-cell stack that generates 182 horsepower, which is an increase of 31 hp over the first-generation Mirai. Available torque has dropped a little with 221 ft-lbs. available from zero rpm. Toyota has also increased the range and if opt for the XLE model you can expect 402 miles on a tank of H. The heavier Limited spec is expected to deliver 350+ miles of range although we didn't see much better than 300 with a very delicate right foot.
Having an electric drivetrain powered by a hydrogen fuel cell, owners will get the dual benefits of a zero-emissions vehicle with a conveniently short refueling time similar to a traditional internal combustion engine. Refueling takes no more than 5 minutes when fuel is available and is a fairly easy process to undertake except the nozzle can stick on occasion since the hydrogen can freeze up the connector.
The tank holds 5.6 kilos of hydrogen at approximately $16.40 per kilo so a fill is going to cost around $92 if you are completely empty, not a wise thing to do. Capacity is up 12% from before and as well as the fuel cell is a 1.2-kWh lithium-ion battery to power a 182-hp electric motor that sits behind the rear seats.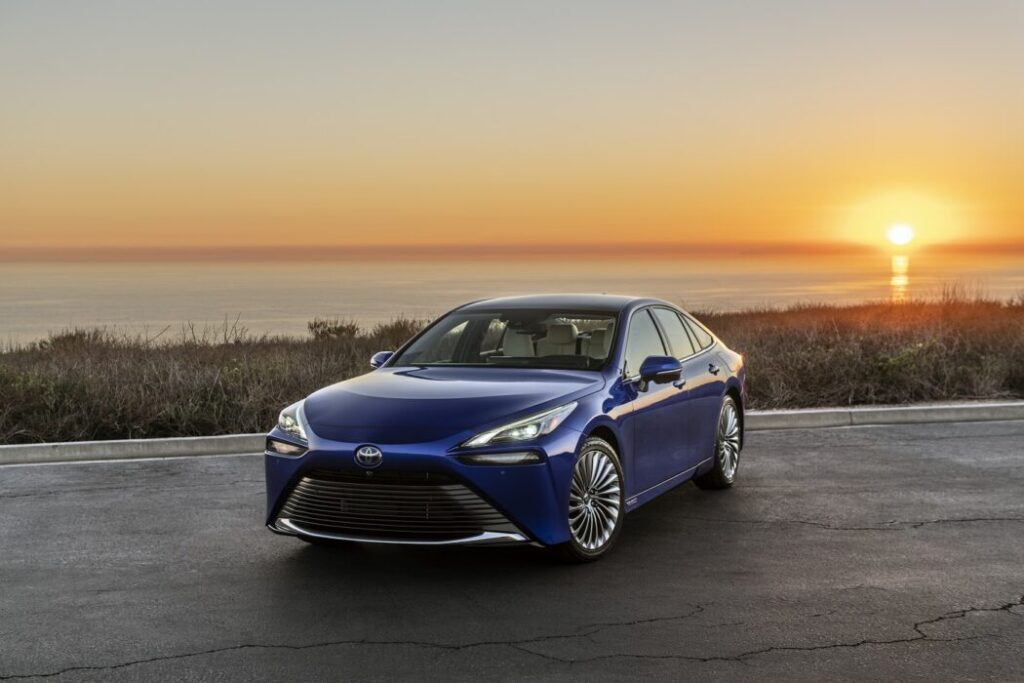 Driving
The good news here is Toyota switched the Mirai from front-wheel drive to rear-wheel drive giving a roomier cabin that now seats five, well almost. Now the Mirai has an almost 50/50 front-to-rear weight distribution, which is something the previous front-wheel-drive model couldn't claim.
The redesign also made more room for more efficient packaging of the updated fuel cell in the new chassis, however, that middle spot in the rear is compromised by a large transmission tunnel which in this case hides a fuel tank.
In general, the Mirai moves along quite nicely, it has the feel of a large luxury sedan, which is essentially what it is.  It has a well-balanced chassis, it feels refined and composed, it does roll in the turns but never feels uncontrolled and it's amazingly quiet. Even on the 19-inch rims and Dunlop run-flats, the silence is golden.
Despite not having to carry around heavy batteries the Mirai still feels heavy, it weighs in at around 4,300 lbs., and yes, it's good at soaking up bumps but canyon carving it's not. That said the acceleration isn't bad, it launches from zero to sixty in 7.8 seconds which is a lot quicker than Toyota's claimed 9.2 seconds. I mean I'm all for being conservative but that's way off!
Interior
As expected, the interior has a very premium feel, the cabin feels like it will last forever, which it could do since the seats are made of vegan leather or Softex and are some of the most comfortable I have ever sat in. The driver and passenger seats get multi-way power and a massage function as well as being heated and cooled.
The infotainment screen has been located further towards the driver now that it is a touchscreen and the infamous touchpad has gone. It's not the quickest system but it is backed up with physical buttons which include 2 buttons for the volume control instead of a knob, which is very frustrating to use.
The 12.3-inch touchscreen for Toyota's Entune infotainment system supports Amazon Alexa, Android Auto, and Apple CarPlay connectivity, and there is a wireless charger for your mobile device as well as USBs and a 12 volt.
The dash design is quite interesting and seems to be slightly angled away from the driver. Prius owners will recognize the shifter and despite it looking odd is functional and better than rotary shifter controls in my opinion,
There's some piano black trim in the center console but they haven't gone crazy with it. There's plenty of cubby space too in the center armrest and rear-seat passengers get their own HVAC controls, two cupholders, and heated and vented seats.
If you are the middle seat rear passenger though things won't be so comfortable, the seat bottom is too high, so your neck is at an angle and you have to straddle the wide tunnel which houses the hydrogen tank. An early trip to a chiropractor is in your future if you have to sit there.
Cargo space is quite small (9.1 cubic feet) since the hydrogen tank takes up space, but you probably can fir a set of clubs in there if that's your thing.
Verdict
Toyota is hoping the Mirai will steal customers away from gasoline-electric hybrid vehicles and I'm sure it would if the fuel was more readily available. It's a really really nice car that I wanted to drive more but the only fuel station in San Diego was down for 3 days with a mechanical failure so the Mirai was annoyingly stuck in my driveway for more than half the loan.  If they can fix this supply problem, I'm all for it.
VIDEO REVIEW
2021 Toyota Mirai Numbers
BASE PRICE: $66,000
PRICE AS TESTED: $67,420
VEHICLE LAYOUT: Mid-motor, rear-wheel-drive, 5-passenger, 4-door sedan
MOTOR: Synchronous AC, 1.2-kWh lithium-ion battery pack
FUEL CELL: Solid-polymer-electrolyte proton-exchange membrane
POWER: 182 hp
TORQUE: 221 lb-ft
TRANSMISSION: Direct Drive 
0-60 MPH: 7.8 seconds
CURB WEIGHT: 4,335 lbs
CARGO SPACE: 9.1 ft³
EPA CITY/HWY:  67/64 mpge
OUR OBSERVED: 45 mpge
RANGE: 402 miles
OUR OBSERVED: 301 miles
PROS: Super smooth ride, beautifully crafted cabin, economical
CONS: Scarcity of fuel, Cost of fuel
2022 VW Tiguan SEL Review
2022 Lexus IS 500 Performance