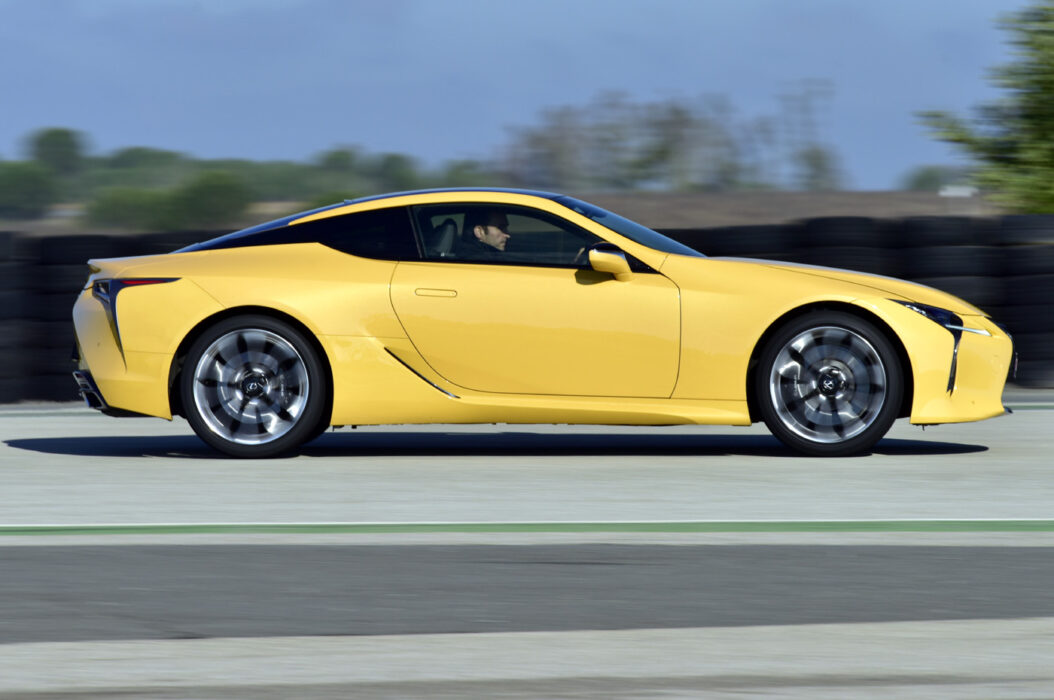 Beneath the surface at Lexus there lurks a mad streak, one that came up with the glorious LFA back in 2010 with its Yamaha V10 and unfortunately limited to only 500 units . Move forward 6 years and Lexus goes mad again and produces the exquisitely detailed LC 500,  proving Lexus is willing to develop soul-stirring vehicles.  If you are lucky enough to see one, Lexus has sold a little over 800 so far in 2019, it's a sight to behold, beautifully sculptured and like nothing else out there for the price. The LFA if you remember was $350K, the LC 500 starts at just over $92K, it's a bargain.
My 2020 Lexus LC 500 arrived bathed in a not so subtle Flare Yellow paint job, a color that eventually grew on me throughout the week, and as for passers-by, well they just stopped and stared, mouths agape. My tester had several options checked including the Sport Package with Carbon Roof and 8 way power seats with Alcantara inserts, perfect to keep you in place. Add the fantastic  Mark Levinson 13 speaker sound system, carbon fiber front and rear spoilers, Limited Slip Differential and 21″ forged alloy wheels and you're pretty much out the door for $105,822.
For sure there are faster cars out there for this price but none really look as good as the LC 500 and they sure don't have what's under the hood. Powering this beast is a naturally aspirated 471-hp 5.0-liter V-8 which revs to 7,100 rpm and delivers 398 lb-ft @ 4,800 rpm through a super quick 10-speed automatic, which is a triumph. …… Adding to the overall pleasure is the power goes to the rear wheels only. With our test gear strapped on and after several launches we got the 0-60 time down to 4.4 seconds…. not super quick but it feels so much better than these numbers suggest once you hit the open road.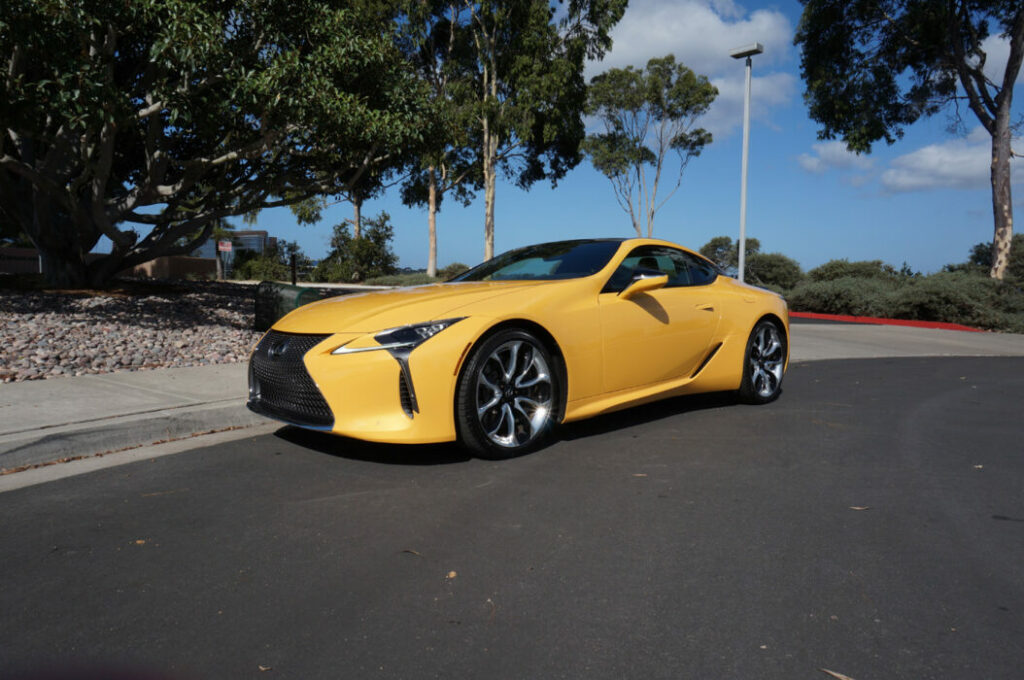 Driving Dynamics
The LC 500 has an ultra rigid, steel chassis underpinning a body made from aluminum and composite panels and here lies the rub, it's a bit heavy at 4,280 lbs despite having a carbon fiber roof. The weight doesn't dampen the overall driving experience but it is noticeable when pressing on in tighter turns.  My tester was shod with Dunlop DSST run flats 245/40s in front and 275/35s at the back and except when you too much pedal mid corner were fairly unstickable.
Starting the LC 50o was a joy every morning, so much so I made any excuse to drive it. The rumbling V8 barks to life and settles down to a slightly uneven idle, all programmed in of course. There are several driving modes to choose from: Eco, Comfort, Normal, Custom, Sport, and Sport+ all controlled by the right hand controller on the main instrument cluster. I spent all my time in Sport + mode and paid for it heavily at the pump maintaining an average of 14.5 mpg for the week. The plus side of Sport + is a truly engaging driving experience, once you get out of town and push your right foot into the carpet, the car seems to know you're up for some from. The transmission holds the gears in the engine's torque sweet spot, the exhaust bellows and the transmission snaps off  lightning quick shifts. I had a hard time wiping the stupid grin off my face. This is arguably the best sounding V8 on the market.
In the turns the LC 500 always feels crisp and poised, the adjustable dampers play their part here and even if you leave the car in the firmest setting as a I did, it soaks up lumpy pavement while keeping the body level in corners. It's really 2 cars in one, a mellow grand tourer or a hunkered-down sports coupe, that fizzes and excites its way through even the most mundane of commutes, while playing the most gripping soundtrack from the exhaust. I don' this think I listened to any music all week. Steering is direct with good feedback and the brakes provided excellent stopping power from some serious speeds, time and time again.
Inside
The interior is very typical Lexus, sculptured dash architecture and solid build quality, everything looks and feels luxury. Seats are massively comfortably and grippy, the Alcantara inserts hold you in well, you sit low, legs out in front, like a race car. Most instruments work well except for the Lexus's Enform infotainment system and its clunky Remote Touchpad controller. It makes sense to make changes in your driveway before you set off, it takes a bit too much effort and it's distracting while on the move. There are back seats but unless you're a contortionist not really usable and the trunk space is quite small and as one of my colleagues pointed out, not enough room for a set of golf clubs. Luckily I hate golf. 
Standard equipment includes standard automated emergency braking, adaptive cruise control, automatic high-beams, and lane-departure warning with lane-keeping assist, my tester was also optioned with a $900 color head-up display
Verdict
Naturally aspirated V8, super quick 10 speed transmission, looks like a supercar, yes this is one of my favorite cars period, it's so much fun. Rumors are that Lexus may add a twin turbo V8 with North of 600 hp into the mix…………..I  say lose a bit of weight from this one because it's simply epic!
2020 Lexus LC 500 Coupe
BASE PRICE: $92,950
AS TESTED PRICE: $106,520
VEHICLE LAYOUT: Front-engine, RWD, 4-passenger, 2-door coupe
ENGINE: DOHC 32-valve Atkinson-capable 5.0-liter V-8
POWER: 471 hp @ 7,100 rpm
TORQUE: 398 lb-ft @ 4,800 rpm
TRANSMISSION: 10-speed automatic with manual shifting mode 
0-60 MPH: 4.4 sec
TOP SPEED: 168 mph
CURB WEIGHT: 4,280 lbs
CARGO VOLUME: 5 cu. ft.
WHEELS: 20 inch split 5-spoke forged alloy wheels
TIRES: Dunlop DSST: Front 245/45, Rear 275/35
EPA COMB/ CITY/HWY:  19/16/25 mpg 
OUR OBSERVED FUEL ECONOMY: 14.5 MPG
PROS: Stunning exterior, glorious engine note, sport mode is a hoot,  high revving V8 joy
CONS: Not much