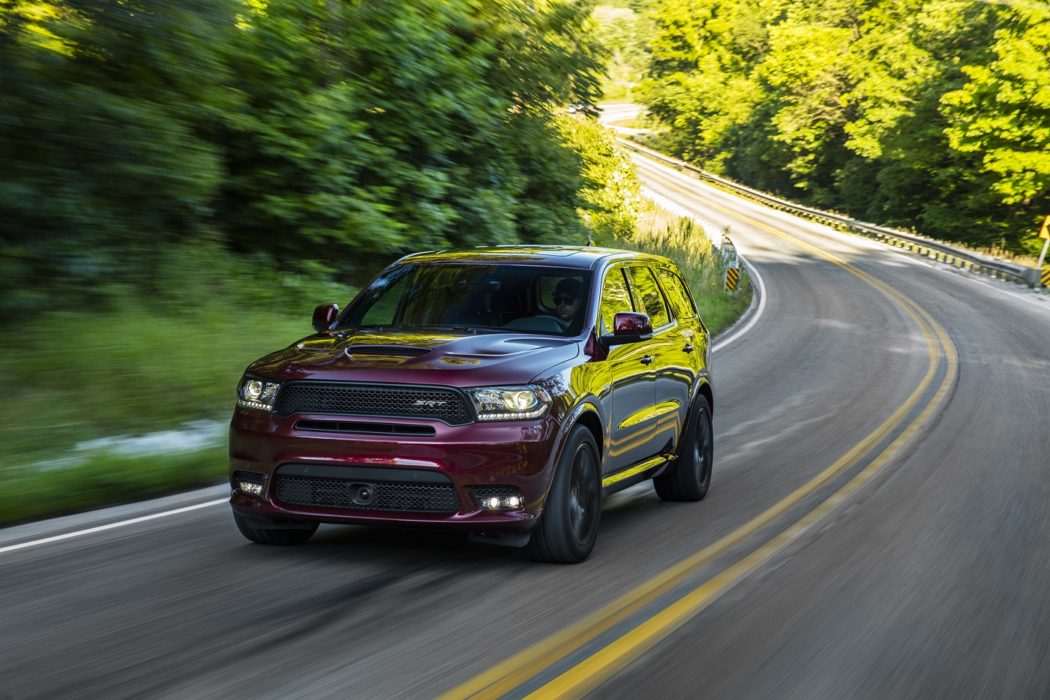 One thing I'm very happy about is that I have sympathetic neighbors because the 2018 Dodge Durango SRT sounds like a cross between Godzilla and a chain saw as I attempt to stealthily back out of my garage every morning. Even an urban commute is exciting with that wonderfully sonorous and bellowing exhaust rasping in your ears, made even better with the windows open and yes, I went there too.  The thing is though, if you have more kids than you had planned, need some space for the dogs and you like a good giggle, this is the perfect vehicle for you.
I drove the V6 Durango a couple of years ago and came away with a very favorable impression of it with no real complaints. Now Dodge adds the power in the form of its normally aspirated 392 cu in V8, that's 6.4 liters in metric. Power is now a heady 475 hp and 470 lb-ft managed through a smooth 8 speed automatic transmission, with a paddle shift option. All this goodness makes for a 0-60 time of 4.4 seconds. It looks the part too, with a wide body kit, high-performance suspension and exhaust, and bright red Brembo brakes helping to stop those huge 20-inch wheels shod with 295/45 rubber.
My tester was covered in Octane Red-Pearl Coat, black wheels and a black interior and looked menacing in any rear-view mirror. Those that chose to use it got out of the way quickly, a quick stab on the throttle and you are back up to speed, some very fast speeds. Dodge has honed its skills at adding huge power to most of its product line but with great power you need control, which they seem to have mastered well in the Durango SRT. With AWD, the SRT launches from a stop like a catapult all with no lag thanks to normal aspiration, which is all great but does it handle the turns……………..?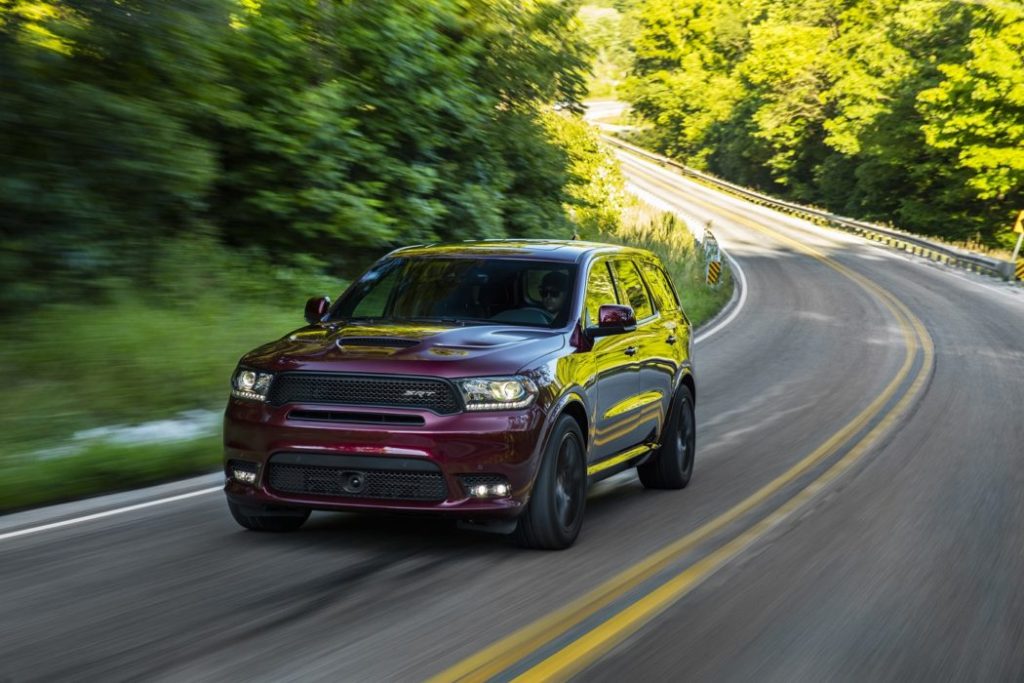 Photos Courtesy – FCA Media
On the Road
From day one I found myself using a pretty heavy right foot, so wide open throttle was the norm, providing very quick forward thrust and a bellowing noise from the exhaust. The Durango SRT is not neck snappingly fast it's just very quick and despite its size handles itself with a lot of poise, thanks to some pretty direct steering and some great chassis engineering from the SRT team.
The SRT has standard all-wheel drive and seven yes SEVEN drive modes—Auto, Sport, Track, Snow, Tow, Valet, and Eco, so a flavor for every day of the week. Valet Mode starts it in second gear, disables the paddles, prevents the driver from turning off the traction control and reduces power. I stayed in Sport mode but it reverts to Auto every time you restart the car which was slightly annoying. In Sport, shift times are increased and you can optimize individual settings like suspension and steering if you wish. I didn't try Eco mode and I paid the price at the pump, 3 times after I had used up my free tank. This explains my 11.5 average mpg for the week.
On the twisty bits the SRT belies its size, carving through tighter corners with finesse. True it's no sports car but it's very easy enter slowly and then back on the power on the straights with that that Hemi V8 sound in your ears. Come into a corner too fast though and the sheer mass means you will be stomping on those huge Brembos, which are very good indeed. All in all, I made any excuse to go for a drive.
Inside Look
Photos Courtesy – FCA Media
Interior fit and finish is very respectable and I like the layout of the dash and infotainment screen, I just wish it were angled towards the driver. That said Uconnect is always my favorite, easy to use, easy to connect and lots of content to play with. Android Auto and Apple CarPlay are standard and there are plenty of places to plug in various devices via two USB ports up front and an auxiliary jack as well. Despite it's tough life in the hands of the motoring press it was rattle and squeak free for the week. Front seats are heated, cooled and very supportive, with every way power and covered in a combo of Nappa leather and suede, very grippy in fast cornering situations. Suede is also utilized along the A-pillars and headliner, which provide some soundproofing but the good news is you can still hear the V8.
Cool SRT logos emblazoned on the sills are a nice touch and the fact that it doesn't have a sunroof, which I have never been a fan of. The second-row captain's chairs are also comfortable and behind them 2 more seats that can be folded down to provide a decent sized cargo space. This car is one fast hauler, either for kids, dogs, luggage, granny's wardrobe or for that matter whatever you want. It's a pleasure to drive at any speed, feels super stable at higher velocities and has power to not only surprise other drivers but also to blast past them.
Verdict
Do yourself a favor and go drive one of these, release that beast and tell me you did it without your face cracking a smile.
2018 Dodge Durango SRT Numbers
| | |
| --- | --- |
| BASE PRICE | $62,995 |
| PRICE AS TESTED | $70,270 |
| VEHICLE LAYOUT | Front-engine, AWD, 6-passenger, 4-door SUV |
| ENGINE | 6.4L OHV 16-valve V-8 |
| POWER | 475 hp @ 6,000 rpm |
| TORQUE | 470 lb-ft @ 4,300 rpm |
| TRANSMISSION | 8-speed automatic |
| CURB WEIGHT | 5,502 lb |
| 0-60 MPH | 4.4 sec |
| QUARTER MILE | 13.2 sec |
| EPA CITY/HWY/COMB FUEL ECON | 13/19/15 mpg |
| OUR OBSERVED | 11.5 mpg |
| PROS | Speed, space and a glorious noise |
| CONS | Big thirst |