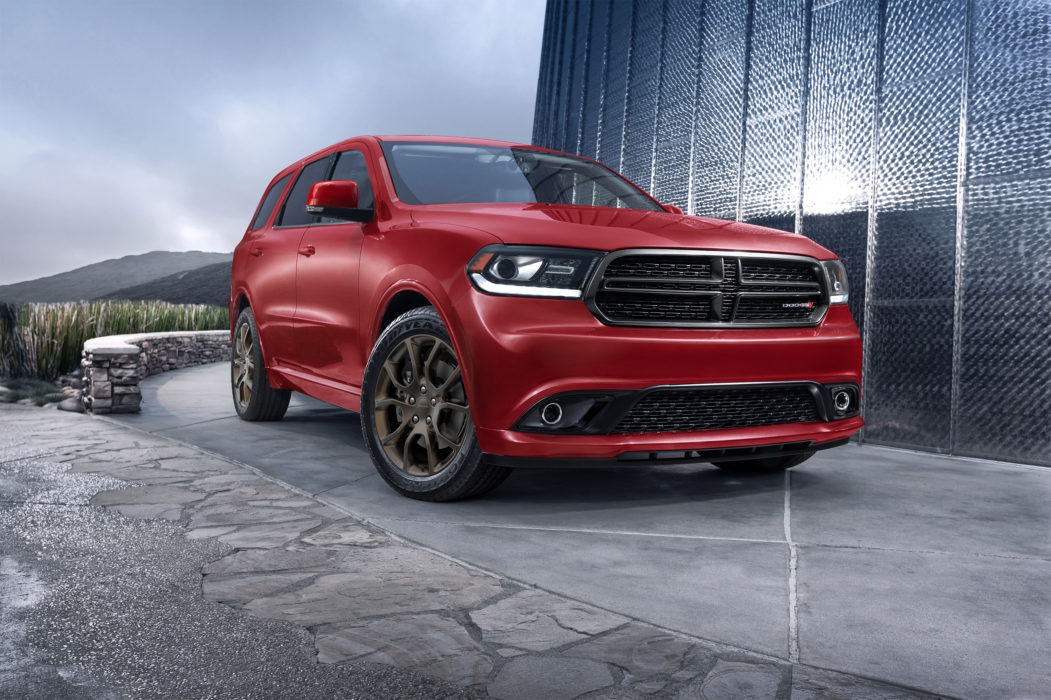 Get ready to get your Beastie Boys on
……this Dodge has the Brass Monkey package featuring 20-inch burnished Bronze aluminum wheels, gloss-black exterior badges, and in our tester's case a red paint finish.  Our 2016 Dodge Durango had the 3.6-liter Pentastar V-6 engine producing 295 hp and 260 lb-ft of torque, which we thought was sufficient for the job. If you need a HEMI and want to spend more on gas then the a 5.7-liter V-8 has 360 hp and 390 lb-ft. Both come paired to an eight-speed automatic transmission.
It's been many years since I drove a Durango, in fact it was in 1997, when it shared a front end, instrument panel, and front seats with the Dakota pickup. Fast forward to today and the 3rd Gen Durango shares running gear, powertrains, and chassis parts with the Grand Cherokee and is built alongside the Jeep Grand Cherokee at the Jefferson Assembly Plant in Detroit, Michigan. The wheelbase is longer than the Grand Cherokee to accommodate the third row seating.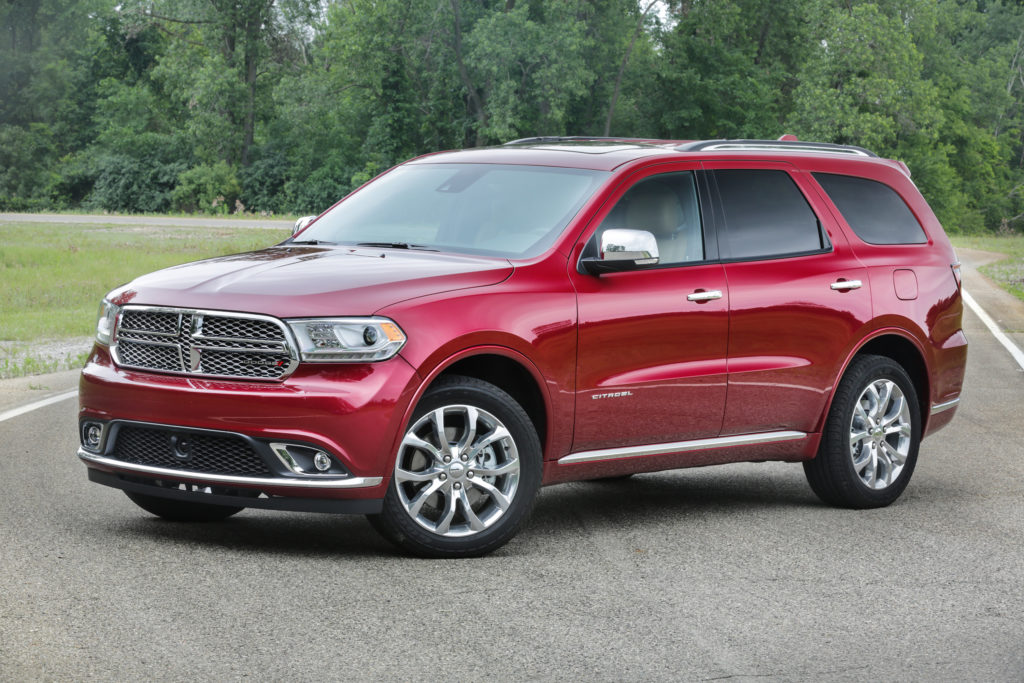 How Does it Drive?
We have said this before this eight-speed transmission is a gem, giving the V6 pretty sharp acceleration off the line, and beautifully smooth too. You don't have to drive 'pedal to the floor' to get the best out of it, which makes for a fuss free experience. The V6 moves this 5,000-pound car along with predictability and ultimately it feels faster than it actually is. We strapped our test equipment and hit 60 mph in a respectable 7.5 seconds. Body control in the turns is well controlled considering it's size, push it too hard and it will under steer and lurch somewhat. It's best to use it for what it is and a sports car it certainly is not. Being speed freaks we always switch all our test cars to the most aggressive mode, typically Sport. We tried it for about 10 seconds and decided it doesn't suit this car. It just makes the engine hold its revs and you don't gain any more pace. So we left it in Eco mode and engoyed it immensly. One gripe though is the steering wheel paddles, completely pointless on a vehicle like this. I'm sure people would complain if it didn't have them, despite almost never actually using them.
Overall the Durango is soft and comfortable, a good road trip car and the steering sensitivity and weight are just fine, not too heavy and not too quick. Like the Dodge Ram I owned several years ago Durango has a very sedan-like feel when you're driving it.
Inside
Inside our six-passenger (full sized people) Limited tester was a particularly nice place to spend time.  The comfortable leather seats have great side bolster support with 8 way power for driver and passenger. The space-saving rotary shifter takes a bit of getting used to for first timers, even we were prone to turning it to park after reversing, doh!  It's well kitted out with an adjustable multi-screen display ahead of the driver and 2 choices of digital speedometer.  Rear seat folks are not forgotten, as they are provided with a rear-seat entertainment system, with its Blu-ray/DVD player located in the front-row center console, so you can swap discs for the kids. We like the dual screens mounted on the backs of the front seats, that fold away out of sight when not in use….. Welcome Aboard Dodge Airlines.  
The second and third row seats are easy-to-fold, but the second row center armrest arrangement stays in place so it's not quite as practical as the Pacifica we recently tested.  Our tester had the premium entertainment group including Beats premium audio system, which make a pretty good noise.  With the Technology group comes advanced brake assist, full speed forward collision warning plus, adaptive cruise control with stop, and blind spot and cross path detection. Our Brass Monkey came with the
Do You Want One?
At one point the Durango was on the endangered species list but it looks as if it has had a stay of execution and there is talk of an SRT version with the 475 hp V8 coming soon.
The Durango sits between the large SUVs such as the Ford Explorer and Honda Pilot, but it is smaller, more fuel-efficient, and a lot more nimble than full-sizers SUVs like Chevy Tahoe and the Ford Expedition. It's actually rewarding to drive on a twisty road, feels smooth and safe on the highway, this Durango is  tough to beat.
2016 Dodge Durango Limited Brass Monkey AWD Specs
| | |
| --- | --- |
| BASE PRICE | $39,595 |
| PRICE AS TESTED | $49,560 |
| VEHICLE LAYOUT | Front-engine, AWD, 6-pass, 4-door SUV |
| ENGINE | 3.6L DOHC 24-valve V-6 |
| POWER | 290 hp @ 6,400 rpm |
| TORQUE | 260 lb-ft @ 4,000rpm |
| TRANSMISSION | 8-speed automatic |
| CURB WEIGHT (F/R DIST) | 5,097 lb |
| LENGTH | 16.7 feet |
| 0-60 MPH | 7.5 sec |
| EPA CITY/HWY/COMB FUEL ECON | 18/25/21 mpg |
| OUR TEST MPG | 16.5 MPG |