A couple of months ago we had a very short drive in the new A3 and were left wanting more. So when our 2015 Audi A3 Quattro tester arrived in a fairly big storm (rare for Southern California), it gave us a chance to drive it on something other than perfectly dry roads. Regardless of the weather, for the week we had it, we drove the stink out of it, in all conditions, on a variety of roads and we were very sad to see it go.
The A3 is a small car that isn't so small, it's roughly the same size as the original A4 which made it's way to these shores back in 1995. The A4 has, of course, grown up, which let's the A3 become Audi's small car, or at least over here.
The new exterior looks way better in person than in pictures and our car elicited a few wows from people in the office. We love the short overhangs and its squat menacing front 3 quarters. Of course being bright red with optional 19 inch wheels doesn't hurt the looks at all. We are sad not to see a hatchback version, but the market dictates that Audi needs an entry-level sedan if it's to meet its volume targets in the US.
Engine and Drivetrain
The A3's combination of a turbocharged 2.0-liter four-cylinder engine, six-speed dual-clutch transmission (no manual) and Quattro all-wheel drive,  220 horsepower and 258 pound-feet of torque work seamlessly to provide pretty aggressive acceleration from a standstill.
We kept the car in Dynamic mode for most of the time and in Sport Mode. Yes this does provide for slightly jerky, low speed progress, but it's a small price to pay for the way this thing goes when you get out on the open road. For town driving we tended to use D and Comfort mode, which evened out the numerous San Diego potholes admirably.
Performance and Handling
During acceleration testing we were a little hampered by  a slight sluggishness off the line, despite using Launch Control, then using the paddles and then trying just Sport Mode, all with the traction control turned off. One factor may be the Quattro levels of grip, which are huge.  We simply could not un-stick the tires, even in the wet and that's with Summer tires. Once we mastered getting off the line we posted a 0-60 time of 6.0 seconds and a 1/4 mile time of  15.4 seconds at 97 mph.
The Quattro splits power among all four wheels for better grip and traction by using an electronic torque vectoring system that performs like a limited slip differential. It tweaks the brakes on the slipping wheel (or the inside wheel when cornering) to send power to the other end of the axle's open differential…and it works brilliantly.
The suspension sits on an all-aluminum sub-frame with MacPherson struts up front, and a 4-link setup in the rear with a steel cross member. Brakes are 12.3 inches in diameter,  the same for either front or all-wheel-drive A3, and they proved to be very good, with our Quattro stopping in an easy 124–feet from 60.
The electric power steering is so much better than Audi systems in the past which tended to feel wooden and uncommunicative. This set up is sharp and precise and enables you to hit the apex perfectly and get the power down without a hint of understeer.
Our Route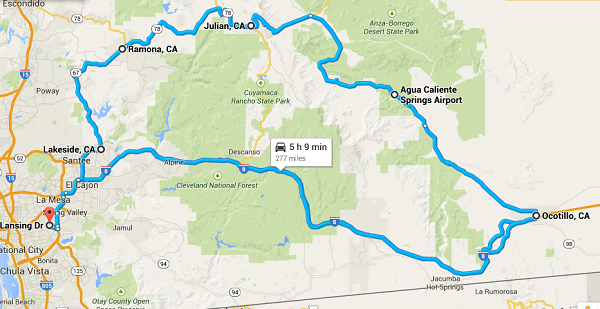 Our test route took in freeways, desert highways with fast sweeping bends and mountain roads with tight switchbacks. We headed out East on Interstate 8 towards the Anzo-Borrego desert. On the freeway section at cruising speeds the Audi was remarkably quiet with little or no tire noise. We've been driving around in a Chevy Spark EV which is almost silent, so most gas cars seem very noisy……the Audi isn't. After an hour or so we turned off the freeway onto the S2 a road that heads North through the desert. The first section is made up of long straights and fast sweeping bends and the Audi was incredibly composed and goes like stink, with huge gobs of torque available all of the time. This engine absolutely comes alive on the open road with suspension, chassis and transmission working in harmony.
We didn't think the car could get any better until we hit the mountains heading up to the the town of Julian at 4235 ft. The road became twistier and no matter how hard we threw the car into the bends, it was neutral and always predictable. The upside to being bright red is that you are noticeable and several slower vehicles kindly pulled over to let us pass. The downside to a bright red car is it's noticeable to law enforcement.
We passed through the very touristy Julian and headed down to Santa Ysabel for a break and a piece of the Julian Pie Company's famous apple pie. Once on the move again this section becomes much busier, however, where there were opportunities to pass slower cars, the Audi did so with ease, never seeming to lack power at all.  After passing through Ramona we descended back into San Diego again.
Interior
Our test car came equipped with the optional MMI Navigation plus package, the Sport Package which includes sport suspension, sport seats and the driving mode selector for Dynamic, Auto, Individual and Comfort modes. First impressions are great, the new dash is simply stunning and so much less cluttered than the outgoing A3. Inspired elegance is the only way to put it. The MMI screen rises out of the dash once you push the starter and then slides effortlessly back again if you push the raise/lower button on the dash. We found this very satisfying.
The sports seats are excellent and grip you well laterally. Rear space is good with plenty of legroom, however,  larger adults may have limited headroom. There were a couple of gripes from our drivers. Larger cups snag some of the dash controls and there is no place to put a phone. Yes we understand you can put a phone in the armrest but we ended up using the cup holder, only to have it fly around during spirited driving.
Some female testers liked the adjustable headrests that move fore and aft to accommodate a ponytail or just for general comfort.
Verdict
Competitors in this compact luxury segment are pretty much German in origin. We can't think of any home grown product that can match them.  Its primary competition is the Mercedes-Benz CLA250. The Audi is the sportier and more athletic here and by far has the better interior.
Slightly more expensive is the BMW 320i which may equal the Audi's performance but it's not as practical. True you can go out and buy a Golf GTi for less money but you won't get the same whiff of luxury and 4 rings on the front.
The 2015 Audi A3 is our top pick among entry-level luxury sport sedans. It delivers a fantastic balance of sporty performance and a genuinely comfortable ride, even in Dynamic mode. Prices are relatively affordable, just watch yourself with the options list, and the car is loaded with many of the same luxurious qualities and technology of more expensive vehicles in the Audi lineup.
2015 Audi A3 Specifications
| | |
| --- | --- |
| BASE PRICE | $32,900 |
| PRICE AS TESTED | $40,545 |
| VEHICLE LAYOUT | Front-engine, AWD, 5-pass, 4-door sedan |
| ENGINE | 2.0L Turbocharged I-4, DOHC 16-valve I-4 |
| POWER | 220 hp @ 4500 rpm |
| TORQUE | 258 lb-ft @ 1600 rpm |
| TRANSMISSION | 6-speed twin-clutch automatic |
| CURB WEIGHT | 3600 lbs |
| 0-60 MPH | 5.9 sec |
| QUARTER MILE | 15.4 sec @ 97.1 mph |
| BRAKING, 60-0 MPH | 124 ft |
| EPA CITY/HWY/COMB FUEL ECON | 23/33/27 mpg |
| RTR OBSERVED FUEL ECONOMY | 20.8 mpg |
Gallery
[Best_Wordpress_Gallery id="1″ gal_title="Audi A3″]
Photography by Mai Krakauer and Jimmy Wu