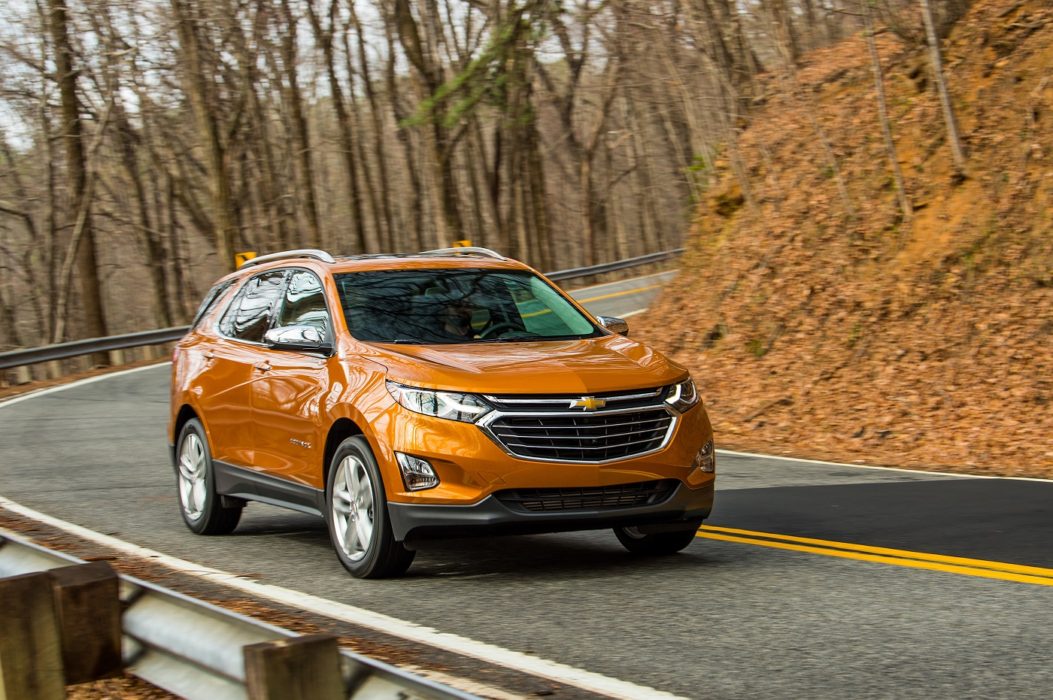 In a world that is filling up with SUVs, for at least the foreseeable future, it's nice to drive one from a mainstream manufacturer that is fun to drive. I had the 2018 Chevrolet Equinox 2.0 turbo in top Premier trim in an interesting shade of orange that GM calls Orange Burst Metallic. Call it what you want it you'll never lose it in a parking lot. Colors aside the 2018 Chevrolet Equinox slots neatly in between the small Trax crossover and the three-row Traverse, which I will be switching into next. There's plenty of good new here, firstly the Equinox is 400 pounds lighter than the outgoing model and secondly it retains almost the same exterior dimensions.
There are 3 available engines, a 1.5-liter four-cylinder engine, with 170 hp and 203 lb-ft of torque. A 1.6-liter turbo diesel with 137 hp and 240 lb-ft and my tester with a 2.0-liter turbo with 252 hp and 260 lb-ft of torque. Make no mistake if you enjoy spirited driving then the 2.0 turbo is the way to go, although the 1.6 turbo-diesel would be my interesting second choice. My tester was a FWD and having spent a week with torque steer I think if I were to buy one I would opt for AWD. Having said that the FWD version is quick, with a 0-60 time of 6.4 seconds. It took a couple of tries to get the best out of it, the front tires do scrabble for grip under full load but the quick shifting 9-speed makes it all very smooth.
It's a handsome looking car both inside and out, and GM's updated design language translates well, it's sleek, crisp lines and bold creases and angles give it a more aggressive modern look.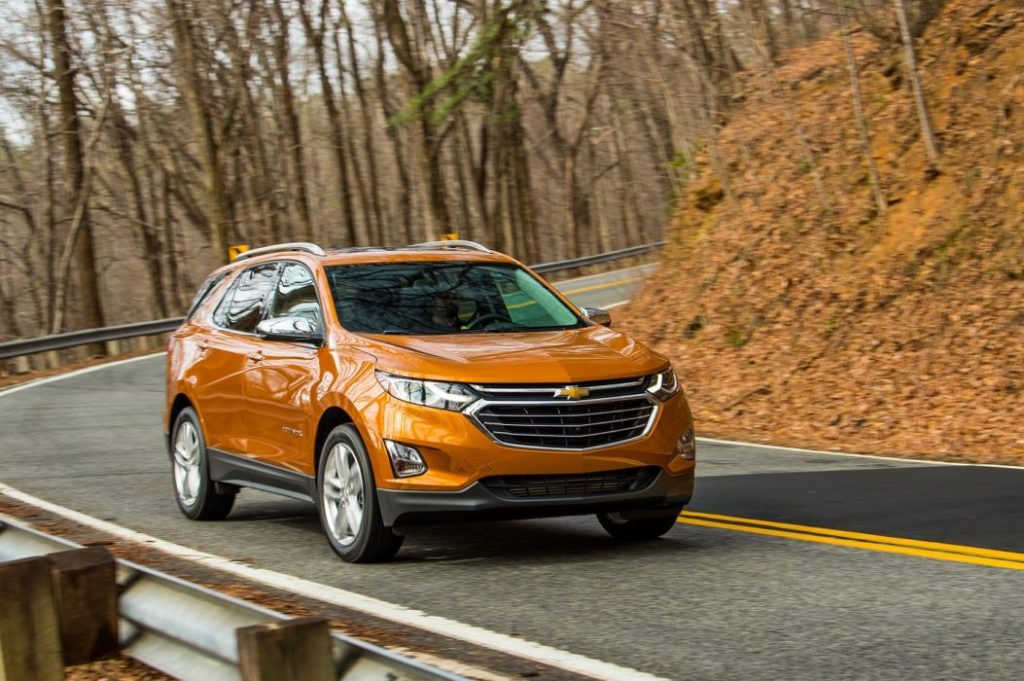 On The Road
This is probably one of the easiest cars you'll ever drive, mainly because there are huge gobs of torque available at almost any time and the super smooth 9-speed transmission. Ride quality except over rough ridges is very good and even at high speed the car remains very stable and composed. Fling it into a sharp corner and it pulls itself around with little fuss, dive in too fast and the front end eventually gives way to under steer. The steering weight and feel is pretty good for this type of car, it lets you know what the front wheels are doing.
All Chevy's, with the exception the performance variants, have automatic stop-start which can't be defeated.  I would sometimes hold the brake with my left foot and squeeze the gas a tad to fire up the engine at stop lights. When you don't do that it's not a bad system compared to some cars but it could be a bit smoother.
Grip is pretty good from the 19-inch rubber provided and the brakes had fade free stopping from high speeds. The brake pedal is firm underfoot and it's easy to modulate providing jerk free stops for passenger comfort. It's quiet too, the interior volume muted at high speeds with only a hint of wind noise around the side mirrors. That said under full throttle the engine although smooth, sounds a bit buzzy and characterless. Still this a family car not a sports car so this is to be expected.
Interior
Our tester in Premier trim, starts at just $33,600 in front-wheel-drive flavor, and came with a host of options, including a massive panoramic sunroof, something I wouldn't option. That package includes MyLink Navigation and a Bose Premium sound system for $2,620. Our tester also had the Confidence & Convenience II Package which includes a laundry list of options including heated rear seats, heated steering, low speed auto braking, lane keep assist and forward collision alert to name a few.
The leather upholstered front seats are very comfortable and overall fit and finish is good, soft feel plastics are used generously. Metal finish trim pieces surround the air vents and gauge clusters and in various other places in the cabin. It all makes for a very pleasant place to be. The infotainment screen is tilted a bit too far meaning it does attract some glare and I wish as in most cars I drive it was turned toward the driver. Using it however, is very simple and pairing a phone took a matter of seconds.
In the back two adults will fit or three children at a squeeze, kept cool by rear air vents and phones charged with USB charging ports and an electrical outlet.
Cargo space is pretty reasonable, there's 29.9 cubic feet behind the rear seats and 63.5 cubic feet behind the front seats, which isn't as much as some but a 93 lb dog fits just perfectly.
Top of The Class
Fitted with the 2.0 turbo engine, the Equinox is hard to beat. I was expecting to not miss it after a week of driving it, but I do, I really do. If you are in the market for a small SUV and want Audi Q5 like performance, then this is the car for you. It's so much fun to drive, it's comfortable and if you don't go crazy checking options, is something of a bargain. In fact, one of these could replace my aging Subaru Outback 3.6 R. Bombshell dropped.
2018 Chevrolet Equinox Numbers
| | |
| --- | --- |
| VEHICLE TYPE: | Front-engine, FWD, 5-passenger, 4-door hatchback |
| BASE PRICE: | $33,600 |
| AS TESTED PRICE: | $39,505 |
| ENGINE TYPE: | 2.0 liter turbocharged and inter-cooled DOHC 16-valve inline-4 |
| POWER: | 252 hp @ 5,500 rpm |
| TORQUE: | 260 lb-ft @ 2,500 rpm |
| TRANSMISSION: | 9-speed automatic with manual shifting mode |
| CARGO VOLUME: | 29.9 ft³, 63.5 ft³ with seat area |
| CURB WEIGHT: | 3,498 lb |
| ZERO TO 60 MPH: | 6.4 seconds |
| TOP SPEED: | 130 mph |
| EPA COMBINED/CITY/HIGHWAY: | 25/22/29 mpg |
| OUR OBSERVED: | 22.1 mpg |
| PROS | Punchy 2.0 turbo, light on its feet, fun to drive factor |
| CONS | Some torque steer |