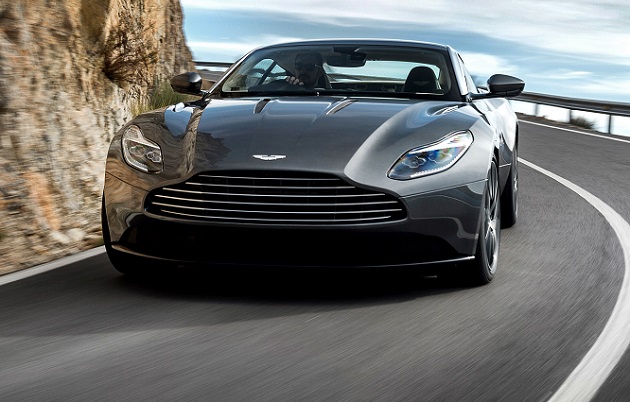 600 hp 5.2-liter twin-turbo V12 confirmed
200 mph top speed
0-62 in 3.9 sec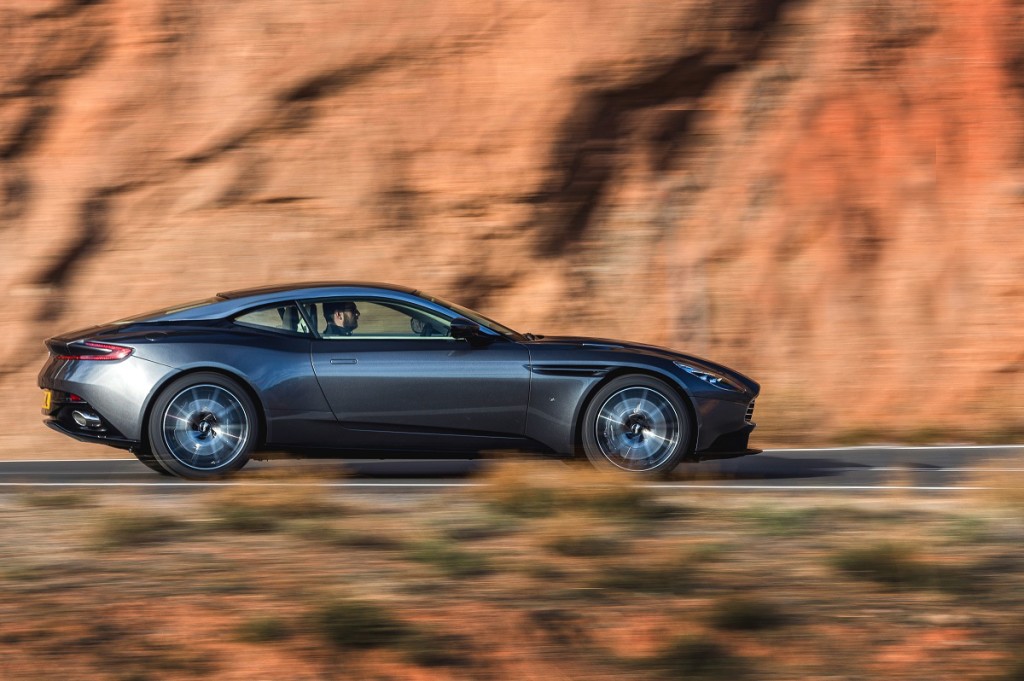 At the 2016 Geneva auto show, Aston Martin revealed the DB11, the first all-new vehicle for the British automaker since the DB9, which debuted in 2003 as a 2004 model. Under the hood of the DB11 is a new twin-turbo 5.2-liter V-12 is rated at 600 hp and 516 lb-ft of torque. 
Aston's CEO, Andy Palmer, said: 'DB11 is the absolute embodiment of what an Aston Martin should be and we have worked tirelessly to ensure that DB11combines both exceptional design with the latest technology throughout.
The new Aston has a brand new bonded aluminum platform, an upgraded interior with a class-leading infotainment system.
The DB11 is 1.18 inches longer than the DB9, but it's wheelbase is 2.56 inches longer, mainly by moving the front wheels forward. Aston has managed to save 44 lb over the DB9 while at the same time making the car stiffer.
The Engine
Designed in house, this twin-turbocharged 5.2-litre V12 is Aston's first production car with forced induction. Natural aspiration steps aside as the company strives to meet tightening emissions requirements and economy considerations.
The all-aluminium V12 produces 600 hp and 516 lb-ft available at a low 1,500 rpm. It's sent  to the rear wheels via a rear-mounted eight-speed ZF automatic gearbox. Peak power is produced at 6,500 rpm.
It's got a host of modern features, too, including cylinder deactivation and stop-start technology – all of which should serve to boost its economy and cut emissions further. Helping make good use of the power are new driver assistance systems, including torque vectoring and electric power steering.
Whether it's an all-new engine or not remains to be seen; Aston has a lot of experience with its current V12 powerplant, though, and it would be surprising if it was ditched in its entirety.
Aston Martin claims the DB11 will sprint from 0-62 mph in 3.9 sec and onto a top speed of 200 mph.
Inside
Aston has made the doors longer and created more room inside. There's an all-new instrument panel, which has a 12-inch TFT central display and a digital driver's instrument binnacle. The electronics are from Mercedes.
Tech Specs
Engine: Front engine 48-valve, all-aluminium, 5.2 liter twin-turbo V12.
Power: 600 hp at 6,500 rpm,
Torque: 516 lb-ft from 1,500-5,000 rpm.
Transmission: Rear mid-mounted ZF eight-speed automatic
Chassis: Two-door 2+2, extruded and bonded aluminum construction, cast magnesium door structures. 3,902 lb dry weight, 51%/49% weight distribution.
Suspension: Front independent double wishbone suspension, anti-roll bar and adaptive dampers. Rear multi-link, coil springs, anti-roll bar and adaptive dampers
Steering: Electric power-assisted rack and pinion, 2.4 turns lock-to-lock
Braking: Front ventilated discs with six-piston calipers. Rear ventilated steel discs with four-piston calipers.
Wheels and tyres: Front 255/40 ZR20, Rear 295/35 ZR20
Standard equipment: Heated memory electric front seats, cruise control, parking sensors, 360-degree camera, dual-zone climate, multiple airbags, keyless entry and start, 400w audio system, sat-nav, DAB, Bluetooth.
When Can I Get One
The Aston Martin DB11 will go on sale in Q4 of 2016 and will be priced at  $211,995 in the United States.