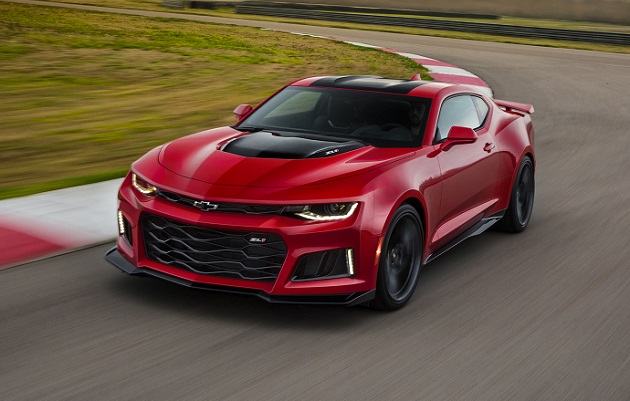 The last Camaro ZL1 had a fantastic engine but there were some downsides , notably the car's weight, interior appointments and price. The cabin had all the tech you could want, but not much of the refinement. Hard plastics were prominent but the 6.2-liter supercharged V8 with six-speed manual and 580 hp @ 6,000 rpm, 556 lb-ft @ 4,200 rpm, made up for the negatives.
Now Chevrolet has introduced the 2017 Chevy Camaro ZL1 with the new and much better interior and ……wait for it…..the new ZL1's Corvette Z06-sourced supercharged 6.2 liter with a massive 640 horsepower and a 640 ft-lbs of torque mated to either a six-speed manual or the all new ten-speed automatic.
The ZL1 will come with magnetic ride suspension, a limited-slip differential, and carbon fiber hood. Chevy claims it is 200 pounds lighter than the previous car, making it a delicious recipe all round. No 0-60 times were quoted but expect mid 3 second times.
"The Camaro ZL1 is designed to excel at everything," said Mark Reuss, executive vice president of Global Product Development. "It's a 2+2 coupe offering incredible performance – acceleration, handling and braking – with the highest levels of technology and perfect chassis damping, making it suitable for everyday driving. It will compare well to any sports coupe, at any price and in any setting."
The Camaro ZL1 goes on sale late this year.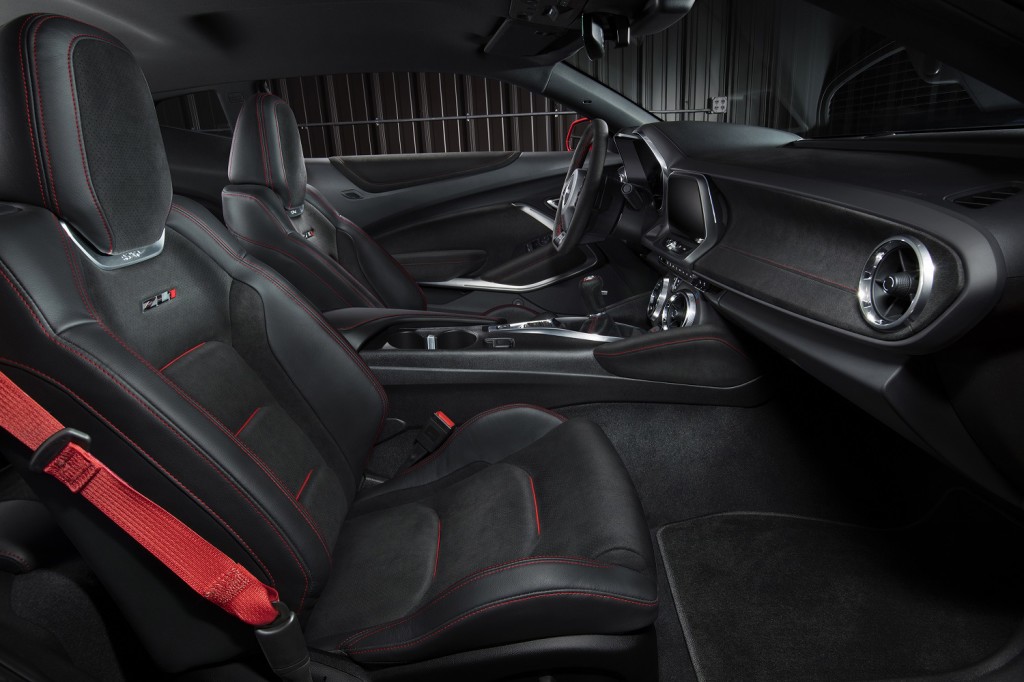 "The design supports the Camaro ZL1's exceptional performance and does so with compelling style," said John Mack, Camaro exterior design manager. "From every angle, the elements coalesce to give the car a purposeful, super aggressive attitude."
The lower grille opening, for example, offers greater airflow compared to the Camaro SS, and the upper grille incorporates a new version of the "flow-tie" open bowtie insignia. There's also a new hood, with a carbon fiber insert and heat extractor that pulls hot air from the engine compartment. Additional changes include a larger front splitter, unique rockers, a wing-style rear spoiler and wider front fenders – all tuned to improve aerodynamics for greater high-speed stability.
Inside, there are standard Recaro front seats, along with a sueded flat-bottom steering wheel and shift knob. Chevrolet's Performance Data Recorder is available.
Additional chassis features include:
Unique 20-inch forged aluminum wheels with 285/30ZR20 front and 305/30ZR20 rear tires
Goodyear Eagle F1 Supercar tires with a compound and construction developed exclusively for the Camaro to offer exceptional grip on the track
Brembo brakes with six-piston monobloc front calipers – featuring the ZL1 logo – and massive, 15.35-inch (390 mm) two-piece front rotors.
Supercharged performance and new 10-speed automatic
Underhood, the ZL1 features a supercharged LT4 6.2L V-8 Small Block engine, with intake and exhaust systems tailored for Camaro. It is rated at an estimated 640 horsepower and 640 lb-ft of torque.
The LT4 is backed by a standard six-speed manual transmission or all-new, available paddle-shift 10-speed automatic. The 10-speed automatic has 7.39 overall ratio for smaller steps between gears. It enables the LT4 engine to remain at optimal rpm levels during acceleration, particularly when exiting corners, for quicker laps and lightning-quick responses on both up- and down-shifts.
This is the first Chevrolet application of the new quick-shift 10-speed, with unique calibrations and hardware developed exclusively for the ZL1. By the end of 2018, GM will introduce the new 10-speed automatic in eight vehicle models.
Finally – and unlike some competitors – there's no need to purchase an optional package to make the ZL1 track ready. Track capability comes standard, with features including an impressive 11 heat exchangers for optimal powertrain cooling.
We can't wait to drive one.