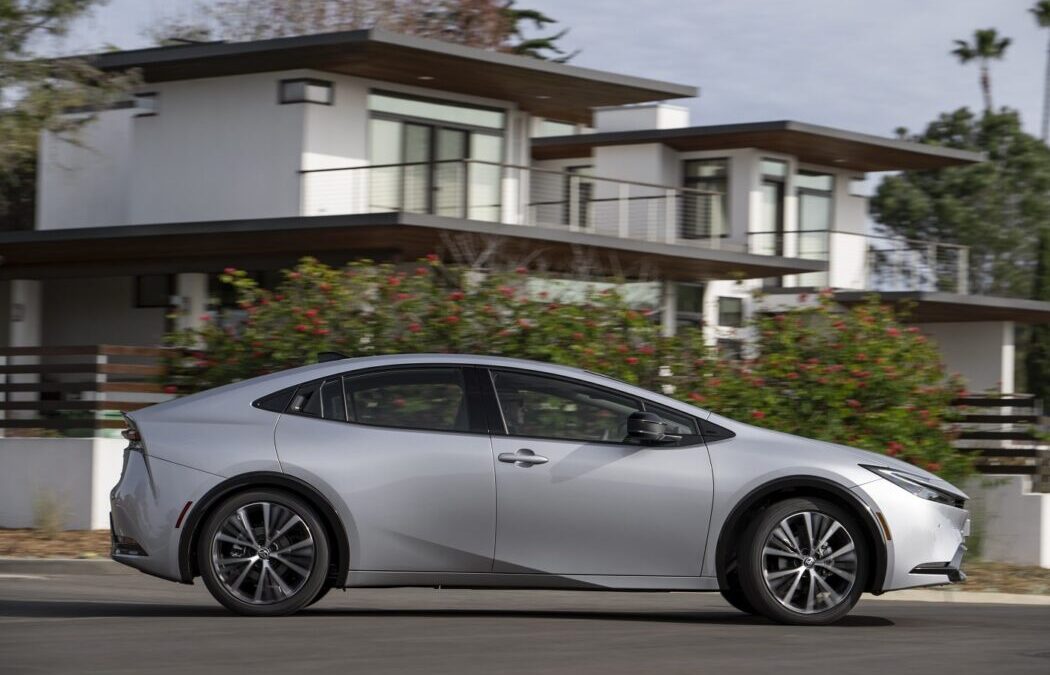 This is the all-new 2023 Toyota Prius and it's probably one of the most impressive upgrades I've seen from any manufacturer in a very long time. I'll be honest I really didn't like the old Prius, in fact, I cursed it for hogging the passing lane at sixty-five miles per hour while the driver attempted to maximize fuel economy, and to top it off you had to concede driving enjoyment, styling, performance, and most of all your dignity.
Styling
Let's face it the old Prius wasn't very stylish, it looked like a badly ironed pillowcase at best. This new one looks utterly desirable something I never thought I would say. It looks amazing from all angles with a sleek new roofline that tapers down to the windshield and a new chiseled design that makes for a hugely reduced frontal area. At the back, the letters Prius have been stretched out with a new font making it difficult to see exactly what you're following.
Size-wise the 2023 Toyota Prius is 1.1 inches longer, 1.6 inches lower, and almost an inch wider. The front track is wider by 2.3 inches and at the rear by 2 inches while the wheelbase has been stretched by a full 2 inches.  All this has made for a much better handling car than the outgoing model.
More Power
The gas engine is now a 2.0-liter inline-four that generates 150 horsepower instead of the old one which was good for 96 horsepower and the permanent-magnet motor is smaller and puts out 111 horsepower instead 71 hp. Using fuzzy match the combined output is now at 194 horsepower instead of just 121 horsepower, which is a massive 60 percent increase. Imagine if VW had given the Golf GTI a 60% bump in power, it would be making 350 hp and I would be first in the queue.
All trims from LE to Limited can now be optioned with all-wheel drive ($1,400), although I don't think it's worth it, and the AWD LE has improved fuel economy with 54 mpg combined, up from 49 mpg. The premium model gets 52 mpg probably due to its 19-inch wheels with 195/50R-19 Michelin Primacy All Season tires.
With this new-found power, the new Prius is now decently quick with 0-60 coming up in 7 seconds, a full 3 seconds quicker than any previous model since none of them could crack 10 seconds to sixty.
Driving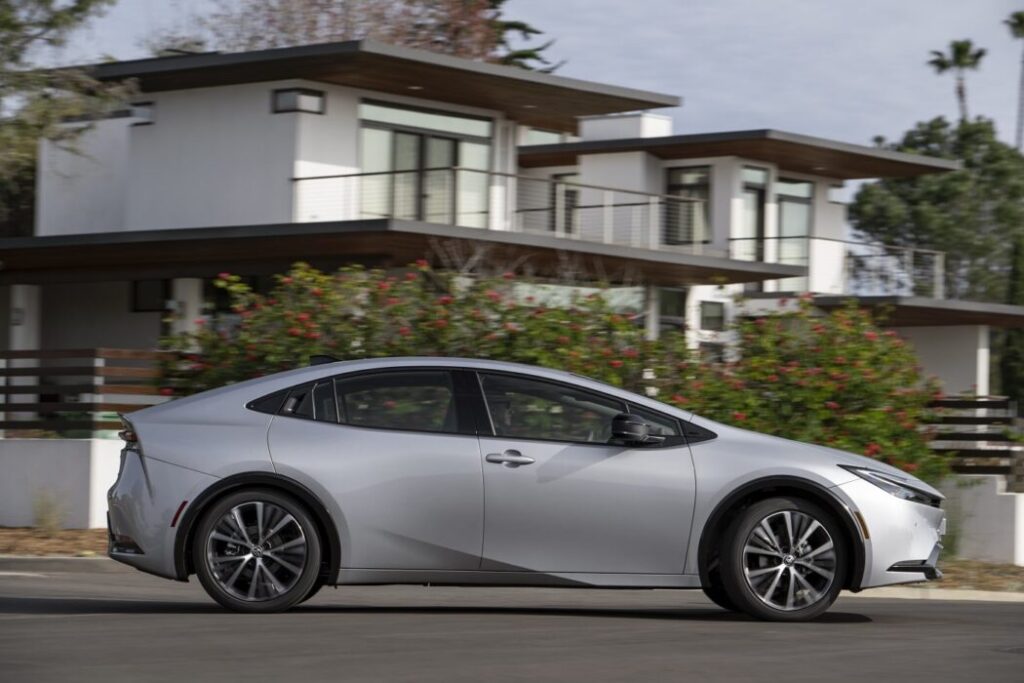 I'm very happy to let you know that the 2023 Toyota Prius is actually fun to drive, it rides better, it's more comfortable, and more importantly much faster. A lot of that has to do with the excellent steering, you can actually feel what's going on with the front wheels and as a bonus, it turns on a dime.
Hit some backroads and the Prius develops an unexpectedly sporting character, it turns in with precision, despite having narrow fuel economy-friendly tires, and is a genuine joy to drive. There is some body roll but it is so controlled you don't notice it really except when you wish for bigger seat bolsters.
The brakes are also very good with more feel and control than before thanks to a booster that uses a hydraulic pump instead of a vacuum assist.
While the EPA fuel economy is 52 mpg we couldn't quite achieve that due to some very lead footedness for most of the week, but the fact that we couldn't get worse than 38mpg is a testament to how good this little car is.
Interior
Toyota has paid attention to the details on the inside too and the cockpit is way more driver-focused, you sit lower and less upright with gauges directly ahead of you instead of oddly placed off-center.
All seats are covered in vegan leather and they do a pretty good impression of real cowhide. The central touchscreen is an 8.0-inch display on the base model LE, but in my limited tester, you get a plus-size 12.3-inch unit that does sit atop the dash somewhat but integrates nicely into the dash.
Toyota's infotainment software is pretty good, intuitive, and decently fast with clear graphics and easy-to-follow menus.
Physical HVAC controls sit below this screen in a neat row and below that you get some storage space/phone holder with a hidden compartment below if you lift the small panel. That reveals the words #Hidden Compartment which is a thing apparently in the Pruis.
The phone charging slot sits alongside the shifter, with a clever clamping action that holds your phone securely as well as an on-off switch and a generous amount of USB-C jacks, 6 in all spread around the cabin. I did find that my phone did overheat at times but I just used the on-off switch to let it cool down.
The not-so-good news is mostly for rear-seat passengers, that lower roofline eats into headroom, and for some bizarre reason, there aren't any rear HVAC vents. Cargo space has dropped too, with the LE offering 24 cubes and the Limited only twenty cubic feet.
Pricing
My front-wheel drive Limited trim tester's base price is $34,465 but the base LE model starts at a shade over $27K just $1,100 over last year's model. My tester had a couple of options checked, the Limited Premium Package $1,085 which included Advanced Park Assist and a Panoramic View Monitor, Heated Rear Seats ($150), and a Digital Rear View Mirror ($200) taking the total price including destination to $37,494.
VIDEO REVIEW
Verdict
The old Prius certainly did fill a need for folks wanting reliable and efficient A-to-B transportation, which was the main reason it was dismissed by most car enthusiasts, but not anymore. This car now makes you wonder if you really need an EV, especially as you can get it as a Plug-in Hybrid model and go over 40 miles on a charge.
Toyota has made this car desirable to everyone and I expect them to sell in great numbers as before but now to people who would have never contemplated buying a Prius. I can wholeheartedly recommend this car, in fact, I might get one for myself.
2023 Toyota Prius Limited Numbers
BASE PRICE: $34,465
AS TESTED PRICE: $37,494
ENGINE: DOHC 16-valve 2.0-liter Atkinson-cycle inline-4
POWER: 150 hp, 139 lb-ft
COMBINED POWER: 194 HP
BATTERY: 0.9-kWh lithium-ion
TRANSMISSION: Continuously variable automatic
ZERO TO 60 MPH: 7.0
CURB WEIGHT: 3,200 lb
TIRES: TOYO All Season 195/50R-19
CARGO SPACE: 20 cubic feet
FUEL ECONOMY: Combined/City/Highway – 52/52/52 mpg
OUR OBSERVED: 38.9 mpg
PROS: Great styling, zippy, on-road handling, doesn't like fuel 
CONS: Buzzy 4-cylinder, reduced rear headroom, no rear seat vents