This is the 2023 Toyota Supra and yes, I have tested this car before but NOT with a manual transmission which apparently caused many complaints to Toyota's PR desk and amazingly Toyota listened. Of course, the fact that the new Nissan 400Z has a manual transmission could also have factored into the decision. All we care about is that we are very grateful it's here.
Looks
When I first saw the Supra in photos I wasn't too impressed but in person, it works and it's leaps and bounds cooler looking than its BMW Z4 twin, which by the way doesn't get a stick shift option.
The best view is from the back and the top, firstly with its double-bubble roof, which must be expensive to make, and then the ducktail rear spoiler, the Supra lettering, and the large tailpipes. Altogether it has a very cohesive look. I least like the front for one very good reason, those fake vents on either side. Surely it wouldn't have cost much more to make them real.
What's New?
Toyota squeezed in an existing ZF six-speed manual transmission for the Supra, removed some sound-deadening, and fitted a larger reinforced clutch. This has served to lighten it by 40 lbs versus its automatic 3.0-liter sibling. Manual cars receive a shorter final-drive ratio, however, the manual's individual gear ratios and overall gearing are taller than the automatic.
Toyota has re-tuned the manual car's traction-control system, adjusted the stability control on all 3.0 models, and added a new Hairpin+ function which eases back the electronically controlled limited-slip differential in very tight bends. The steering has been updated as well for six-cylinder models together with retuned adaptive dampers to improve ride comfort and provide better all round body control.
The brakes remain the same, at the front it has 13.7-inch vented rotors and 13.6-inch vented rotors at the rear and it wears some new for 2023, 19-inch alloy wheels with Michelin Pilot Super Sport 255/35 at the front and 275/35s at the back.
Under the hood
The engine in the 2023 Toyota Supra is the same 3.0 straight six from BMW which in this car produces 382 horsepower and 365 lb-ft of torque. 0-60 with a good launch takes around 4.2 seconds, a little slower than the automatic but far more fun.
You do, however, take a hit on fuel economy with an EPA combined estimate of 21 mpg 5 mpg less than the automatic 3.0 model.
Pricing
The manual is available as a no-cost option on the 3.0 and 3.0 Premium models, but you can't get it on the base turbo 2.0-liter four which is a shame, never say never though we might get one eventually.
Pricing for this Premium model starts at $55,650 and there are a couple of options checked, this Stratosphere Blue paint for $425 and the Driver Assist Package for $1,195. That takes the total price including destination to $58,365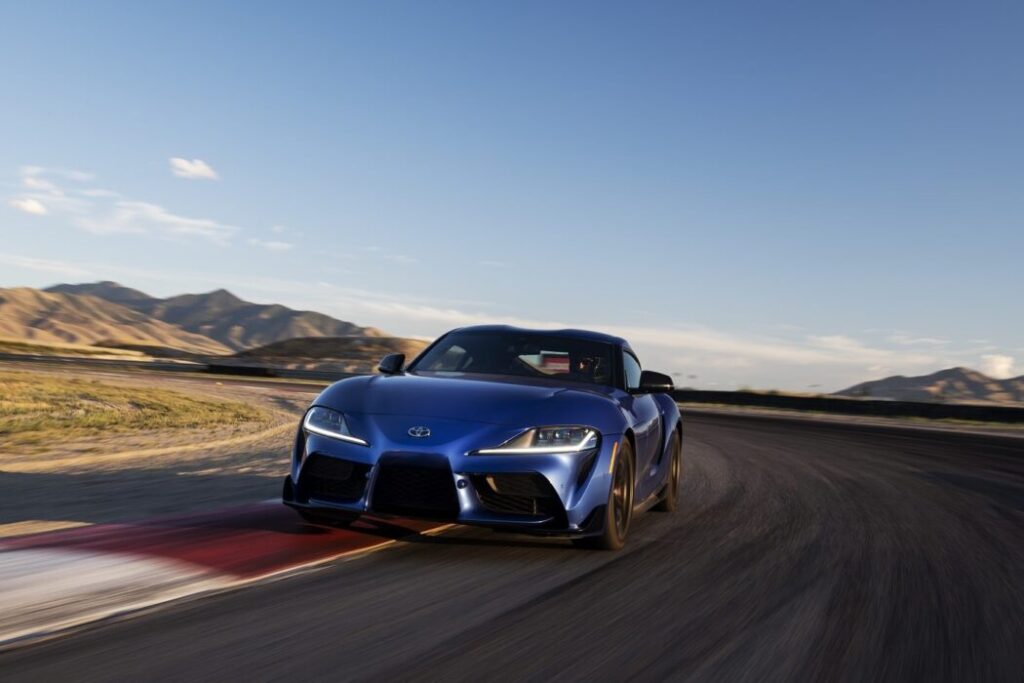 Driving
The shift is pretty good if a little notchy and the first to second gear change requires a little finesse but once you get used to it you're off to the races. The clutch is perfectly weighted and it's easy to heel-and-toe but if you're feeling lazy as I was, simply leave the rev-match on and let the car do that work.
Clearly, the manual's going to be slower off the line and less frugal on the motorway with only six ratios instead of eight, but that doesn't matter because now it has the soul it was missing.
Now the Supra feels like a proper sports car as you mash the throttle between bends, it's super nimble in the corners but apply too much power mid-corner, and the tail will kick out only to be reeled in by the traction control. I wouldn't recommend turning it off on regular roads.
Grip is prodigious from the Pilot Super Sport tires, especially in the dry, and the steering despite being quite light provides good feedback from the front wheels.
The suspension modifications have provided the grin factor here, it's the perfect blend of comfort and responsiveness, with the ability to attack a corner, and power through with virtually no body roll. It copes with any bumps and dips in the road with aplomb and the suspension is soft enough to not break your spine.
There are a couple of negatives, the rear suspension can hop a little mid-bend, something which has supposedly been addressed but it's not as bad as the car was at launch. Also under heavy braking, I noticed the Supra can behave a bit unpredictably with some shimmy from the rear, but all in all, it's a tremendously fun little car.
Interior
Toyota had to get creative in packaging the manual setup. A new center console moves the gear lever slightly back from where the auto selector sits so the parking brake switch, iDrive media controller, and mode buttons have been moved out of the way. It's not the tidiest solution but your knuckles will thank you for not getting smacked by the HVAC controls when you select 3rd gear. 
There's also the possibility of your hitting anything sticking out of the center armrest's cupholders, so forget your big gulp and go for a small water bottle instead.  Everything else is pure BMW inside which is no bad thing, the material quality is great and everything is well-placed and easy to find. The only downside is space, the sills are very wide and those of a larger build will find it a bit of a squeeze. There is, however, a wireless charger.
The seats are very comfortable if a little hard and include multi-way power with side bolsters, to hold you in nice and snug and it's easy to find the perfect driving position. It is a bit difficult to see out, especially over the shoulder, so it's best to rely on the side view mirrors and blind spot monitoring, which comes with a $1,195 Driver Assist Package.
The infotainment is intuitive and equipment levels are good, my 3.0 Premium trim tester included heated leather seats, a head-up display, an 8.8-inch infotainment touch screen, and a 12-speaker audio system..
Cargo Space
Don't forget it's a 2-seater so both cargo and passenger room are quite limited. In the trunk, you get a hatch and about 10.2 cubes of space with a poke through to the cabin for longer items for that run to Home Depot.  The rear parcel shelf is removable, just slightly tricky to remove and then you have space for a medium-sized dog.
VIDEO REVIEW
Verdict
Toyota took almost three years to give us a manual Supra and whether they paid attention to complaints or were spurred on by the Nissan 400z we'll never know. In manual form, it's a tad slower and less economical but it's a ton of fun. The Supra has finally been perfected as a sports car and it's the one I would choose, it was worth the wait!
2023 Toyota Supra Premium Numbers
BASE PRICE: $55,650
PRICE AS TESTED: $58,365
VEHICLE TYPE: Front-engine, rear-wheel-drive, 2-passenger, 2-door hatchback
ENGINE TYPE: 3.0 liter turbocharged and inter-cooled DOHC inline-6
POWER: 382 hp @ 6500 rpm
TORQUE: 365 lb-ft @ 1600 rpm
TRANSMISSION: 6-speed manual with rev-matching
CURB WEIGHT: 3,340 lb
ZERO to 60 mph: 4.2 sec
TOP SPEED: 155 mph
TIRES: Michelin Pilot Super Sport, Front: 255/35 ZR-19, Rear: 275/35 ZR-19 
EPA FUEL ECONOMY: Combined/city/highway 21/19/27
OUR OBSERVED: 19.2 mpg 
PROS:  Scintillating handling, fantastic crackling exhaust, superbly quick
 CONS: Very snug inside, not much storage