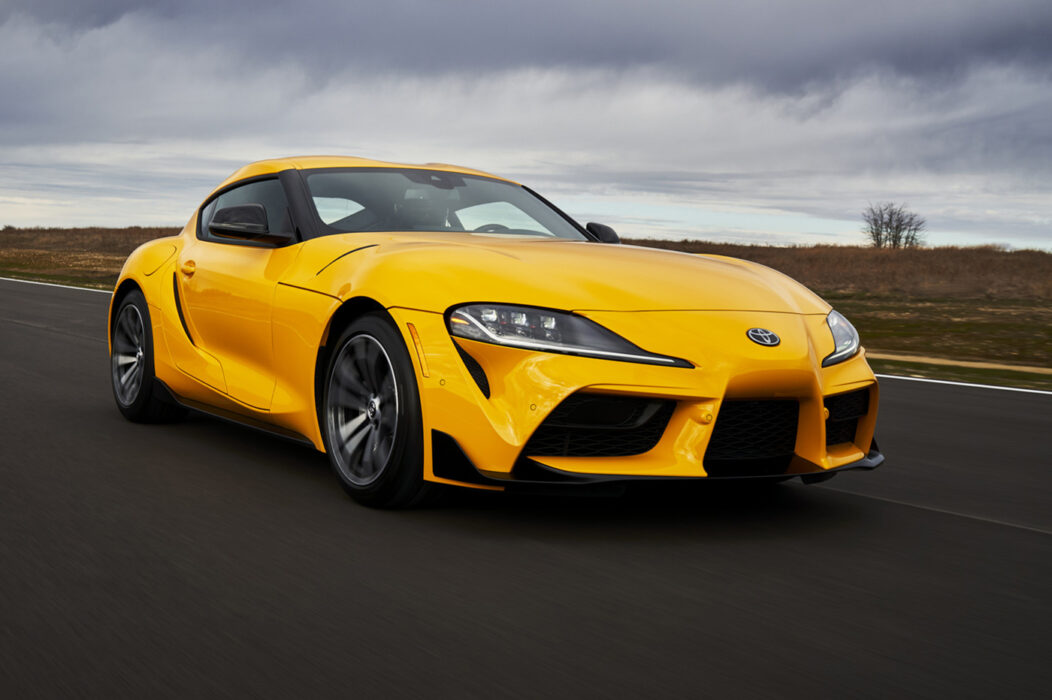 What's new?
As the title says, this Supra has a 2.0 turbo-charged engine, borrowed from its Bavarian sibling, the BMW Z4. This is the first time ever, a Supra can be had with a four-cylinder engine, which neatly slots below the twin-turbo inline-six. The 2.0 t has 255 hp and 295 pound-feet of torque available at 1,550 rpm. You really don't miss the power drop since the little Supra has dropped in weight by 219-pounds versus the 6, obviously by dropping 2 cylinders and chucking out some other stuff.
What's gone? ..well, the 3.0 liter's electronically controlled limited-slip differential and adaptive dampers get ditched in favor of a standard fixed set up. No real loss here except it does ride quite firmly and there's no comfort mode to escape to. The four-cylinder model has the same tire widths 255s at the front, 275s in the back but gets 18-inch instead of 19-inch wheels. Not really an issue since Pilot Super Sports stick like glue. The seats now adjust manually rather electrically, less chance of failure here and I've never had a problem with manual seats as long as they have good adjustment, which they do.
The standard sound system only has four speakers, but you can option the Safety and Technology Package and have 12 speakers. We wouldn't though, there's a lot of noise in the cabin and this is a car that begs to driven. Save the money for gas. Brakes are smaller than the 3.0, instead having single piston units but they provide great stopping power and were fade free during my three-day loan.
Who wears it best?
The Supra, of course; it's the looker of the two siblings and gets the most stares and smiles as you drive by, sorry Z4 fan boys, there's no second prize here, only last place. My 2021 Toyota Supra 2.0 tester came in Nitro Yellow, which made it stand out even more. In order to check on Toyota's claims of a 0-60 dash of 5 seconds we hooked up the Vbox and gave it the old college try. We only did a couple of runs, it was quite hot (90 f), not the best temp for testing. We managed a best of 5.12 seconds so there's no doubt that in ideal conditions, Toyota's claims are accurate.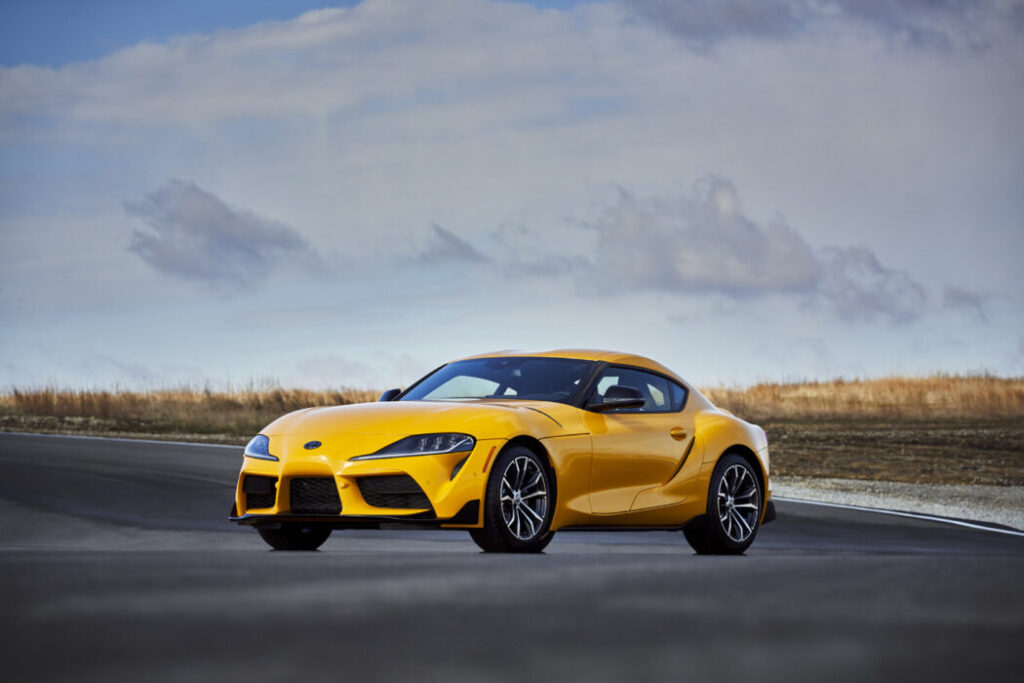 Driving Impressions
Once you've adjusted the seat the picture out front is the same but fire up the engine and the 2.0 is more subdued. Once moving though, in normal mode, the huge gobs of torque available at low revs make this car feel quick. Press the Sport button and the car comes alive, holding gears longer and giving you some low pops and crackles but not enough. The steering is very accurate, well weighted, and has some feel to it and is massively fun to flick through tight turns.
Less is more, this car is an absolute hoot!
Zigzagging through the twisty roads East of San Diego gave me a chance to wring the car out a little and when the going gets tough I don't see a 3.0 Supra being that much faster. It's only when a passing opportunity presents do you notice a slight lack of grunt, but for the most part this car is even more fun! The rear wheels grip tenaciously despite wearing slightly smaller shoes and the chassis control is exemplary. It's so easy to control on the throttle too and even too much power going into a bend is easy to correct, lift foot, car wiggles it's rear, back on the gas coming out.
As with the 3.0 the 8-speed transmission shifts seamlessly and doesn't ever hesitate on downshifts, power is available whenever you need. Despite riding somewhat firmly, it's not unduly harsh or compromised. The fixed suspension soaks up any dips and it's all supremely well-balanced.
Inside
Not to dwell here but the Supra is a BMW inside and that's a good thing, the material quality is great, and everything is well placed and easy to find. Space is, however, at a premium and on a shopping trip I lost a bag of coffee behind the seats. I'm not sure if there's a net option for the trunk but I would get one.
The Supra 2.0 comes with automatic emergency braking, and this year every Supra gets an 8.8-inch touchscreen for infotainment. Apple CarPlay in wireless form is extra on this car, and so are blind-spot monitors and adaptive cruise control on all versions. Unfortunately, Android Auto isn't available.
Verdict
I had thought that the Supra 3.0 I reviewed earlier this year was one of the most enjoyable cars I have driven in the last few years but along comes the 2.0, and my doubts have been washed away. For an expected base price $8K below the 3.0 this car absolutely stands on its own.  Just as with the 3.0 this car has some real soul and driving dynamics that mean you'll be grinning from ear to ear every time you drive it. 'Twas a sad day when they took it away.
VEHICLE TYPE: Front-engine, rear wheel-drive, 2-passenger, 2-door hatchback
PRICE: Starts at $43,945
ENGINE TYPE: Turbocharged DOHC 16-valve I-4
POWER: 255 horsepower @ 6,500 rpm
TORQUE: 295 lb-ft @ 1,550 rpm
TRANSMISSION: 8-speed automatic with manual shifting mode
ZERO to 60 mph: 5.0 secs (manufacturer)
CURB WEIGHT: 3,181 lb (estimated)
TIRES: Michelin Pilot Super Sport, Front: 255/35 ZR-19, Rear: 275/35 ZR-19
FUEL ECONOMY: TBD
OUR FUEL ECONOMY: 23.5 mpg 
PROS:  Beautifully balanced, Scintillating handling, cheaper than the 6
 CONS: Very snug inside, needs a better soundtrack

2021 Toyota Supra 2.0 First Drive Review