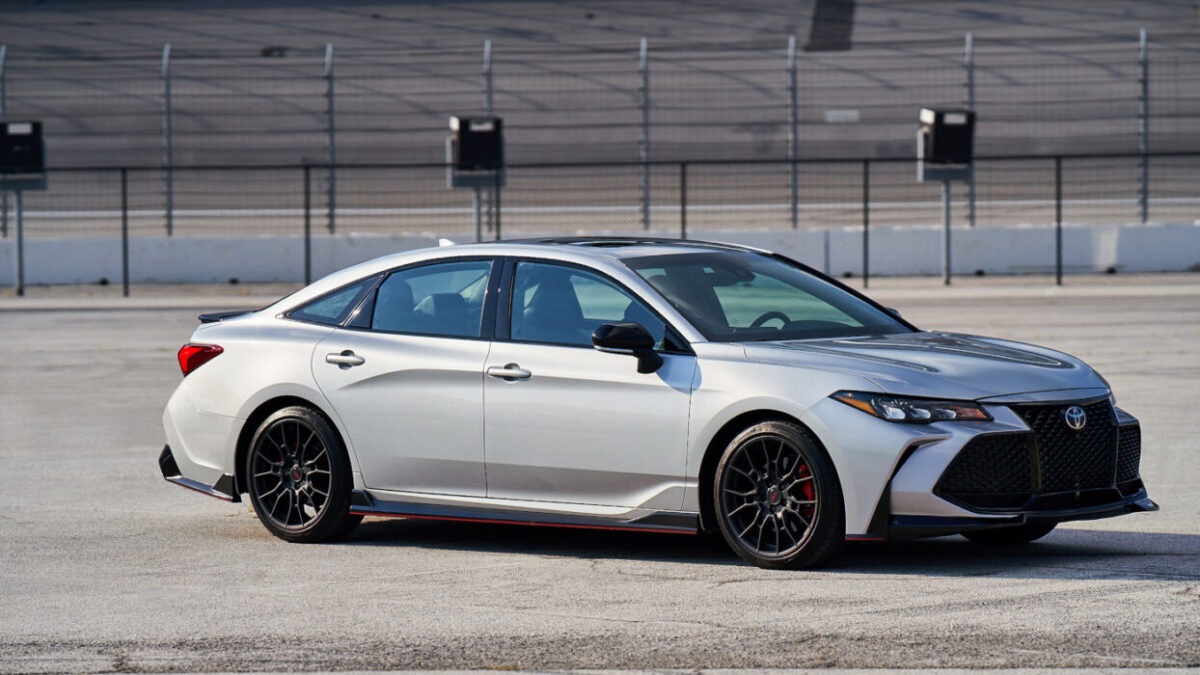 The 2021 Toyota Avalon is not a car that you would think Toyota would choose to add the TRD package to; the Camry yes, this one no. After all the Avalon is better known for transporting its owners to an early bird dinner followed by a compelling game of bingo.
The changes are not only underneath, Toyota has made the TRD version look like it's ready for some serious canyon carving, the grille is bigger, almost Lexus-like,  the black mirrors, roof, and rear spoiler add a touch of menace. The overall look says "get out of my way" and it's sharp and aggressive in its design. Add those cool-looking 19inch matte black alloys and you are ready to roll.
What's in the TRD package?
It gets stiffer coil springs and larger front and rear sway bars, upgraded shocks, and it's lowered by 0.6 inches.  Toyota also adds some rigidity with new under-body braces, the downside meaning the rear seatbacks are fixed in place so no visits to the garden center for those long items. At the front, you get 0.9-inch-larger brake rotors with two-piston calipers and a great sounding cat-back exhaust system.
To make it corner better the TRD Avalon comes with Active Cornering Assist, a brake-based torque-vectoring system that slows the inside wheel in a corner to help the car rotate and turn in more and it works when we showed it some twisty mountain roads. Did I mention that it has red seat belts?
The Avalon TRD has surprisingly composed  handling and a raspy exhaust
Nothing has changed under the hood, it's still the 3.5-liter V6, making 301 horsepower and 267 pound-feet of torque mated to an eight-speed automatic transmission which in Sport mode will hold RPMs all the way to the red line.
During my week I averaged 19.7 mpg which isn't too good but I had a lot of fun.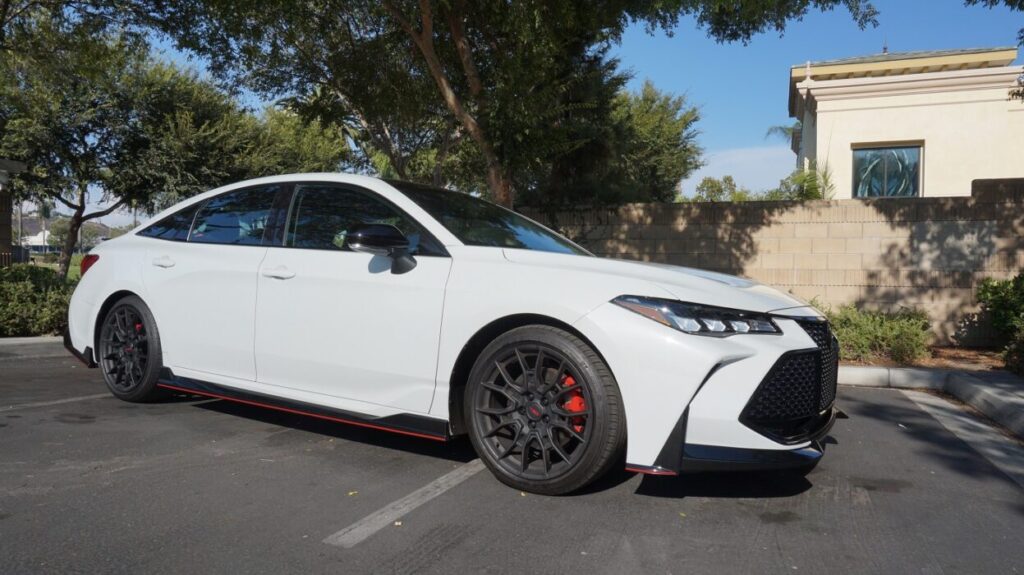 Is it good on the twisty bits?
Indeed it is, but there is a downside, The 2021 Avalon TRD does not come with an option for RWD or AWD so spirited take-offs from a standstill can induce wheelspin until the traction control kicks in, not really the kind of display the Avalon owner really wants. This is the biggest single miss in this Avalon TRD.
The good news is the TRD treatment has elevated the standard Avalon into something of a canyon carver. Tearing around San Diego's backcountry is always fun and with no traffic in front of me, I always had a smile on my face. True it's not going to complete with any of the turbo sixes the Germans have on offer but it has done wonders for the Avalon.
The V6 picks up speed well, off the line the front tires will chirp if you stomp on it, but once on the move, it's a very enjoyable drive. Power delivery is so linear and easy, and once you hit that first corner you notice it stays fairly flat but body roll does become noticeable.
It's quick to turn in, under-steer is there but it's pretty tame, and the chassis always feels composed no matter the road conditions. It's pretty hard to get yourself in trouble, and easy to maintain a cruising speed.
Steering in Sport is quite heavy but decently precise and it does ride quite firmly due to the suspension upgrades but not enough to cause concern. Brakes provide plenty of stopping power, I never felt like they were going to fade despite being driven hard for a week.
It could use more power and we know Toyota has a turbo six available…hint hint
Interior
The first thing you see once inside is the red pinstriping, red stitching, and of course those red seat belts, they are pretty hard to miss.  The power-adjustable seats are very comfortable, the passenger gets the same except no lumbar support, but they do get seat height, often missed on Japanese cars.
The pedals are aluminum, the gas pedal is floor mounted and has plenty of room inside for four adults, five if you get the short straw and get the middle rear seat.  Cargo space is a decent 16 cubic feet and like most cars these days no spar is on offer.
Tech
The standard 9.0-inch infotainment screen is easy to reach from the driver's seat, and there are a host of backup analog controls, but the technology is dated and the graphics are not nearly as crisp as in other cars.  The Avalon TRD has the usual standard Toyota Safety Sense-P bundle of driver aids including autonomous emergency braking, lane departure warning with steering assist, adaptive cruise control, automatic high beams, blind-spot monitoring, and rear cross-traffic alert. My tester had the optional Premium JBL Audio system ($1,760) taking the total price to $46,074.
My 2021 Toyota Avalon TRD tester had only one checked option the Premium Audio Package ($1,720) which includes 14 JBL speakers, a sub, and a 1200W amplifier. One option that was missing that I would choose would be summer tires, which are a no-cost option, as I think this would improve the overall grip and fun factor.
Do its looks do it justice?
It looks quite badass actually, quite a few people stared at me when I drove by, it has a certain presence the standard Avalon just doesn't have. There's a black spoiler at the back, some piano black exterior trim, those cool 19-inch rims, and of course, the massive huge gaping grill. If I were to get one I would option the summer tires, I think this would improve the overall grip and fun factor.
Bottom Line
Toyota has slightly missed the mark here in not offering more power to go along with the rest of the TRD package. It's a good car, it drives very well, looks aggressive, it just needs more power, however, it's not going to because sadly the 2022 model will be the last and the Avalon will go the way of the dodo and that's a plum shame.
VIDEO REVIEW
2021 Toyota Avalon TRD Numbers
BASE PRICE: $42,875
AS TESTED PRICE: $46,074
VEHICLE LAYOUT: Front-engine, FWD, 5-passenger, 4-door sedan
ENGINE: DOHC 24-valve V-6
POWER: 301 hp @ 6,600 rpm
TORQUE: 267 lb-ft @ 4,700 rpm
TRANSMISSION: 8-speed automatic
0-60 MPH: 6.1 sec
TOP SPEED: 131 mph
CURB WEIGHT: 3,704 lbs
CARGO VOLUME: 16.09 ft³
EPA COMB/ CITY/HWY:  25/21/30
OUR OBSERVED FUEL ECONOMY: 19.7 MPG
PROS: Capable handling, fun to drive, engaging exhaust note, red seat belts 
CONS: Needs more power, dated tech