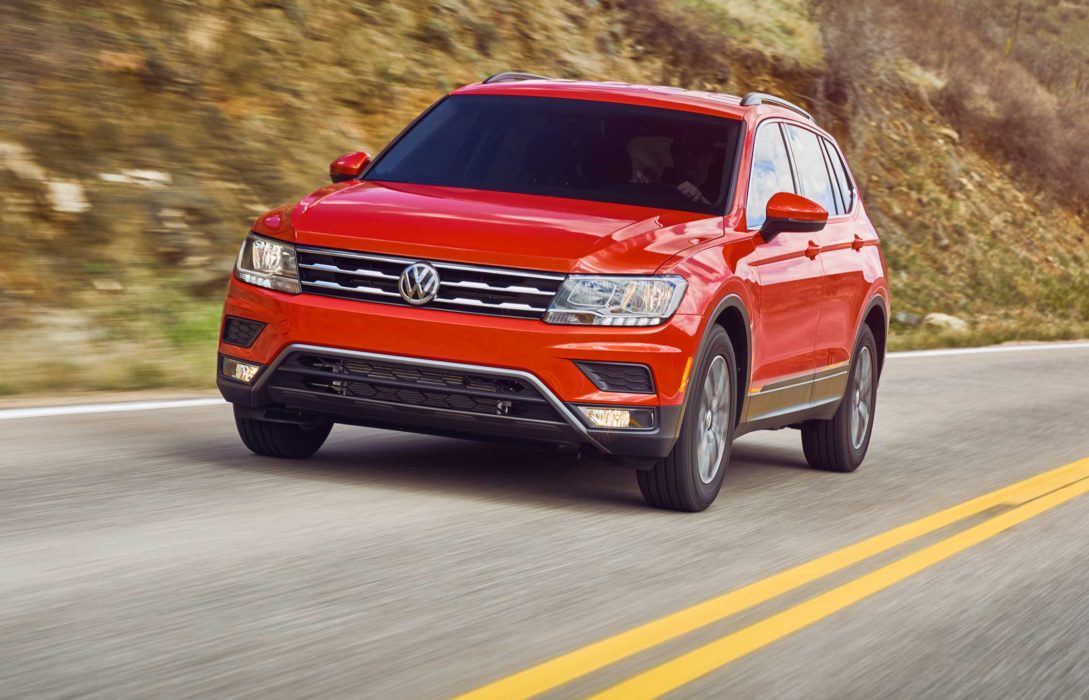 Volkswagen is launching an all out SUV assault on the US market. Last year we tested the all new and huge, VW Atlas and we liked it. Now as a follow up we have it's smaller sibling the 2018 Volkswagen Tiguan for a week. For 2018, the Tiguan has been thoroughly overhauled. An all new platform is used that is shared with Volkswagen models ranging from the Golf hatchback to the Atlas SUV. Our tester arrived in Platinum Gray Metallic and cream interior, noted as Storm Gray on the Monroney sticker but clearly this was a mistake as storms are generally quite dark. Anyway onto the car itself which is pretty good looking and much bigger than the smaller outgoing Tiguan. As with the Atlas the smaller SUV is a bargain, our SE 4 Motion topping out at $30,280.
There's only one engine option in the new Tiguan, an updated version of VW's tried and trusted 2.0-liter turbo-four engine which delivers 184-hp and a more useful 221 lb-ft of torque through an eight-speed automatic. Since the Tiguan has gained size, it's 10.6 inches longer, and weighs about 300 lbs more, performance has been blunted somewhat so it's best to waft along on that torque, which is what we expect most buyers to do. We strapped the test gear on and with traction control off, the Tiguan gets to sixty in a shade under 8 seconds. There's some lag and this is not really where it shines.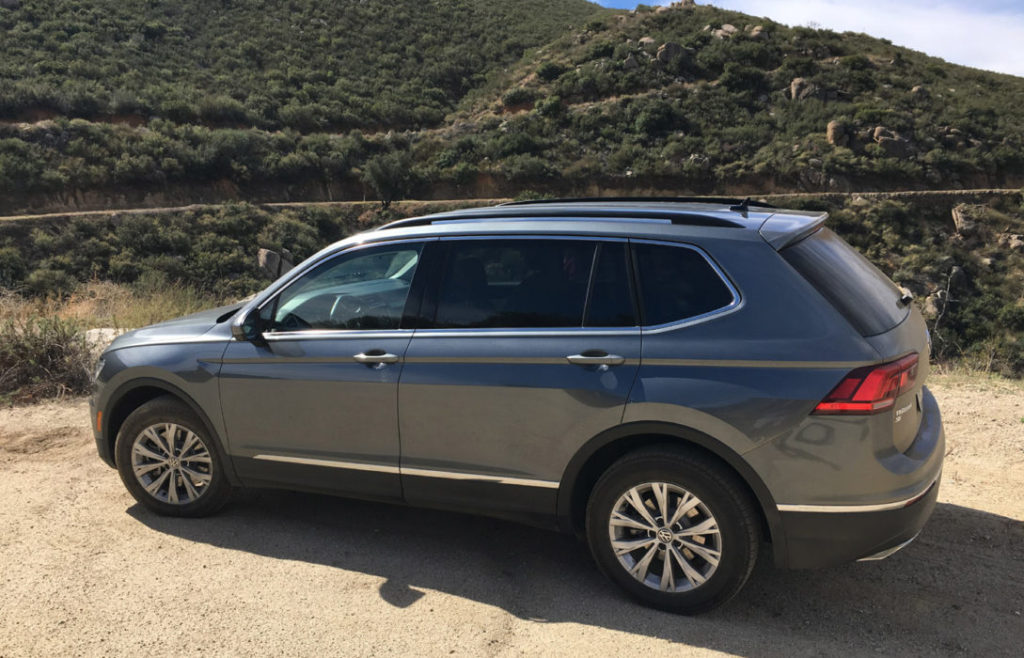 On Road
Like many AWD crossovers, the front wheels are driven most of the time for fuel efficiency reasons, with the rears driven only when needed. The Tiguan is pretty car like in it's driving style, it handles reasonably adeptly, steers where you point it and makes for a good family hauler. The Tiguan has a fairly smooth ride and in Normal mode steering is light for easy maneuverability, however, in Sport modes it gains some character and becomes quite good at taking corners faster than you really should, with almost no body roll. In Sport mode, the steering adds some weight but not more responsiveness, which is expected, still it's accurate for a vehicle of this type. We don't expect anyone to do a hot lap of the Nürburgring any time soon. I did try the Eco mode but it holds you in the higher gears too much around town and you feel like you are not getting anywhere. Normal and Sport modes are the preferred way to get around. It's better driven in a more modest style instead of trying to run a drag race at every stop light.
Off Road
A new 4Motion all-wheel-drive system is available for the 2018 Tiguan. Under low-load driving conditions, the SUV operates as a front-drive vehicle, the rear axle disconnected to help fuel economy. When needed, however,  the system transfers power to the rear wheels if it senses slippage. Alternatively the driver can select the off-road driving mode, and the center differential reconnects the rear axle for added traction. We took it on a few dirt trials and it performed pretty well. Don't mistake it for a Jeep though, big ruts are to be avoided. Automatic hill descent control kicks in automatically when the system decides it's needed, controlling speed based on how steep the hill is. It's very well controlled.
Inside – Room Room Room
Even the our SE trim Tiguan felt upscale, with heated leatherette seats and surfaces, as well as a 10-way power driver seat. Interior quality is excellent but the leatherette seats get somewhat hot and you have to run A/C even on cooler days. We did find that our test car's air conditioning system was particularly weak and on hot days would not cool sufficiently. Not sure if this was a fault on our car or a persistent issue in the New Tiguan. On the plus side, the The 8 inch infotainment system is slick and intuitive and and easy to use, with buttons and knobs for the climate control. Choose SEL Premium trim and the Tiguan comes with the Volkswagen Digital Cockpit offering a 12.3-in. digital instrumentation display that is configurable by the driver. There's plenty of places to plug in with 3 USB ports available. Apple CarPlay/Android Auto is standard, just plug in and go.
The heated seats are some of the best I have tried, they stay hot and don't turn off like some others I have used. It was good we had a cold spell in San Diego that week, with temps in the 30s, they came in really handy. Cargo space is impressive even with all seats up and room for back seat passengers is positively limo like, however, if you opt for the optional third row ($500) there's only room for small children or contortionists. There's some nice large cubbies either side of the rear cargo space that work very well to secure groceries as well as a hook to hold additional grocery bags. The rear seats fold easily to provide a huge space for almost anything you want.
Verdict
The Tiguan is roomy and comfortable and the price is very competitive with competitors in this segment. I like the simple design that VW presents, it's not overly fussy like some interiors. From the outside it's a good looking SUV. I was also pleasantly surprised that it will run on regular unleaded unlike many of it's turbo powered siblings. For a shade over $30K this is a lot of car for the money, much like the Atlas, in fact it's one of the most appealing compact SUVs available now since VW offers a fully transferable 6-year/72,000-mile warranty.
| | |
| --- | --- |
| BASE PRICE | $30,230.00 |
| AS TESTED PRICE | $32,280.00 |
| ENGINE | 2.0L turbo DOHC 16-valve I-4 |
| POWER | 184 hp @ 4400 rpm |
| TORQUE | 221 lb-ft @ 1600 rpm |
| TRANSMISSION | 8-speed automatic with manual shifting mode |
| 0-60 MPH | 7.95 sec |
| QUARTER MILE | 16.7 sec  |
| CURB WEIGHT | 3,858 lbs (mfr) |
| CARGO CAPACITY | 38 – 73.5 cu ft with seats folded  |
| FUEL ECONOMY – EPA CITY/HWY/COMB | 21/27/23 mpg |
| OUR OSERVED FUEL ECONOMY | 22.1 mpg |
| PROS | Handsome, drives like a car, spacious |
| CONS | Could use more power |